Interview with Andhedrew about Creativity and The Book of Coloring
Artist and game designer Andrew Miller, alias AndHeDrew, aka my delightful son (ahem), with one successful Kickstarter campaign under his belt* has launched his second one: "The Book of Coloring: a book that becomes a big piece of art."
Have you noticed that coloring books are trendy, not just for little kids but for big kids and adults, too? Honestly, I've watched the new coloring book trend with great interest not only because I'm a visual artist myself, but because I'm a big fan (big fan!!) of anything that gets folks making and doing and creating together. I'm a hands-on person myself–as you know, gentle reader!–and I just love it that this trend encourages people to get busy doing something creative with their hands.
So of course I'm really excited about Andrew's new project.
But those aren't the only reasons I am so excited about Andrew's new Book of Coloring. I'm really excited about it because it is stunningly beautiful, before and after it is colored. Please. Take a look!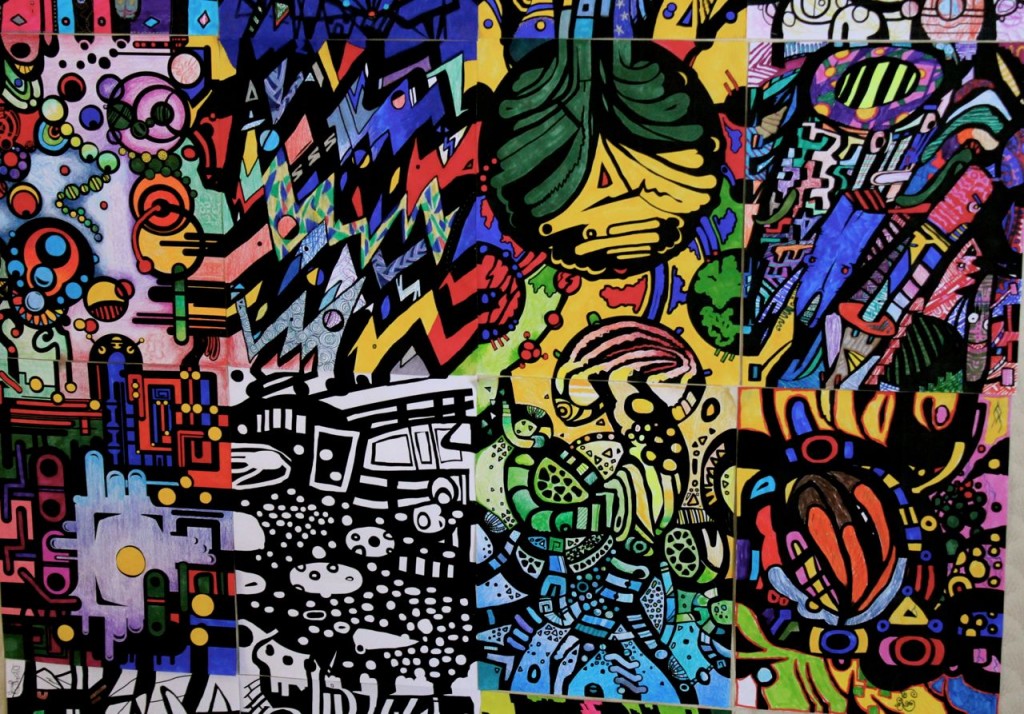 If you are following my travels, you'll already know that I'm visiting with Andrew and Sonia this week (they are expecting their second baby any day!) and so I've had the pleasure to sit and color with the kids on these pages.
I've seen some fairly boring, repetitive coloring books coming out recently, and let me tell you, this is not one of them. What sets this book apart from the others is this: once you've colored the pages–you can hang them all as one big work of art. They are designed to fit together. Or you could post them up on the wall like a border. There are countless variations in what you can do with Andrew's Book of Coloring.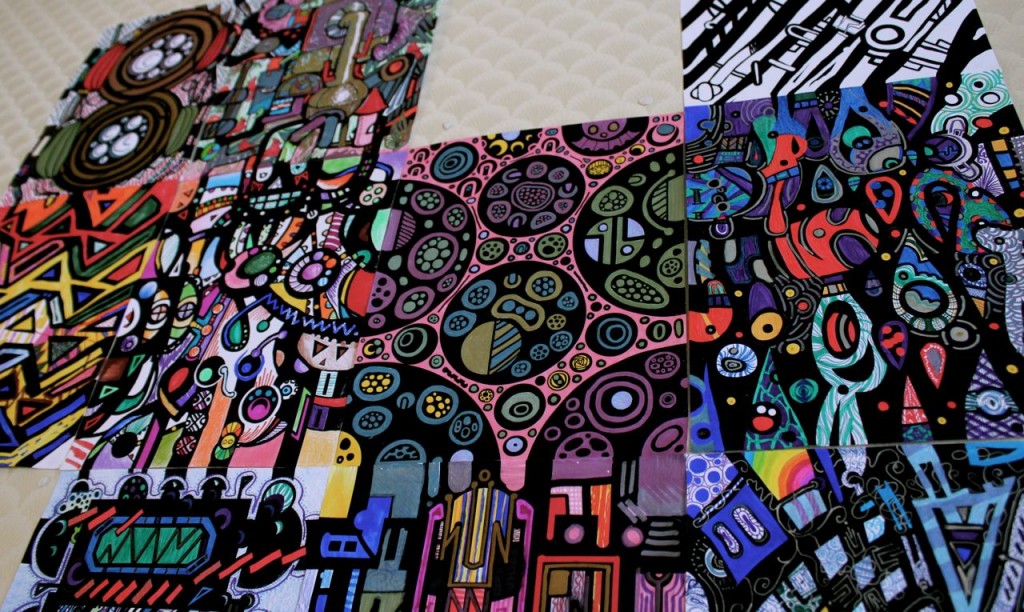 Andrew and I sat down and had a chat about his coloring book earlier this week.
Here's how it all went down:
Me: Andrew, I loved following your Kickstarter campaign that you launched successfully last October, for the DIY Cloud Dungeon paper craft game. I'm curious: how difficult was it to figure out how to launch a project on Kickstarter?
Andrew: There are plenty of fine guides to Kickstarter out there. Jamey Stegmaier's Kickstarter lessons (http://stonemaiergames.com/kickstarter/lessons/) are invaluable. Launching a Kickstarter is fairly straightforward, but I had to do some digging and research. If anyone reading this has any questions about the process, I'd be glad to help out, just contact me here (http://andhegames.com/contact-me/).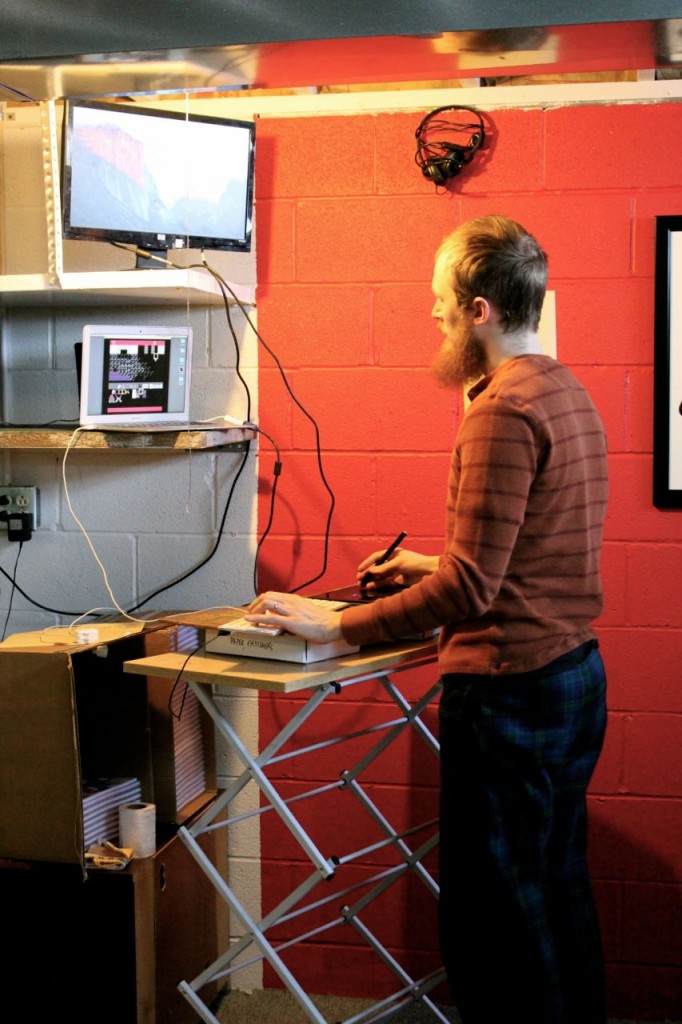 Share with me what your primary motivation was, in choosing to work with Kickstarter rather than look for a publisher from the get-go?
I never intended to look for a traditional publisher. I followed the model of of my favorite business writer, Dan Miller. He sold thousands of copies of his book, and once he'd demonstrated that the book was marketable, publishers came knocking. Publishers are looking for authors and designers with platforms, who know how to market and sell their products already. After my first Kickstarter*, several publishers came to me, simply because they saw my Kickstarter campaign. That's a much easier way to get published than trying to pitch publishers with your unknown game or book. 🙂

It's certainly a brave new world, with all the changes in publishing, isn't it? Describe your new project, "The Book of Coloring".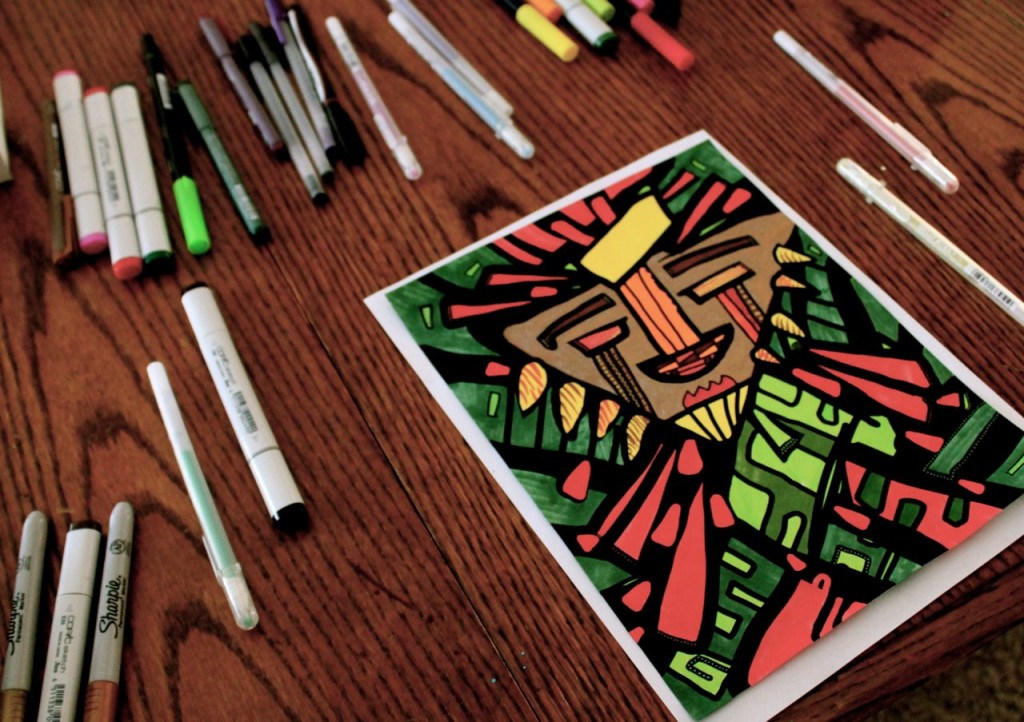 Andrew: "The Book of Coloring" is designed to be colored in a group, or as a family. It can be a solo project, but it really gets exciting when everyone's working on it together! Each page in the book is designed to flow together with every other page, so together you can arrange the pages on the wall any way you want to, and they'll form a big, beautiful piece of art that you created together.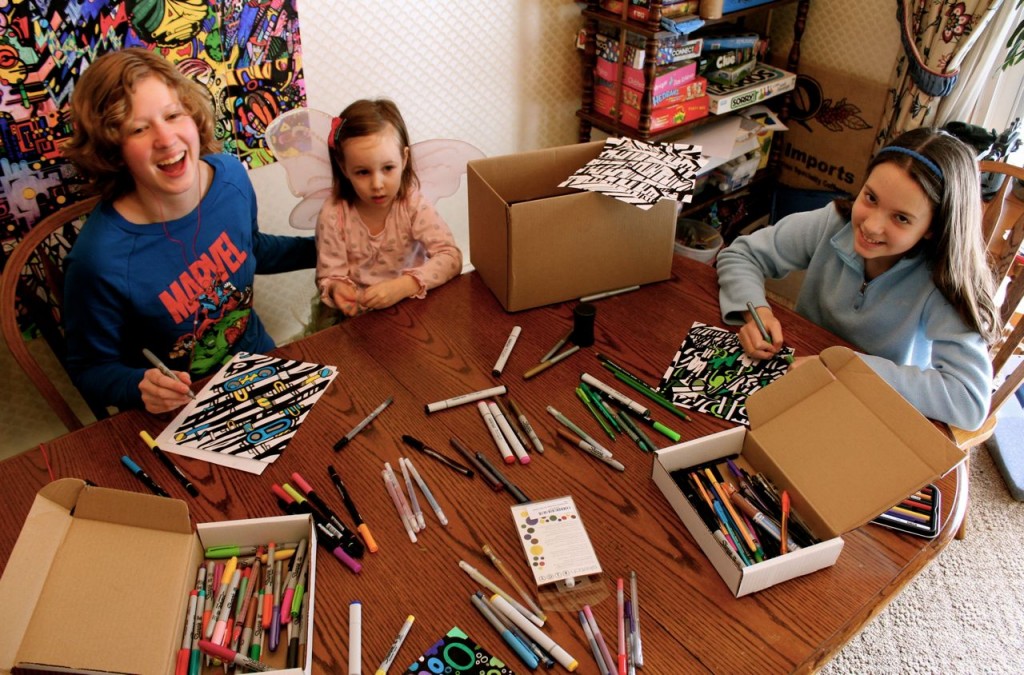 Describe your creative process to me, in working on this project in particular.
 Andrew: So the first thing I did was to rough out the template with the connecting points for each page, and then I'd work out the design for each page. My actual drawing process is more like doodling. I'd call it "intuitive doodling," perhaps, where I just sit down and start to doodle, and design from there.

This is your second big project to bring to Kickstarter in five months. I know, as a creative person myself, how hard it is to bring a project to a finishing point. Can you share with me how you were able to discipline yourself to finish these two projects?
Andrew: My natural bent is to start out really excited to work on something new, but get bored fairly quickly and then abandon it,  feeling disappointed with myself of course, and then . . . to come up with a new exciting project–to start out really excited to be working on something new again. That method equals lots of unfinished projects and lots of disappointment.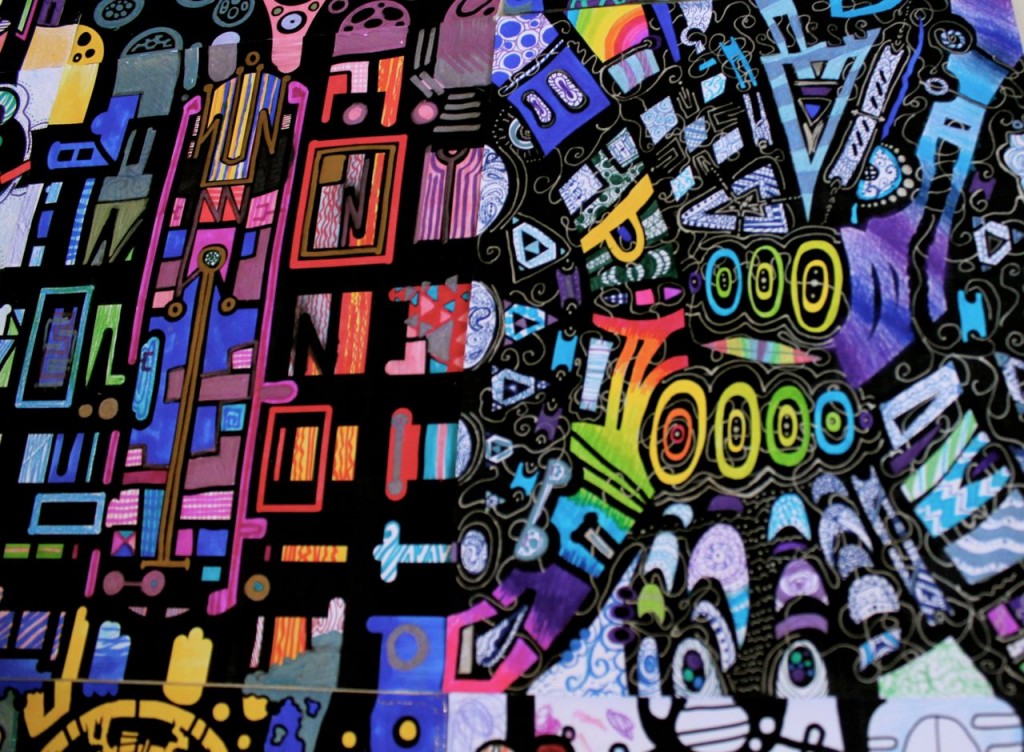 You must have gotten that from your mother. Sorry. My fault. Tell me more. How did you break this not-uncommon but unproductive cycle of despair (cough)?
I think about something I learned from one of my favorite books, by Seth Godin, "Purple Cow": he says to only work on something so remarkable and unique that I would be excited to tell somebody else about it . . . and both of these projects–my DIY Cloud Dungeon game, and The Book of Coloring–totally fit that description.
Hmmm, sounds like a book I need to read.
Andrew: (laughs) No comment, Mom.
So when did you get the idea for "The Book of Coloring"?
Actually, in the middle of making the DIY Cloud Dungeon, I had the idea and started working on it then. As it turned out, it worked great to have two projects going at the same time. When I'd get tired of one, I'd work on the other one. When you are an entrepreneur, overlapping projects is important, especially when you are working with Kickstarter.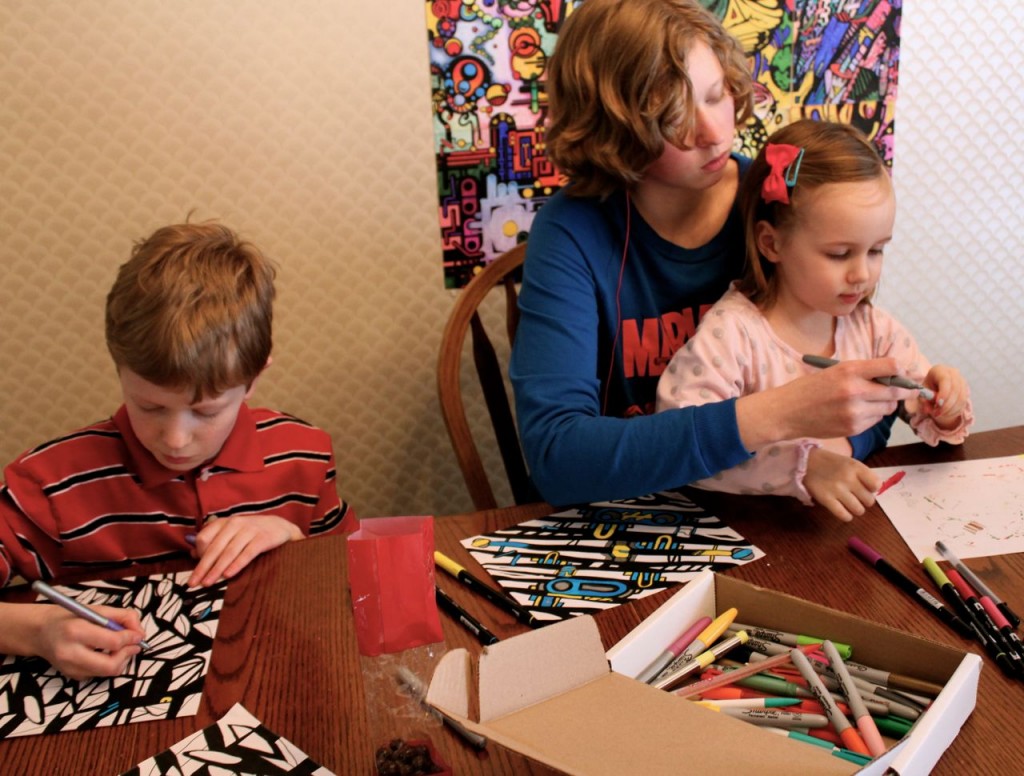 Okay, I'd like to hear your opinion on this. I've watched the resurgence of interest in coloring books, especially the ones marketed for adults.Why do you think there's this new fascination with coloring?
Andrew: One big reason is that color books don't involve a screen. There's also a big resurgence in board games. Because of the growing dependence on and addiction to screens–ipads, computers, smart phones, and so on–people are not spending time together doing things much. Everybody is in their own room, looking at a screen. Parents are beginning to search out things that they can do with their kids that doesn't involve the screen. Also, coloring books are familiar, and nostalgic.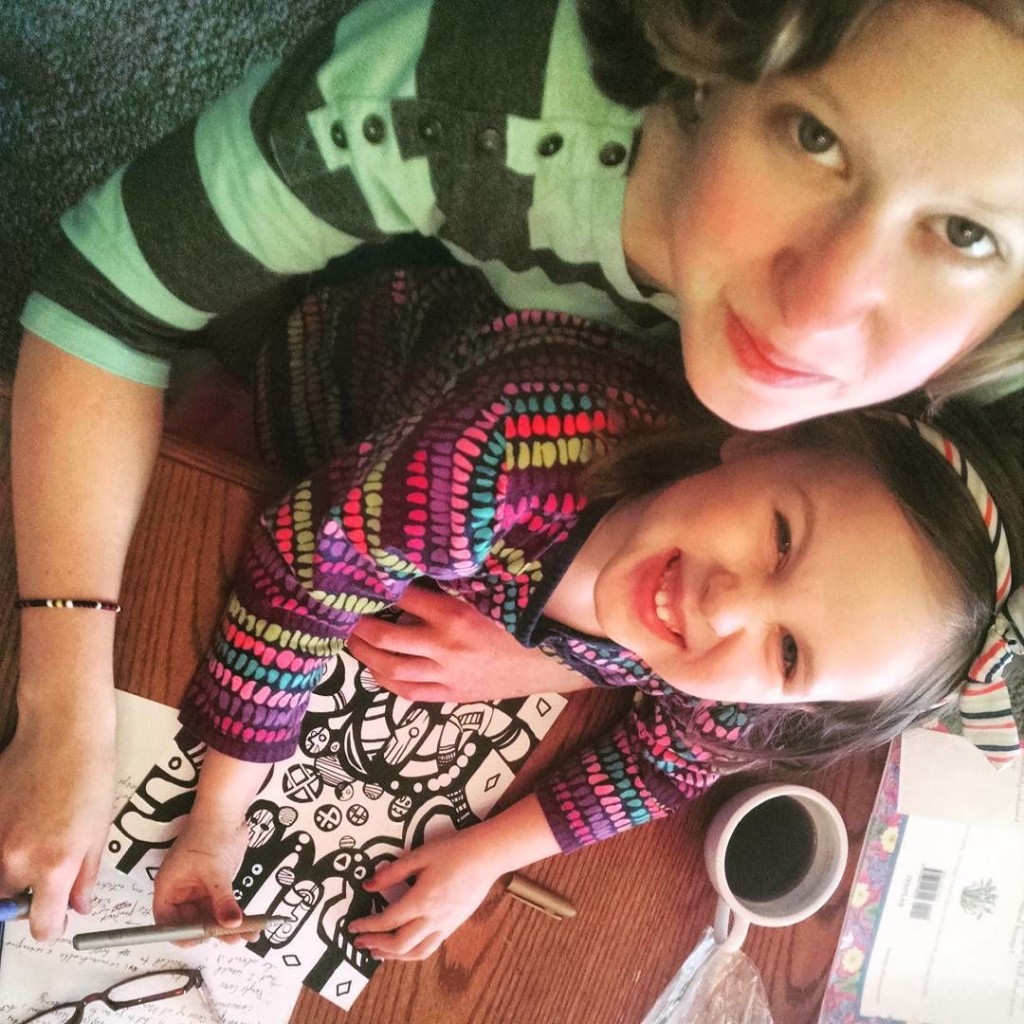 I remember sitting down with my friends in school, when we had an empty few minutes, and we would color together. We carried coloring books to school just for this, but it was always a communal activity. We'd sit side by side and color pages in each others' coloring books, then we'd sign our pages when we were finished. It was special. This was pre-screens, mostly.
Andrew: Screens are and always will be a part of our lives, but you have to be intentional about your screen use.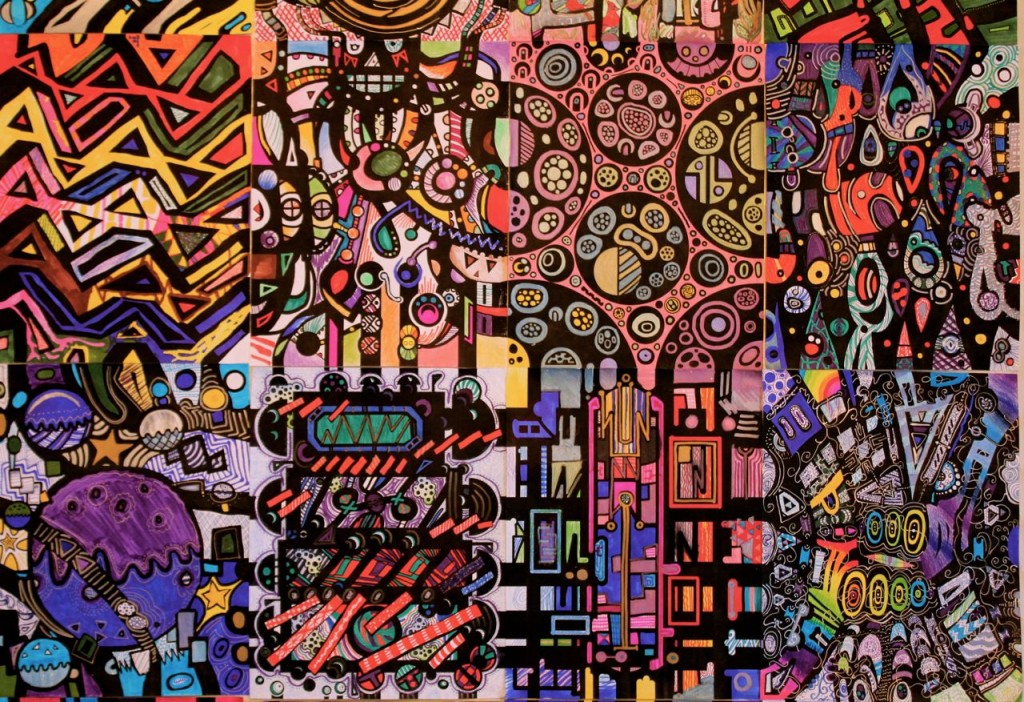 Already "The Book of Coloring" has gotten some really nice acclaim, just two weeks into your Kickstarter campaign. The Kickstarter folks have named it "A Project that We Love," which is awesome. You've already funded it over 200% of your goal, which is very cool, especially since you have two more weeks to go. Why do you think people are so excited about The Book of Coloring?
Andrew: Most coloring books are good for one person to color and then all the pages get left inside the book. In my Book of Coloring, you pull the pages out and put them on the wall. It's fun to make this huge beautiful work of art together. Also, the designs of the pages are appealing to entire families because there is a real level of complexity which works for kids and adults alike.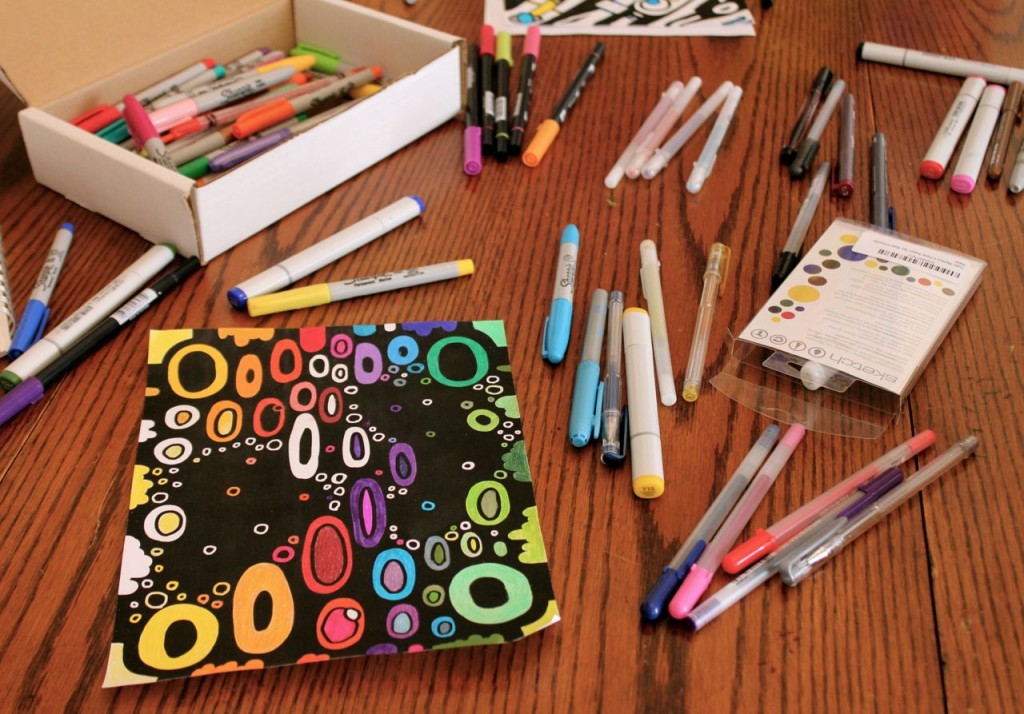 Andrew, if you like overlapping projects, then you must be already at work on your next project: can you give me a hint on what it is?
Andrew: Well, I'm not really making it public yet, but I'll tell you this: it's another game. *teasing smile*

Do you have any other book recommendations, for my readers who might be struggling to finish a creative project that they might be working on (cough)?
Andrew: I love "The War of Art" by Steven Pressfield. Also "Do the Work" by the same author (parents' alert, there is some language in that one). Also nearly anything by Seth Godin.
You're generously offered a giveaway to my readers. Let's talk about that!
Andrew: Absolutely! The Book of Coloring will be printed and shipped out in April. I'd love to do a giveaway for your readers then.
Sounds great! We'll look forward to that. Thanks, Andrew, for taking the time to answer all my nosy inquiring questions. Good luck with your Kickstarter! (I'm so proud of you!)
Thanks, Mom.
Want to check out The Book of Coloring on Kickstarter? Well, alrighty then, just click here and it'll take you over there. And thank you!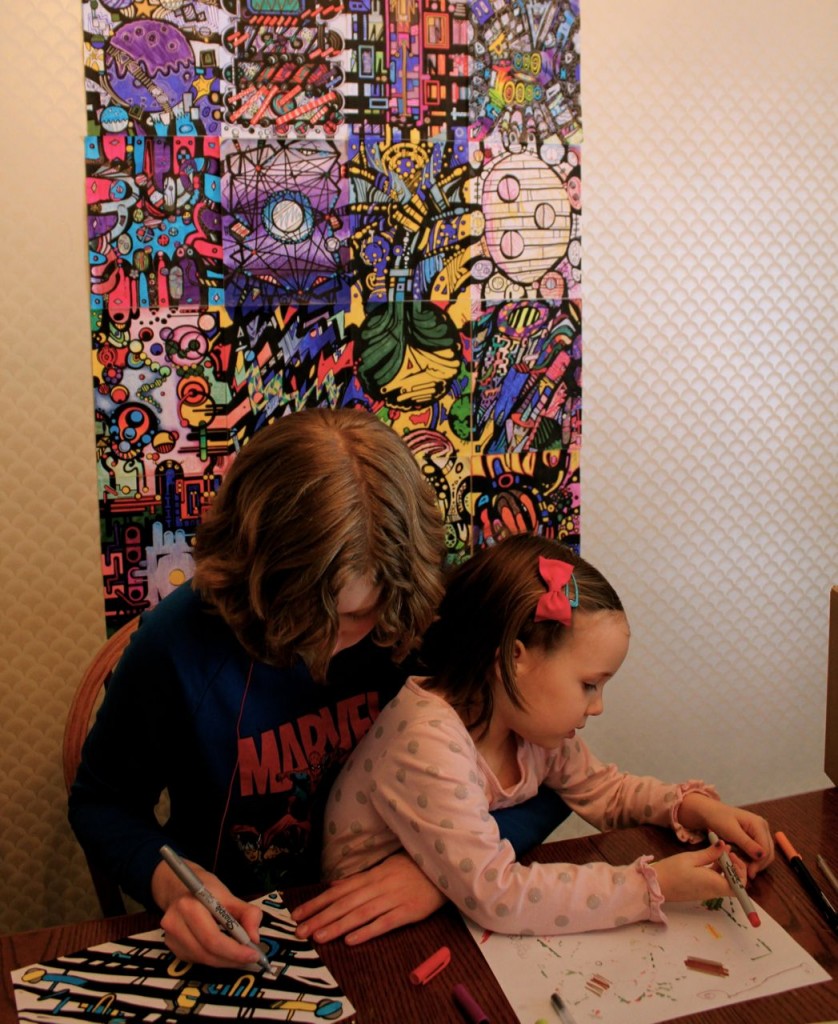 *Interested in purchasing a copy of Andrew's first Kickstarter project, the paper craft game, DIY Cloud Dungeon? This is where you go to do that. But don't put it off–Andrew has one and a half boxes of this game left (I saw them!). When they're gone, they're gone!
p.s. Andrew. I have to zing you on this. Know what some of these designs remind me of?
Mom. Please don't mention the orange couch.
You guessed it! It reminds me your "Orange Couch Period," the bold black designs—the bright colors—the use of the background color, in that case orange. Brilliant!!
Andrew: (shaking head and laughing) Okay, Mom. This is off the record, right?
Oh, of course, honey. I'd never say anything to embarrass you. Strictly off the record, right.
Andrew: (suspiciously) Riiiight.
Thanks for popping by, gentle reader. *hugs*
🙂