Garden Tour: Anne's "Back to Eden" Garden Experiment
Early this spring, my good friend and gardening buddy, Anne, shared an amazing thing that was new to me: a documentary about a gardener and his methods, which result in an absolutely gorgeous and productive garden. Paul Gautschi has developed an organic gardening system that has garnered attention from around the world.
He has also, I'm sure, set into motion the scrambling of thousands of crazed, weed-tired gardeners like myself, to scrabble and search for cardboard, old newspapers, and wood chips. With a maniacal, "sick of weeding" gleam in their eyes. Don't look too closely in my eyes these days, by the way.
Perhaps you've heard of Paul and his "Back to Eden" film, but if you haven't, you can take a look at it here.
If you're a gardener who struggles with weeds summer after summer, then you'll be doing yourself an enormous favor to watch this film. Paul  has developed a system, using layers of newspapers or cardboard and large amounts of woodchips (or other mulch), which nearly eliminates weeds and makes a very rich, friable soil full of nutrients and beneficial critters. He does all this while listening to God and giving Him the glory, too. The film is inspiring. I wish Paul were my neighbor. I really do. Maybe he'd help me find a large mountain of woodchips for my garden.
Paul uses scripture freely in his film, and one scripture that he uses is  Zechariah 4:10: "Who despises the day of small things?"  Laying newspapers and wood chips on your garden space would be a small thing that could develop into a wonderfully big and fruitful thing. And much less time weeding.
Early this spring, I had a dream of trying out Paul's method of mulching–I am, after all, quite a devotee of mulch, and a passionate non-devotee of weeds–but when planting time opened up before me suddenly, I had no woodchips and couldn't find a source for them. Instead, I bought a couple of very large bales of mulch hay, and determined to mulch the heck out of my garden with them. Which I did.  Most areas. Well, okay, I did for a while until I got too busy planting to mulch so much any more.
The seeds took precedence, as it were, and so now . . . there are weeds aplenty which I can pull up and use to wipe my tears away (velvet leafs, maybe . . . buffalo burrs, not so much) as I weep pitifully over the fact that I didn't follow through and mulch deeply everywhere.
But my friend Anne took the high road . . . she and her husband bought loads of woodchips, and gathered up armloads of newspapers, and then piled them all on their garden space. I asked her to keep me posted with the results of her "Back to Eden" experiment, and she was very good to oblige.
Here  are some photos (which speak for themselves, in my opinion!), and some questions I asked Anne about her experience.
You'll please notice that there are no weeds in the garden proper, shown here. Also you'll please refrain from asking me why there are no photos of MY garden in this line-up.  Please don't even ask. (cough)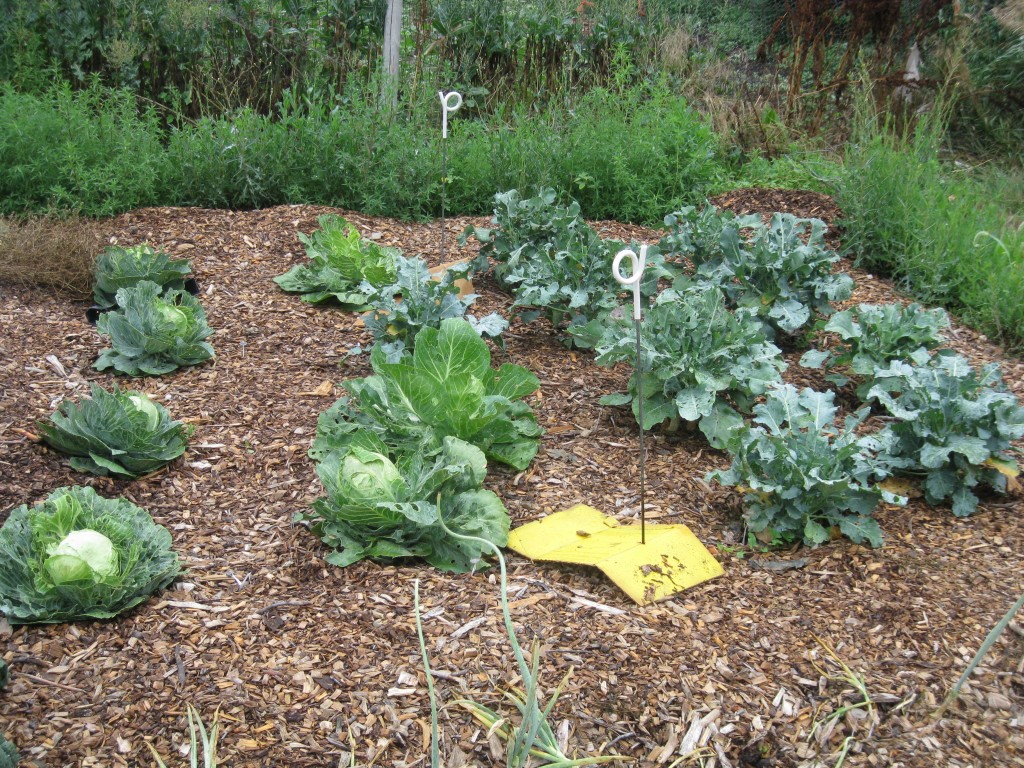 Question:  "Would you say that your "Back to Eden" style of gardening this summer has been a success?"
Anne: "Undoubtedly, yes, on so many levels."
Question:  What was the best part of doing your garden this way?
Anne: "The very little watering, being able to be in the garden after a rain and not walk in the mud, and being able to just see the subtle changes and beauty of the garden without having to compete with weeds.  There has been much less waste, too."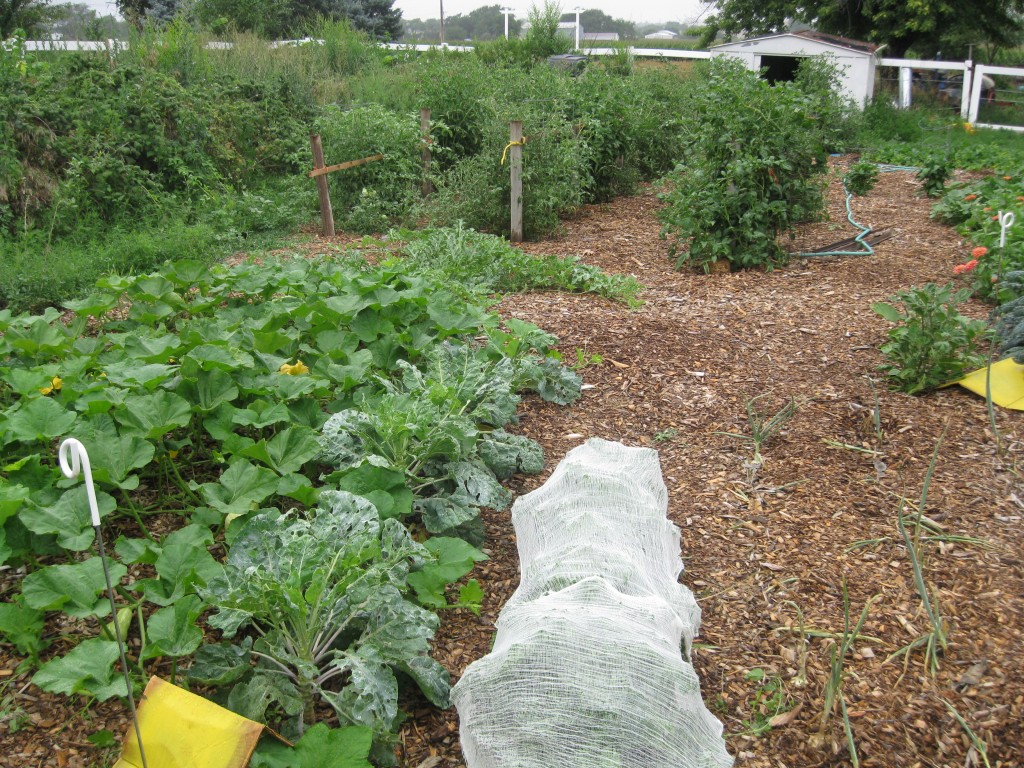 Question:  Any downsides?
Anne:  "Finding the woodchips . . . and drooling over tub grinders that belong to other people. 🙂 Also I think there were some pests in the woodchips that affected all my nightshades, but God was faithful to protect and heal them.  Too much water at first caused the bean seeds to rot in the ground. The woodchips were so new that at first I didn't clear enough of them when I planted, so they would fall back into the row and cut off the seedlings. That was an easy fix, however."
"Years ago an elderly seasoned gardener gave me a tidbit of valuable information:  every gardening season is different.  So, one of the most nerve-wracking aspects of trying this (new gardening system) has been determining which issues are due to this particular season, and which are due to the woodchips."
Question:  How much newspaper (how many layers) and how many inches (on average) of woodchips did you put down? Where did you find these materials?
Anne: "We put down about 4 layers of newspaper and 6-8 inches of woodchips. We got our woodchips from a local tree service, although they were not free. But since my husband and I were on the same passionate page concerning this project, we considered it an investment in our marriage."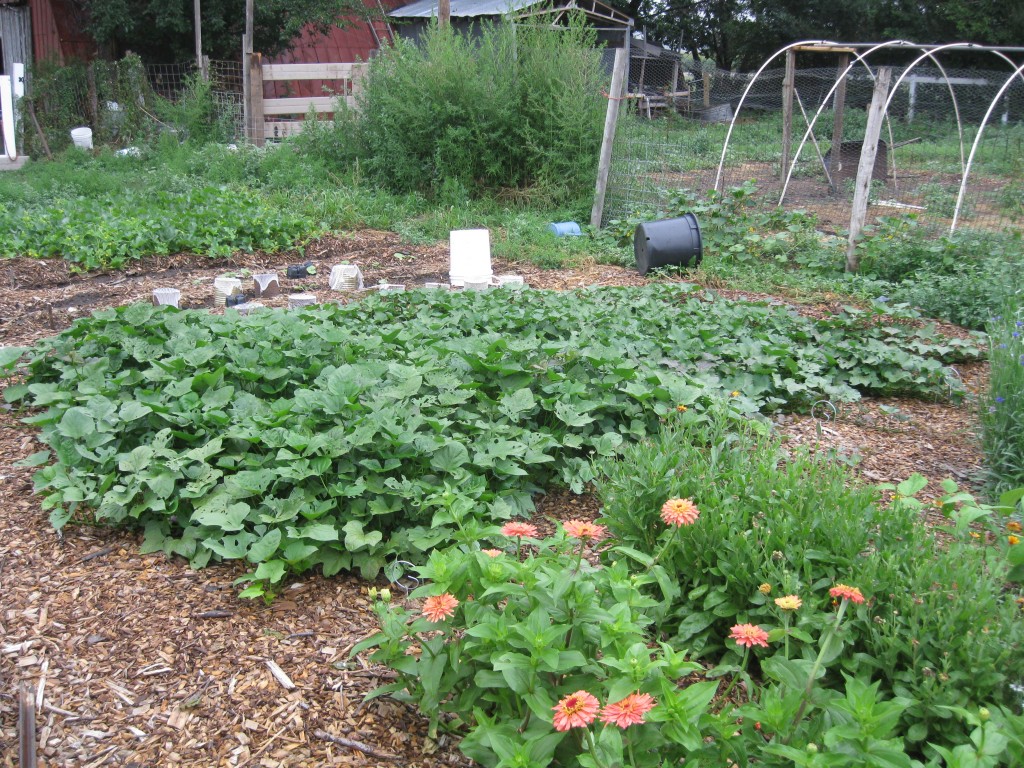 Question:  How did your crops perform this year, compared to prior years?
Anne: "Obviously, with no weed competition, many of the plants have far exceeded other years. I'm most excited about the sweet potatoes, but I won't know if we have a bumper crop or just gorgeous plants until time to dig them.  We've been discouraged by the slowness of everything. In talking with other gardeners in our area, however, at least partial credit to the slowness can be given to the 'every year is different' notion."
Question:  Will you use this method again next year?
Anne:  "Absolutely, in fact we're planning to expand our garden space."
I want to thank Anne again for letting me share her experience with you all.  (Also, Anne, I want to hear about those sweet potatoes, once you dig them!)  I've been watching her experience closely this year,  wondering if it would be worth it to go to that little bit of extra trouble to gather woodchips and newspapers and spread them next year, before I plant the seeds.
In these weedy days of August, I am quite convinced that it would be worth it, so I'm planning to watch out for a quantity of woodchips for my next year's garden!
Thanks again, Anne!
By the way, after Anne and her family harvested their sweet potatoes, I wrote a follow-up post to this enthralling garden story. Check it out right here!
I'm linking up again with The Prairie Homestead Barn Hop this week, with oodles and gobs of great homesteading-related posts! Take a look if you'd like some more informative and inspiring posts!