Return to Anne's "Back to Eden" garden: oh, the sweet potatoes!
My friend Anne conducted a brave and ambitious experiment this spring: she and her family set up her garden with a thick wood chip mulch which covered a layer of cardboard and newspapers. She learned about this technique through this website, where Paul Gautschi does a great job of explaining this very deep mulch kind of gardening.
You might want to check out that post. It and will perhaps get you to think about searching out vast quantities of woodchips and newspapers right now to have ready for next year's garden. Especially when you see the pictures of Anne's sweet potatoes. That is, if you like to grow your own sweet potatoes. Which you probably do if you're reading this post.
I wrote that post in late August, that wearisome time in Nebraska when most gardeners have been engaged in major battles against ragweed, buttonweed, bindweed, creeping Charlie, dandelion, milkweed, dock weed, and invasive grasses, and beginning to lose the war. I seem to have gotten the timing just right on that one, because it's still one of my highest-viewed posts. The message came through, loud and clear: I'm not the only person who struggles with how to keep those weeds out of the garden!
Anne had mentioned earlier this summer that she was really surprised by her sweet potato plants: they were blooming to beat the band, and she said that the only thing she could find out about that strange phenomenon (neither of us have ever seen sweet potato blossoms before) was that the plants were "very happy." I asked her to let me know when she and her family dug up those happy sweet potatoes. I wondered: would the crop that they produced also support the hypothesis that they were quite content? Or would all the abundant leafiness and flowering on top of the soil translate into not much happening underneath the soil?
Now you're curious about it, too, aren't you?

Well. Guess what? No. I won't tell you. I'll show you. Watch me now, being quiet. Getting out of the proverbial picture. Holding my tongue. Figuratively, not literally.
Quiet. As. A Mouse. Starting . . . now!
Here are the pictures that Anne shared with me (and thanks again, Anne!).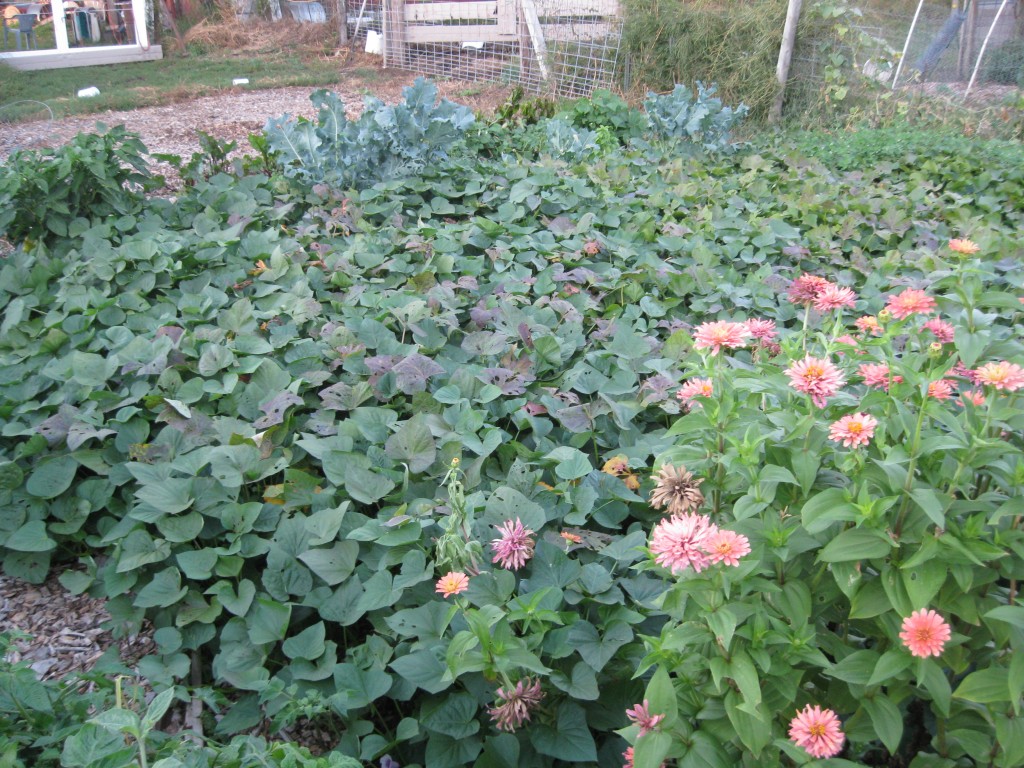 First, here are the very lush and lovely sweet potato plants, next to some gorgeous salmon pink zinnias. That is just one row of sweet potatoes, folks. Obscure note: I was with Anne when she bought the seeds of those zinnias. Anne and her good husband Boyd were pretty curious about what was underneath those beautiful plants, and one night they had enough time to dig just one plant. This picture below is what they found underneath that one plant.
Anne sent me an e-mail that evening and said that so far, the sweet potatoes looked very good, and that they had weighed one of the biggest ones, and it weighed 4 pounds!
That's a very big sweet potato.
They returned to the garden spot the next morning and dug up these:
Anne said that there were all sizes of sweet potatoes, but that predominantly they were big and beautiful and uncharacteristically plenteous. So the plants had been happy, above the ground and beneath, as well. Very happy. Happy enough to produce piles and piles of sweet potatoes.
Then Anne sent me an e-mail to say that they had just dug up a hill that had a sweet potato that she was sure was twice as big as the 4-pounder. Twice as big? Crazy!
I waited, with baited breath, as it were, for more information.
Then it came.
Two words.
"Nine pounds."
I don't think I've ever seen a sweet potato that big before, although my dad has grown some nice-sized ones. That's one big sweet potato.
Nine pounds!
After the harvest was done, Anne and her family went about getting the area ready for next year's planting: filling in the sweet potato trench with dirt, and then covering it with a thick layer of fresh woodchips.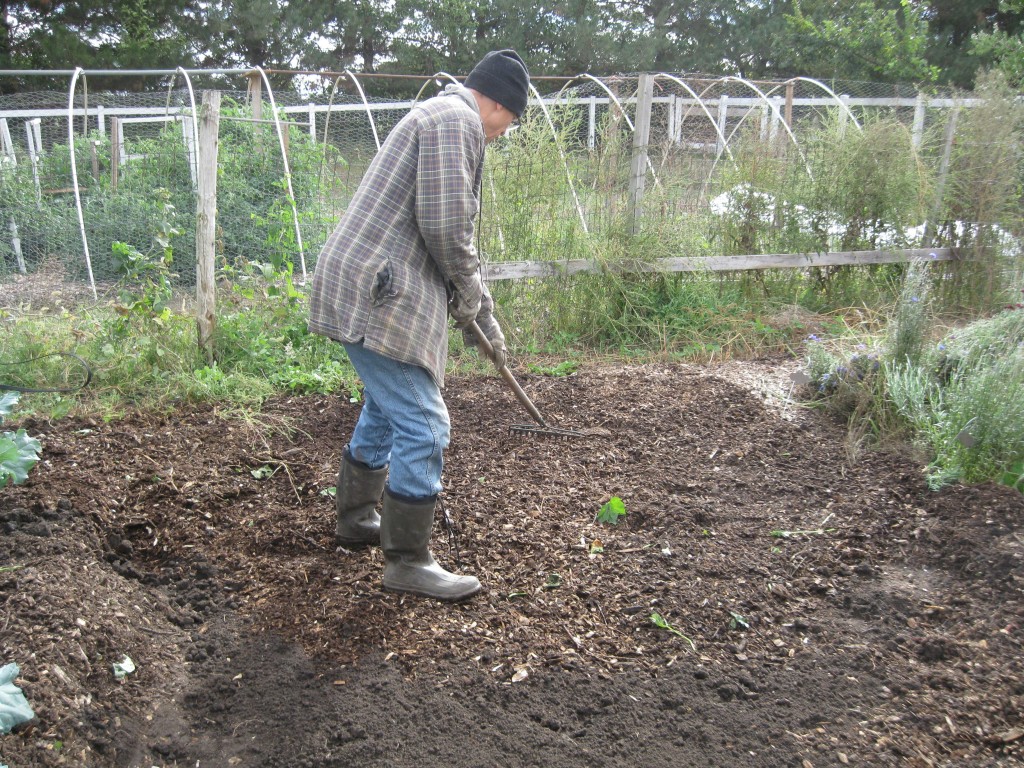 When the task was done, there was a bit of time left for hugging and mugging for the camera.
Although the pictures tell the tale nicely, I asked Anne a few questions, just because I have an inquiring mind, and I thought that you have one, too.
Question: How many pounds of sweet potatoes did you get from that one row?
"There are approximately 130-150 pounds of sweet potatoes from around 16 plants."
Question: Now that your garden is harvested, how do you prepare your "Back to Eden" garden for next spring?
"We plan to clean the plants off, including the few stray weeds that did manage to grow. Maybe add few more woodchips to any thin areas, and sprinkle chicken doo over the top. And plan next year. I'm already planning my 2014 'map'. "
Question: Do you have any advice to others who are interested in starting their own "Back to Eden" garden next year?
"Just jump in. 🙂 Maybe start on a smaller scale than we did, although I would have regretted starting smaller. I prayed a lot through this journey; and I listened a lot, as well."
Question: Any other insights or observations you'd like to share?
"I don't know about any insights, but I'm not tired of the garden and it's October. I'm not spending much time in it because of other fall commitments, but I don't hide myself from it. I am a little anxious to have 5 years of this under our belts. Then I will feel more confident in declaring it successful."
Question: So, do you and Boyd and the girlies hire out?
"Ummm…..no. Although the girlies would probably love helping in someone else's garden. I imagine it's kind of like washing someone else's dishes. It's more fun when they aren't your own. And Sarah does drool over that hoop house of yours every time we drive down your driveway. I think she'd move in."
"I must add that both girls have appreciated the 'tidiness' of the garden, and I think that enjoyment has spilled over a bit into the house. If that isn't a selling point, I don't know what is. ;)"
Thanks so much for reading, Gentle Reader, as always I appreciate you, and thank you so much to Anne for her time in sharing with us! (cue applause)
I'll be sharing this post with The Prairie Homestead and Frugally Sustainable blog hops, just because I'm a sharing kind of a gal. Join us!
And have a great day, you. 🙂