The NEW Artisan Bread in 5 Minutes a Day . . . and a Guilty Secret
You are going to be so happy that you checked in with me today, gentle reader. So happy.
Much as I absolutely love homemade bread, here's my guilty secret: I'm not one of those mamas who makes bread every day. I know many of these wonderful ladies. I would love to be one of these wonderful ladies. My children, even more so, would rise up and call me "Blessed" if I became one of these wonderful ladies. Sigh. But no.
My children do get enough homemade bread to turn up their noses at store bread ("air bread" is what they call it) but they will eat it, if pressed. Some days are just too doggone busy, with school and errands and music lessons and admiring my newly-sprouted (yes!) heirloom tomato seedlings (yes!) to mix up another batch of bread which, truth is, will mostly be eaten within an hour (no lie) squished out of shape (that's why you don't slice hot bread straight out of the oven, I remind them, but nobody listens) and spread thickly with butter. And possibly drizzled lightly with honey.
Did I mention that my oven just stopped working yesterday? It's true. It was a dramatic experience and, I suspect, a bit dangerous. If pressed, I will tell you the story. But that's beside the point. Which is: baby tomatoes!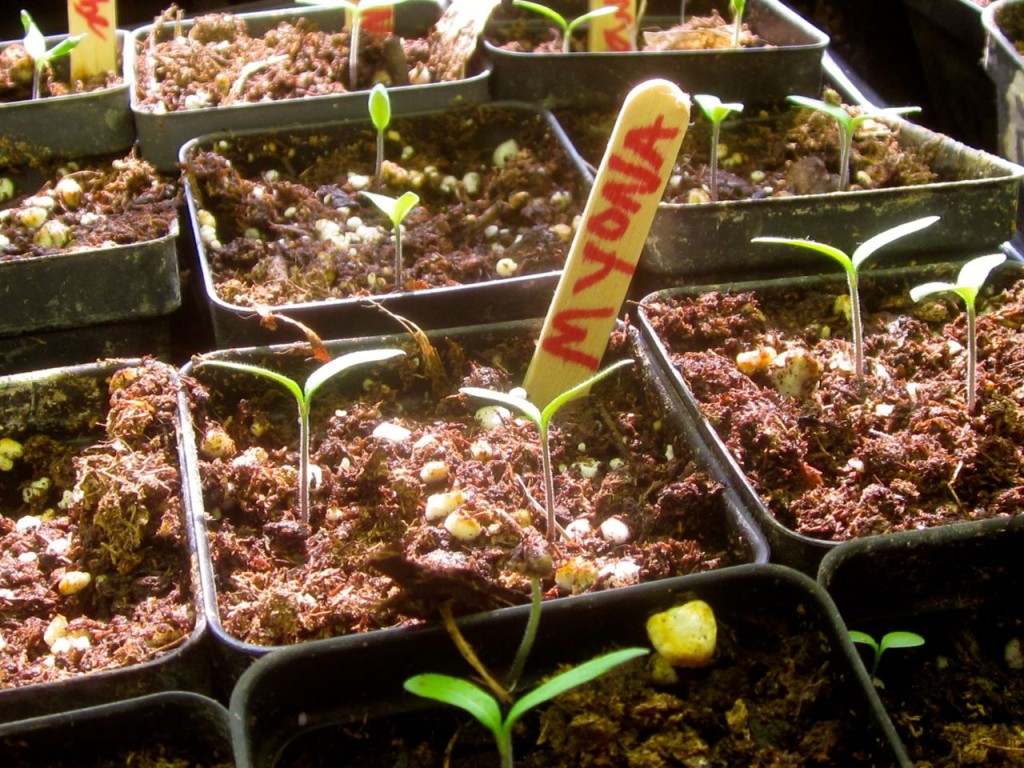 Gosh, I think I need to make some bread. Suddenly I'm very, very hungry for a slice. With just a skiff of butter and a drizzle of honey . . . ?
There is just nothing like the smell of homemade bread to make a home welcoming and warm, and just a nice place to be. Don't you agree?
But I just wanted to get that out of the way: I don't make bread every day. I've always felt like in A Perfect World, I'd have time to make bread every day. Someday, when my super-secret cloning experiments prove to be a success, I will instruct my willing clone (who doesn't argue or roll her eyes, ever) to make bread every day. Deal, kids?
But. When I discovered the Artisan Bread in 5 Minutes a Day cookbook a couple of years ago, I got closer to that ideal of making bread every day. This makes my family so, so happy. It makes me happy, too. This method of making a very wet dough, and storing it for up to a few hours to a few weeks in the refrigerator, and then quickly shaping loaves and baking them in a very hot, steamy oven, is so easy and convenient. It takes (literally) less than 5 minutes to mix up a batch of dough, and then later, less than 5 minutes (literally) to shape the chilled dough into loaves.
And it comes out looking like this: crusty, chewy, hearty, lovely.
This easy method of bread making is an amazing innovation for those of us who love fresh homemade bread, and it makes hot daily homemade bread easy and even (yes) realistic for a busy mama and intense gardener and children teacher and chicken farmer like me. And we have Zoë François and Jeff Herzberg, M.D., to thank for it, because they are the authors of Artisan Bread in 5 Minutes A Day, the cookbook that has helped busy mamas like me to bake more bread in less time. (Thank you Zoë and Jeff!)
Can you picture it? . . . here's my typical bread-making routine: I mix up 4 or 5 or 6 buckets of dough on the weekend. It takes me, roughly, 15 minutes. I sock them all away, feeling very smart indeed, in the refrigerator (we have an extra 'fridge in the basement). Of course you can do this on a smaller scale, putting just one or two buckets into your 'fridge, if you don't have that extra 'fridge space available. It's all good. I realize that not everybody has 32 people that they are feeding on a daily basis. Or is it 64? Or 108? So hard to remember, and it varies from day to day. Lots.
This dough is very versatile. What will you do with it? Perhaps you decide on honey cinnamon rolls for breakfast on Monday morning (my family needs something special on Monday mornings, doesn't yours?), and then on Tuesday let's say you're making a quick spaghetti for dinner, so you shape some cheese bread to go with it, which rises as you make the rest of your dinner. On Wednesday, it's 5:00 before you know it, and you need to make something really quick for dinner so you make some "Crunch time" Stromboli and a big green salad and call it good. Everybody else calls it good, too. It smells so good while it's baking!
On Thursday, you've got just a bit of time before you've got to run your little boy to Taekwondo (gosh that sounds familiar) so you shape some buns really quickly before you leave (you can do this, because this dough isn't fussy about rising times: an hour is fine, an hour and a half won't bother them a bit) and you plan to fry hamburgers to go in them, while they bake, when you get home. And on Friday, of course everybody wants pizza for dinner, it's FRIDAY after all. It's pizza night! You're tired (it's FRIDAY after all) and initially you think, Oiy, homemade pizza, but then! You remember that last bucket of dough and you (smugly) pull it out, and start rolling it out into pizza crusts.
Your family, after all, rises up and calls you Blessed. You blush and feel just a bit guilty, because it wasn't at all difficult to work fresh bread into every day's meals. Because of that stash of bucket dough in the 'fridge. (Thank you again, Zoë and Jeff.) And tomorrow–you'll take 15 minutes to whip up another weeks' worth. Can you picture it?
So using the Artisan Bread in 5 Minutes a Day method of making dough is a great boon to you if you're the one who is responsible for making the meals at your house. But it's also very handy if you make bread for a crowd. When I carried the same "bucket dough" method to my farmer's market table, everybody was happy there, too. Truth is, making traditional homemade bread, with its required rising and re-shaping, kneading and tossing about, was really taking a toll on my hands and wrists. I'm no spring chicken, you know.
But. Then my sister Mollie suggested that I try Artisan Bread in 5 Minutes a Day for some of my farmer's markets breads. First, I checked the book out of the library. Then I bought it. My copy now, after several years' use, is well-worn, full of post-it notes and written notes and bookmarks. I've just used it and loved it to death.
My sister Mollie blew my mind away again a couple of months ago and shared with me that Jeff and Zoë, the authors of the original Artisan Bread in 5, had written a new and revised book, much bigger and even better than the original. I didn't wait for the library to get it this time. I bought a copy right away. Good thing my sister Mollie keeps me in the loop about such things. I do tend to live under a rock.
This new book has gobs of brand new recipes, lots of gorgeous new photos, revisions on some of the recipes that I've used hundreds of times, and lots more! I just love it!
You ought to check out Jeff and Zoe's website. It's always packed with new recipes that aren't in the books, question and answer sessions, very helpful tutorials, and much more.
Want a copy of this excellent book right away? I don't blame you–click here to get your own copy!
Happy baking!
*hugs*
Save
Save