End of the Hoop House Season Soup, tra-laaa!
These are things that I found in my hoop house this week: curly dock (I did not plant it, but I'm gonna eat it) a few parsnips, a few leeks, and a couple of carrots. My sense of adventure and my absurdly fine-tuned frugality decided right then and there that I was going to make soup. Soup. Spring hoop house gleanings soup. And it was going to be GLORIOUSly delicious. I hoped.
This soup was going to be my pitiful little fists shaking at winter, with its bitter temps and its ongoing grayness and its absurd length this year. And its lack of snow. I've always been of the opinion (I realize that many do not see eye to eye with me on this, and I understand and accept this without rancor) that if it's going to be cold, there might as well be snow on the ground.
Just think about it for a moment. Snow is pretty. It turns everything blue at sundown. Blue is my favorite color. Snow covers up the gray and the brown and the sad, forlorn, emptiness of the garden. Snow is a consolation to those of us who must endure at least half of the calendar year in cold, blowsy, often-bitter winter.
We did have a bit of snow before Christmas, and plenty of ice on which to try out little Mack's new ice skates. So our winter has not been a total bust, winter-fun-wise.
But this winter was curiously dry and unreasonably cold here in Nebraska. Sadly snowless. Did you know that little Mack and I haven't made even one snowman? We went sledding only once. Winter has been stingy with us this year, and we are ready for the old gray man to scoot on outta here. Thus, the End of the Hoop House Season Soup. Tra-laaa! Take that, Winter!
I hadn't actually been in the hoop house for several weeks. I knew that I had left some leeks out there to freeze (alas) and also some carrots (rats) and I figured that they were (figuratively speaking) toast long ago. What self-respecting carrot, I ask you, can withstand temps of -10°? None that I'm acquainted with.
So I was astonished to find not only a few leeks, still crisp and happy in their bed of wood chips (thank you Paul Gautschi) but also some carrots (hard to find because their tops froze, but still there!) and some parsnips (the tops of which were putting out new growth, what optimists!). I dug these amazing winter survivors up and took pictures of them since I had my camera in my pocket.
Absolutely they deserved their own pictures, wouldn't you say? Like all of us here in the Midwest (and many other frigid areas of the world, too), they actually deserved a party just for Making It Through.
Here is my collection of winter-survivors, destined for the soup pot. . . . say cheese!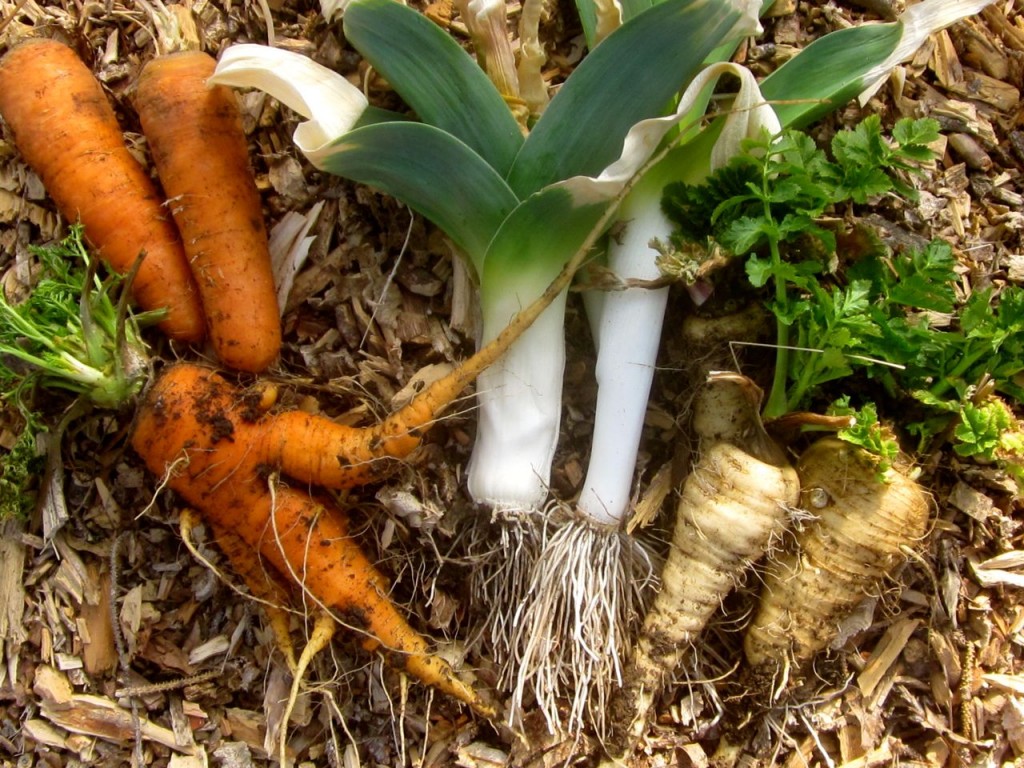 Check out this crazy carrot! (The show-off!)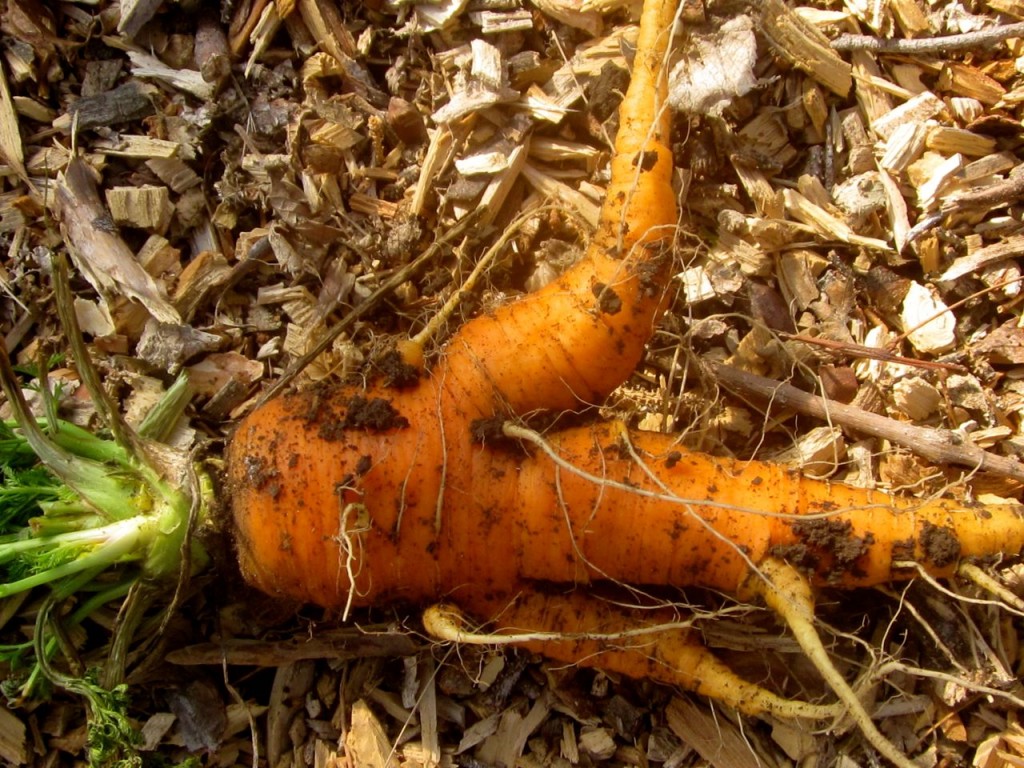 As I chopped and sauteed and stirred and simmered, I thought to myself that if this soup was any good, I'd share the recipe with you, my Gentle Reader. Because I figured that if I was sick and tired of winter and needed a lift that a clear-brothed, veggie-packed, herb-laced soup would give, well then, you might, too.
It was good soup. It was delicious soup. So here we go. Here's what it looked like: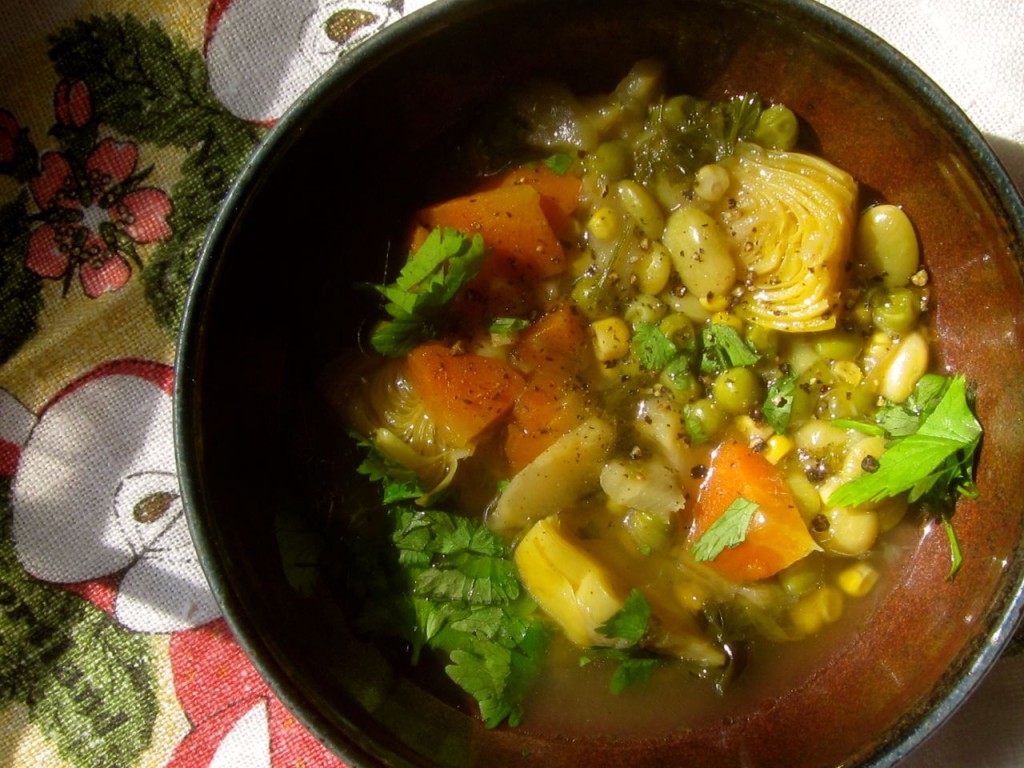 And here's how I made it:
End of the season hoophouse soup, tra-laaa!
Recipe Type
:
spring soup!
Author:
Prep time:
Cook time:
Total time:
You can use frozen veg for this soup, and you can also add a cup or two of cooked chicken, if you have it, and you'll have a heartier main dish soup for the men 🙂 in your life who don't think it's supper if there isn't any MEAT. (I was inspired by a soup that Jenny from Nourished Kitchen made, by the way.)
Ingredients
2 Tbs lard
2 Tbs extra-virgin olive oil
2 large leek, white and light-green parts only, washed and thinly sliced
Finely grated zest and juice of 1 lemon
6 carrots, peeled and diced
2 parsnips, peeled and sliced
2 cups frozen lima beans
8 cups Chicken Foot Broth or any good chicken broth
2 cup baby artichoke hearts, halved
salt and pepper to taste
1/2 cup torn fresh basil
1/2 cup torn fresh cilantro
1/2 cup chopped fresh Italian parsley
2 cups cooked chicken (optional)
Instructions
Warm the lard and olive oil in a heavy stockpot over medium heat. When the lard melts, stir in the leek and lemon zest and fry until begin to smell wonderful and the leek softens, about 4 minutes. Stir in the carrots and parsnips and saute, stirring from time to time, until crisp-tender, 5 to 7 minutes.
Stir in the broth, lima beans, and artichoke hearts. Cover and simmer until the vegetables become tender, about 
30 minutes. Season to your liking with salt and pepper, stir in the herbs and serve. Also optional chicken, if you like.
Crock pot directions: After sauteeing the veg, stir all ingredients EXCEPT artichoke hearts and herbs, into your crock pot and let cook on LOW for 4-6 hours, stirring in artichokes and herbs and cooked chicken right before serving.
Oh! And here's how to make the chicken feet broth, if you are so inclined. 🙂
I'm sharing this link with Jill and the good folks over at The Prairie Homestead, if you'd like to pop over and see what all the fuss is all about!