Cleaning out the chicken coop can be FUN! It CAN. Honest. (It can.)
Okay, maybe not really. But it's got to be done, nevertheless.
By the way. Here's a homeschooling tip for you young mamas: this is what you say when your littles complain about doing math, or indeed, anything they don't want to do. Chores. Latin. Cleaning the bathroom sink. Etc. "Math (or whatever) doesn't have to be FUN, it just has to be DONE." Brilliant, eh? Isn't that why you stop in at this space now and again? For Brilliance?
What do you mean, "Not so much"? Oh well. (Shrugging.)
In the same vein: "Cleaning out the chicken coop doesn't have to be FUN, it just has to be DONE."* See what insightful content you find on this blog? 😉
Cleaning the manure and bedding out of the chicken coop is one of the Big Jobs in the springtime at our place. I use the deep litter method of chicken coop management and so by spring, the chicken coop really has . . . you know . . . DEEP LITTER. It's beautiful stuff, honestly, especially if you tend to burn down your compost pile again and again by mistake (snif) and need to build it up again, and if you value well-rotted manure for your garden. Which (sigh) I do, and I do.
So here's a quick picture-tutorial of how to clean out your chicken coop, if you are also blessed with this chore every spring. And a list of tips. Tips of brilliance, by the way.
Tip 1: Don't complain. Your tomatoes and beans and cucumbers and radishes are gonna just love this stuff! Honestly. When your neighbors' eyes widen at the beauty of your gorgeous tomatoes, the thickness of your awesome rhubarb stalks, the size and glossiness of your cucumbers, etc., you can blush and say "Oh, that. It's the manure." And you'll be right. At least, partly right.
Here's a picture of the Good Stuff: well-rotted chicken manure, a winters' worth, mixed nicely with rotting leaves, hay, and so forth. It doesn't get much better than this, Gentle Reader. This is a powerful breakfast smoothie for your garden. The best garden multi-vitamins ever. An injection of some powerful secret organic growing agent. Yup. In disguise.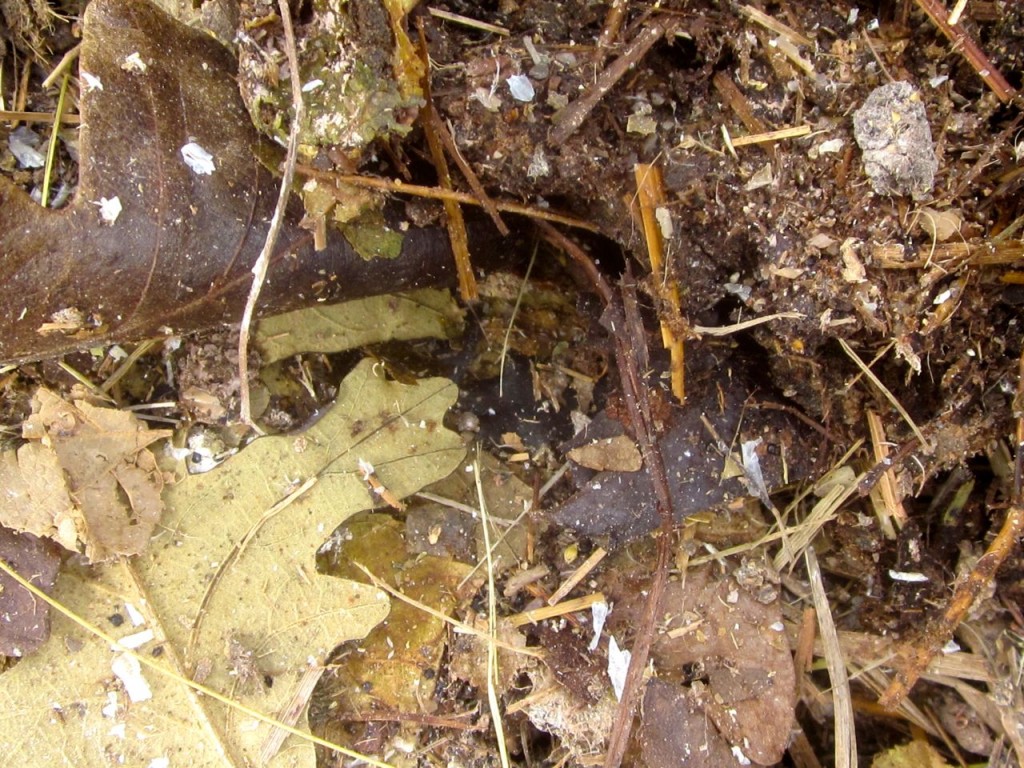 Tip 2: This is a chore best done when it's still cold outside. Early spring is perfect. There are no flies yet, and it's still early enough that you can apply it to your garden. And the chicken coop won't be uncomfortably steamy, as you work. Besides, fresh chicken manure tends to be hot, so it's good for it to have a month or two to cool down before you plant your garden.
Tip 3: Assemble your tools. You don't need much: a pitchfork, a square shovel, and a wheelbarrow (or better yet, two of them) will do it. A willing helper is optional, but very, very nice. And to make the chore go quicker, two wheelbarrows are better than one. You can be filling one, while your helper is emptying out the other one.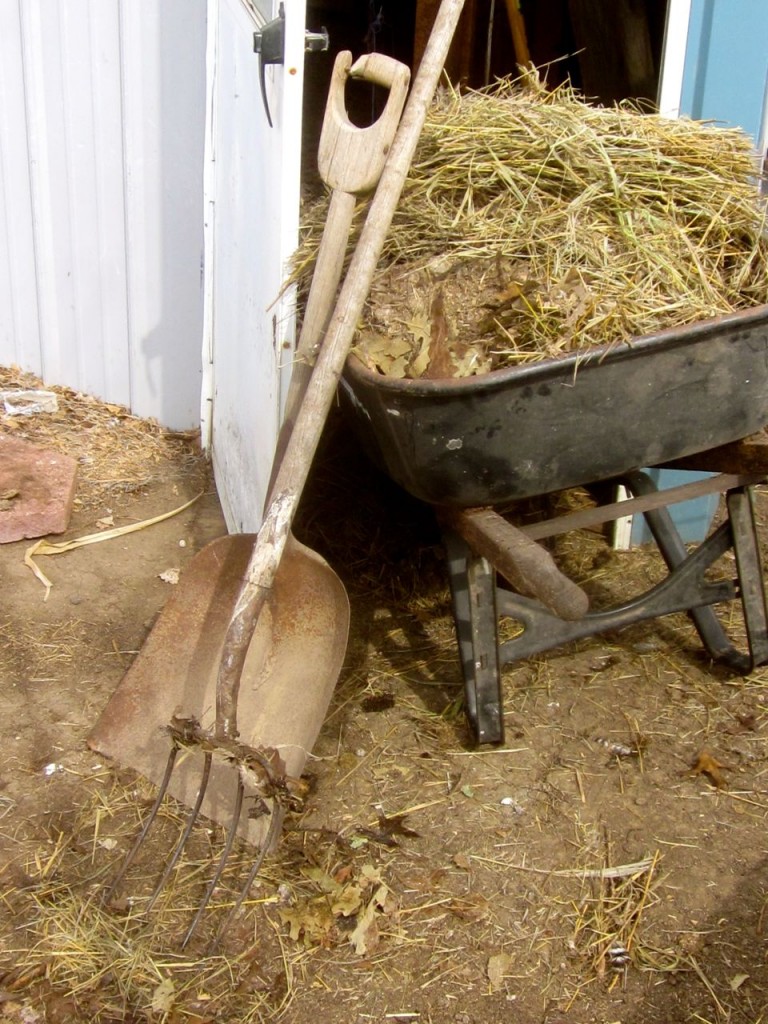 4. If your helper is not willing, refer to handy phrase* above.
In fact. It might be good to memorize that catchphrase. And, of course, say it with a gentle smile. Although you may get this slanted-eyes, smile of sarcasm, in reply. Oh well. You're the Mom. You're tough. You can deal with it.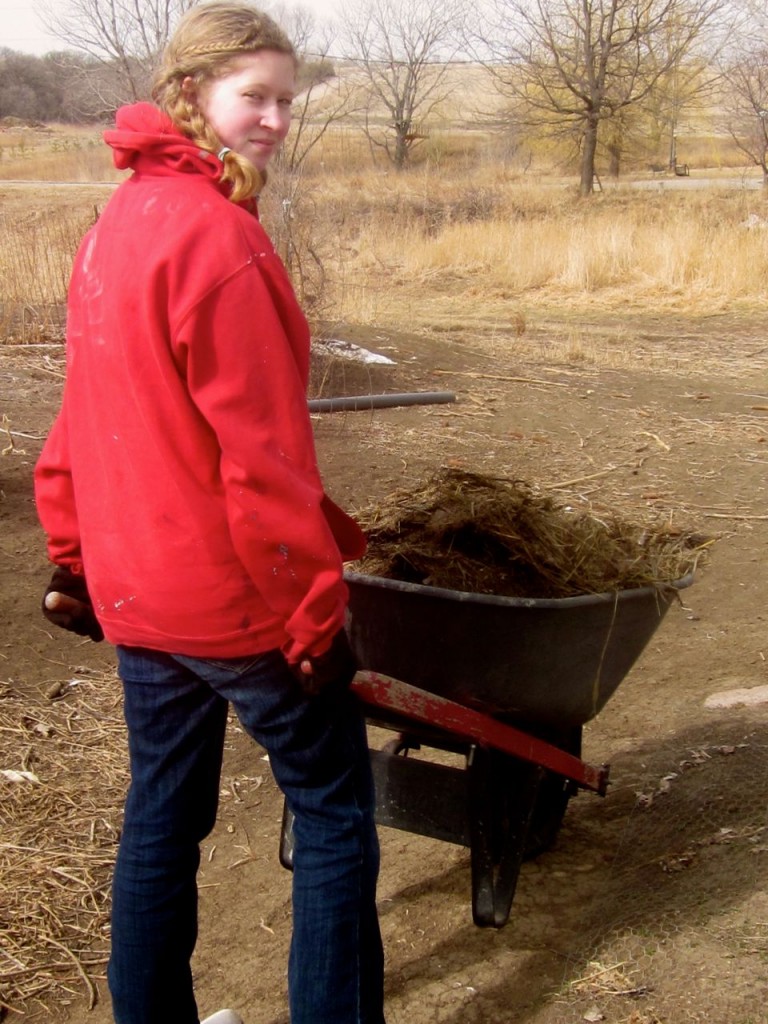 Here's a picture of the chicken coop, below, before our clean-out. The hay and leaves and manure, though I turn them with a pitchfork every week (it only takes a few minutes, and it keeps the compost-building progressing, and also keeps the odor level of the coop down), are pretty firmly matted down, as you can see, especially under the perches.
And, because I provided water in the coop during the coldest parts of the wintertime, and because chickens are often clumsy and tip over their water buckets, there are a couple of areas that are very wet indeed. The bedding from these wet areas really ought to have been removed when it got dumped, but I don't always get to that (guilty grimace). Also, since I'm on a de-cluttering rampage (my kiddos' words) I'll take the excess buckets out. I'll leave the bucket with the oyster shell and the bucket with the sand/ashes combo, though.
5. Use the pitchfork to lift up the top layer and transfer it to the waiting wheel barrow, and then as you get down to the smaller particles underneath, use your shovel to scrape the floor clean.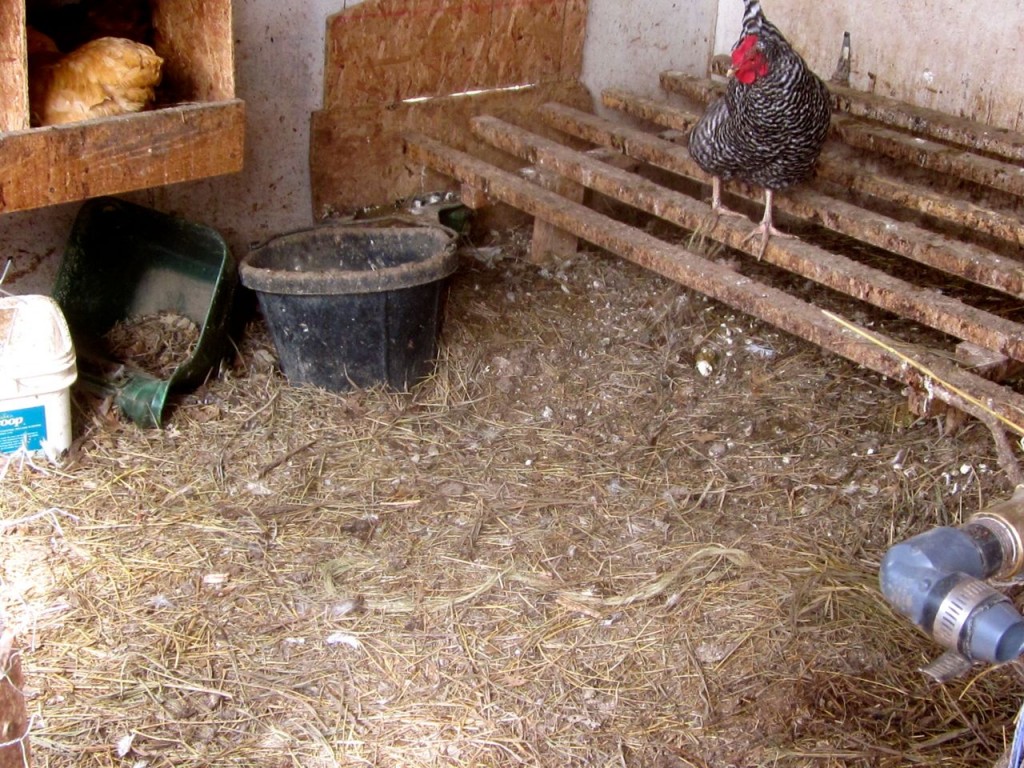 6. In the early spring, you can apply the chicken manure and bedding to your garden, in a thin layer, to be dug into the soil. If you don't clean out until later in the season, it will be best to make it a dandy addition to your compost pile.
7. Your garden will smile all over, and will appreciate the manure, as well as the rotted hay and leaves. The manure adds nutrients, and the rest will improve your soil structure, especially if you continue to add goodies like that to your garden every year. My garden always needs more organic matter. And my hoop house, too, for that matter.
8. Working the composted manure/hay/leaves/etc. combo into the soil is preferable to letting it sit on top of it, especially if you've got tomato seedlings in the house that are triggering dreams of planting in the weeks to come. Which I do. And hopefully you do, too, by now. 🙂
Here's my sweet dad, doing a little light rototilling. I've switched over to broadforking these days. I leave the paths alone, and fork up the beds.
Check out the hoop house soil before rototilling, with the manure sitting on top, and Ollie standing out in front:
And after Dad gave it a pass or two with the 'tiller. Nearly ready to plant!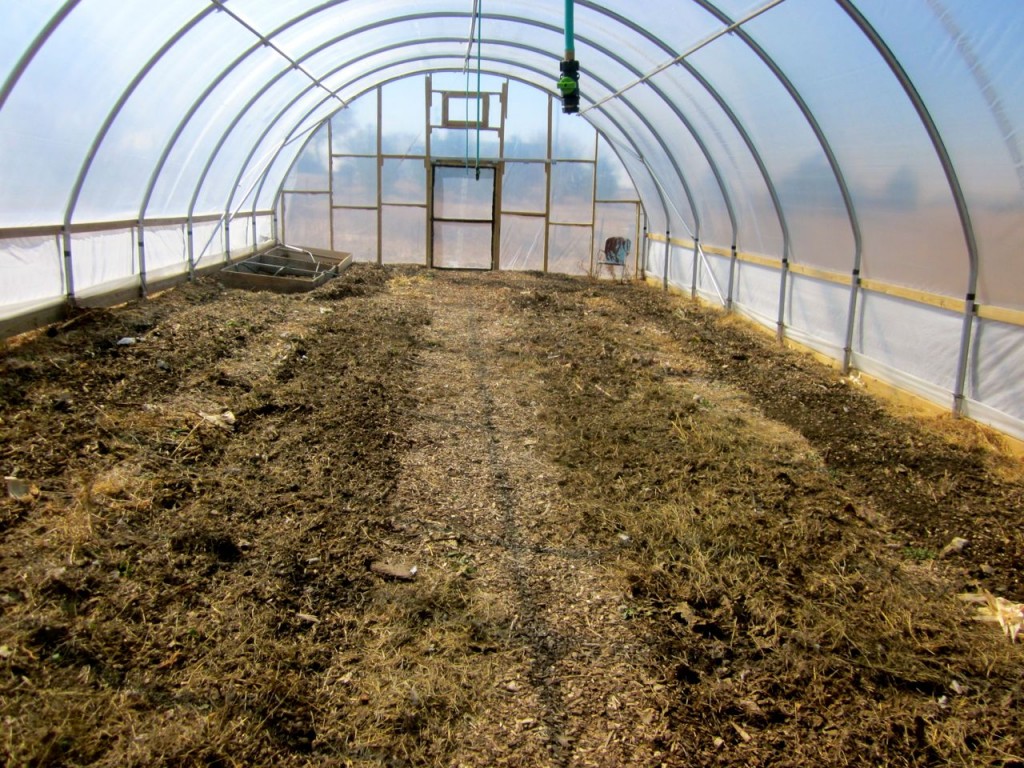 9. It's always best to have company when doing these sorts of jobs.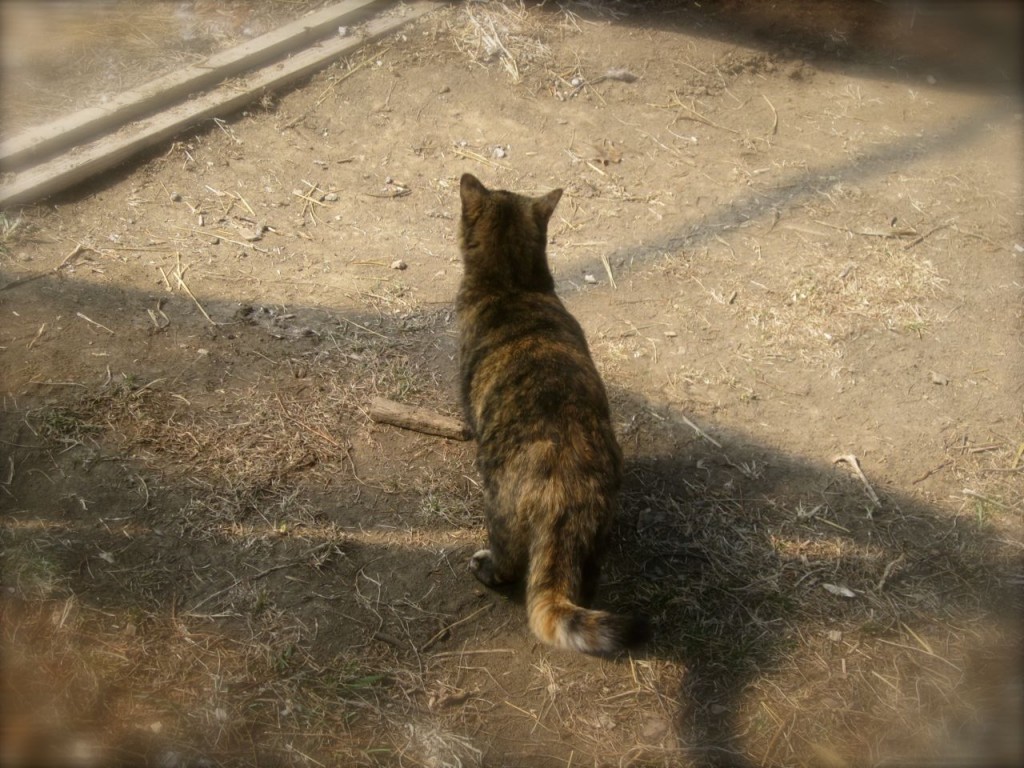 10. Cleaning out the chicken coop can improve your complexion, even if it already is pretty much perfect.
11. Once the coop is cleaned out, add fresh hay, or leaves, or straw, or whatever you have, to start the Deep Litter process all over again. A combination is especially nice, word to the wise department.Then stand and watch the chickens dig in, for a minute or two, at least. Pretty satisfying, eh?
Here's the "After" shot of the chicken coop. The chickens were grinning. Honest.
That's. It!
Hungry for more satisfying tips for making your chooks happy? Check out my ebook, "Secret Chicken Knowledge: I'm Full of it!" If you found some goodness from this post, you'll find oodles of it in my new book. Check out the link below: