Learning to love TURNIPS and their ilk: delicious easy secret recipe!
If you fix turnips for supper, and you holler out "Supperrr's ready!" and your family comes running (or ambling, or toddling, or whatever your family does) to the dinner table, and they ask eagerly "What's for supper?" and you say "Turnips!" with a triumphant smile on your pretty (or handsome) face, what is the reaction of your family members?
"Turnips!? Hoooray!" or
"Turnips. Yuckkk!" (followed by rending of clothing) or
"Um . . forgot to tell you, Mom, I was just heading out for pizza . . . (cough!)" or
(speechless gaping, followed by whistling for the dog . . . )
"Turnips . . . ?? WHY TURNIPS??" (followed by loud wailing) (I think that was Mack's reaction.)
Yup. My house, too. Here's a family secret I'll tell only you, gentle readers: many of my family members would be happier with dinnertime (and thus with the cook, that is to say, moi) if I just stuck to the basics: some sort of meat + a common veggie (corn and/or mashed potatoes) + some lovely gravy + fresh hot bread + maybe, maybe a token fruit (nothing exotic, please, Mom) + a toothsome, calorie-laden dessert to finish it all (say, warm pie–alamode). *burp*
And if there were no dishes to wash afterward, life would be perfect. Perfect!
But then. No chance, fam. I step in—I, the cook of the fam and the cray-cray gardener who raises all manners of veg, including (to cut to the blessed chase, already) turnips. And—excuse me, darling family--but I'm not going to toss beautiful organic turnips to the piggies (much as I love those piggies) while I feed ya'all frozen pizzas from the store. Sorry, Mack.

So the question is--when your family is downrightgrumpy less-than-enthusiastic about your beautimous garden offerings–or even the lovely veg that follows you home from the market or the store–the trick, of course, lies in finding a way to fix these less-common and less-attractive (to some!) vegetables, so your family will actually eat them.
Because, of course, your family will be heartier and healthier on a diet of turnips and sweet potatoes and watermelon radishes and their ilk than what they really want, which is, of course, Cheetos and Spaghettio's and tater tots and Pop Tarts. But you already knew that.
I'm pretty sure the reason my dear hubs doesn't like so many of these "fringe" veg (to our Western diets) is because his dear mother grew up in the deep South, where–at least during her girlhood–no veg was trusted to be edible until it had been boiled hard for at least an hour. Well, and then large dollops of bacon grease were added to them. So green beans weren't bright green and with just a bit of crunch, they were a dull olive green and mushy, with the sheen of bacon grease. I'm not saying that they didn't taste good (to be respectful to my hub's dear mother) but they certainly were different than the way I fix them.
This is my favorite variety of turnips to grow. I started growing them years ago in the fall, in my hoop house, and was startled to find out that I really love turnips! We usually dice them and roast them on a jelly roll pan in the oven, but I tried something different this week, and everybody loved it, so that's why I'm sharing it with you.
Here we go, at last, the easy recipe I alluded to–are you ready? If your family doesn't enjoy turnips or sweet potatoes or whatever: make them into fries. Yup. It works. Honest. Injun*. As my dad would say, you could take an old boot and cut it into strips and make it into fries and it would be tasty. Well, he says something like that. 😉 So here goes. I'm sharing with you my favorite turnip fries recipe.
*don't read that line if you are concerned about strict political correctness. Thanks.
Of course some brilliant mother somewhere, many years ago, who despaired of ever getting her children to eat sweet potatoes slashed them into fries, tossed them with oil and spices and the rest, of course, is l'histoire, as they say. Everybody and their dog eats sweet potato fries now. I can eat enormous amounts of them, myself, whenever I can, wherever I can. Well. So turnip fries are just as good, if not as sweet.
Here's how I make these tasty turnip fries*:

Preheat oven to 425°. Grab a few turnips, and/or a couple sweet potatoes, a watermelon radish, whatever root crops you have handy.
In a large bowl, toss a couple tablespoons of olive oil, 1/2 tsp salt, lots of pepper, 1 tsp chili power, and mix. Quickly. It's nearly supper time, baby.
Peel turnips and cut into strips, taking care not to lop off the tip of your finger. Pat dry with clean towel.
Toss turnips with spices and oil. Hum as you work. This is happy work, after all.
Spread in a SINGLE LAYER (to be honest, I have as much trouble limiting myself to a single layer as I do going the speed limit, as you can see from the photo) on a foil-lined baking sheet.
Bake 15 minutes, turn fries over, bake 15 minutes more, or until desired golden brown deliciousness is obtained. You want them to be roasted enough to be eaten out-of-hand, naturally. 🙂
Taste and add more seasonings if necessary.
Taste again. Analyze. Assess. Maybe you'll need a bowlful of tastings.
One more taste.
Call the fam "Supppperrrrr!" and prepare for compliments.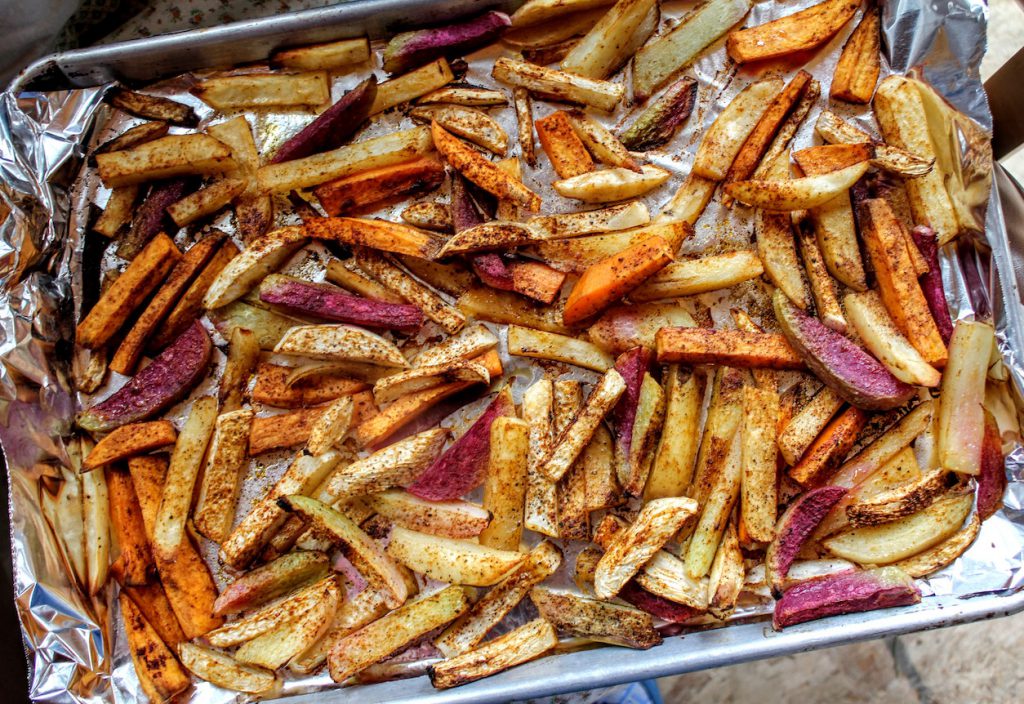 See? How delish do they look? Pretty doggone delish, that's what.
Now go, dear gentle reader. Go and make turnip fries!
🙂
I field questions nearly every day: how do you make money with your blog? Why do you spend all that time writing? One way I can contribute to the family income is by putting ads on my blog, like the Amazon ad below. How it works is simple: if you click on the link below, and then do a little shopping on Amazon ('tis the season), Amazon will pay me a tiny commission, though your order won't cost you a penny more! Pretty nifty deal, eh? So, when it's time to do your online shopping, click through my blog, baby, and thank you in advance! *hugs*
Save