"Big Hair Rehearsal" begs to ask: WHY??!
Post updated February 2015:
Years ago when we started directing a home school drama program in our area,  somehow a strange tradition firmly ensconced itself into our rehearsal schedule:  Big Hair Night.
My son Andrew (formerly our drama student, now all grown up and successful and all that) and I were visiting about this the other day, and I blamed him for the phenomenon. I remembered that he started this tradition years ago, by just spontaneously (he excels at 'spontaneous') yelling one night after practice "Next practice is Big Hair Night!"  Ever since, at one (strange) point in our usually-20-rehearsals schedule, somebody will spontaneously shriek "Next practice is Big Hair Night!" and then everybody comes to rehearsal the next time with (you guessed it) Big Hair.
In our conversation, Andrew turned the blame around to me.  "You started it, Mom," he said.  "You were explaining to us how to 'tease' hair by combing it backward, and that's when we decided to do Big Hair."  Hmmm. Whatever . . .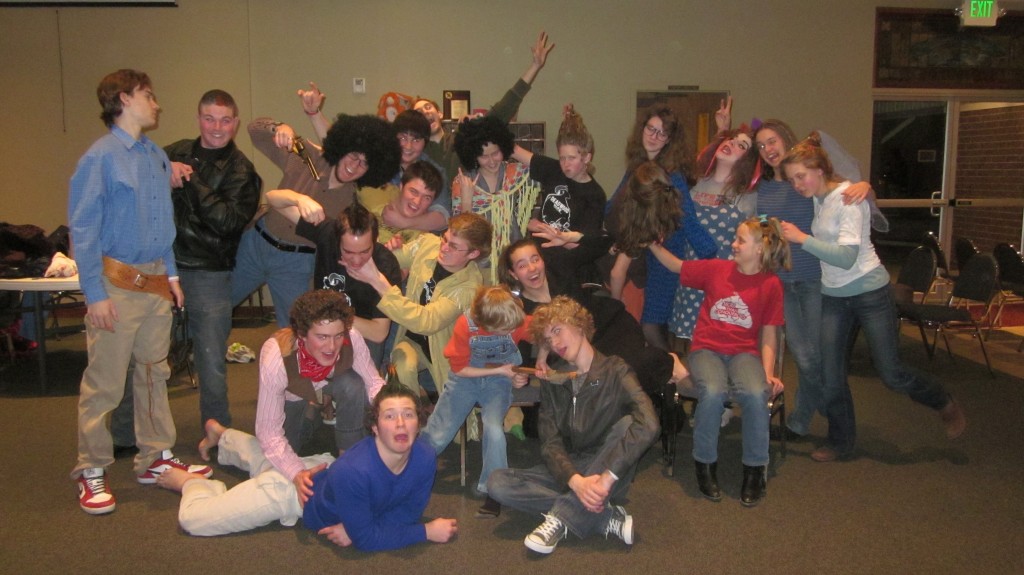 Big Hair Night Tomfoolery!
This still seems a lot more like my son Andrew's doing, and I still blame him for it.  In any case, the tradition stuck and it's a treasured tradition in our rehearsal schedule.
As I watched my actors do their Big Hair rehearsal, it occurred to me all in a rush that–though all these years I've just seen this particular rehearsal as being a bit of a distraction and just a fun thing to do–it actually is worth doing, for the following reasons.
1.  Just at that point when the kids have developed their characters and are fairly successful at not breaking character during a rehearsal, a wrench is thrown into the process–they've got to stay in character while staring across the stage at somebody with an absurd hairstyle.  It's an exercise in restraint, in self-control. It's a similar experience as that of staying in character in front of the audience, when the audience may do something to take your attention away from the task at hand.
2. This simple thing gets you out of yourself.  So much of learning how to act onstage in front of an audience, especially with self-conscious teenagers, is just getting yourself out of the way. My encouragement for my drama kids this year included this quote I heard an actor say in an interview on NPR. I don't remember his name, but what he said stuck with me, as a drama teacher.  "Go as deep as you can in your role, get lost in it and don't be afraid." 
3.  Sharing laughter and memories is a wonderful thing.  At this point in our rehearsal schedule, we've worked the kids pretty hard: usually we're at about the 15th or 16th rehearsal, and everybody has worked hard to memorize blocking, lines, music, and cues, not to mention assemble costumes and props.  They all have busy lives besides drama, yet they devote themselves to our production for a couple of months. It has been serious business, but then we have this silly rehearsal where everybody can laugh and cut up and have a good time together. For some crazy reason, Big Hair Day takes their affection for each other up a notch. 🙂 I love this.
So that's it:  three simple lessons that can be learned from Big Hair Night every year. We've been directing home school drama for fourteen years now, and in a few weeks our 14th annual musical melodrama will open to a big audience (hopefully!) hoping to sit back and be transported someplace else for a couple of hours: someplace where the hero saves the day in just the nick of time, the nasty villain gets his comeuppance and where's there's always hope that the blind heroine will regain her sight at just the right moment, and that the end, after all, will be a happy one.
If I wanted to think hard about this (and honestly, I'm too tired to think too hard about it) I could draw some parallels for success in life:
1. Shake things up a bit, for your own good! Don't hesitate to change things around, it's good for you and you may just learn something from the experience. It develops something or other in your brain, too, but you know you can google that if you really want to know what it is. 🙂 Brand-new neuron pathways, or somesuch thing. I don't know.
2. Forget about yourself now and then. Focus on others, instead of yourself. Lose that self-consciousness. You're probably not a teenager anymore, so put that nonsense behind you. It's not all about you, after all, and the quicker you learn that lesson, the better!
3.  Don't hesitate to do something for no reason other than it's fun and it'll make you laugh.  It can release you from the humdrum and everyday cares of your life, and everybody knows that the endorphins released during hearty laughter not only feel good, but are very good for you. (You can google that, too, if you have the time.)
If you'd like more information about how we started our drama group, you can read all about it on my blog, right here!
I post photos and updates of our drama shenanigans during our rehearsal months every year on my vomitingchicken.com Facebook page. Be sure to "like" it to stay in the loop! 🙂
One more picture to leave with you: