We received the call yesterday that we had been patiently (well, not really patiently) waiting for . . .
Our oldest son, Matthew, and his lovely wife Rachel were expecting their first baby, and Rachel was two weeks overdue.  Now I was a nervous wreck when the baby was two days late, as silly as that is!  Matthew assured me calmly a couple of days ago (yes, he assured his mother, who has birthed six babies, herself) that anytime between 38 and 42 weeks was a perfectly normal and healthy time for babies to be born. I knew this.  But I was still anxious.
Every time the phone would ring, we'd all pause in whatever we were doing, freeze, then bolt for the 'phone.  Every. Stinkin'. Time.  We have caller ID, so whoever reached the 'phone first would look at the number, and then sag with disappointment.  "It's not Matthew."
So yesterday, I spent a good deal of time in the kitchen (where the 'phone is located) cleaning up and cooking and cleaning up and cooking (some days are like that around here) and the telephone rang.  Amalia was nearby.  We both froze and looked at each other.  I darted to the 'phone, shooting my daughter an icy glance (not really) daring her to beat me to it.  I read the number.  I gasped. I croaked.  "It's Matthew."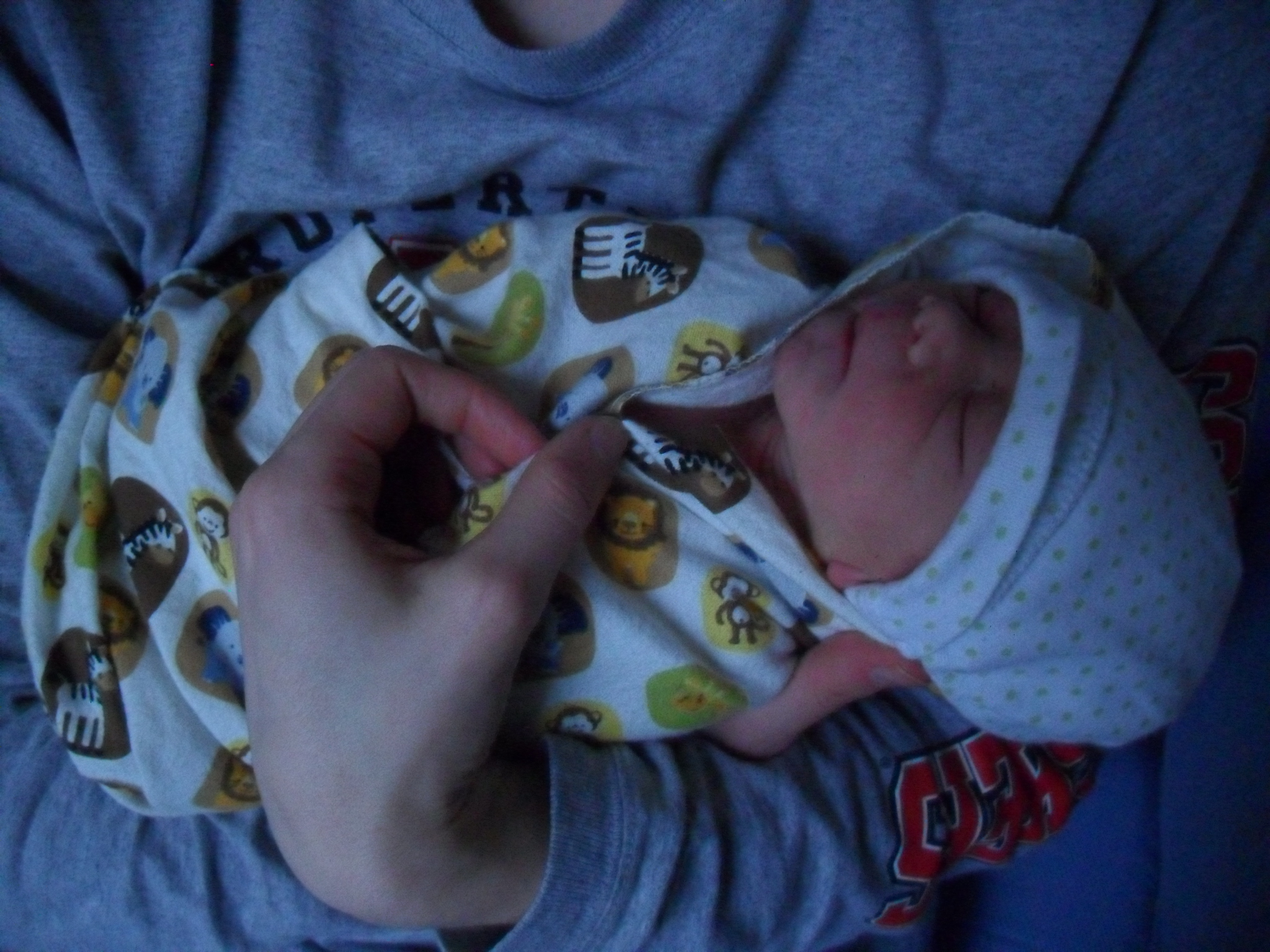 Amalia's eyes opened wide, and she covered her mouth with her hands and started jumping up and down.
"Hello, Matthew–what's up?!"  I answered. Calm.  Controlled.  At Peace.  Not really. I tried not to sound like the turbulent bundle of nerves that I really was.
Now, to his credit, Matthew is sensitive to our (needless) anxiety and every time that he has called lately, his first words are always "Nothing happening yet, Mom."
This time, these were not his words.  Instead, he said "You have a grand-son, Mom."
Oh.  Oh.  Oh! 
I melted, Gentle Readers, I just melted.  Then I oozed (somehow) to the nearest chair and fell into it as my son, the new papa, told me all the particulars.  Amalia and little Mack were jumping and screaming and shrieking in the next room.  Matthew told me that his son was born around 8:30 a.m. on Tuesday, March 5, "he was in a big hurry!" and they named him Emmett Lee.  He is a little fella, and weighs 6 pounds 2 ounces and is 19 inches long (for those of you who dote on these details).
The kids and I didn't do anything but beam happily for the rest of the day, breathing the name "Emmett" over and over again.  Praise God!  A new baby to love!  God is so good!
It'll be a week or two before we can get away, because–as you know–we are a bit pre-occupied with a theatre production this weekend!  But I can't wait to get down to St. Louis to meet my new grandson.  Oh!  I almost forgot!  What kind of a grandma would I be if I didn't share another picture with you?