Birthday Muffins recipe and a 100th post SURPRISE!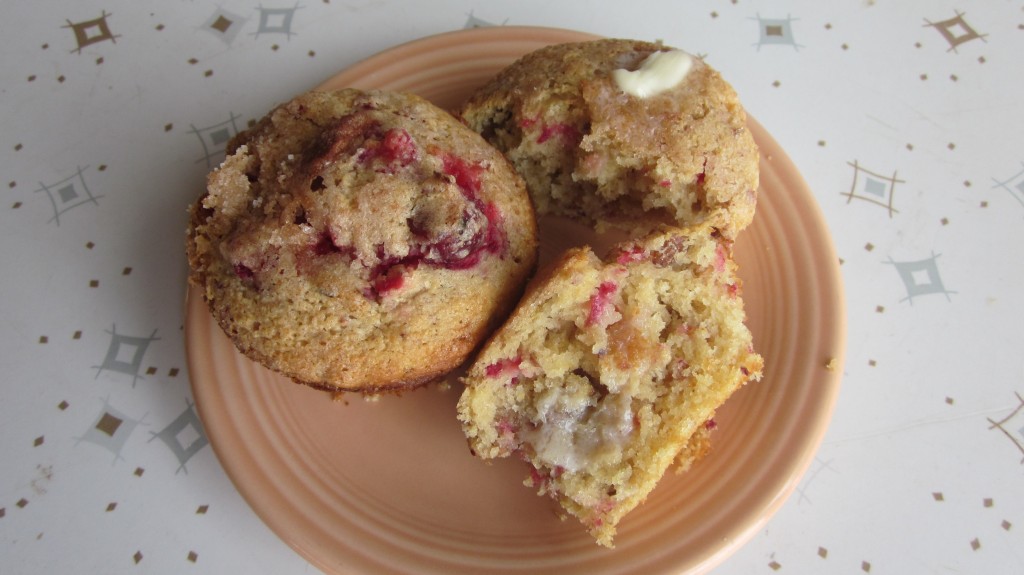 We celebrated Amalia's 14th birthday last month, by starting the day with some special Birthday Muffins, hot and dripping with butter (it was her birthday, after all!) and packed with the things Amalia likes best.  They were so delicious that I took a picture of them and determined to share the recipe with you, Gentle Readers.  Which now I will do.
But first:  An Important Announcement!  (Cue the cymbal crash!)
When I started this blog, I wasn't sure what I was doing (obviously) nor how long it would last, more accurately, how long I would last.. I just enjoyed the process–it's very creative, you know–writing, taking photographs, stopping in the middle of a recipe or a project or a thorny problem or an interesting fact and realizing that here was fodder for an interesting blog post!  Getting lost in the Nebraska countryside, amusing grammar and punctuation mistakes, unusually beautiful sights and fierce selfish guineas have all made it into vomitingchicken.com.  And yet–people keep reading!
Well, today I am celebrating my 100th blog post–this is it, folks, right here–and I'm going to celebrate it by giving you, my Gentle Readers, a wondrous Surprise!!
I'm hard at work on The Surprise, and it should be ready by the end of the week . . . and here's the deal:  if you will SHARE this post and then comment below that you've done so (and in what format–Facebook share?  Twitter? Google+? Pinterest?  YOU get to choose, then you get the Surprise!) and then later this week you'll find something special from me in your inbox!  It's THAT simple.  And . . . you get this delicious Birthday Muffin recipe on top of it all!  And did I mention that it's all FREE? No?  Well, consider it mentioned now!
I'm grateful for you, my readers, I really am, and this is how I can show my gratitude. I appreciate your sticking in there with me through vomiting chickens and marauding steers, through the Dreaded Varmint and endless references to my little Mack.  Thank you. Thank you.  Thank you.
One more thing, and then we'll get to the recipe:
This is what it looked like when I went outside to do my chores on Amalia's birthday.  We had had a nice snow, and then a deep fog during the night-time hours, the combination of which covered the world with sparkles.  You can't see it so well in these photos, but it was absolutely beautiful.  I caught my breath over and over and over again.  I just knew that God made it an especially pretty day just for my adorable daughter, who certainly deserved it.
(Now that spring is just around the corner, I can afford to be romantic about winter . . . right?)
Now!  Let's get on to the recipe.  I actually make muffins a couple times a week for breakfast.  They're quick and easy to make, everybody loves them, I can pack them full of healthy ingredients (of my choosing, heehee!) and they are easy to change up according to my mood, or what I've got available in the garden or the freezer.
Rhubarb going crazy in the garden?  Perfect–make rhubarb and cinnamon muffins!  Got overripe bananas on the counter?  Banana and toasted walnut muffins for breakfast!  Zucchini and cilantro . . . well, maybe not . . . well . . . maybe? (I could go on and on, I really could!)  In this case, my daughter loves cranberries, and I found a bag of cranberries in the freezer, leftover from Thanksgiving, so I pulled those babies out with a cry of joy, grabbed a few pecans I had squirreled away for an important occasion, and chopped them all up, and made these muffins, which filled the house with a wonderful happy-birthday aroma!
Since they were Birthday Muffins, I not only packed them full of chopped cranberries and pecans, I also sprinkled a delicious Streusel topping on their tops before I baked them.  That made them crunchy and sweet and crackly on top, and therefore they were really special!
And . . . the birthday girl loved them. Score!
So without further ado, here's the recipe!
Cranberry-Pecan Birthday Muffins!
Recipe Type
:
muffins/quick breads
Author:
Prep time:
Cook time:
Total time:
Make any day special by serving these delicious muffins to your family! Change up the add-ins if you like.
Ingredients
2 cups unbleached flour
1 1/2 cups whole wheat flour (preferably white whole wheat)
1 cup sugar
4 tsp baking powder
1/2 tsp salt
2 eggs, beaten
1 1/2 cups milk
1/2 cups cooking oil
2 cups coarsely chopped cranberries
1 cup chopped pecans
1 recipe Streusel Topping: Stir together 6 Tb flour, 6 Tb brown sugar, 1/2 tsp cinnamon, and 3 Tb orange zest. Cut in 4 Tb soft butter until mixture resembles coarse crumbs. Double this Streusel recipe if you're feeling particularly self-indulgent!
Instructions
Preheat over to 400 degrees F.
Prepare Streusel topping, set aside.
Grease 24 muffins cups, or line with paper cups.
Combine dry ingredients, make a well in the center.
In another bowl combine egg, milk, and oil. Add all at once to flour mixture.
Stir just until moistened, and then fold in chopped cranberries and pecans.
Spoon batter into muffin cups, filling each two-thirds full.
Sprinkle with prepared Streusel topping.
Bake for 18 to 20 minutes or until golden and toothpick inserted comes out clean.
(This gives you time to scramble some eggs and cut up some fresh fruit to go with them!) Cool on wire rack for a few minutes, then serve warm with butter!
So a quick recap–thanks again for reading, enjoy the muffin recipe, and share this post with your friends and leave me a comment about it!  Deadline for sharing and for The Surprise is this Friday, March 8, after which time I'll send out the Something Special for you.  (Your friends who share get a surprise, too, so encourage sharing today!)
Thank you, Gentle Readers!  No go–make muffins–enjoy your day–and don't forget to share!