We've been so gleefully busy with spring planting and watering and so many fun things going on outside (for example, we planted 50 trees and what do you know, it rained the next day. At last. Hooray!) and then a death in the family (my husband's sweet mother passed away, a week before her 92nd birthday) and a bad bout of the flu have all succeeded to slow . . . me . . . down.
So I'm sitting here, still recuperating, thinking about my sweet mother-in-law, and taking life an hour at a time. It won't be long before I'll be strong again (I hope) and then I'll have some cool projects ahead of me: trimming the flight feathers on those chooks who insist on flying over the garden fence; stringing up my fishing line fences against the deer; taking little Mack fishing again, and this time allowing enough time to catch a number of fish decent enough to slime up the filleting knife for.
You know I've never made fish stock, and I'm dying to. Call me crazy. Plus, I dearly love those little bluegill fillets. So does the rest of the fam, since I've learned how to make them–with plenty of butter (swoon) and capers.
Although–to be fair–it's very difficult to take time away from getting the garden in, this time of year . . . don't you agree? That's really all I want to do.
What, you too?
Well, there are a few things of import that I love, too. Like when Princess Anee comes to visit. We do something different every time. This time, we all put on aprons and "mixed" and "cooked" and then did some more. Little Mack watches over Anee's mixing here, offering his advice, man-like. 😉 "You missed some of the cinnamon here, Anee, don't you want Uncle Mack to help? Oops, you spilled some, here, I'll help you clean it up."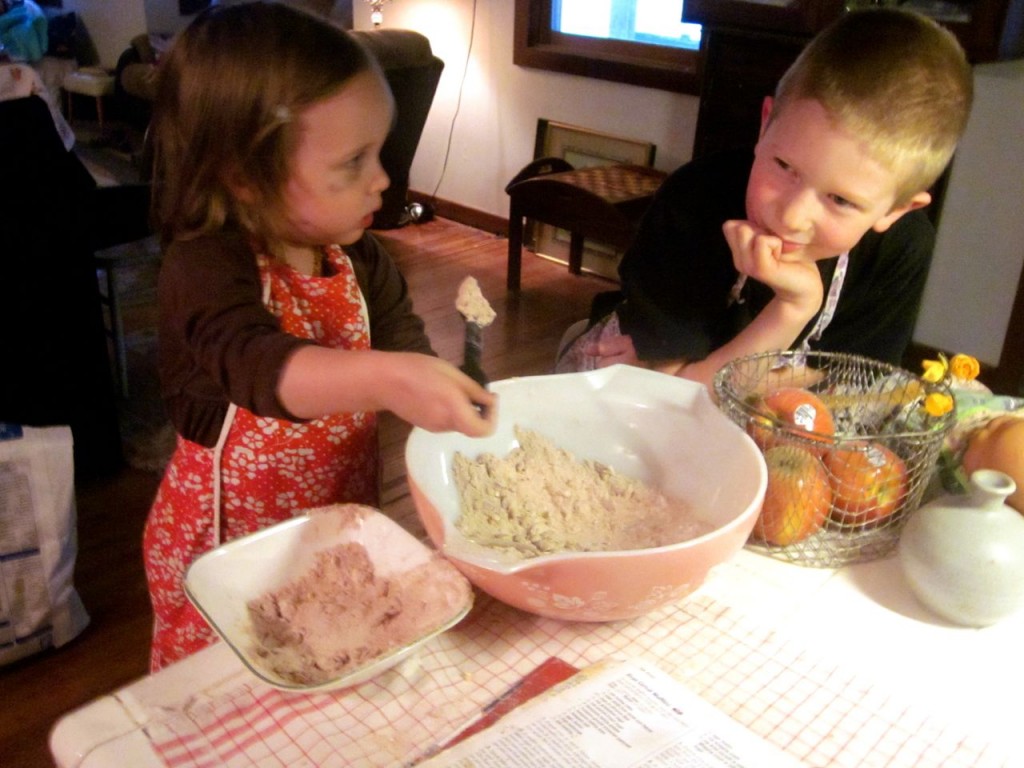 Easter is pretty important around here. We had around 40 fun people over for dinner (pot-luck, because it's always best that way!) and since my brother Matt opted out of the festivities (cough) we made sure that he didn't miss a thing.
This is our tradition, since, oh, I think two years ago, so it's a forever-thing now. If one of the siblings misses Easter, we make a complimentary dummy of the miss-ee, and have our fun with it. We chortle. We laugh. We set them in amusing positions and places and take pictures.
You know, since Easter is at my house, I'll likely never receive this treatment. 🙂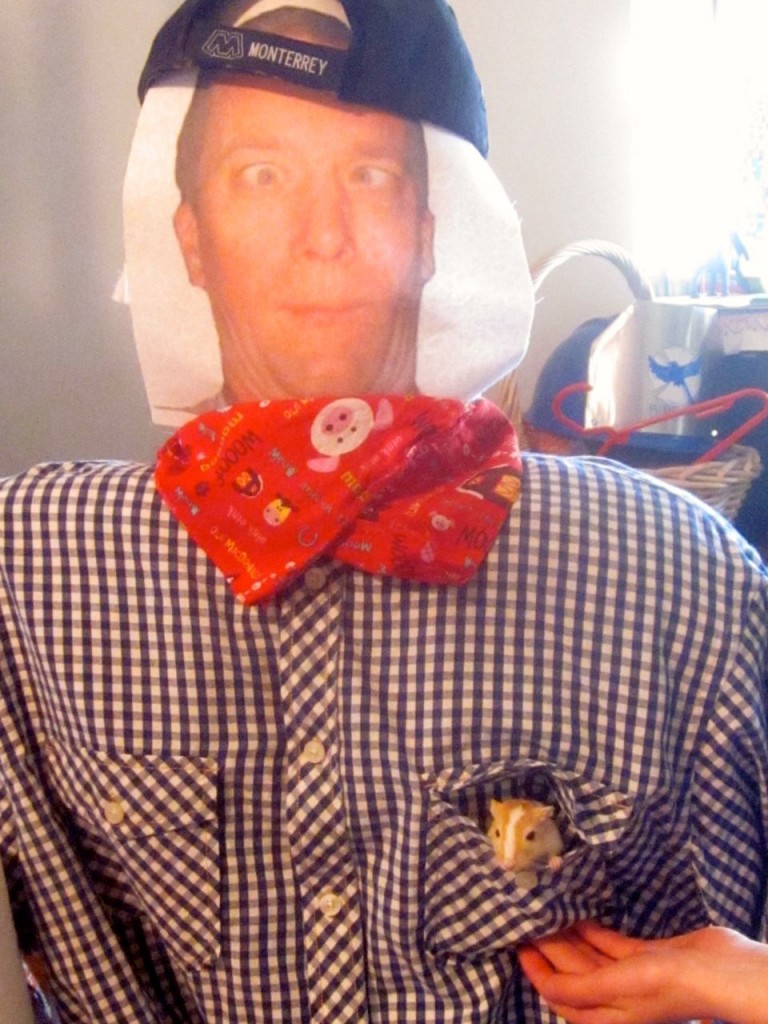 Another Big Deal: Little Mack finally got his wish of getting gerbils. We picked up a fish tank at a garage sale, and within a few days we had two gerbils installed happily into it: Teddy (above, in the pocket) and Rosy, a little gray female. We all love them, naturally. The cat, of course, is fascinated by them, as well, but so far–has left them alone.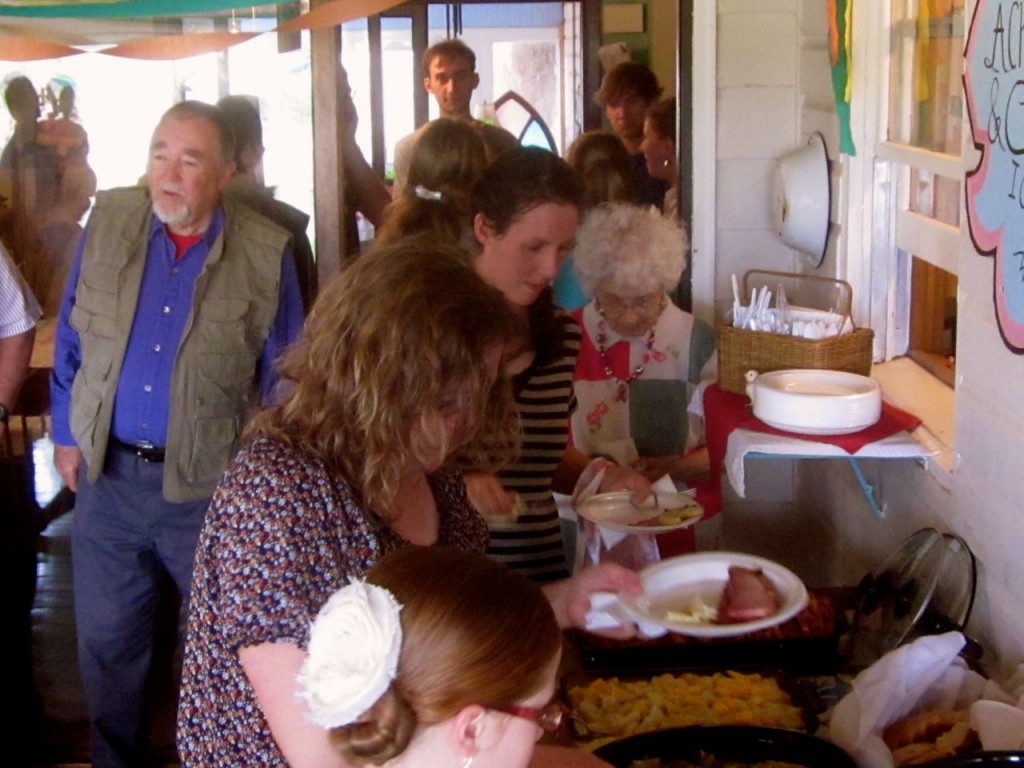 I love having so many of my favorite people under my roof all at one time, like we did this year at Easter, and the food was amazing. Dad's glazed ham–his recipe just gets better every year. Sonia's penne and cheese. Anne's fish eye salad. Moroccan carrot salad. Roasted asparagus. Cheesecake, pumpkin pie, and watermelon and strawberries. It was quite a party.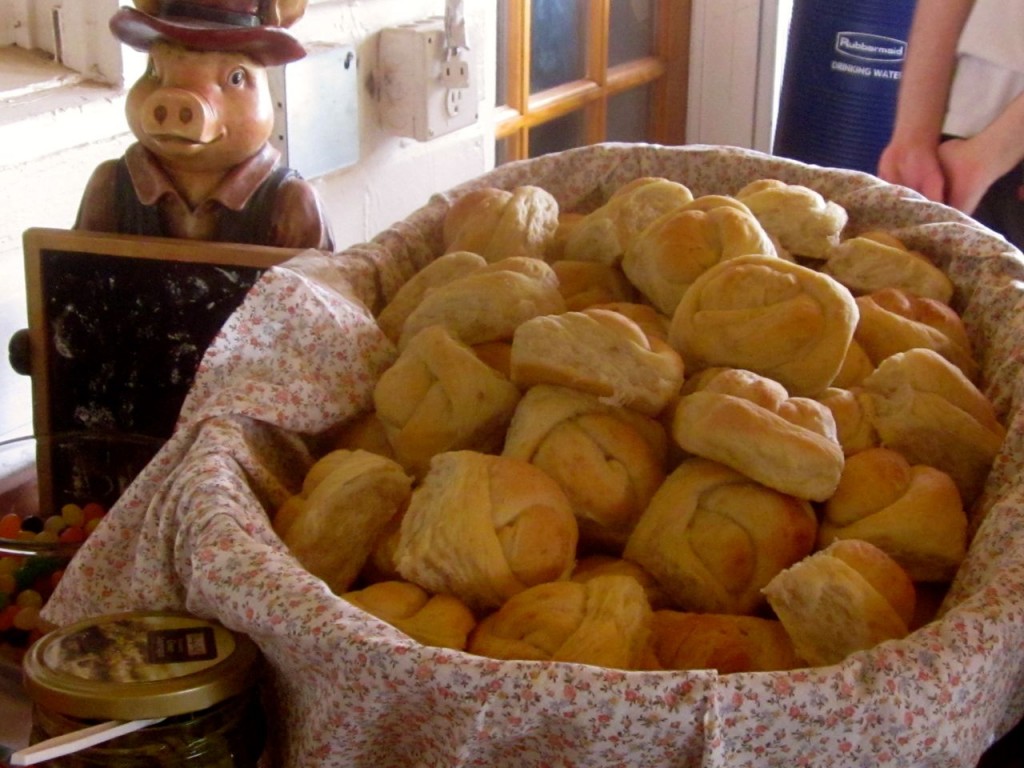 Homemade rolls, of course, by the bushel. Literally.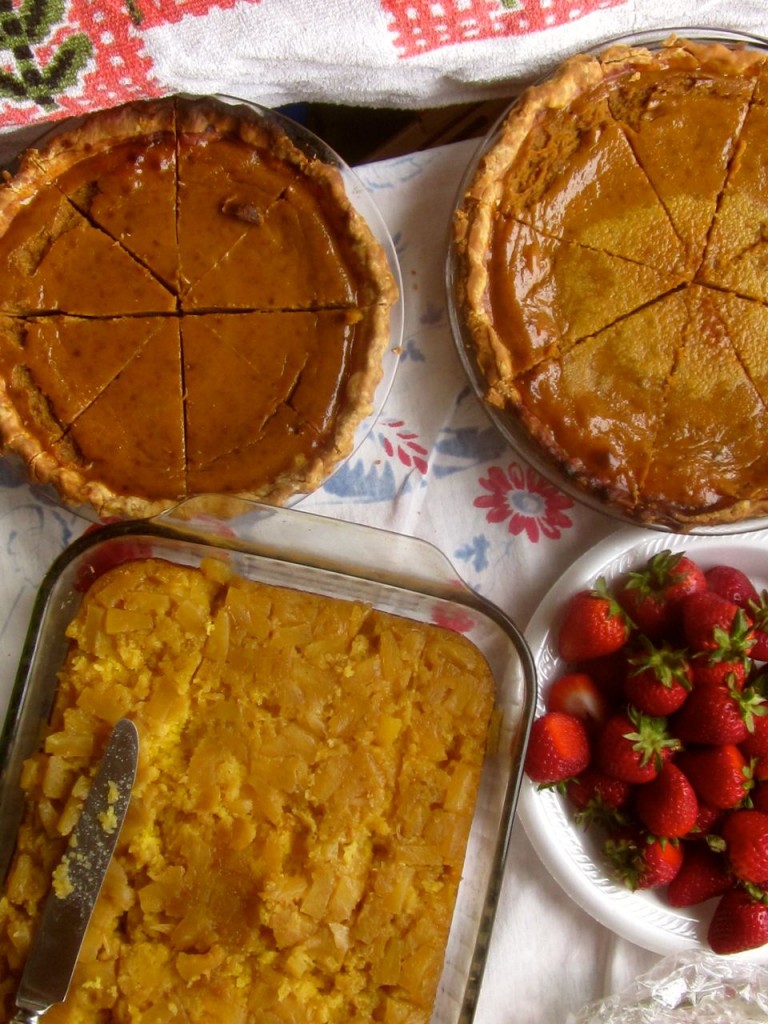 Pies. Cakes. Strawberries with cream.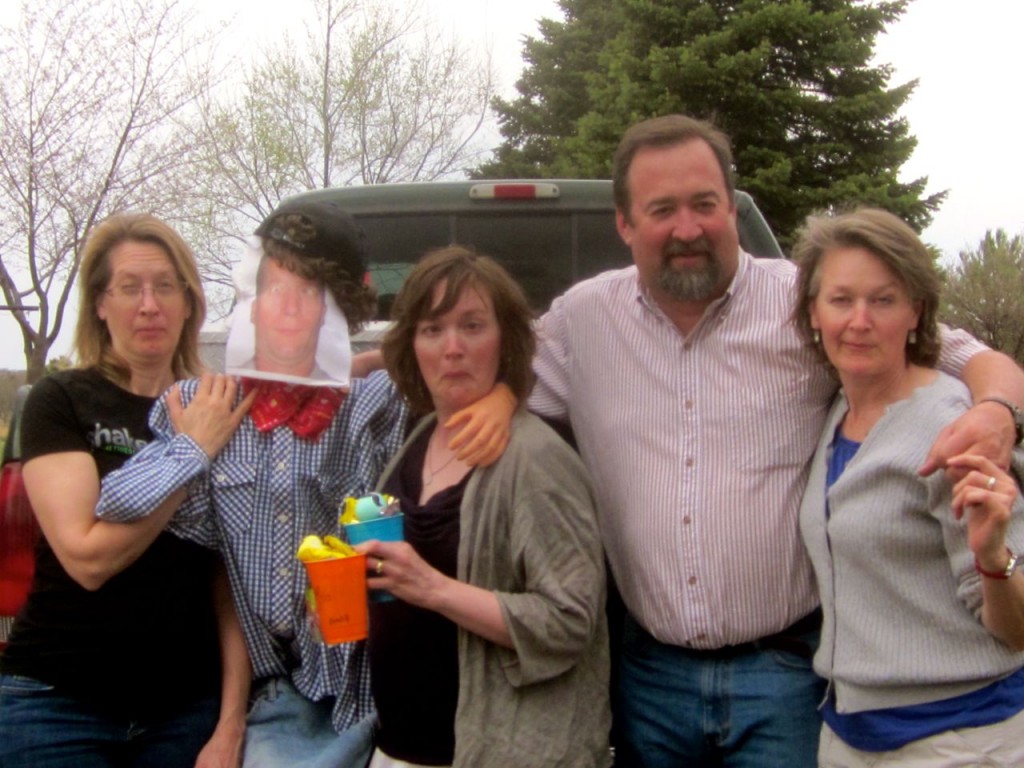 And of course, the obligatory siblings picture, with Stand-in Matt. We're all really close now, but–my!–we really squabbled when we were kids. I'm so glad, though, that Mom didn't give us away to the milkman, even though she threatened enough times. Sheesh, Mom.
Not that he would have taken us.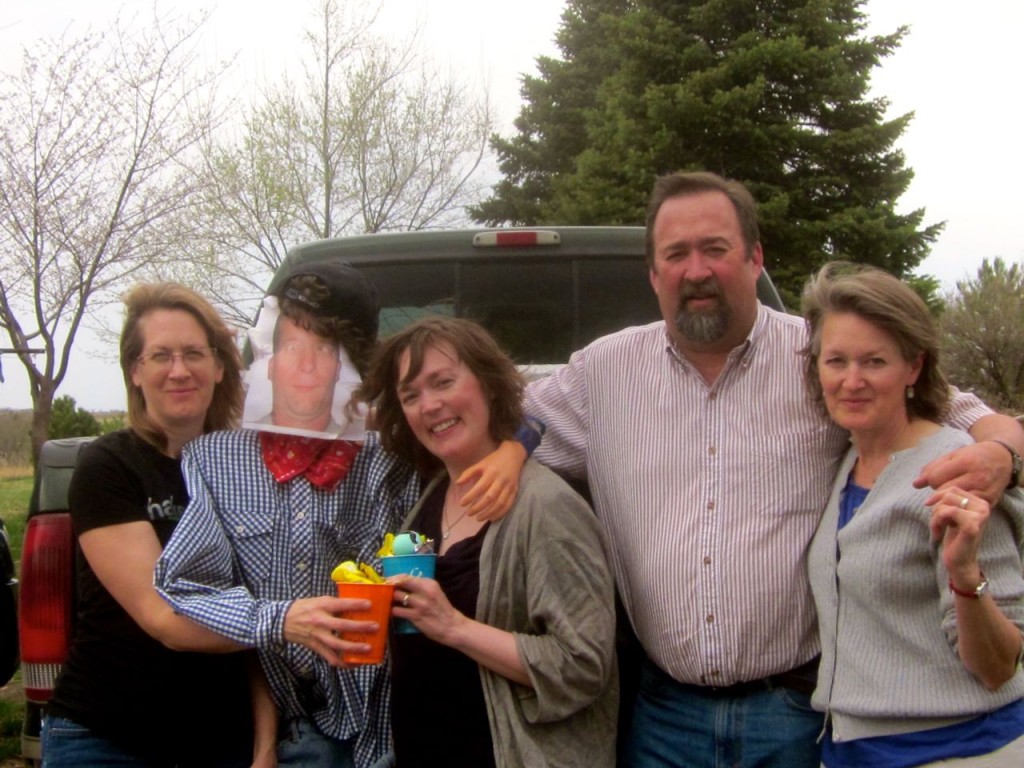 "Now, kids, take a nice one. See, Matt is behaving himself, you all can, too." –Mom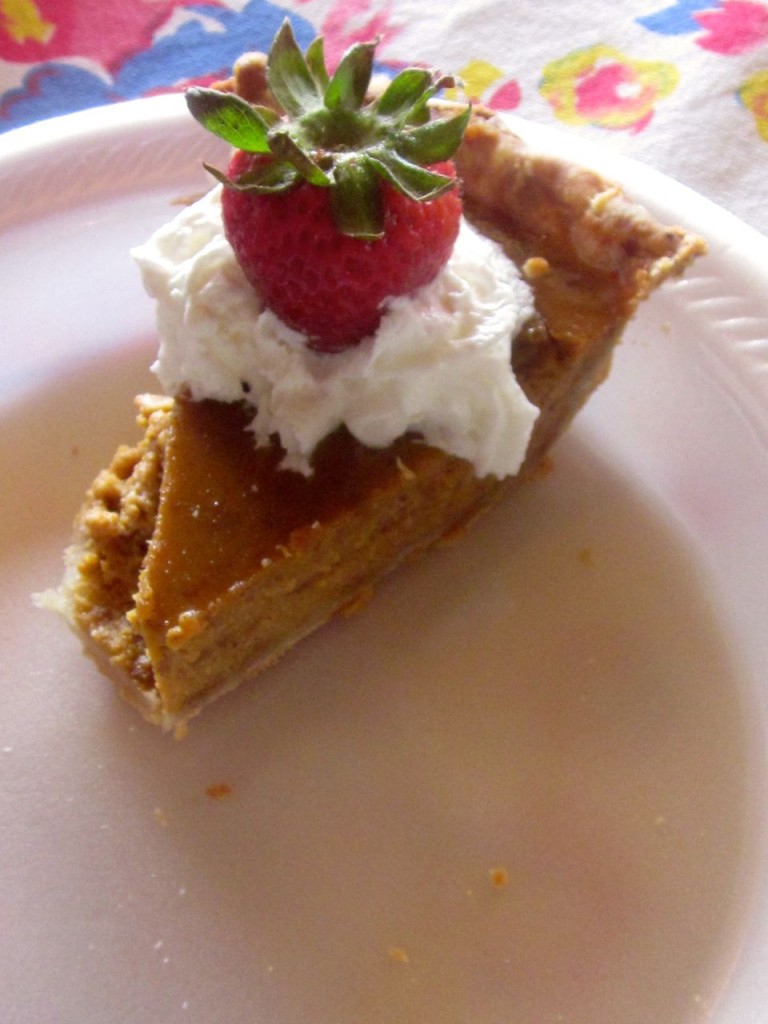 Liam really knows how to eat pumpkin pie.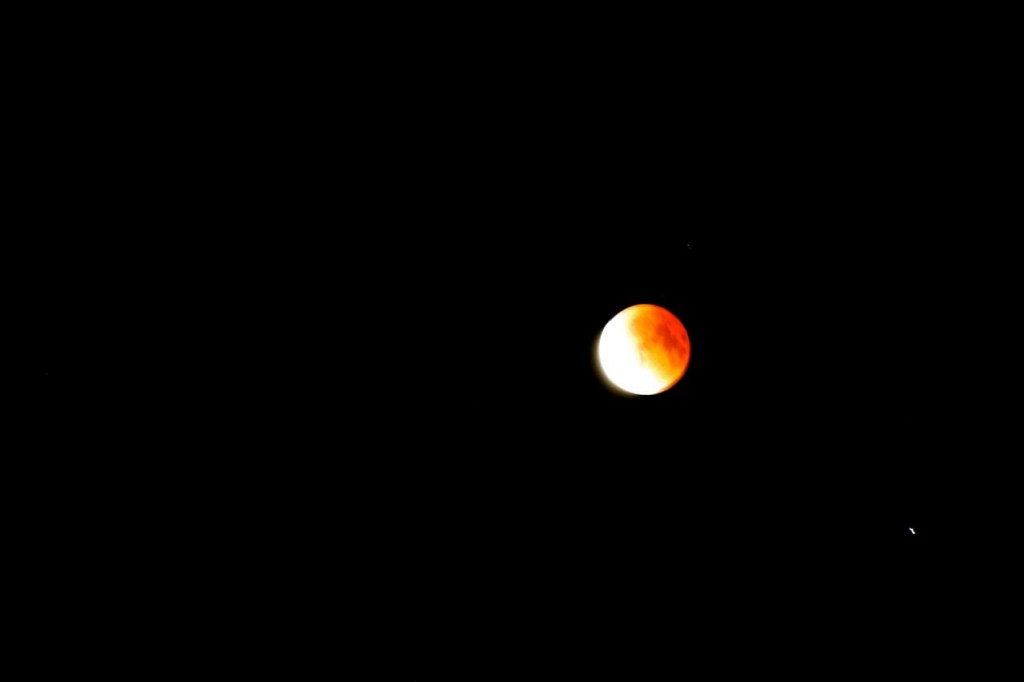 Did you get up in the middle of the night to see the "blood moon"? I did. I didn't set an alarm, I just woke up at 3:30 that morning and staggered outside with my camera. I think God nudged me. "Amy. My child. I have something for you to see." It was very cold outside. I just about collided with Timothy in the dark, who did set his alarm. We stood outside in the cold for a few minutes, barely breathing, puffing steam in the cold air. It was so beautiful.
"Should I wake everybody up?" I asked him. He shrugged. I decided that this moon was not to be missed, so I went back into the house and woke up little Mack, Bryan, and Amalia. They all staggered out, took a look, made sleepy remarks: very amazing, so beautiful, etc., thanks mom, and then trudged right back to bed. I don't think any of them actually were wide awake.
Timothy and I looked at each other, and then he turned around and went back to bed, too. I balanced my camera on the hood of Timothy's pick-up and took a few pictures, getting my toes and fingers dangerously cold. It was worth it.
And then, I went back to bed, too.
I mentioned the fishing trip. We had worked very hard for a couple of weekends, and little Mack was starting to feel sorry for himself. "But it's so nice out. What about FISHING?" he asked. So we took off, though we didn't have much time, and grabbed a hamburger-and-fries for our dinner (we didn't hit a deer this time, after our hamburger grab) and then stopped at Wal-Mart for fishing licenses, and went fishing at our favorite little lake. We caught just a few fish (not enough to warrant getting the filleting knife slimey for, asserted my practical husband) but enough to make everybody happier.
Learning more about fishing with his Dad makes little Mack happier.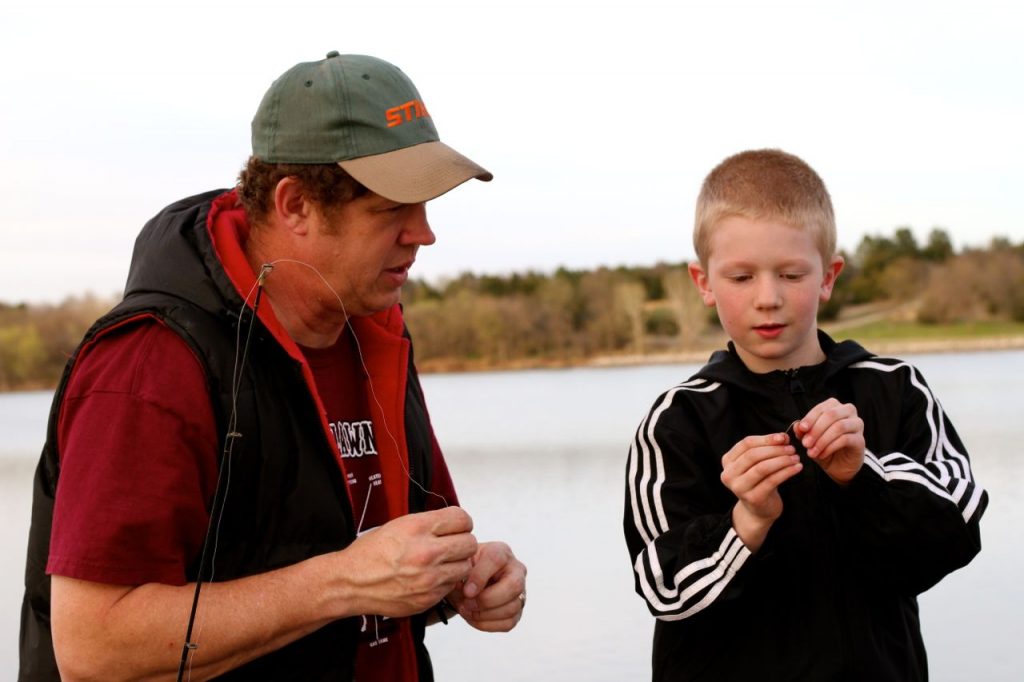 The sunlight bouncing off these little flowering plants made me very happy (haven't identified them yet).
Also, taking pictures of my little boy's freckles make me happy, too. Check them out.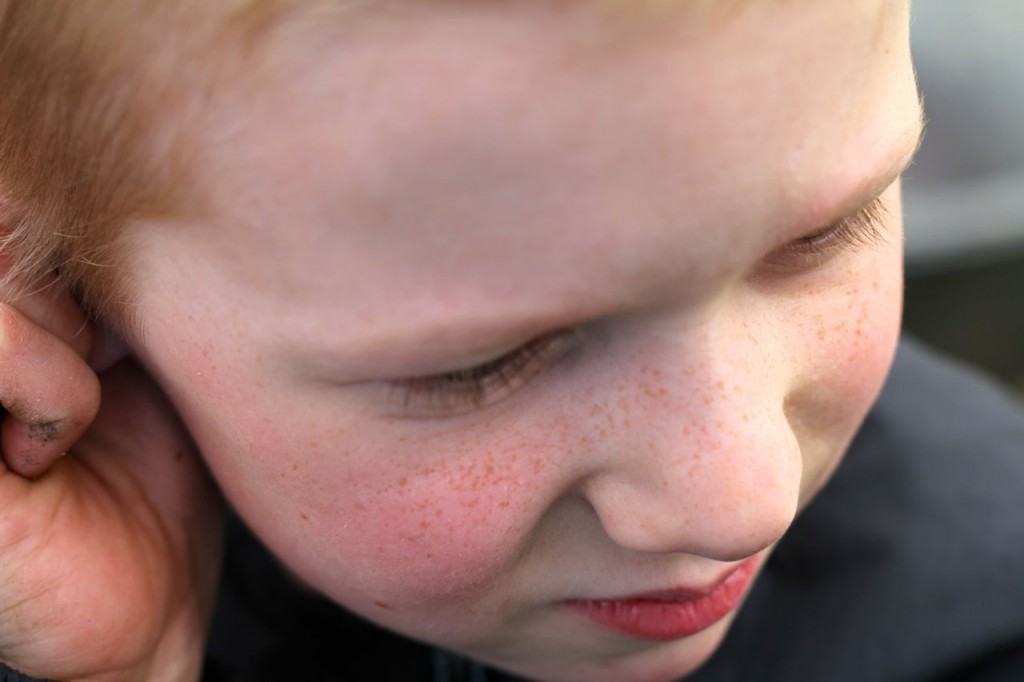 These girlies. All dolled up for their homeschool prom. Such beauty! 🙂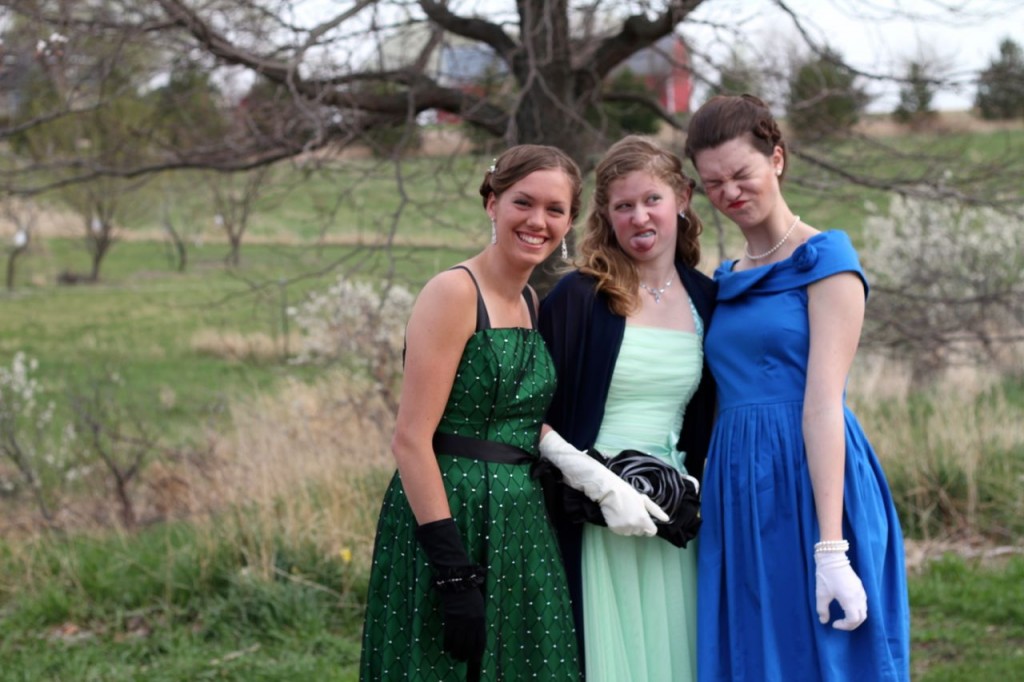 This boy. So much fun.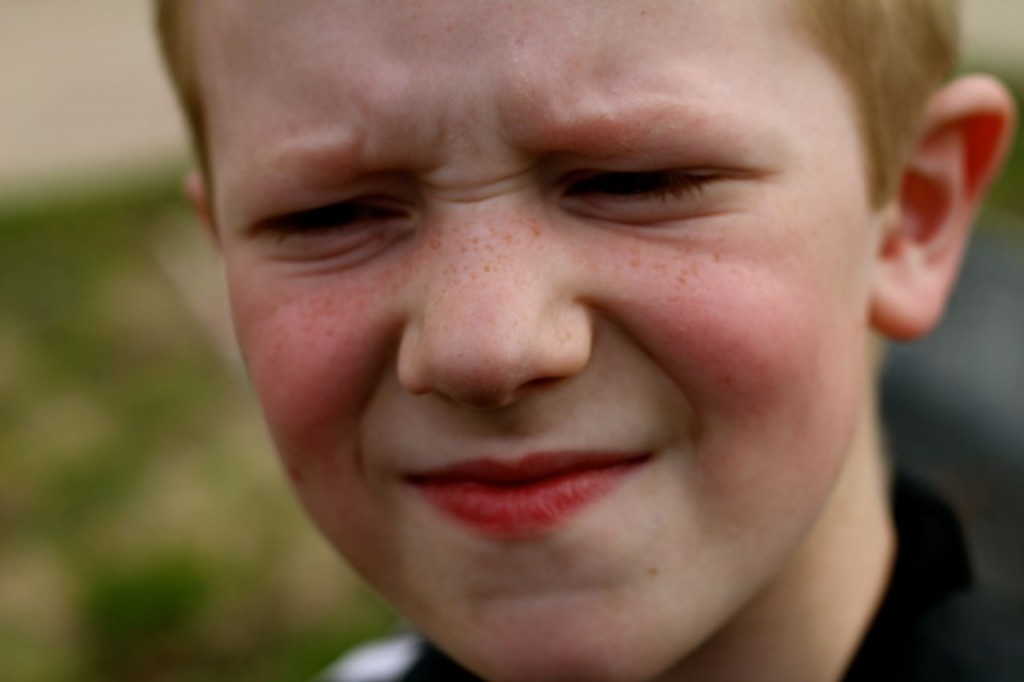 My husband Bryan lost his dear mother earlier this week. She was nearly 92, and had been ailing for some time, so it was a relief for her, I'm sure, to slip away to be with Jesus, and with her husband Mabrey, who died five years ago, and whom she has sorely missed, ever since. I woke up thinking about her this morning, and how she lived her life, and the only word I could think of was Service. She didn't seem to have many creative ambitions (which I didn't understand, as a young woman years ago, with more creative ambitions than I could shake a fist at) but she was content to quietly serve others.
She served her husband, her children, her family, her friends, her church. She lived a true life of service.
Gee, I thought, who does that sound like?
Like Jesus. Selfless service. "For even the Son of Man came not to be served but to serve others and to give his life as a ransom for many." –Matt 20:28

We'll miss her quiet counsel, her encouragement and love, her jars of homemade grape jelly, carefully wrapped in lunch bags, her plates of chocolate chip cookies–always the same recipe. I think homemade chocolate chip cookies was my mother-in-law's love language. It must have pained her horribly when she was moved to assisted living and she could no longer make plates of them to give to the people that came through her door. 
That's all the catching up I have the time to do for now, but I wanted you to know that I haven't dropped off the side of the earth, though it's been a few days since I've written.
TTFN, Gentle Readers. I love you all, I really do! <3
Oh, and I'll be sharing this with The Prairie Homestead's weekly Barn Hop. It's a fun thing to do!