Charcuterie Tray: a classy take on the 5-Minute Breakfast Mission
You all may have noticed by now that my family is very clannish, and that we actually enjoy doing things together. I realize how blessed I am to have such a lovely family. I wish everybody did.
For no particular reason, I'm blessed. God is good. What can I say?
Once a year, our clan meets at an outdoor park for a long weekend and we eat and cook and talk and hike and explore. I wrote about this year's Ponca West weekend in this space. I think I did. Yes, I did.
Years ago, we divvied out the meals so the best cook (Mom) wouldn't get stuck with all the food prep. The assignments we made that first year, for the most part, stuck. Therefore, my sister Mollie and I are in charge of making Saturday morning breakfast every year. Since Mollie is involved, it must be something scrumptious, with eye appeal and of course a big "wow" factor. Honestly. When you do something smashing every year, it's hard to upstage yourself the next. Where will it end, Mollie?
Here are a few breakfasts that we've made in past years: assorted breakfast casseroles, a "muffin bar" with several kinds of muffins and toppings, served with farm fresh eggs and bacon cooked over the campfire. Breakfast pizzas (many kinds, including a "Greek" pizza with artichoke hearts and olives and feta cheese). You get the picture. Glorious breakfasts, (cough) if I may say so myself.
So. Weeks before the event this year, Mollie and I were on the 'phone together. "What about . . . . what do you think about–?" This year, we were at a bit of a loss. Neither one of us could think of anything particularly interesting to make. I was wondering if we should just repeat a former breakfast hit, but no. That wouldn't do. Where's the "Wow!" in that? We were at a loss.
And then. My sister's voice came over the 'phone. And she uttered the magical word: "Charcuterie!"
"How about doing a Charcuterie Board, Sister?" She asked, in a trembling voice. "It would be fun–and fabulous–and I already have the board!"
"Um, that sounds perfect!" I said, wondering madly what in the heck a "Charcuter-whatsis" was. And how one went about to make one.
"Okay, then! Let's think about what we each want to bring, and we'll confab on it later in the week, okay?" She said. She had to hurry off the 'phone, which gave me time to Google "Charcuterie."
And this is what I found: Charcuterie is the French word for prepared meat products such as pate, sausage, and whatnot, as well as the butcher shop that sells them. Coming from chair ("flesh") and cuit ("cooked"), charcuterie was originally prepared as a way to preserve meat before the invention of refrigerators. But today . . . today we use the term for the delicious flavor that comes from the preservation process. The term is also used to describe a table, or a board, elaborately spread with lots of meats, cheeses, breads, and pickled goodies.
Ergo. Our fabulous Saturday morning breakfast idea was born.
I was immediately charmed and won over by the photos I found online. Of course I was. Mollie has the best ideas. So the next time Mollie and I spoke to each other, we had spent some time poring through our pantries (for various pickles, pickled beets, jams, and whatnot) and freezers (pesto and hummus) grocery stores (cold meats and cheeses) and our Neighborhood Fresh Artisan Bread Stores (just kidding, we made all the artisan breads ourselves) and we had assembled the makings of a glorious Charcuterie Board, Family Camp-Out Style.
Take a gander. It was widely photographed, because it was (ahem) so pretty.
So, as I was doing some thinking about the 5 Minute Breakfast Mission that I'm on, and it came to me all in a rush: a smaller version of the Charcuterie Board! Of course! It would fit all four requirements for a 5 Minute Breakfast, to wit:
It can be made by an 8-year-old (cough) that is to say, my 8-year-old.
It's toothsome and nutritious. (Poptarts and cold cereal need not apply, in other words.)
It can be made in (roughly) 5 minutes. Or, possibly, less.
It is worth getting up for. (Ergo, it can't be the same tired offering, day after day.)
So, without further ado, let's assemble a 5 Minute Charcuterie Tray!
This is what you'll need:
a pretty tray and cloth napkin
some good chewy artisan bread (Wonder bread, again, need not apply!)
some sliced meats and cheeses
something sweet: comb honey, jams, jellies, and so on
something salty: think pickled eggs, pickled beets, or just merely . . . pickles
a spread, such as pesto or hummus, is good, too
Now, before we assemble our Gorgeous 5 Minute tray, let's have a quick lesson on slicing a baguette, for those of you who've never done this. Say you are lucky enough to have a baker who brings artisan breads to your local farmer's market, and sells baguettes. The baguettes are not huge, so you're a bit bewildered on what to do with them. Here's your answer: you slice them like this, on a diagonal, to make big, irregularly-shaped pieces. Don't slice them straight across, or you'll have dinky little (unartistic, as well) pieces that won't hold a lot of toppings.
Here's a visual:
Now, using your beautifully (and artistically) sliced baguette as the backbone (as it were) of your arrangement, assemble your classy 5 Minute Charcuterie tray.
 Now, how easy was that?!
Thanks for popping in, Gentle Reader. I love ya! *smooch* I really do! 🙂
Here is a bonus photo for you. A behind-the-scenes Charcuterie board-making shot: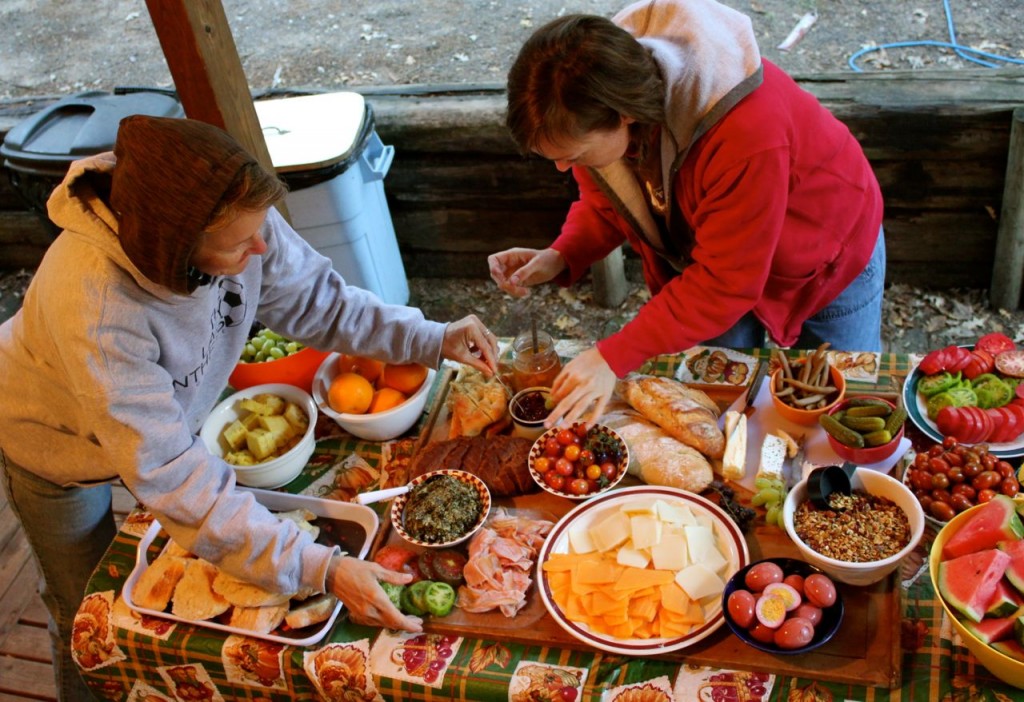 Come back, gentle reader, and do check out the other 5-Minute Breakfast Missions right here.
*hugs*

Save