The garage is for what, exactly? Lenten de-cluttering anecdotes
I have a sad confession to make. Here it is: I've fallen behind (dreadfully behind) on my Lenten De-cluttering Challenge.
Here's what my original goal was: to spend a scant 20 minutes a day, every day, tackling a corner or a drawer or a room, and purging it of clutter, and to do this every single day of Lent (40 days, or actually 39 because, me-like, I started it all a day late). Child's play, right? My dream was that if I did this every day for 40 days (or 39, whatev) that, come Easter and springtime and time to frolic out in the warm delightful sunshine, that my big, dirty, cluttered home would have 40 (39) very clean and organized spots, which would inevitably spread to the rest of the house–like, say, a beneficial pox–and would permeate our lives with peace and delight. And joy. Oodles and oodles of joy.
That was my dream. And my goal. And then, of course, Life interfered, as Life so often does, the inconsiderate ninny. My kitchen stove broke. In fact we narrowly escaped having it burn down the house. It was a bit traumatic. That was a day or two before we hit a deer with our 'Burb, totaling it (the 'Burb) and grounding the kids and me for more than a week (well, actually, it totaled the deer too) as we searched for a new family vehicle. That was traumatic, as well. I got to the end of each day, several days in a row, Gentle Reader, and fell into bed, realizing that I hadn't had 20 extra minutes that day, and that I didn't get any de-cluttering done. Alas.
And THEN guess what happened? We woke up one morning, and there was no water. The faucet, when I turned it on, didn't even drip. To tell you the truth, I wasn't a bit surprised. It was just that kind of week. It was the icing on the proverbial Bad Luck Cake. We actually are blessed to be living right on top of the Ogallala Aquifer, one of the world's largest aquifers, but I wasn't surprised that our gloriously deep and productive well had run dry, not one bit. Bryan rushed down to the basement to see if perhaps (crossing our fingers) we had blown a breaker or some other odd improbable thing, while I moped in the kitchen.
No car. No stove. And now, no water. What a week. Beam me up, Scotty. Calgon, Take me the heck away.

It was at that moment that I heard little Mack say, in a quiet voice, "April Fool's." Hmm. Man. He got us. I was a little surprised that our 7-year-old son knew how to turn off the water supply to the entire house, but maybe that's proof that he'll make something of himself, after all, despite his being blessed with such doltish parents.
Scrambling to make meals (my family insists on three every day) without the benefit of an oven or a stove, and not being able to jump into a car and run to town if I needed something, took its toll on my fine-tuned productivity skills. It takes time to be a prairie woman, does it not? True, I learned some great new survival skills (if you plan ahead, for example, and put the potatoes on the wood stove early enough, you can have hot potatoes for lunch) and I didn't mind having an excuse to stay home more, but it did take time.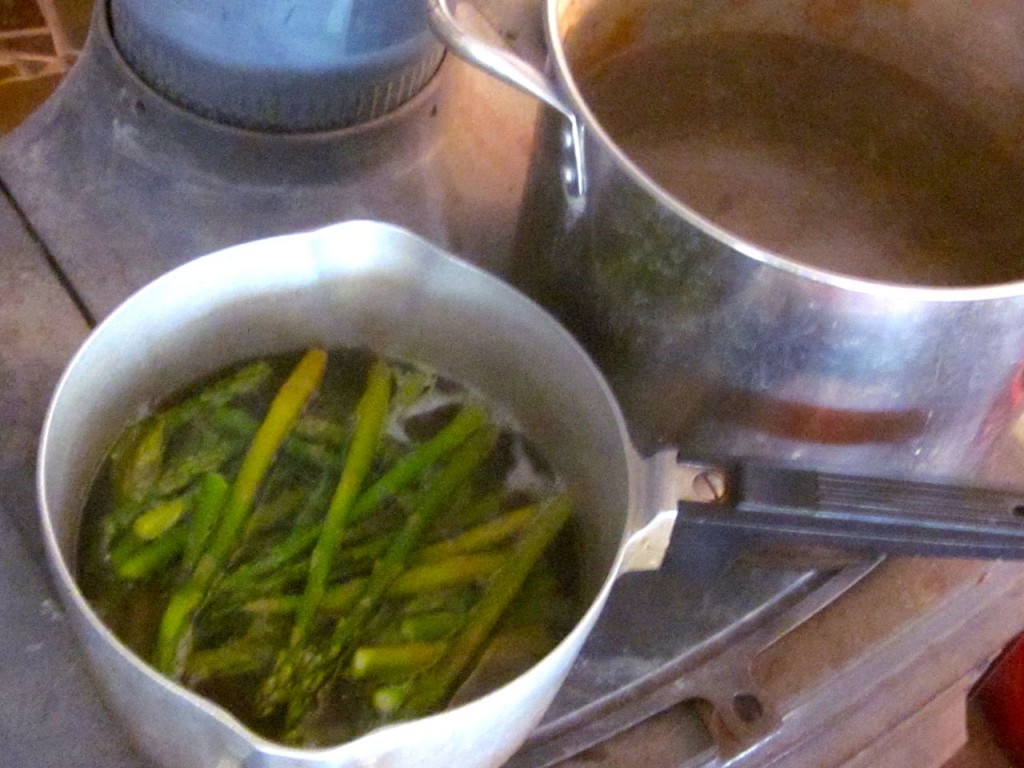 But back to the de-cluttering challenge: I'm squelching down the little screaming idiot that is standing on my shoulder, next to my ear, who is hinting in a very shrill voice that I have failed. I'm trying to listen, instead, to the calm voice of reason that says that I'm still ahead of where I was when I started. I haven't de-cluttered every day, true, but I've got several nice clean spots where a couple of weeks ago, there was clutter and disorder. For example: my junk drawer is still tidy and neat, and where I had a spot for a pair of scissors and a roll of tape, there are now three pairs of scissors and two rolls of tape.
Do you know what that means? Somebody in the house (it wasn't me) found two pairs of scissors and a roll of tape, and they recognized that very spot as being the spot for them. This is huge to me. HUGE. 🙂 Somebody besides me put something away! Shazam!

And this means that I haven't failed, in my book. I'm making progress. I won't have 40 clean spots (nay, not even 39) by Easter, but I may have 15. Or 20. Which leads me to a couple of "after" photos.
Here is the bathroom sink I tackled, before:
Here it is, after:
And here's my sock and undies drawer before I reclaimed it, for, er, my socks and undies:
I actually kept all my socks in a box (a decorative box, but still!) shoved under our bed, just because my sock drawer was so full of things that weren't socks. Things I didn't even use. But I ruthlessly reclaimed it for socks and undies, and here it is!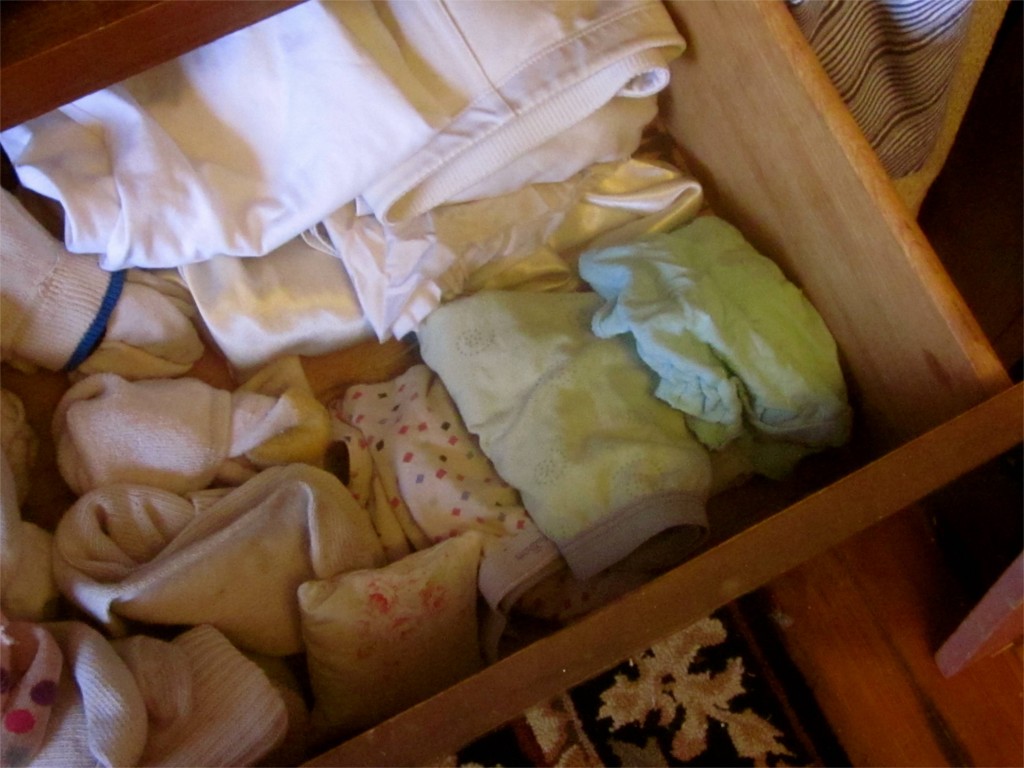 Okay. Enough gloating! Now for two new challenges:
Challenge #1: Clean up a pile in the garage. NOTE that I didn't say "Clean out the entire garage." For me, that would take much more time than 20 minutes I'm going to allow myself. I mean, really. You should see our garage (heavy sigh). But please don't come look at it.
What is the garage meant for, exactly? For providing a place to park the cars, of course, out of the weather. Do you think we can get our cars into our garage? The answer, Gentle Reader, is: not yet. But I plan to reclaim the garage, the same way I reclaimed my sock drawer. I'll start with one cluttered corner: feed bags that need to be hauled out to the garden, aluminum cans which I'll give to my mom, and some sunflower seeds for the wild birds. Which I will give to the wild birds, bless them.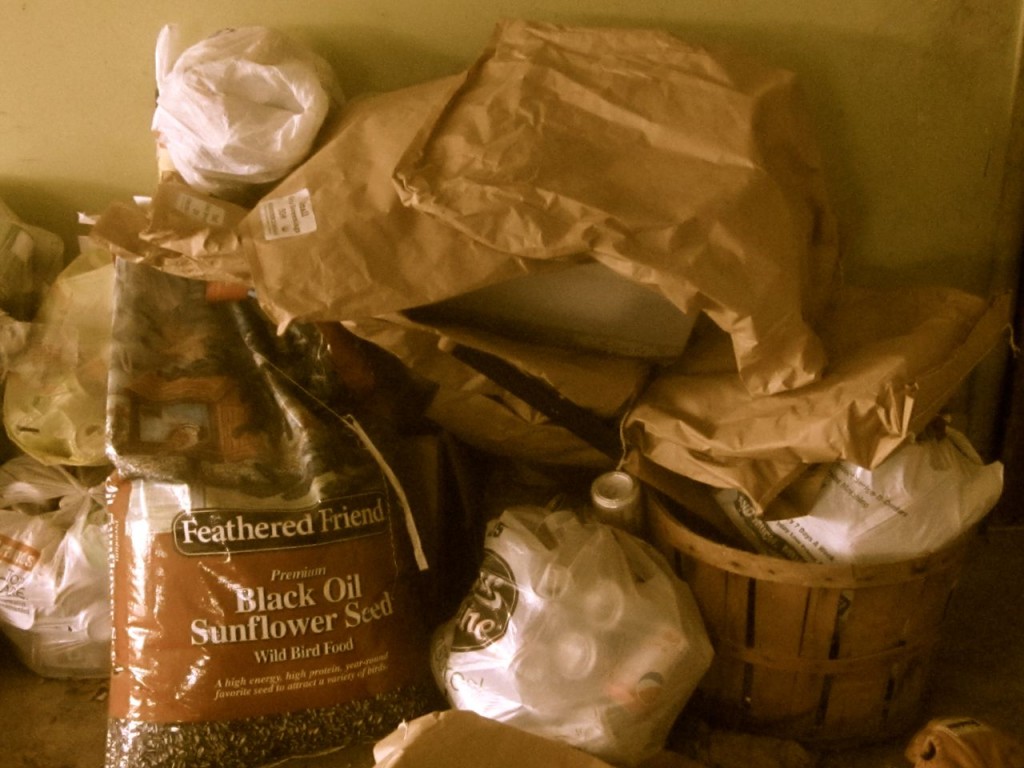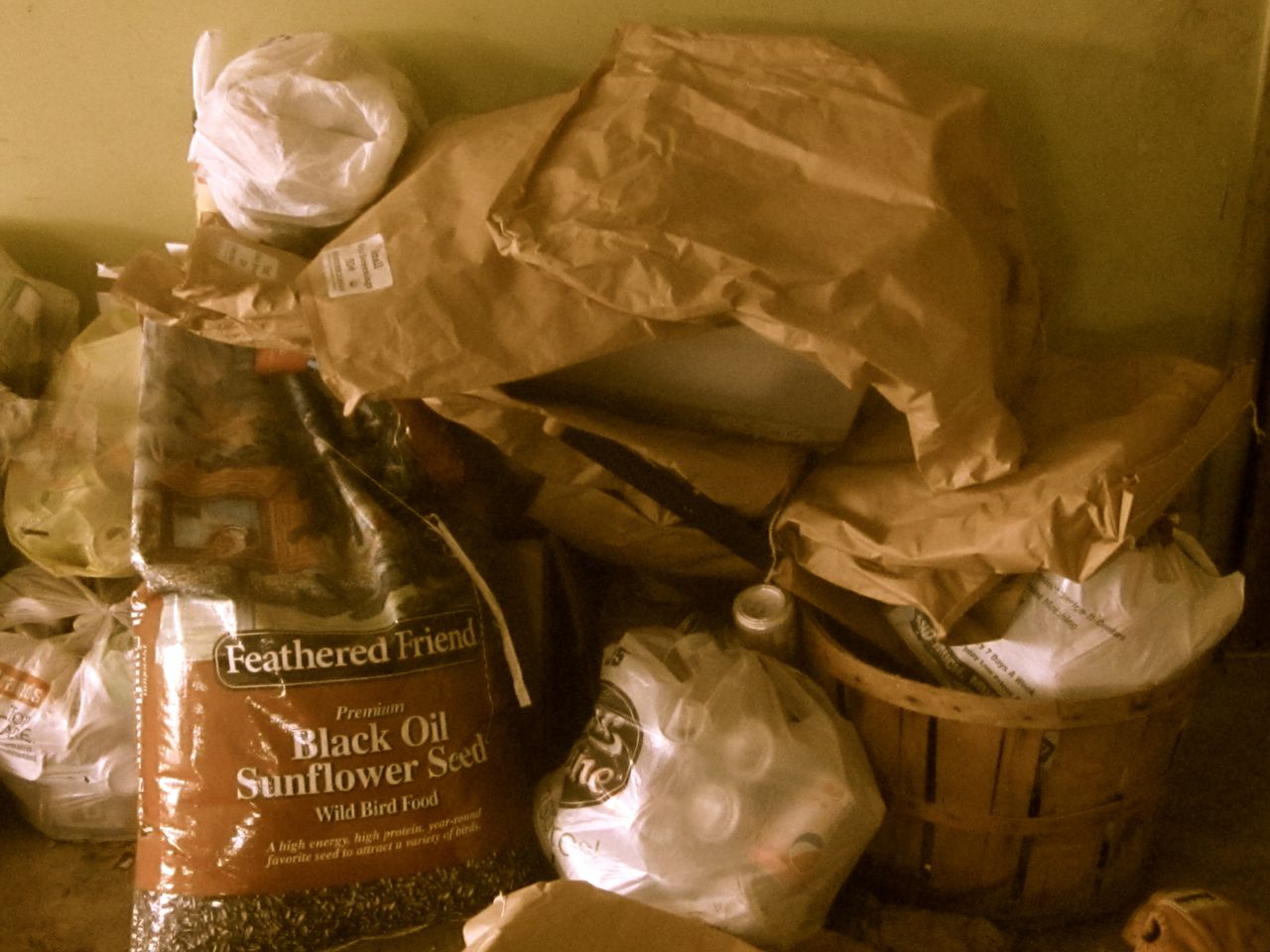 Challenge #2: Clean out the pots and pans cabinet. Can you believe that something I use so much, every day, is such a mess?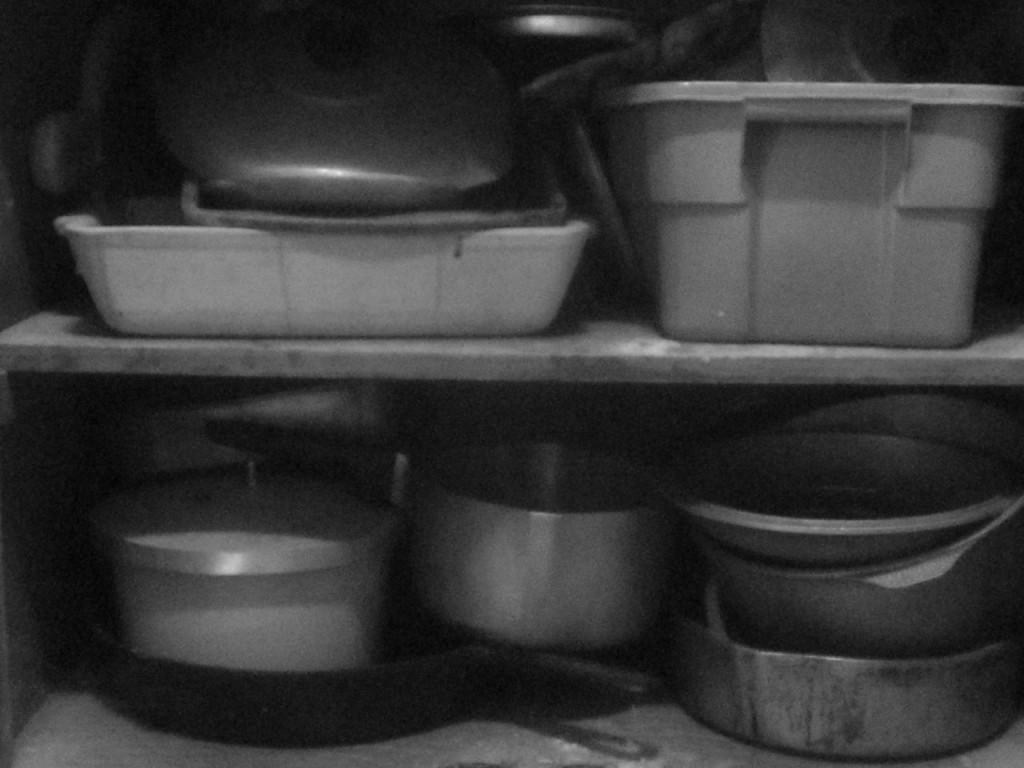 I like the graphics on this pan, but it's in the front of my pots and pans cabinet, and guess what: I've never actually used this pan. Now does that make sense to you? I have to reach around this (admittedly, very cute) pan every day, in order to get to the pots and pans that I do use. Every day. And the pans that I do use the most, my cast iron skillets, I store on the stove, or in the oven, because there's no room for them in the cabinet. Now this is just silly. Don't you agree? So I'm going to do something about it. Now.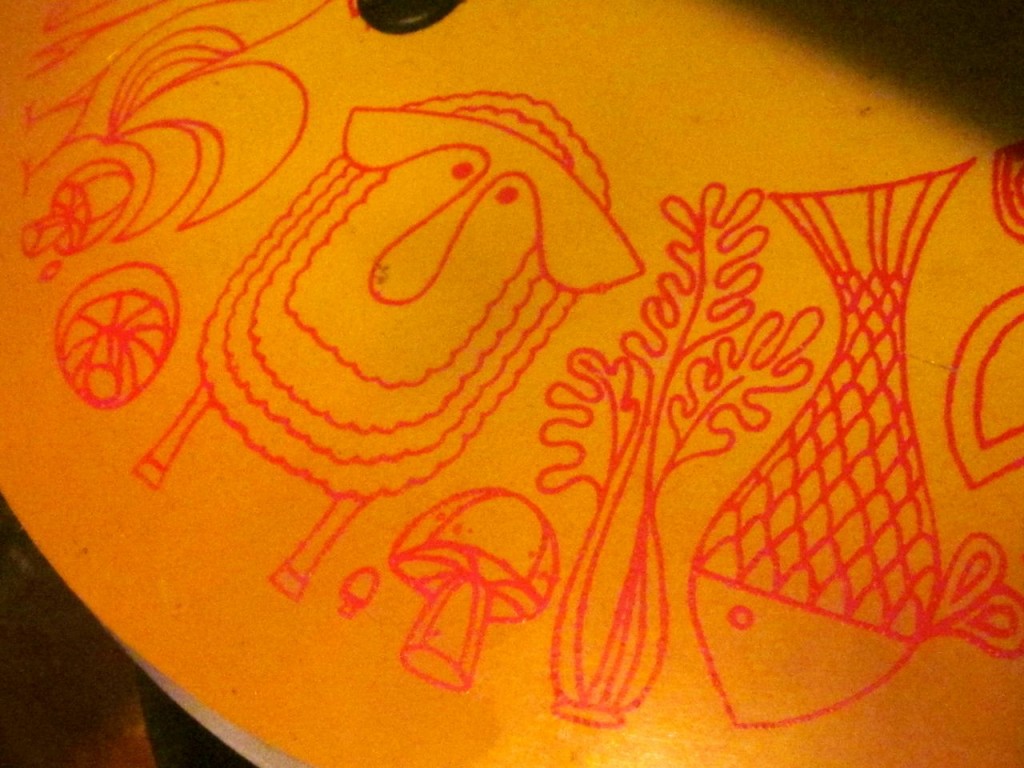 That's it for today, Gentle Reader! I hope you have a lovely day, and that it will include a bit of de-cluttering, or a bit of re-claiming, that will boost your spirits!
Did you know that I have a Facebook fan page, located right here, where I share lots of good stuff that doesn't make it onto my blog?
For instance, yesterday I posted pictures of our digging up some prairie to plant some grapevines, and a picture of little Mack and me riding high on the hay wagon. I get lots of great input from my readers on that page, and you really ought to "like" it so you don't miss out on a thing! You can do that quite simply by clicking on the link above. And thank you, in advance!
Oh, hey! And  don't forget my cool giveaway!