7 things you really must keep in your chicken coop this winter
It's cold here in Nebraska. So cold, finally! Though I prefer to be outside (even during the cold weather months!) the house is feeling more and more like a cozy refuge to me. Tomorrow's high temperature is supposed to only be 7 degrees! Oiy! Now that's cold.
My chickens, like me, prefer to be outside at all times, even when it's cold. If there's not rain or snow or oobleck or anything else coming down from above, or if they (the hens) aren't busy laying their daily eggs, they prefer to be outside. But. There are hours of confinement that they spend inside, just because it's too icky to be outdoors, even for a chicken. Or me.
In defense of the predators that roam around our place at night, we shut the flock into the coop at sundown. They actually take refuge in there on their own accord. So it's a simple matter of tripping out to the coop and closing the back door and securing it, and pushing The Big Rock up against the front door, and they are snug and safe for the night. Of course there was that summer when, no matter what we did, predators snatched our hens, one after another, even tearing the screens off the windows to get into the coop, but (sigh) that's another story, never mind, . . . .
So, by the time the chooks are shut in at sundown this time of year (usually by 6:00 p.m.) , and if I let them out again in the morning by 8:00 a.m., they've been cooped up in their little house for (gak) fourteen hours! That is a lot of time for my flock to sit and twiddle their theoretical thumbs.
There are a few things that I keep in the coop to make this long confinement more tolerable and healthier for my chooks. I actually enjoy fussing around and making sure that my chooks are comfortable on days like this one. There's not so much to do outside, and it's a welcome break from my house. Whatever.
Here are the things that I make sure the chickens have available in the coop during the wintertime:
1. Leaves are a great addition to the deep litter in your coop. You know that I'm a devotee of deep litter in the coop, and for that matter, in the yard, as well. I toss a bale of hay or straw into the coop every now and then, but the leaves that I gather and toss in really make it a nice, cozy place for the chickens. They scratch and dig and find stuff in there to eat (I'm still not sure what that is) and make the bedding a lovely garden amendment by spring. My folks bring out bags of leaves for me (I think oak leaves are the best) (and yes, I know that I'm spoiled blessed) and I ration them out through the winter. Yikes, I think I only have one bag left, Mom . . .
2. Food-grade diatomaceous earth kills mites, lice, fleas, ticks and other parasites, which can be a big problem during the winter time. During the summer, the chickens take dust baths, and the little critters aren't such a problem then. The sharp microscopic silicon particles in diatomaceous earth filters through the hard-shelled bodies of fleas, mites, ticks and other parasites, resulting in dehydration and ultimately, death. Bad news for the bad bugs, good news for your chooks.
I buy this 10-pound size (it's cheaper!) and sprinkle it into the nesting boxes every week or two.
3. Oyster shell is important to keep in your coop, if you have laying hens.
I keep it in a big rubber bucket, where hens help themselves to it as they need it. And during the winter, especially, they need it. The eggshell for each egg that a hen lays is about 95% calcium carbonate.  In just one year's time, the amount of calcium that a hen will put into her eggshells can equal 20 times the amount of calcium that is contained in her bones. In order to stay healthy and produce strong egg shells, she needs to consume a steady supply of calcium. I also crush egg shells from the eggs that we eat and feed it back to my hens. If you notice that your hens are laying eggs with thin or fragile eggshells, they probably need more calcium in their diets.
I buy a big bag of crushed oyster shell and provide it free choice in my coop all year round. My chickens don't eat a lot of it, and it lasts a long time.
4. Sand and/or dirt added to your coop will make your chooks very, very happy. It's funny, isn't it: we put down a cement floor in our coop to foil the predators, but now I wish it was a dirt floor, because I know how much my chickens would enjoy digging and scratching in the dirt. And this is the way Harvey Ussery does it, so I know that it's the way I should be doing it *sigh*.
I think we could have foiled the predators by digging a trench around the coop and sinking some good heavy fencing along the edges. Oh well. . . maybe on the chicken coop addition*, eh, Bryan? For now, dumping a wheelbarrow load of dirt and/or sand into the coop can make a very nice place for my chickens to scratch, when the dirt outside is frozen solid. Brilliant, eh? I think so. 🙂
5. Fresh water is so important in the dark cold days of winter. I'm a bit of a fresh water freak, for my family and for my chooks. I inherited this from my dear mother. (Got a headache? Drink water. Tired? Drink water. Depressed? Drink another glass of water!!) I used to carry out buckets of water to our flock, but then we ran water trenches to the chicken coop so I had hydrants out there, and my life got much better. THEN we ran (actually my dad and my Uncle Harry and yes, I know I'm spoiled rotten a lucky duck) ran electricity out to the coop and life got better still. Then I bought one of these heated buckets just for the chooks (my dogs have one, after all) and my life got About As Good As It Could Get. Yeah, they're a little pricey and YEAH they are worth it.
Every time I look at this heated bucket, I remember the person (fondly) who gave me a not-so-gentle kick in the backside when she found out that I was carrying water buckets from the house because the water would freeze every day. And every night. And ever anon. Heavy frozen blocks of ice in buckets. "Buy a heated bucket. Today," said she, fixing me with a steely stare of incredulity. So, if you're doing this, Gentle Reader, to save a few bucks, consider this the kick in the backside you might need. Trust me. You'll thank me.
6. I toss a handful of grain into the coop when I trek out every evening to shut the chickens in for the night. I know that the hens wake up early and begin to lay their eggs, and probably badly need some energy. Because of the deep litter, there's always something to eat in there, but I like to topdress it with a handful or two of fresh grain, too. Plus, that way I don't feel so bad if I don't get out to the coop as early some mornings as I'd like (cough).
7. I make soaked grain blocks and leave one in the coop when it's really cold. I fill a 5-gallon bucket about a third full with grain and water, and then leave it outside overnight to freeze. In the morning, I upend the bucket in the coop, and give it a stomp or two with my foot until the block releases itself from the bucket. The chickens love these blocks and I'm sure they help not only with feeding them, but also with fending off boredom in the coop (no Netflix out there).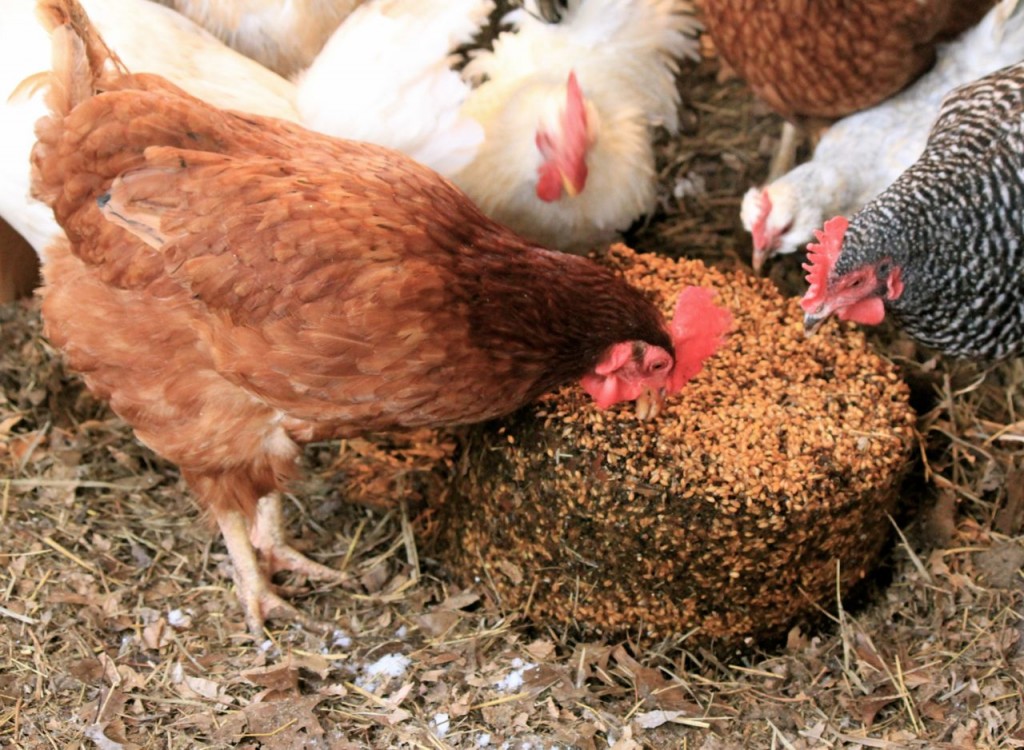 That's it! The 7 very important things that I keep in my chicken coop during the winter time. The weather will warm up again, thankfully, but until then–it's hot tea and quilts and staying close to the woodstove for us human comfort-seekers, and fresh water, grain blocks, leaves, and a few other things for the flock.
We're all in this together, after all. 😉
By the way, if there's anything in this post that you think might be of help to somebody you know who keeps chickens, could you do me a big favor and share it with them? Use the handy sharing buttons below, or old-fashioned email or just write my web address on a napkin and slip it to them sometime. I'd love it if you'd do that for me. And thank you, in advance!
*smooches*
Aaaand by the way . .. if you enjoyed this post and want more tips like this to keep your chickens healthy and happy, check out my new ebook! Over one hundred valuable and practical tips, learned over the span of a decade and a half loving on my chooks. And for a short time, get it for whatever price you wanna pay! Score!