Coming Launch of my New Blog Shop: "A Few of my Favorite Things"
Gentle Reader (deep shaky breath):
I'm opening my new blog shop this weekend! I've had plans in the works for it for a time, but I've gotta share with you that I'm a bit nervous about pushing the "post" button on this one. I'm not a tech-savvy person, you know this, right? and the tech-savvy kids in our family no longer live at home with me so I can ruthlessly sponge off them ask them for advice, constantly now and again. I'm being vulnerable here. I'm really hoping that all the elements of the shop will work together correctly, you know?
Here's the deal.
I have a few things that I love, and that I'm going to share with you in my shop. I'll be adding more things as the spirit leads me, or as time and energy permit. Any revenue I make from these items will be rolled back into my blog, natch', so hopefully I can keep writing and sharing and Bryan won't make me get a job at Subway having a great time doing it, by the way! I love this blogging thing, I really do. It takes lots of time, though, so creating a bit of revenue with my time would be a good thing.
Bryan: A great thing, actually! (Whatev, honey.)

This month in my new blog shop (I love the sounds of that!), I've got three beautiful models of French rolling pins that my Dad (partnering with me, happily) is making in the new shop that he built this summer. He does gorgeous work, as you know if you have followed my blog for any time at all. He is talented and humble at the same time. And I'm also offering up my collection of vintage soda bottles, for which Dad and I have carefully altered spouts, one by one, to fit them, so you can have a vintage soda bottle with a spout to use in your kitchen, just like me! I actually have two–one with dishwashing liquid next to the sink, and one with olive oil, which I keep next to my stove.
It makes me happy to have such fun things to work with every day. 🙂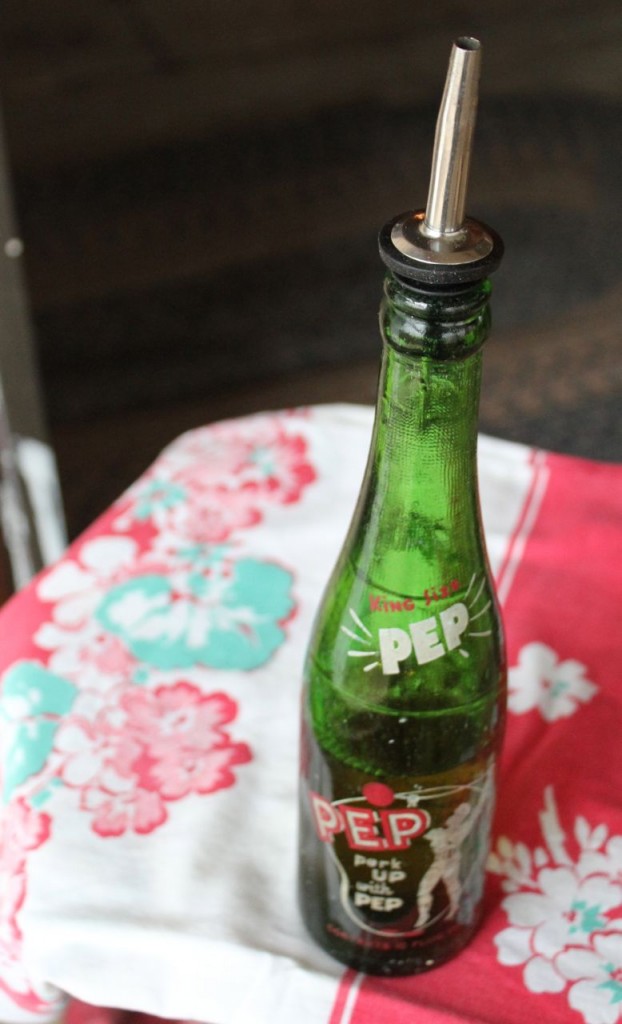 There's a limited number of these items available, though, so if you're interested, come back this weekend and skedaddle on over to my shop and . . . shop! I'll include care instructions and a personal note from me with each order (yawn) if that is of interest to you.
Also coming next week, I'll have a limited number of gift collections, for the gift-giver, attractively packaged up and shipped straight to your loved one, with a personal note from me. Be sure to pop back here and check them out!
And hey, thank you for your interest and for your support! From the bottom of my heart. I appreciate each one of you, I really do!
*hugs*