Kitchen remodel, Part 2: The Beam, Party Kitchen, & Finest Thing So Far. . .
Gosh, so much has happened since I've written about our kitchen remodel. I had to go back to the first post about it to remind myself of what I needed to cover next! Bad blogger! Bad, bad! In this installment, I'll try to cover the following: getting the all-important beam in place; our temporary party kitchen (my New Best Friend) and the surprising Absolutely Finest Thing So Far about the remodel, so far.
Remember where I left you last time? Right . . . about . . .
here:
Hey. I had a sink that was functional (in the photo, to the right) and a dishwasher that was no longer working (more about this later). And a dandy blue quart canning jar full of ice water, lemon, and ginger root, that I started carrying around, so I would remember to drink water.
What more did I need?
Haha.
By the way . . . if you are of the frame of mind that intuits that you can't remove a supporting wall without the ceiling crashing down on your heads, think again! Possibly you don't know the right people.
Fortunately, I do.
Bryan and our contractor, Reuben, worked with my brother, Matt (an engineer and the Golden Child in our family, because–among other sterling qualities--he knows about these sorts of things–more about him later #goldenchild) and they figured and they connived and they consulted, and they designed a beam big enough to hold up the ceiling so we could take the wall out (see the studs above?). Then they ordered it. The huge beam.
The day the beam came, on a big truck, I was taking off with the kids to run some errands, and we met the big truck on the road, with the huge beam sticking out the back. I was relieved not to be there while they were unloading it. Reuben dragged his brother Theodore to our house for a couple of days so he had a bit more muscle to hoist that beam up (Bryan was working).
(Those two and their loud country music, by the way. #speechless! As I slung my purse over my shoulder, I called to Reuben that we were leaving, and I announced quite loudly that they could play any music, as loudly as they liked, except for heavy metal and country music. None of that in my house, I said. They laughed. I guess they thought I was joking, because when we got home, I could hear it all the way out in the driveway: Garth Brooks! Tim McGraw! Taylor Swift! Et al! I had to get the bleach out when they left, to wash out my house's ears. Poor house!)
(Then, by the way, I turned on what my house likes better. Mozart. Schumann. Beethoven. A bit of The High Kings . . . the Wailing Jennies. Just–not–country—!! Just joshing you guys, Reuben!)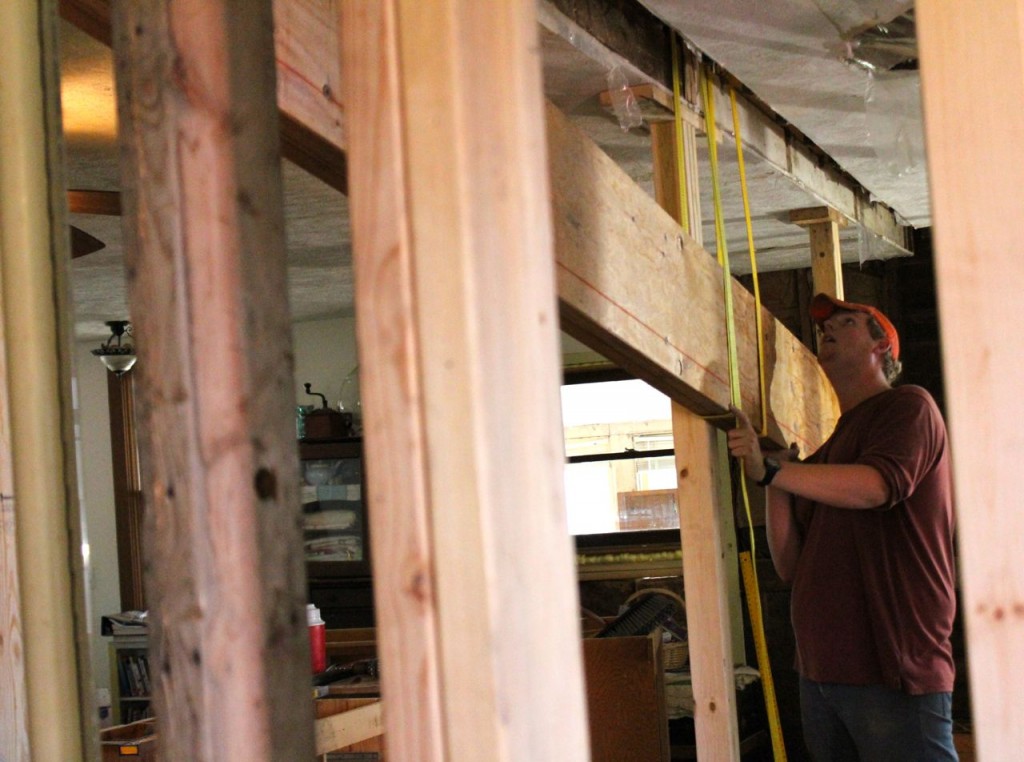 Oh well. I guess I'll let the guys listen to what they want to listen to, as long as they can get this done. Here's Theo, watching up through the ceiling for his brother's instructions. Reuben was in the attic, pulling on those straps. I really was trying not to watch. I get really uncomfortable when men are hoisting very large and heavy things, straining all those muscles and bulging out all those veins in the necks. You know? I'm always afraid that something might crash down, or something else might burst.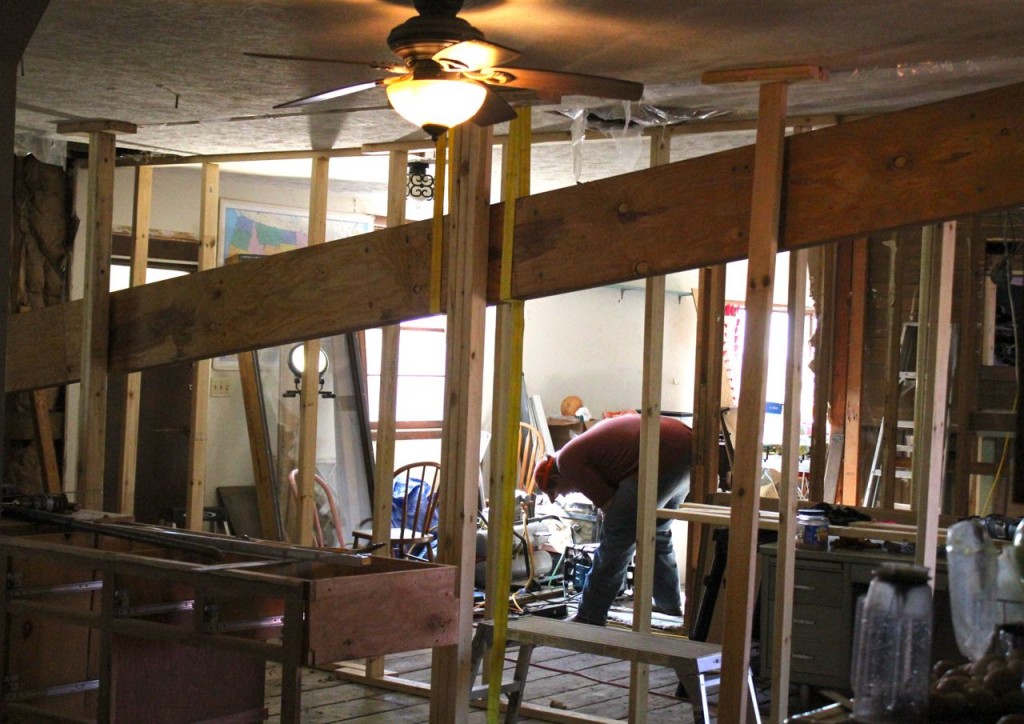 Here's the beam, going up! It would have been so much easier, had we had about six guys to help. But I was thankful for these two, and their strong backs and their cheerful spirits. They are awesome. And, by the way, nothing burst.
Once the beam was stoutly in place, they took out all those studs and we had the first real look at the size of our new kitchen.
It seemed . . . very big.
Hallelujah!
After all, our family is just getting bigger. Here's a quick show-off photo, taken last week at Andrew and Sonia's place.
One thing I've thanked Reuben for, over and over, was his suggestion: to set up a nice "temporary kitchen" which would turn into our "party kitchen" once the remodel was finished. When he suggested this, from the first day, I was a bit reticent. Why not just use a crock pot and an electric skillet and paper plates for the few weeks that the kitchen was being re-done, I wondered aloud.
Why all the fuss?
Reuben, a knowing smile on his face, insisted, nicely, that I'd be thankful for it. Over four months into the project, I can say that I am thankful that he insisted. Very, very, very thankful.
We took cabinets out of the office (remember, the backside of our kitchen proper had also been a kitchen, which we used as an office) and Reuben rebuilt them to fit in this space (I'll paint them one of these days). My Dad built an absolutely beautiful hickory counter top. It happened this way.
Bryan: (to Reuben): I wish I had the skills of my father-in-law, I'd just make a nice counter top for that party kitchen.
Reuben: That'd be nice, Bryan. Skills are good. Your father-in-law clearly is talented.

me: (padding to the phone, which–miracle of miracles–I could actually find that day, and dialing Dad) Hey Dad, could you make me a countertop for the party kitchen? Something pretty and made out of woodness?
Dad: Sure!
me: (padding back to the guys) Dad said he'd make me a countertop.
Bryan and Reuben: (gasping and in unison) You actually just called your dad and asked him to make you a countertop? What affrontery! What nerve! How could you do that!?

me: . . . . Um . . . yeah . .  sure! Why not? What????!!
So anyway. Dad does such beautiful work, and I'm so grateful for him. And for my new countertop. It's hickory, by the way. It took a lot of Dad's time for a few days. He's kinda crazy about doing a good job.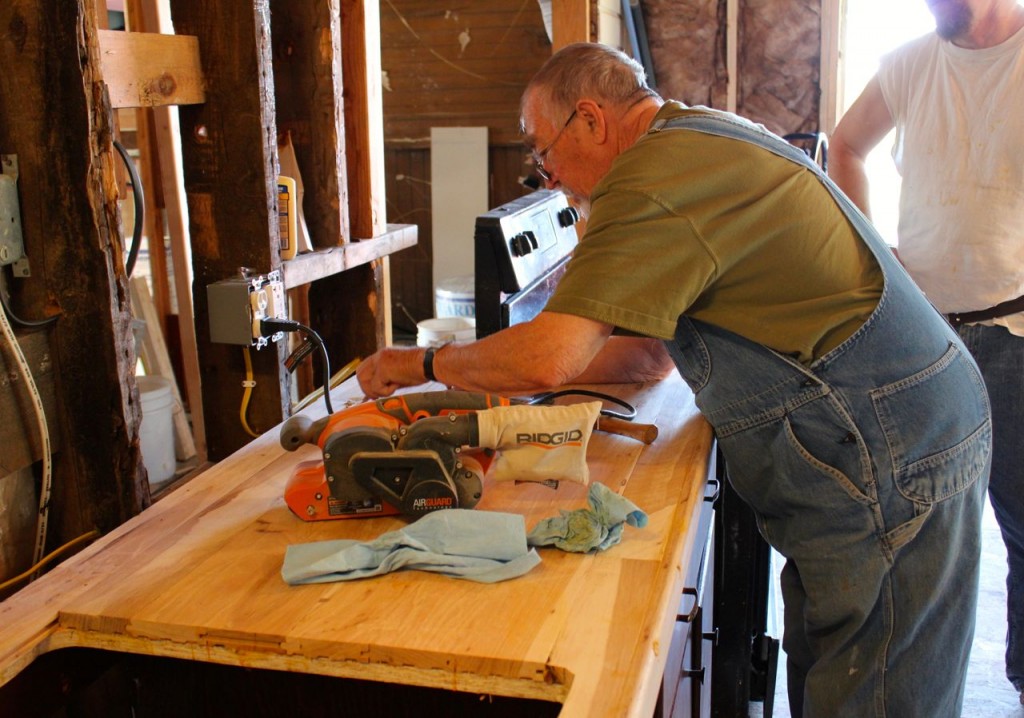 I'm pretty crazy about him, and his mad wood skills. That countertop is definitely the prettiest thing about my new party kitchen. By. Far.
And here's the cluttered part: Reuben lent these shelves to me for all my kitchen folderol. And that's our old 'fridge, Steve, on the right side of the picture. He still moans now and then but he's got a persistent streak. He'll probably outlive us all, Reuben! Just you wait and see!

Oh! I wanted to show you this. Here's the old floor that we uncovered (in the office area) and Reuben figures it was the cargo area of the old depot. It's full of big old square nails.
We have talked about covering it up with the same flooring that is in the kitchen—it's fir flooring, also well-worn, probably the "public areas" of the depot, we figure. I absolutely love that fir flooring. We've had part of it refinished. In the photo below, you can see the difference between the unfinished (on the left) and the finished.
Lesson: don't assume the floorboards, if you uncover something like this, will be ugly! Look how much prettier it is with a bit of sanding and a few coats of finish. It's still imperfect, but I think it's beautiful.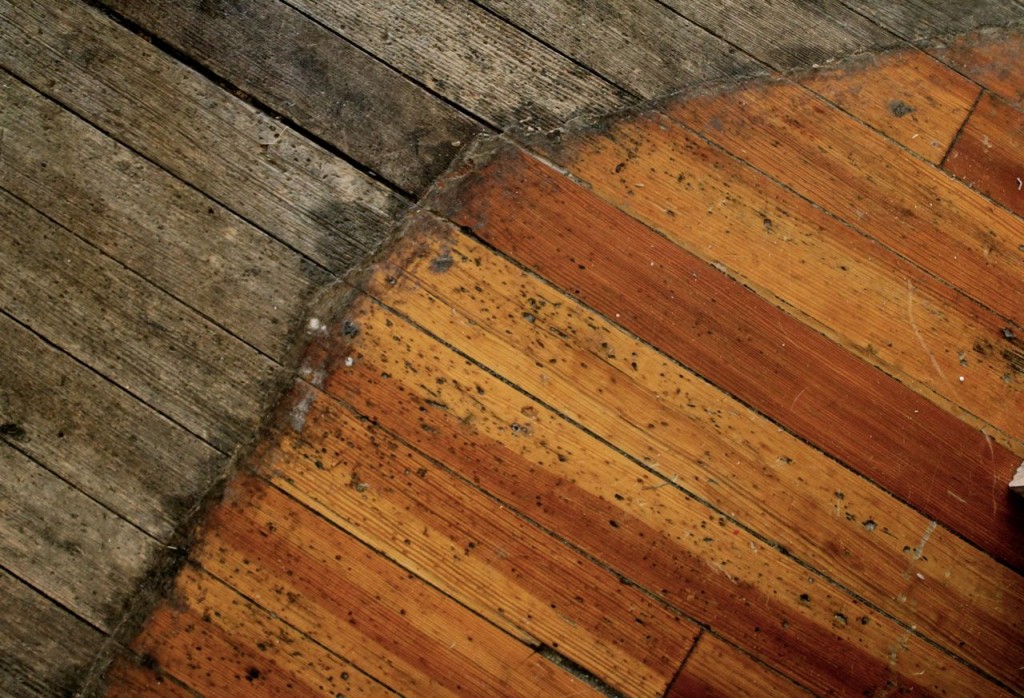 I'd love to figure out how to fill the really wide gaps between these old floor boards and just finish them, instead of covering them up. I have no idea what kind of wood they are, but I'd like to believe that they might be beautiful with a bit of sanding and some varnish, too. Any ideas, fellow-home-remodelers?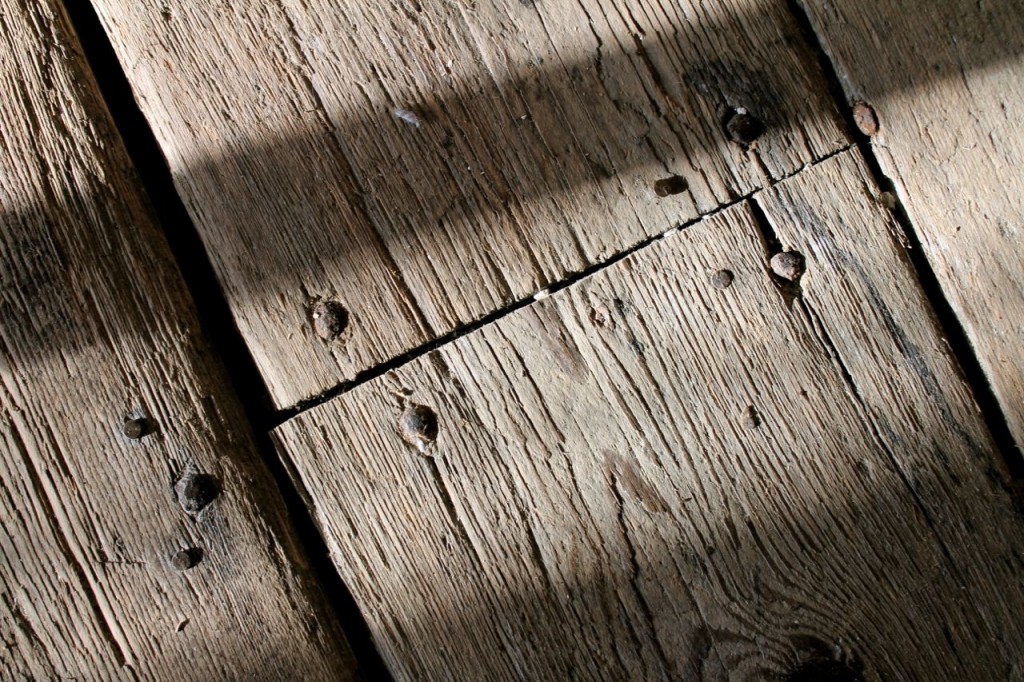 So far I've covered getting the beam in, and our temporary party kitchen, and even the floor board quandary. But I mentioned oh-so-coyly that there was one thing that we did that was Absolutely The Finest Thing So Far. (That's called a hook, Gentle Readers.)

So . . . Reuben and Bryan both wondered at my insistence that I wanted double glass doors in the south wall of the kitchen. Previously there were two cluttered closets there, back to back. But I held to my guns. And the day that Reuben cut the wall out, preparing for the double glass doors, I couldn't help myself.
I was giddy.
Here's the before shot. I want you to look closely at how dark the area with the table is. There is some light coming from the window at the right side of the picture, but basically the kitchen is still very dark.
Poor Reuben. I know he's wondering "why is she making me do this?"
Now look.
Ever since Reuben put in this glass door, I knew what the most important thing about the new kitchen would be, for me. Not the Flair or the new cabinets or the new light fixtures or the new sink. The most important thing, to me was simply . . . light.
Beautiful, glorious light. See what I mean? And the photos below are just morning light. In the afternoon, it really streams in. I love it!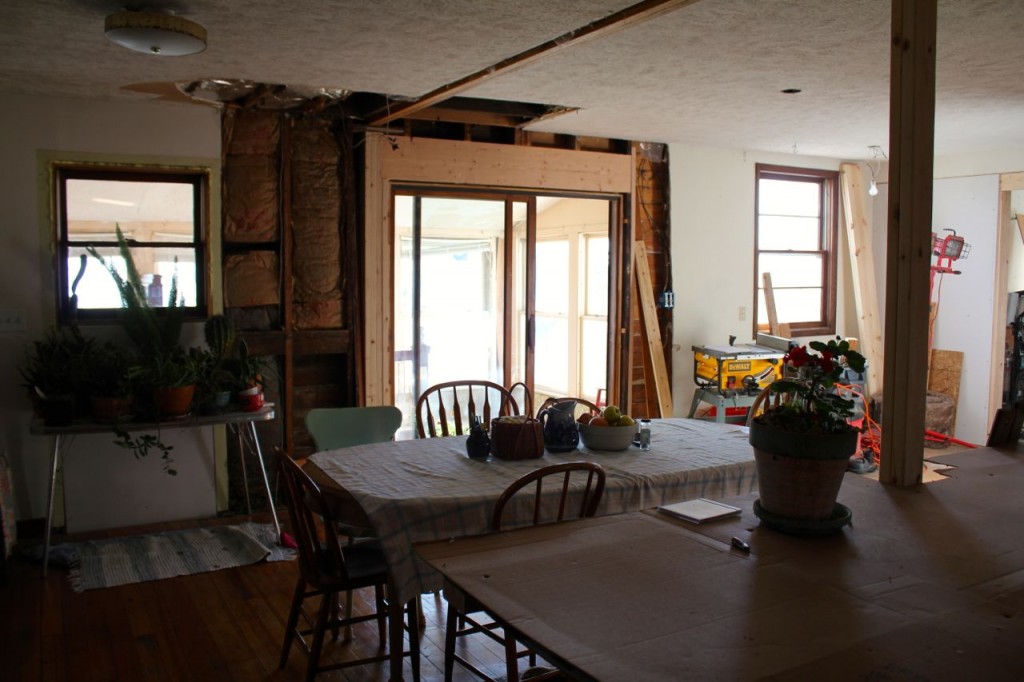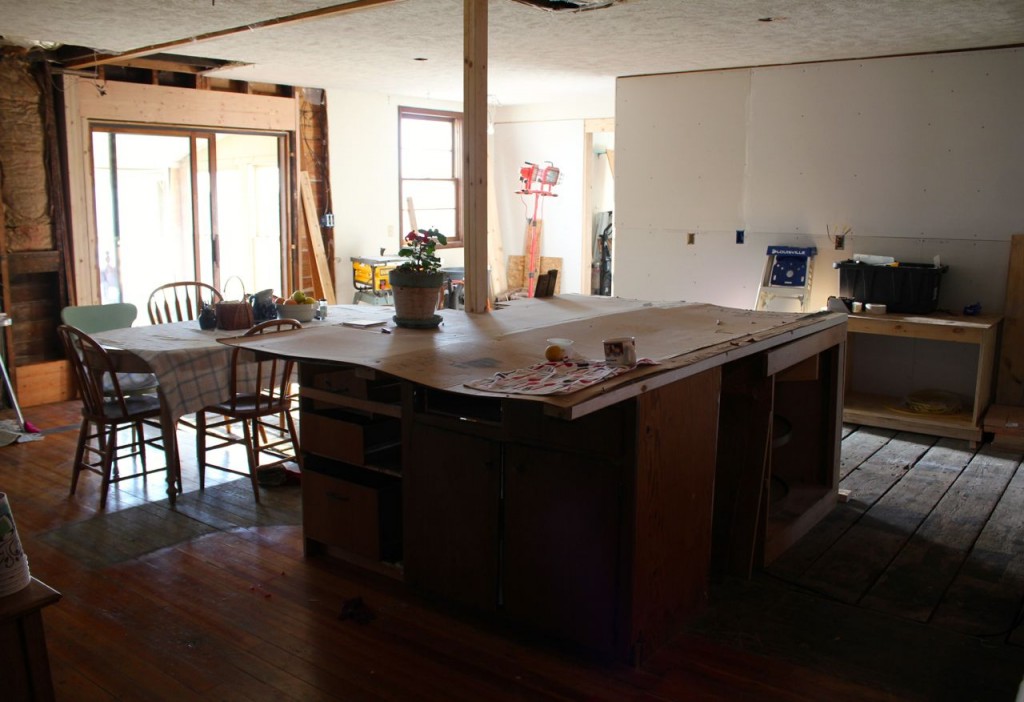 Glorious light!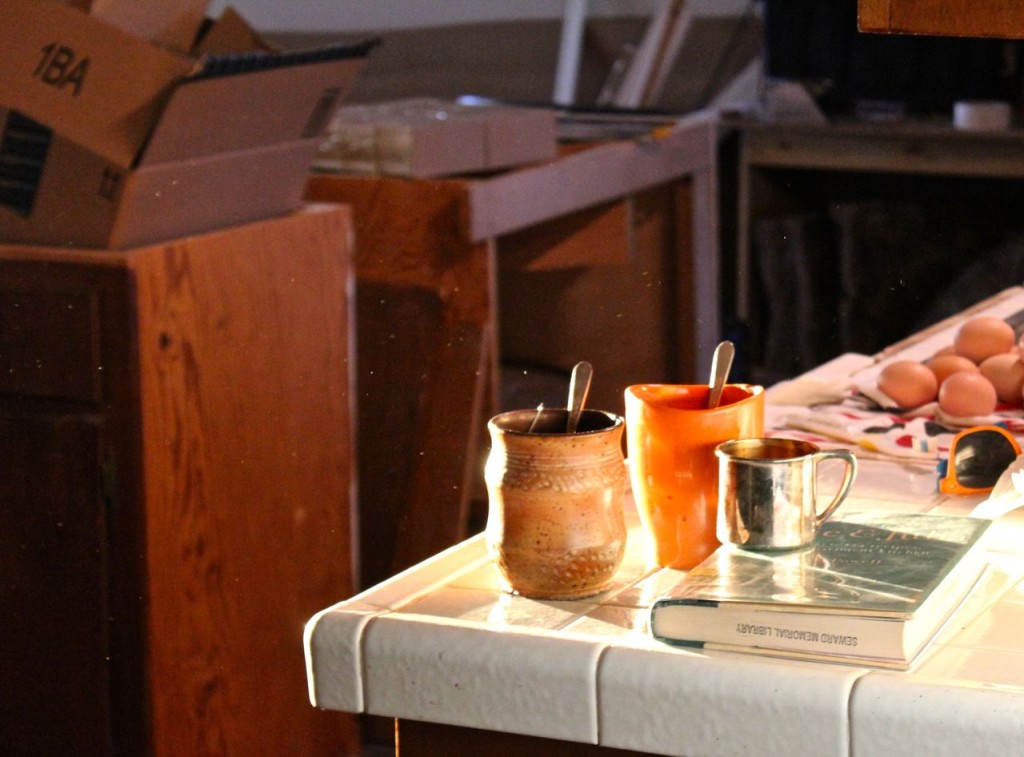 Okay, so I already have a hook for next time: I will share with you our two first remodel fails, which just happened last week . . . to our amazement and disappointment . . . and a very, very sad appliance story.
Until then . . . *smooch*
I love you guys!
Thanks for stopping in!