Nine Things, including an Exciting Announcement!
Gentle Reader,
I am so thankful for you. I return to this space again and again, to write and to share and give you something, hopefully, of value. And you reward me by reading, commenting, sharing, and enthusiastically supporting me. Your kind words nurture me. Guess what? All my teasing is finally over, and my shop is officially open! I think I got all the quirks and puzzlements figured out, and I'm ready to send you some unique and fun and useful things. Do you know what? While I was working on it a couple of days ago, I made my first sale–before my shop was even open! That was pretty cool.
I'm really excited about this opportunity to share some of my favorite things with you, and also for the miracle that I've actually gotten this far on this project. I have lots on my plate this weekend–besides making another batch of ginger pear marmalade, figuring out some organizational tasks for drama, wood-burning a quote on our French doors for the remodel, de-cluttering the guest room because (glory, glory!) Timothy is coming home for a visit next week (I think–Timothy?), organizing my seed supply so I know what to put on my order for next spring (yay!) and hopefully getting out into the garden to pull down a few more tomato cages.
It's gonna be a gloriously full weekend!
So before I plunge in, I wanted to play a bit of catch-up in this space. I've been clicking pictures like crazy, but time is definitely in short supply these days–it's a bit mad, by the way, to tackle a full-scale kitchen remodel while pulling together a drama production while trying to teach two kids through another year of school, while working on home businesses–but madness seems to be the order of the day around here. I don't particularly recommend it, but oh well. *sigh* (Madness as in craziness, not anger.)
Things do tend to fall through the proverbial cracks when you are o'erbusy like this. For example, I had made a tentative date to spend the day with somebody I love, and totally forgot about it, and afterwards felt pretty rotten. I'm ready for things to slow down just a bit.
So without further ado: Ten Things that are going on at our house, in no particular order. (I hope to flesh out most of these into blog posts within the next few weeks, by the way.)
1. We went to Ohio
last week, and spent a few wonderful days with ALL of our children, our children's children (there are three of them now, and one more due soon, and they are, to a fault, Brilliant and Beautiful and Winsome and so, so Dear) and our children's spouses, and it was a very happy, coffee-fueled, baby-bouncing, good-food-enjoying, time. I took scads of pictures and will share them with you, in time.
This was one of several kaffee-klatches we enjoyed together. I pity the person who joins our family who doesn't like coffee!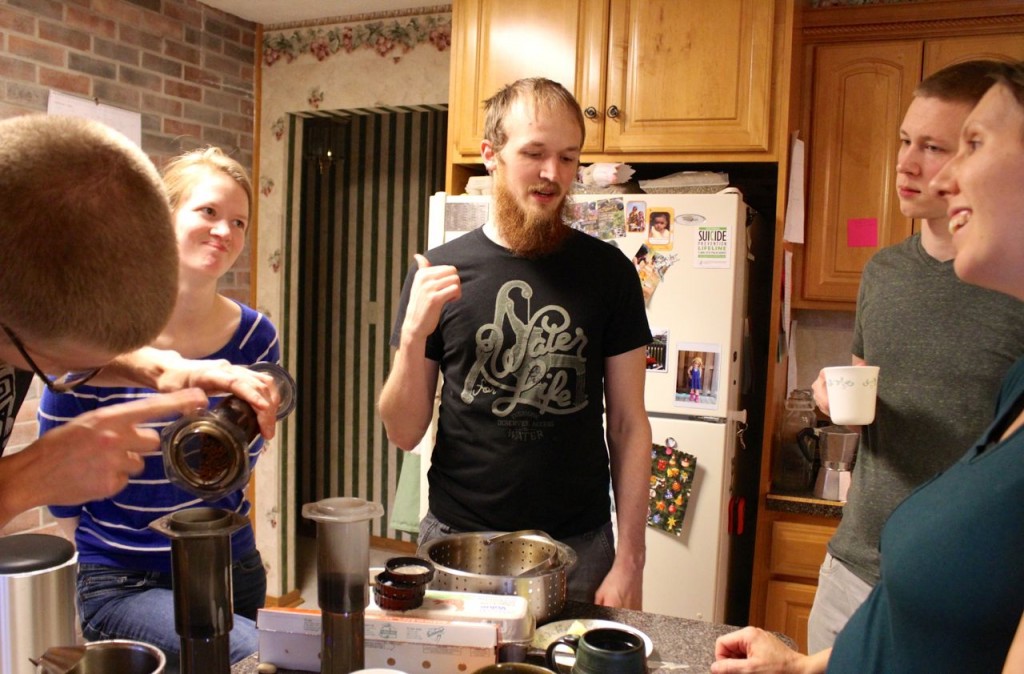 2. DIY Cloud Dungeon
packaging. This was fun. Andrew's fabulously successful Kickstarter campaign funded his board-game-in-a-book, DIY Cloud Dungeon, over 800%! Success left him a bit rattled with work and new responsibilities, and he allowed us to help him a bit when we were at his house.
He sold a LOT of books. Take a gander. This picture just puts a lump in my throat.
I'm so proud of him. My boy did this. My boy who drew on the wallpaper with a Sharpie, behind the couch, right before we were going to sell the house, so we had to strip the wallpaper and hang new wallpaper. My boy who colored on the hot light bulb, exploding it and scaring his little two-year-old-self. My boy who fiddled and created with toothpicks and hot wax and little action figures and the food on his plate.
Courage, little mamas. Have faith.
I knew this would happen, eventually.
(By the way, I've got the rest of you kids pegged, too, and make no mistake.)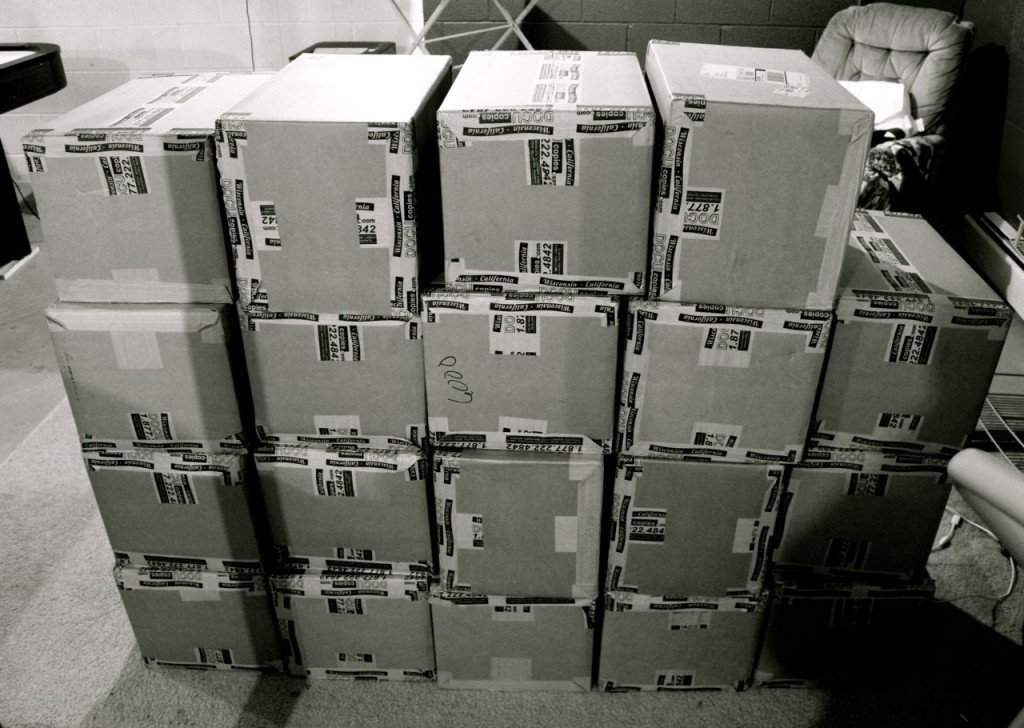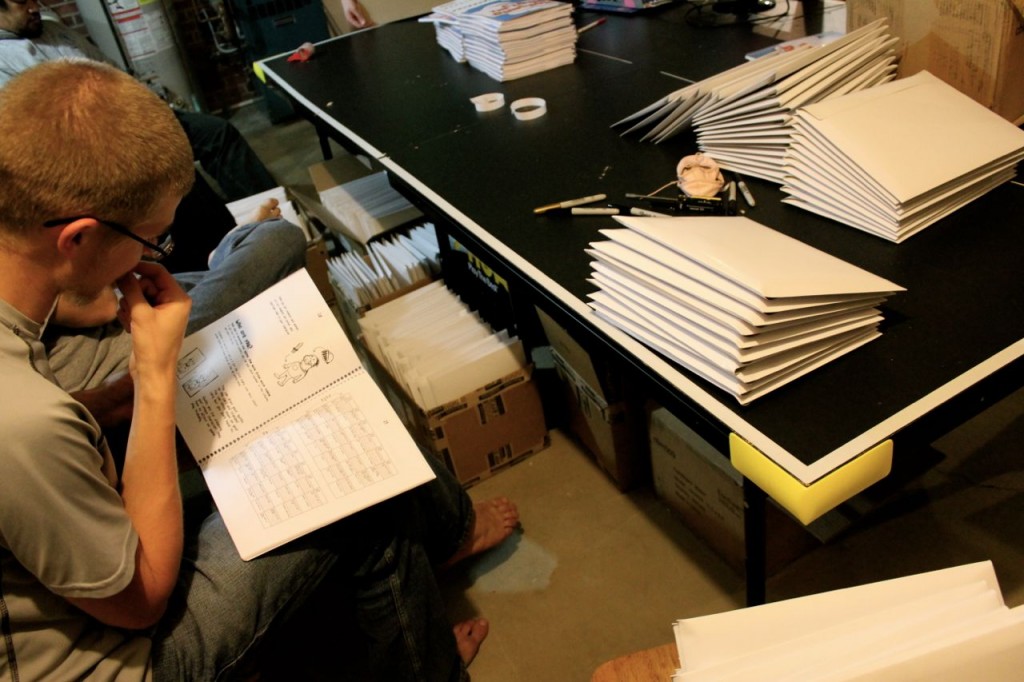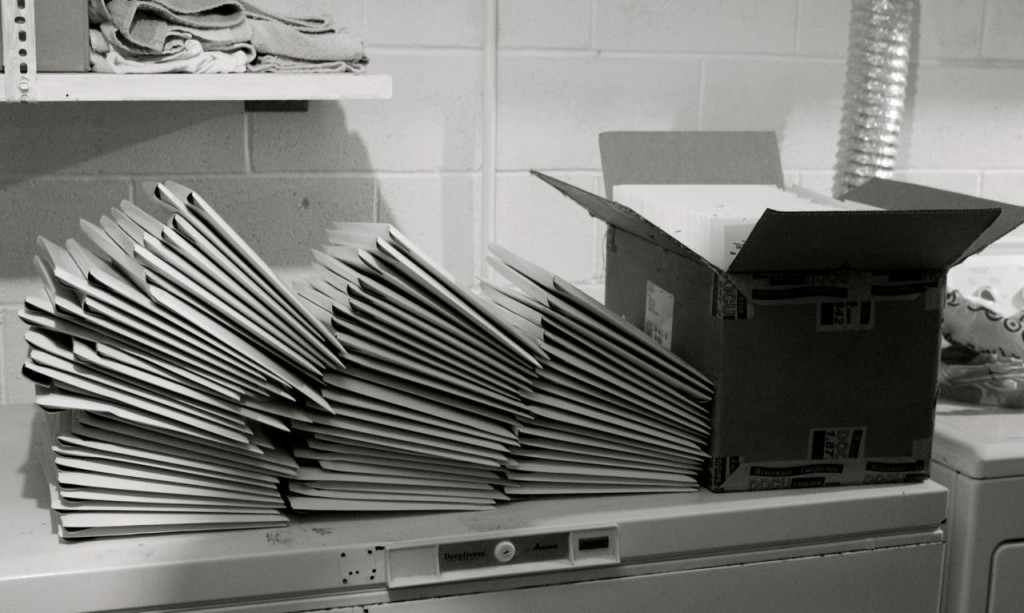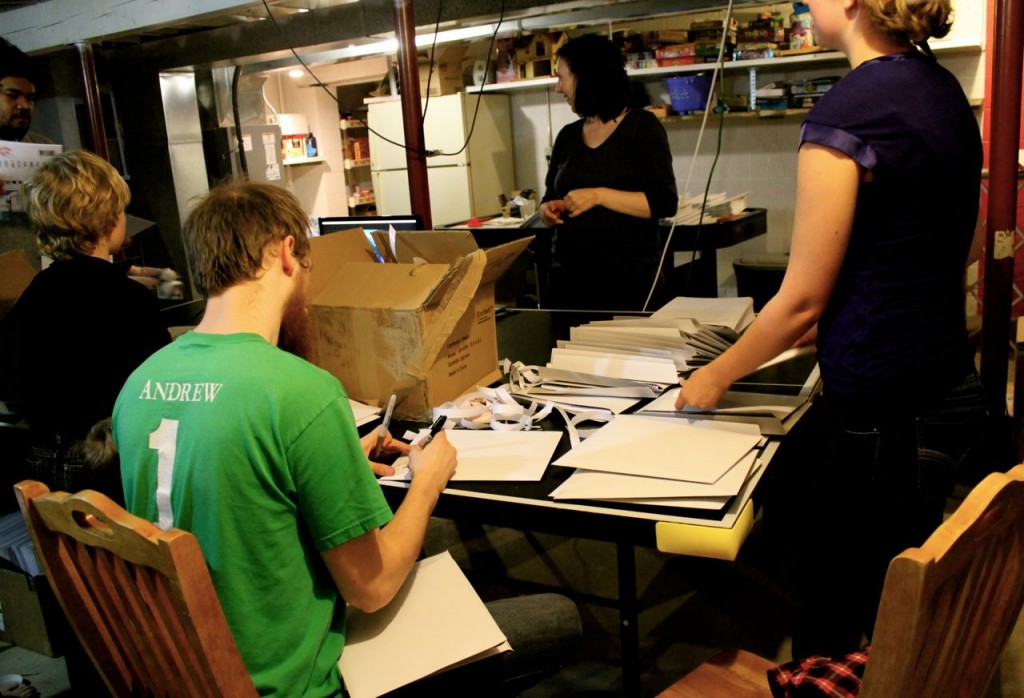 3. Wildness
The days are short. It's December. It gets dark so early now–the day just gets going and I notice that it's Golden Hour and already time to go get the two maverick Icelandic roosters, Rhett and Link, out of the tree and into the coop, and the sun melts down into the west, and it's night. Or nearly so. I try to make sure to spend some time outside every day, even when it's cold because: vitamin D. Also, the outside is vastly superior to the inside in these parts, most days. My opinion. There are many things to do outside, even when it's cold.
You just have to get out there and discover them.
Just last week, we:
trained Ollie, our lab, to pull us down the driveway in the wagon. He was tail-waggingly acquiescent, though just a little confused. Bless him. He's not talented in the brains department, but I'm thinking that lack of intellect is a plus in a dog, because: Bea.
studied the Icelandic roosters, weighing relative upsides and downsides in each ones' character. To begin my Icelandic breeding program next spring, I've got to whittle my pack of roosters from 10, to 2 or 3. Alas! I love them all!
on a day when the pond was frozen enough for snowballs to be thrown at, though not yet frozen enough to skate on, we had a snowball-throwing contest. Mack made all the rules. He demonstrated very diverse and clever and multitudinous snowball-forming techniques, and throwing strategies. He was so delighted that I–a stuffy grown-up–would do this with him. I love this kid.
caught tadpoles. Mack had discovered that the pond was swimming with them, to our delight. It didn't take us long to figure out the best way to catch them, which was tossing a bucket into the water and just scooping them out. Tall chore boots helped, too. I've been fascinated by tadpoles ever since I was a little girl.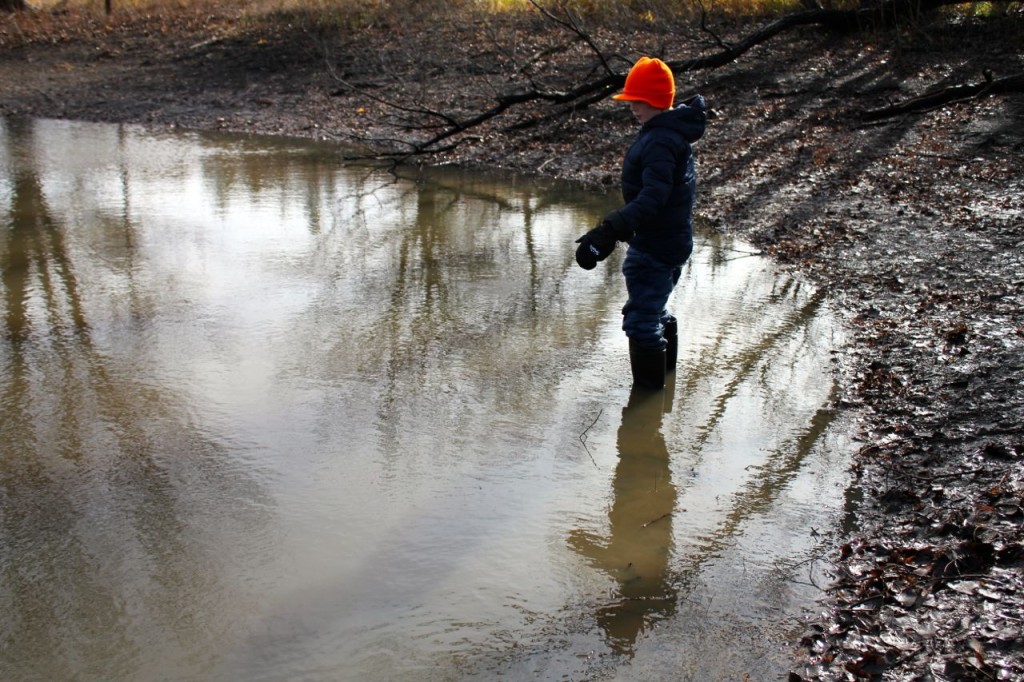 I've been fascinated by tadpoles ever since I was a little girl. We had these little guys in the house with us for several days, until they started to look a little wan, and then we returned them to the pond.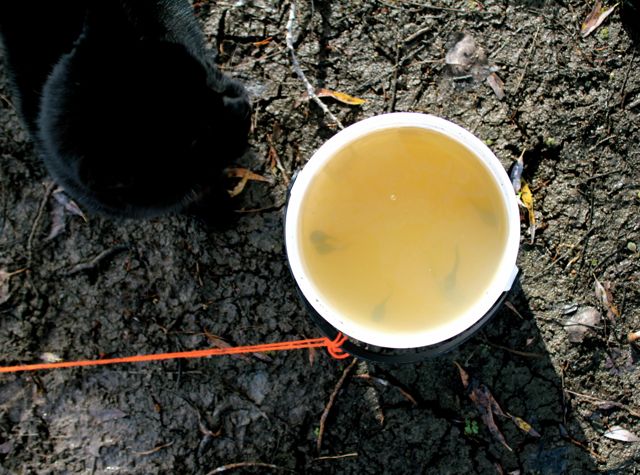 4. More wildness
It's a delightful thing to discover dozens of tiny red oak trees growing all around our pond, seedlings that we didn't plant ourselves. It's strange. There are no mature red oaks nearby, so it's curious where they all came from. They are exquisite little trees. There are a couple of small red oak trees near the opposite corner of our property. My hypothesis is that the flood waters this spring washed tiny acorns from the far end of the property down to the pond, distributing them in a delightfully random way.
I do wish oak trees didn't grow so slowly.
My son Matthew would love this. He is as fond of random wildness as I am.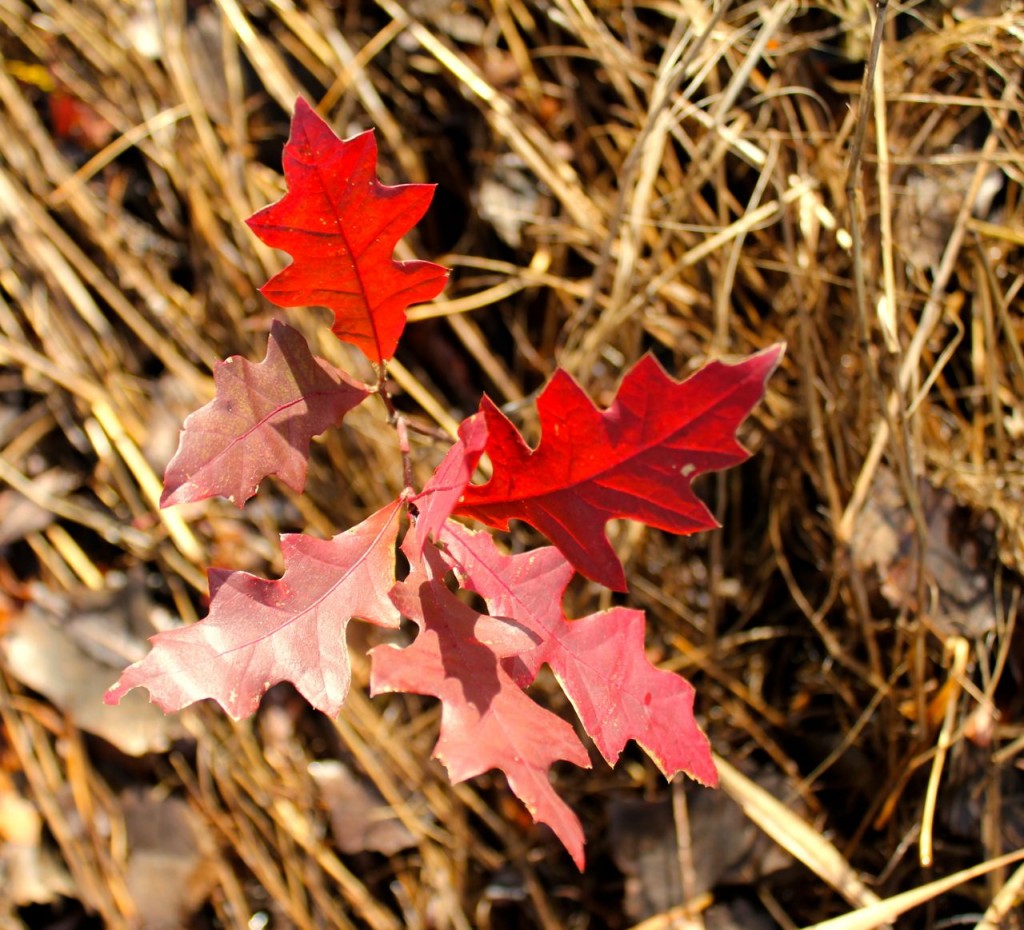 I can just dream about what all these trees will look like, when Matthew's kids are his age and I am in my dotage. Hopefully they'll still come to visit me.
5. Still canning
pears, the gift of a friend, and making ginger pear marmalade. Also pickled beets, candied ginger, and end of the season roasted tomato sauce out of the tomatoes that we picked green before the garden was frozen.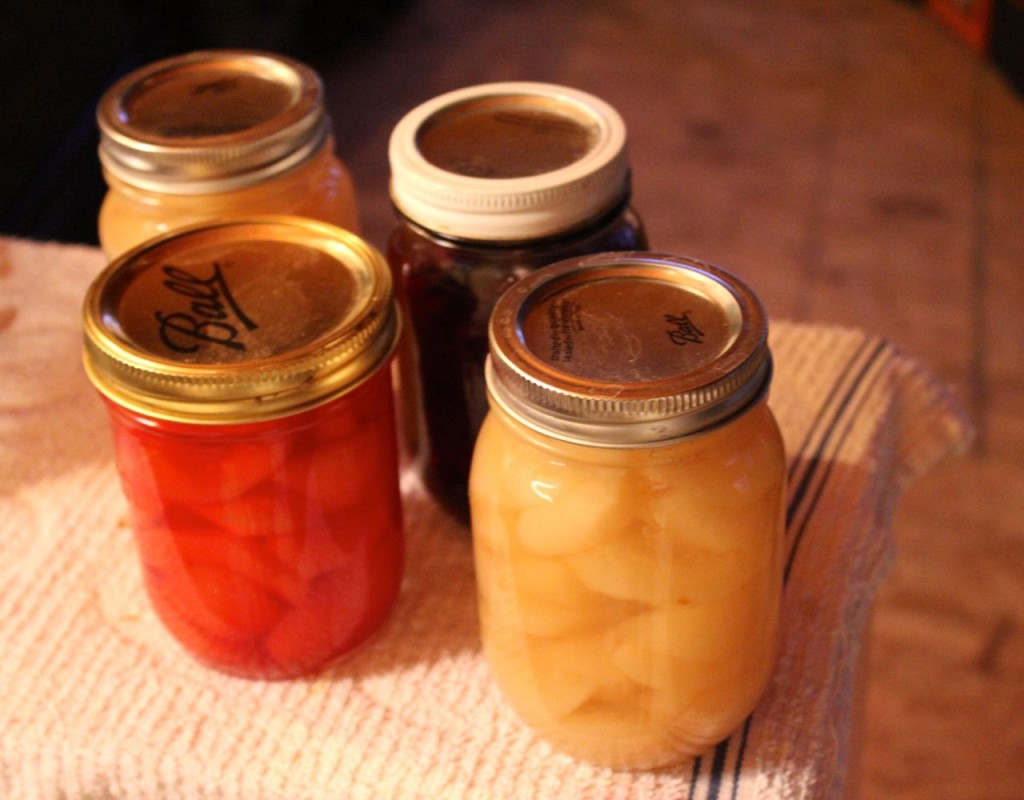 Am I ready, at last, to sock away the canning stuff? Heck, no.
6. Progress
on our kitchen remodel is slow but . . . slow. We are four months in now, folks. Four months in, of doing all my mixing from a desk in the sunporch. From wondering why I packed up so much of the contents of the kitchen. I keep driving my hubs and contractor crazy by changing my mind about sinks, and countertops, and light fixtures, and . . . whatever. It's a conundrum because: it's my kitchen, fellas. I keep them plied with hot coffee, tasty snacks at break time, and Mountain Dew Live Wire, to make up for my lack-of-decisiveness. Whatever works.
It's going to be awesome, though.
One thing I won't change my mind about is this sweet door that I picked up at the Ecostore. I just love to look at it. I've got to strip it and see what is underneath, or paint it fresh–which would you do?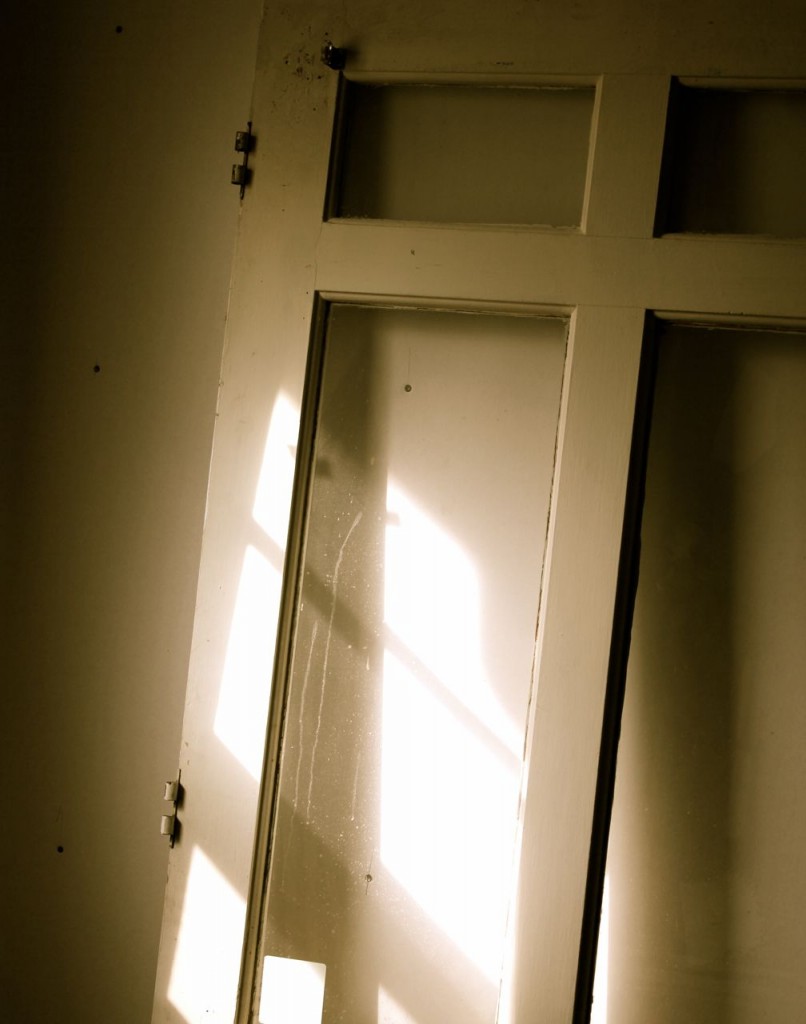 7. My hoop house
is a quiet, warm(ish) and sweet respite some days. I have two cold frames full of radishes and baby greens.
(photos later!)
I still haven't torn down all the tomato cages, but that's not all bad. It's a great place for a few minutes of mental health time, and if I'm tearing down tomato cages, I'm being productive, ergo: nobody seems to care, or to bother me. Every mama ought to have mental health space like this.
8. "Say Uncle,
Auntie Sylvia" is the name of our melodrama this year. We have toiled through the blocking rehearsals and the kids are mostly off-book, which means it's time to have fun! I love this part.
Absolutely love it. Here's where the creativity comes into play, and we flesh out the nuts and bolts of the script. We add the magic to it. The kids add their own magic to it.
That's the best part, of course.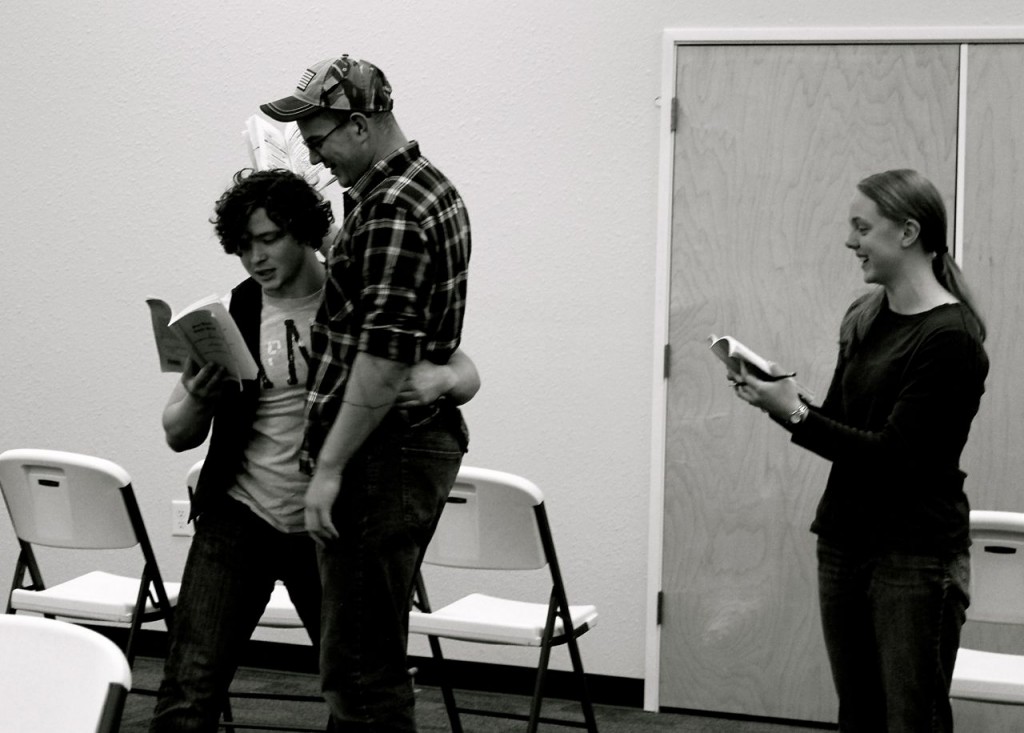 It's always at this point in the process where I think "Why do we only do one of these a year?" In a couple of months, when I'm getting over a nasty cold and have lost 5 pounds and have to use a shovel to get out of my house, I'll remember why we do only one of these a year. But we all love it so much.
It's really fun when alumnae of our group come by to chat and to catch up, and to get in on some of the tomfoolery.
And there's always some tomfoolery.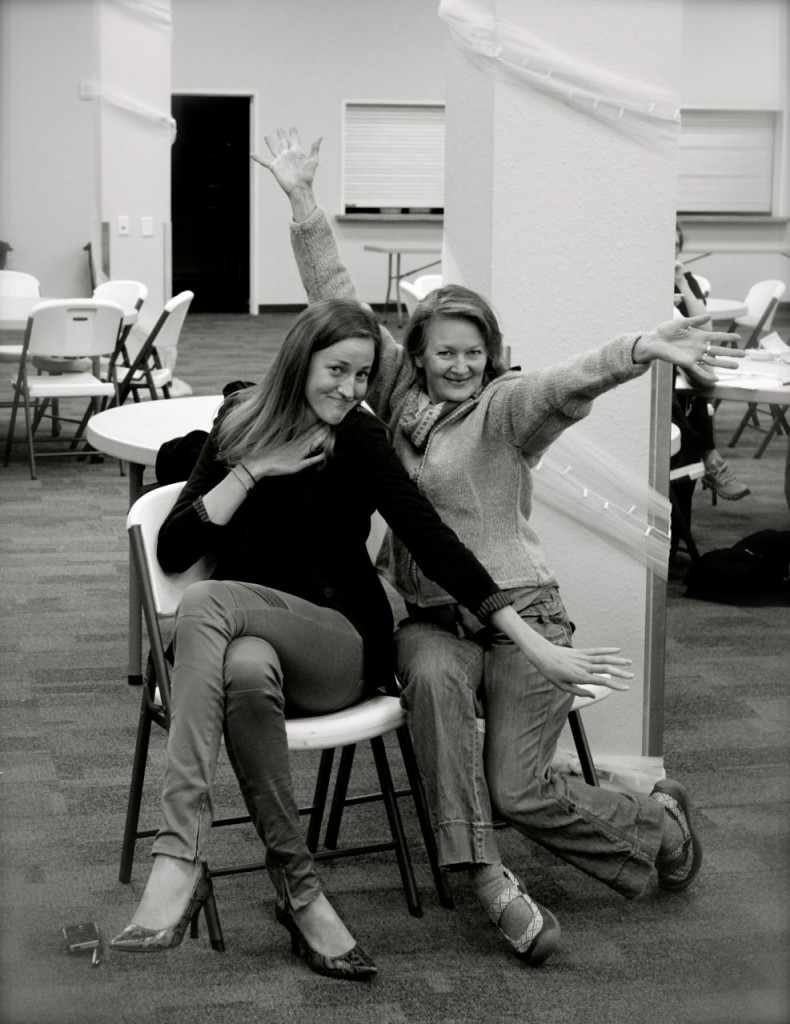 9. My Shop
is open! 🙂 As I mentioned above, I think I've gotten all the bugs out of it, and I'm pretty excited about it. Check it out in the handy link here!
That's all for now, Gentle Reader. Nine things is pretty good, don't you think? Especially for a weekend.
Thanks for popping in! Now I'm gonna skedaddle outside, and I recommend that you do the same! 😉
*hugs*