Dang! Best Cowboy Coffee Cake recipe, yee-haw!
We have a long and delicious history at our house with this particular Cowboy Coffee Cake recipe. This recipe–or a version of it–I originally found in the old red and white checkered Better Homes and Gardens Cookbook, and I started making it for special occasions. You know: when a little more posh was called for at breakfast time: holidays, when company was coming, the last day of school each spring, when the wretched lost gerbil was found, and so forth.
It's a celebratory food, to be sure.
This is one of those magical recipes for me, Gentle Reader, that I can (nearly) make with my eyes closed. An easy recipe to begin with that I've made it scores of times; it's super-nice to have such an easy and satisfying recipe in your arsenal against hunger and cranky family members, isn't it?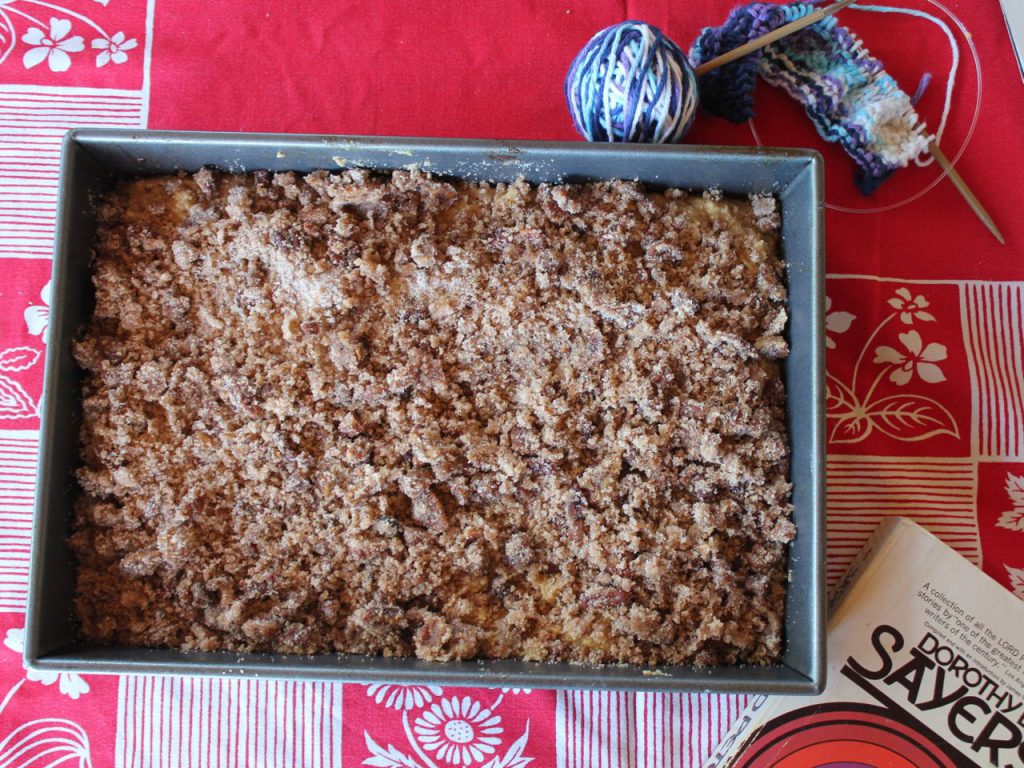 Which made it such a shock when it disappeared from the newer editions of the BHG Cookbook–I upgraded and bought myself a new copy, only to find some of my old favorite recipes were missing! *gasp* There is a buttermilk coffeecake recipe that I think is quite close to the original recipe, if not the same one entirely.
I've gotta say, the Better Homes and Gardens cookbook is still one of my go-to favorite cookbooks though. It's a doggone whole lot of goodness for a little bit of money. I'll have one of these in my kitchen until the day I croak, gentle readers. (I don't have this pretty new edition, though, (*cough* *Christmas* *cough*)
But does "buttermilk coffeecake" have the same alluring, today's-a-good-day-for-an-adventure sound as "Cowboy Coffee Cake"? (As if.) No. No, it doesn't.
When I needed a quick coffee break treat to serve the guys working construction on our kitchen, I pulled out my old recipe for Cowboy Coffee Cake. Everybody loves it. It stirs up pretty quick. You can dress it up for fancy occasions, and I nearly always–even in the middle of a kitchen remodel–have all the ingredients for it.
Gentle Reader. It's the perfect recipe.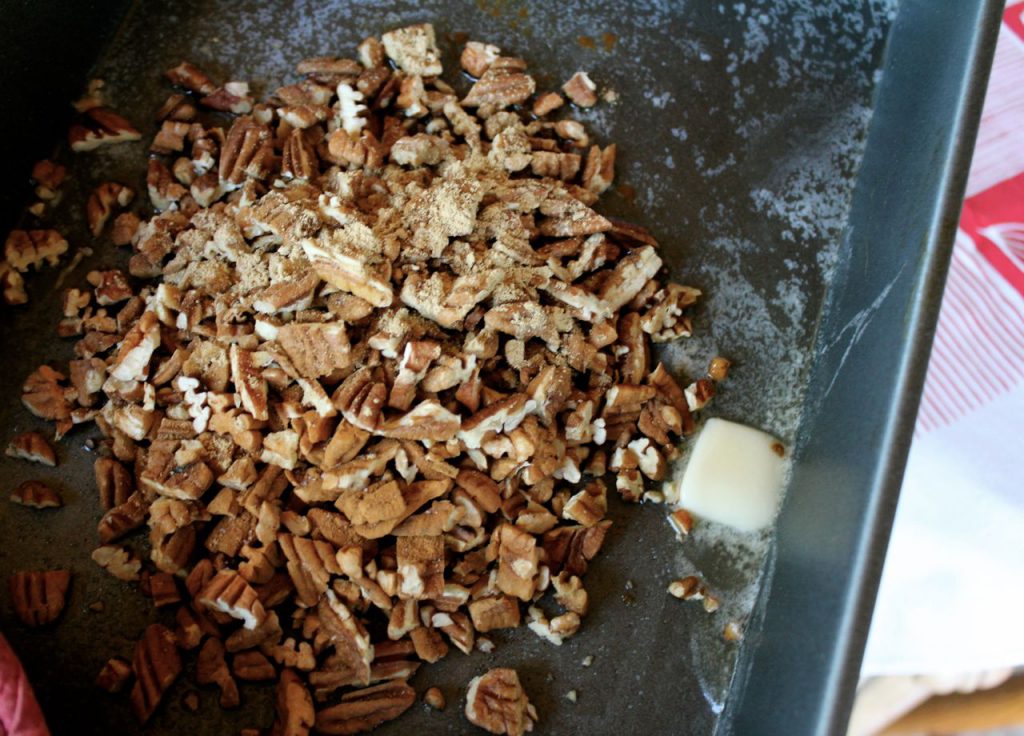 And because I love you all so entirely, I'm sharing my version of this iconic classic with you. Though there are other versions online (there are versions of everything and their dog online, too, such is the nature of online, don't you agree?), I can say with all candor and humility: Mine is the absolute best version!  Why? Because my recipe contains my own personal updates from a couple of decades (cough) of obsessive tweaking, not to mention some time-tested add-ins.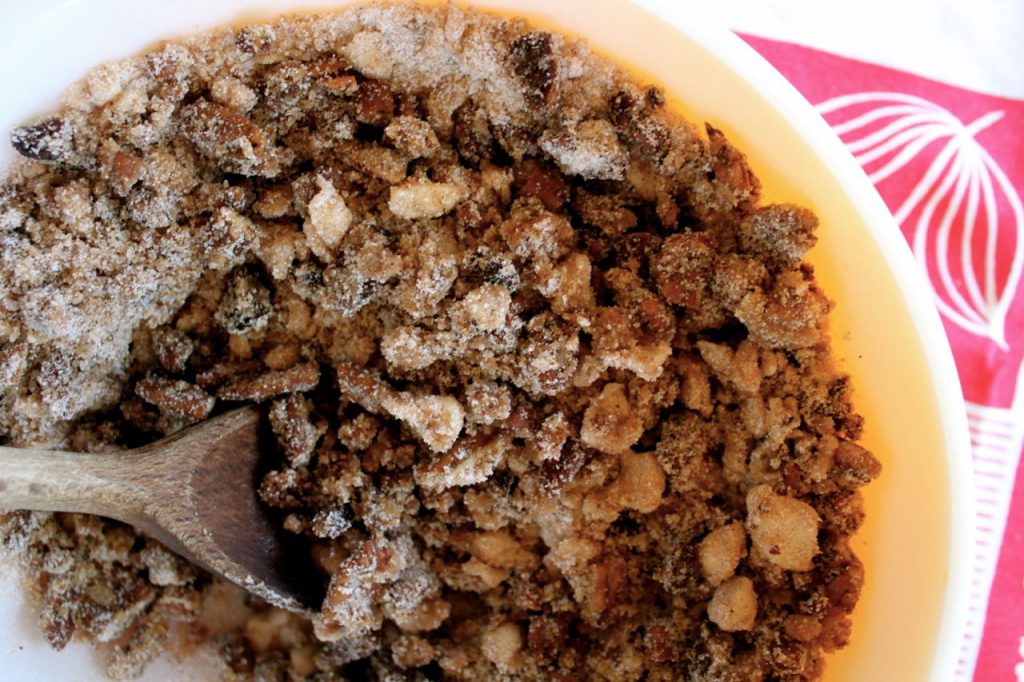 And here it is:
"Cowboy Coffee Cake"
Author:
Prep time:
Cook time:
Total time:
This is the perfect recipe: it's easily dressed up for company, it stirs together quickly, everybody loves it, and I nearly always have everything I need to make it in my kitchen. Perfection!
Ingredients
1 cup white whole wheat flour
1.5 cups unbleached flour
¼ teaspoon salt
1 cup brown sugar
1/2 cup honey
⅔ cup unsalted butter
2 teaspoons baking powder
½ teaspoon baking soda
1 teaspoon cinnamon
½ teaspoon freshly-ground nutmeg
¼ teaspoon ground cloves
1 cup buttermilk (emergency substitution: 1 Tb lemon juice added to milk to make one cup, and allowed to sit for 5 minutes)
2 well-beaten eggs
3/4 cup chopped walnuts or pecans
Any of the following can be added to this recipe: 1 cup blueberries, chopped apples, smashed banana, 1/2 cup toasted coconut, or anything you might like in your coffeecake!
Instructions
Preheat oven to 375°F.
Grease and lightly flour one 13 x 9 inch pan or two 8 x 8 inch square pans.
Toast your chopped nuts in the oven for 10 minutes with 1 Tb butter, and a sprinkle of cinnamon, or until toasted and slightly browned, and aromatic. (Trust me on this one. Roasted nuts are soooo much better.)
In an electric mixer, combine the flours, salt, sugar, honey, butter and cinnamon until crumbly.
Stir nuts into 1/2 cup of this mixture for topping, and set aside.
To the remaining crumbs, add the baking powder, baking soda, nutmeg and cloves. Mix together well.
Combine the buttermilk and beaten eggs and add to the crumb mixture. Mix well.
Pour into prepared pan(s) and sprinkle with the reserved crumb and nuts mixture.
Bake 25 to 30 minutes (the larger pan may take 35 to 40 minutes, depending on your oven). Allow to cool at least a half hour before slicing. Unless you don't want to (and we never do), in which case: absolutely scrumptious served warm, with a big glass or milk or cup of good coffee.
By the way, have you ever wondered about goose eggs? I'm sure many people do. 😉 This is a typical sized goose egg from our goose, Lucy, and it is equivalent to two good-sized chicken eggs.
See how big the yolk is? I thought you might enjoy that.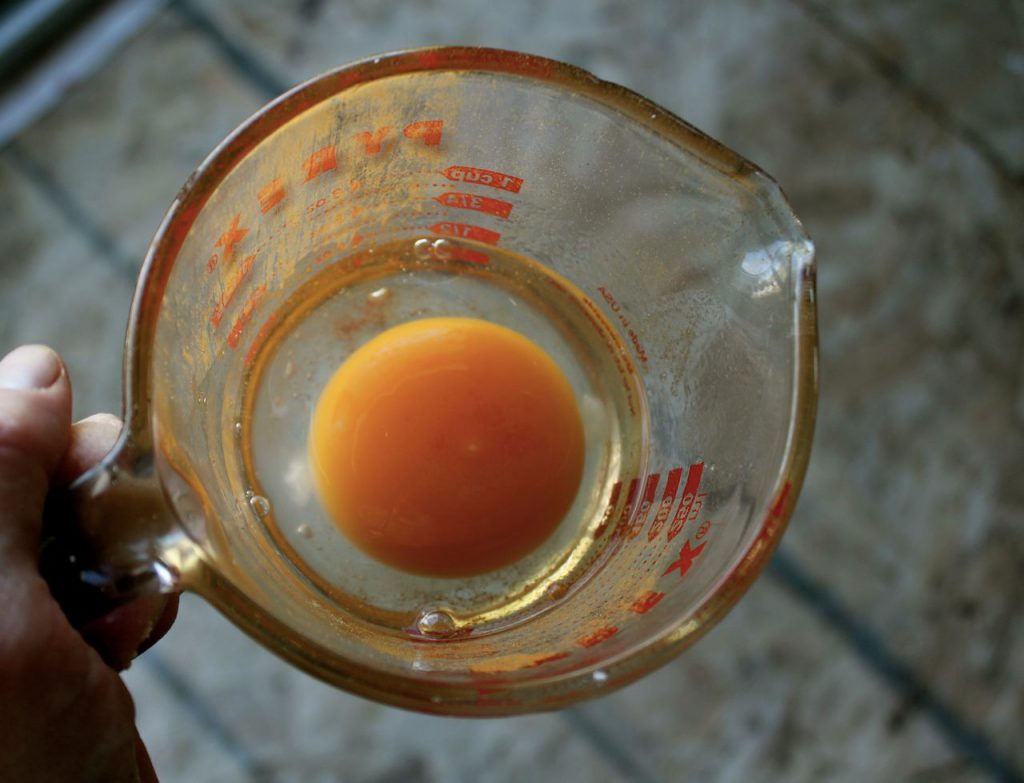 That's it for today. TTFN.
See you after while, Crocodile!
Did you enjoy this post? Can I ask you a favor? I'd love it so much if you'd share it with your friends, near and far. I'd know that I'm producing something of value in that way. And if you want to type your email address in the little box above, I promise that I'll never spam, scam or flim-flam your email box. And join me over at my Facebook page, where we encourage, educate and just have a lot of fun together. You know. Virtually!
And thank you from the bottom of my hayseed pickin' heart.
*hugs*