Crucial onion growing update (for you, especially, Rose)
I'm giddy, Gentle Readers, simply giddy.
I don't know how long I'll be able to work on this space that has become so precious to me and yet not accessible to me–so I'll make this as brief as I (even I!) can make it. We've had a joy-filled few weeks, in that our daughter Bethany married her beautiful man Saia, our son Andrew and lovely bride Sonia and princess-daughter Anya stayed with us for the week following, and my heirloom tomatoes started producing like crazy, among a few other things. Amidst it all, my blog was not accessible to me. At. All. That is to say, I knew that other folks were able to access it, but I couldn't.
I wanted to write and to share and to be here, but I wasn't able to. I was mute, internet-wise. It was weird.
My IT guy (son Timothy) and frustrated payer-of-bills and chief supporter of my blog (hubs Bryan) have put in countless hours working on the problem, but to no avail. (It has been nearly a month now since I got up to work on my blog, and I couldn't get it to come up on my computer.) They both know who is to blame, but the companies that could help fix things–our local provider Windstream,  our hosting site Media Temple, and the company that is blocking our sites Zayo Group (they won't even talk to us because we "aren't their customers")–have done nothing beyond lots of finger-pointing to the other parties involved. So far, at least. Bryan assures me (through firmly-gritted teeth) that they will fix it. Eventually.
In any case, I miss working on my blog and I miss you guys, my Gentle Readers, and I've been writing posts to publish when it all is fixed. And then, this morning as I'm writing, I clicked (wistfully) on my blog url, and what pops up: vomitingchicken.com. Right here, on my little computer. So that's why the giddiness, and the hurry. I don't know how long it'll stay up for me–15 minutes? A day? Or maybe the problem is fixed and I'm back in business?
Well, in any case, I'm here for the moment and so on with the important stuff: an onion-growing update!
Welcome back, me. 🙂
Okay, Rose, this one is for you. Although the rest of you need to check it out, too! 🙂 I know that Rose is nothing if not great at sharing.
Remember my brilliant onion planting method that I wrote about early this spring, that you (snif) were a bit skeptical about?
To remind you: I planted my onion starts in little clumps of 3 to 5, rather than singly. Last year I did this, and it cut down on weeding and the onions seemed to grow just as big, so I shared it with you all. I was and am excited about this. I love to cut corners, especially if the result is just as good (or better).
My faithful, encouraging Gentle Reader Rose was not convinced, and made this comment:
"Good one! A must try…will do it too, but only if you report back and let us know how successful yours turned out! Deal??"
Well, this is me, reporting back. 🙂 To you, Gentle Readers, but especially to most faithful reader Rose.
Rose regularly razzes me (sweetly) about how she doesn't even know what weeds are—because of her lovely wood chip mulch that she keeps regularly thick and deep and beautiful and refreshed. "Weeds, Amy? Whatever could you mean? Oh yes, I remember a day when I had to pull weeds . . . long ago, before I discovered wood chip mulch . . . life was so tiresome then . . . "
I aspire to be Rose, by the way. I aspire to have Rose's magical wood chip mulching capabilities. Not to mention a huge supply of wood chips, dumped at my place at just the proper time. That is, any time. Today. Last week!

Rose is ahead of me in the onion season, in that she has already harvested her lovely Vidalias, but these photos are especially for you, my dear. You might want to try this next year, as it really did cut down on the time it took to plant and maintain my onion patch. Or you can continue planting onions however you prefer.
It's a free country, thank God!
I did notice that the clumps of three got a bit larger than the clumps of 4 or 5, so I'll go with three from here on out. Here's how the little clumps of onions looked early this spring, freshly-planted:
Here are how they look today, nearly ready to be pulled: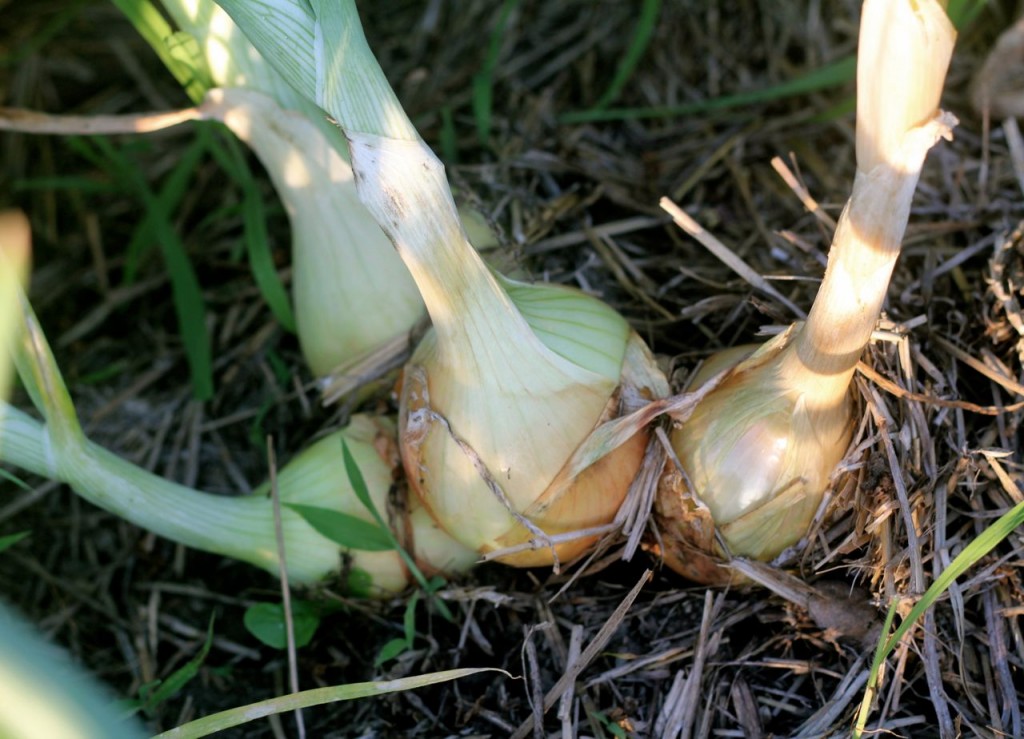 But wait, there's more! In my second planting of onions, I went an even easier route. I found a bag of bulbs (the immature little onions) that I had forgotten to plant, and I simply took about 30 seconds to scatter them on a patch of fresh garden soil, and then cover them with two or three inches of (you guessed it!) fresh wood chips. And hope for the best.
(Hope for President!)
(Wood chips for Vice President!)
I had no idea if this would work, but I didn't have time to do anything else, so I just went for it. I watered them well, and ignored them.
Well. It worked.
Take a gander. Here is a close-up of my second onion patch, planted with this even easier "scatter and cover and ignore" method. It looks crowded, but I think it is beautiful.
Because it was so easy. Cool, eh? And these onions are just getting started. I can't wait to see how big they get. Big as a house, I'll bet!
That's all for today, folks. We had a wedding last week, and then we had the pleasure of having Andrew, Sonia, and Anya at our house for the week afterward. So this week is catch-up week at the ole' weedy and prodigiously fruitful hacienda.
I've got plenty of things to say about the wedding and the aftermath, but I'm too distracted and busy to write many of them down right now. But in a week or two, when the dust clears, when the weeds are tamed a bit, I'll have some photos and some wedding chatter to share.
If my blog stays up, that is. 🙁
'Til then . . . ttfn! I love you guys!
*hugs*