This week, our schedule (not that it's ever predictable) has changed quite a bit, due to the fact that Amalia has been working more or less full time in another town. Therefore, she takes off in my car first thing, (with my phone in her purse) and then little Mack and I head out to work in the garden for a good share of the morning. When we get tired, we come in and make a green smoothie for lunch (along with something else more filling for a little boy) and we settle down for a "reading lunch."
After taking care of some domestic chores, we hop onto our bikes (actually, in an interesting twist, I'm on Amalia's borrowed bike) and pedal into town. Mack has a swimming lesson at 5:00, so if we have any errands to run or a stop at grandma's house to make, we head in early. After swimming lessons, we may stop at the grocery store for something we need, or we may just pedal home, because it's time to start thinking about making supper.
We are blessed to live close enough to town that it's possible to bike there in no time at all, well, 20 minutes if we're in a hurry. I find this amusing: all the activity at our house, the coming and going, and all the vehicles parked outside at the end of the day, just for this short time in our family's timeline. (At the end of day, until early the next morning, sit Bethie's little white car, Timothy's pick-up, Bryan's gray commute car and my Shimmy, and our bikes). Mack and I, though, have spent more time on bikes than in a car this summer, which is fine by me.
Bethie's wedding is coming up quickly, and so after that, her little white car will be sitting outside another home in another town: the apartment that she will share with her new husband Saia. Timothy has moved home for just a few weeks and then he's going to be taking off, too—working on WWOOF farms and traveling, for who-knows-how-many months or years.
I'm hoping he'll remember to call his mama every now and then.
It's a lot of change in just a few weeks, for this tired ole' prairie woman to swallow. In any case, I'm just enjoying the heck out of having these two older kids back for a few weeks, before they both take off on their next respective adventures. It's so good to have more mouths to feed!
It's all enough to make a mama get just a little nostalgic, possibly even a tinge weepy, if she pauses long enough to think hard about it. Which–she–won't!!
Good thing I've got plenty to occupy my mind and my muscles in the garden these days, not to mention in the wedding planning department. When we were growing up, the very worst thing we could do was to feel sorry for ourselves, and if we dared enter that perilous territory, Mom knew how to fix it.
"You've got too much time to think," she would say, handing over a nice long chore list. "Get busy." *gulp*
So. On to my garden this week. Let's stay busy, okay?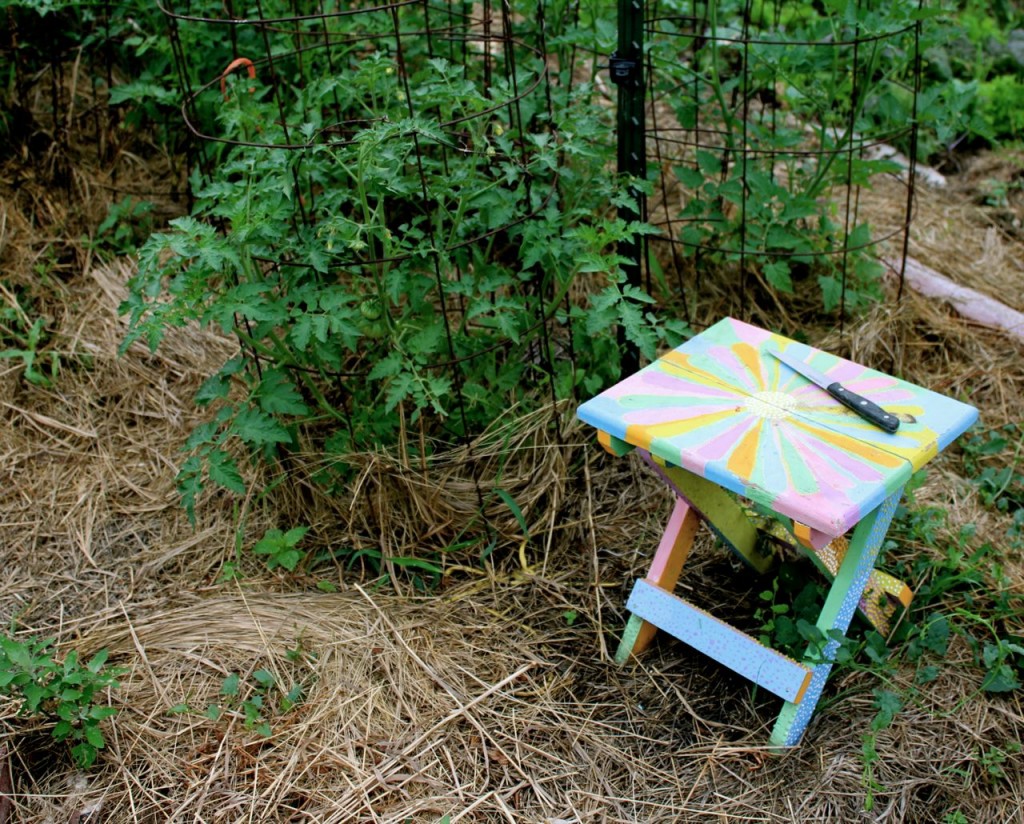 This week, we are:
watching for . . . rain! After the flooding of just weeks ago, the weather has turned more typical for Nebraska in summer: hot and dry. Also we're watching for harlequin bugs, cabbage moths and worms, little bitty grasshoppers, and . . .  deer! (I uncovered my sweet potatoes from the netting that I had draped over them, so I could weed them, and am hoping I can leave it off for now. But if the deer discover these tender leaves uncovered, they (my plants) are toast and so is my sweet potato crop!)
munching on . . . bitter greens in salads (once I did battle with the Harlequin bugs over them and yes, I'll share that with you soon, because–ahem!--guess who was the victor?), onion thinnings, sour cherries (sour cherry kombucha is really, really delicious, and beautiful, to boot!), dill, mint, chives, French tarragon and licorice basil thrown into anything and everything, rhubarb, beets, a turnip or two.
planting . . . new (small) beds of Pink Beauty and French Breakfast radishes (in the hoop house) and lettuces, also a few sale plants from Orsheln's (everbearing strawberries for 10c each, parsley and sage plants and dianthus, too: who could resist that?).
mulching . . . with wood chips, grass clippings when our overburdened mower will pick them up (either the grass is too long or the too wet, or both, alas, for our bagger to work well), and the last few bales of hay from last year's cutting. Our hay man, Mr. Hejne, stopped by just this week, though, and he plans to cut and bale the hay again, so we'll have another year's worth. I'm so grateful!
rescuing . . . my rhubarb and asparagus and strawberry and herb patch! This is the part of the garden that really gets neglected every year–once I harvest the last strawberry and pull the last stalk of rhubarb that I'm going to pull, I tend to turn my back on this end of the garden, looking politely away when I pass it so I don't feel shame from the towering sunflowers and riotous piles of bindweed that are messing it up.
Not. This. Year. I'm determined to take better care of it this summer! I plowed into it the other day, with two bales of hay to spread–I pulled weeds, chopped out weed trees, and covered everything thickly with hay. I have wood chips to haul out there, too, happily, and I'll spread a thick layer of them over the hay. The bindweed will have to work extra-hard to get through all that. My rhubarb already looks happier.
eyeing . . . the potato plants–the first planting, that is–are almost done blooming, which means there are probably succulent little baby potatoes under there. I'm thinking about reaching under a couple and getting just enough for a potful of baby potatoes with creamed peas. Yum. That traditional early garden meal never gets old.
Now, please allow me to indulge in blogging note: you can't imagine, Gentle Reader, the frustrations of having blog problems that keep me from accessing my blog from home. I've learned a lot about servers and hosts and all the machinations my blog must make to make it from me to you every day. I've always felt gentle pity for bloggers who confess that their blogs were offline several weeks running, because of a virus or a bug or whatnot, because I've always had Timothy (my brilliant techie son) who can fix anything I bring him, and also my hubby Bryan who loves to investigate these sorts of problems.
But not this time. Timothy and Bryan both have spent many hours each, tracking down the source of the problem. Basically there are many companies who are in the train of communication from me to you. Every one of them is saying "Hmm sorry ma'am, it's not us." Bryan thinks he has found the company where my blog (and also Amalia's and Bethie's) is being blocked for some enigmatical reason. This is what they have said: "So yeah, we do seem to be blocking your blogs, but we can't fix it, sorry, because you're not our customers. It's not our problem." Grrrr. . .
So I've been driving into town a couple times a week to use a free public wifi, to post my blogs. But if you notice that I don't respond to comments quickly, or that my posting schedule (what I had of one) is way off, that's the reason. *sigh* I guess it could be worse. 🙁
Once we get this fixed, I'll surely note on my gratitude list "Being able to blog from home again."