The day my blog went viral
The day my blog went viral, the winter wind was blowing a gale. I crawled out of bed early, struggling to focus my eyes in our dark, cold house. That wind! Gracious, it really made the house cold, the way it was whistling around the corners. I started the day like most others: padding to the coffee machine. Feeding the kitty. Sipping my cup of bulletproof coffee. Planning and praying over my day, during the only quiet hour or two of the day, in this house.
When I finally pulled up my blog to do some writing, I noticed that there were already a lot of views–a lot--for so early in the morning, especially. I wondered what was happening to cause this, but I had too much work to do to spend much time wondering about it. I had posted my first giveaway the day before, a drawing for a sweet collection of Baker Creek Heirloom Seeds, but I didn't know if I'd gotten the timing right . . had most people already ordered or purchased their seeds by now? Was I too late to interest anybody in such a thing? Did anybody (besides me!) actually plant that many tomatoes in their gardens?
And then I checked my e-mail. Kathy, the super-nice media lady from Baker Creek Heirloom Seeds, who had supported me in the seed giveaway, sent me a note that she had just posted my blog article on the Baker Creek facebook page. I clicked over there, and sure enough. There was my post. And it already had quite a few likes and comments. So that's where the traffic was coming from. Cool! (Thanks, Kathy!)
Here's the free heirloom seed giveaway I posted:
By breakfast time, it looked as if my post was going to set some records for me. It was neat to see the numbers jump up by the minute, but I tried to keep my excitement under control. It looked like I might have a big day on the blog, but there were other important things going on, too, and I decided not to let my blog take over my day. It's so tempting to pore over stats and comments and likes and views and so forth, but I am my kids' Mom and teacher first, so I encouraged the kids to get their morning chores done, and then we settled down to breakfast and school. I didn't mention the (potentially exciting!) activity on my blog.
I kept it quiet. I was all like, this really cool thing is happening on my blog but I am cool as a cucumber, because I know that the most important thing is loving my family and teaching my children . . .
And then I couldn't stand it any more. I had been keeping it understated. Low-key. First-things-first. "How about brown sugar and cinnamon on your oatmeal"ish, and all. For a good, oh, say, 30 minutes. But then. I mentioned to my daughter that my blog just might be going viral. Very low-key. I could be wrong, I assured her. The rapidly-growing numbers could stop. Boom. Just like that. You never, after all, really know about these things. No way to predict when your blog might go viral. Or stop going viral. Whatev.
Amalia is not a low-key personage. She shrieked, jumped up from the school table without a word and dashed into the other room and grabbed Bryan's iPad. Bryan was doing online teaching in the basement office, with the family computer.
Amalia pulled up my blog post, gasped loudly, eyes shining, and then she pulled up my stats, shrieked again, and then she pulled up my Facebook page, laughed and hooted and cheered hugged and high-fived me. So much for low-key.
I smiled demurely and shrugged, and then I calmly reminded her that we wouldn't let this take over our day. We won't, will we, Amalia? Education, after all, is more important than blog stats. Feeding the fire, and keeping the house warm, and practicing the cello, and making nutritious food, were waaaaay more important today than the bitty numbers on the computer screen . . . right?? We would not lose focus on our schoolwork . . .
Through her glee, Amalia promised to put away the iPad and not to look at it again until after school. At least, until she had finished her math. And perhaps her writing assignments. But then could she just take a peek, please? We decided that this would be a prudent course of action. On a day that your blog, just possibly, might be going viral.
And then. The unthinkable. The power went out.
I mentioned that the wind was really blowing, did I not, and you didn't really heed it because the wind is nearly always really blowing at our place. The weather forecast was for High Wind Warnings for the day, with gusts of up to 55 mph predicted. That's quite a stiff wind, even for our windy area. We all giggled, in the suddenly dark and quiet house. Good thing we had a wood stove, and that we had been feeding it all morning. We wouldn't be cold, anyway.
Bryan came up from his office and called the power company. Yes, they knew there was a power outage, thankyouverymuchsir but they didn't know where it was yet. They were on it. "Well, my teaching is over. Without electricity, I can't teach," Bryan said and he prepared to go to work. "Have a nice day," he said to us all. "Hope you get your electricity back eventually," he laughed, as he left to drive to the City where, presumably, they still had power. Lights. Etc.
Amalia, little Mack, and I didn't really mind not having electricity. We knew that it wouldn't be for long, in any case. It happens. Only once, since we've lived out here, did the electricity stay off for more than one day, and that was during a three-day blizzard. This was no blizzard. Just a mighty, mighty wind. Mighty enough to blow a power line down, someplace. Where they couldn't find it, apparently. Not yet.
We lit candles. Malachi was enchanted. He loves candlelight. He loves any excuse to strike a match. Did I mention that he is a boy? It was quiet. There was no music playing on the radio, no hmmm of the refrigerator running, no chunkchunkchunk of the dishwasher doing its job. No checking of the stats on my blog. No shrieking from Amalia.
My blog was going viral and I couldn't watch it do so. But that was okay. I didn't want to be distracted by the computer all day. Maybe the electricity going out was just a blessing in disguise.
We huddled by the fire and worked on our schoolwork together. I gave Amalia her spelling test. I helped little Mack with his math. Let's count by three's . . . 3 . . . 6 . . . 9 . . . . 12 . . . Mack was thirsty. Amalia was thirsty. I was thirsty. Oh yeah. No electricity = no water at our place.
When our electricity goes out, because our water pressure tank runs by electricity, we have no water. I made a mental note that it would be a very good idea to keep a few gallons of drinking water on hand in the pantry, just in case. It had been two hours now with no power. We were all parched, suddenly. Inexplicably. We were living in a desert, no water, no water, blaaah. So thirsty.
The guys in the big electric company truck came down our driveway and got out of the truck and studied our lines and box, gestured, studied, kicked their boots in the dead grass, and shrugged. Twice they did this. They looked bewildered. And windblown. I had a feeling that the problem wasn't going to be repaired any time soon.
My blog was going viral and I couldn't get a drink of water. Or flush the toilet. Or take a shower. Or make a piece of toast. Or even find the bread in the dark kitchen. Or bake some bread, even (when I discovered that there was no bread, in the dark).
Strange day. Delightful day. Quiet day. The day my blog went viral.
There was still water in the hot pot, and it was even still fairly hot, so I made all of us a cup of tea and we sat down and worked on history–we're studying the Civil War–and then, Latin. It was nearly lunchtime and we still had no electricity. It was so quiet, and I was starting to enjoy it.
I went to the 'fridge, to see what there was in there that we could eat for lunch. "Cold lunch today, kids!" Let's see, there was salad . . . boiled eggs . . . leftover stir-fry. Oh my, that left-over stir-fry would be so good, if only we had electricity . . to heat it up . . . 
"I want something hot!" Mack said, suddenly, and Amalia, huddled next to the wood stove, reminded him that we had no electricity to make something hot to eat. Then she chucked another log into the wood stove.
"Wait . . . we can have a hot lunch!" I said, struck with a sudden thought. Within a couple of minutes, I had a cast iron skillet full of the leftover stir-fry, and another pot with water, rice and salt. We put them both on the top of the wood stove, and Mack happily agreed to watch over them, a wooden spoon in each hand, while Amalia and I finished our Latin chapter. Within twenty minutes, we had steaming hot rice and sizzling stir-fry veggies to eat for lunch. Oh yeah. You can cook quite nicely on a wood stove.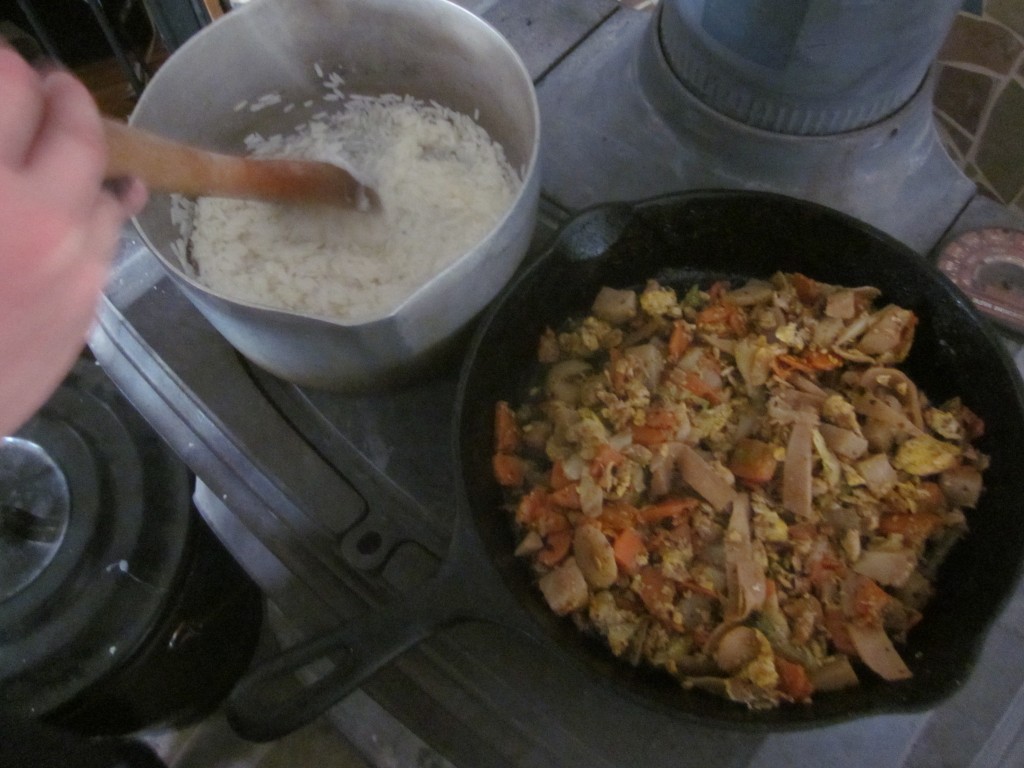 Life was good!

Since buying some new furniture for the living room, we've had a "NO EATING IN THE LIVING ROOM" policy, but Mack asked piteously if we could eat our lunch in the living room, where it was warm, just this once. So that's what we did.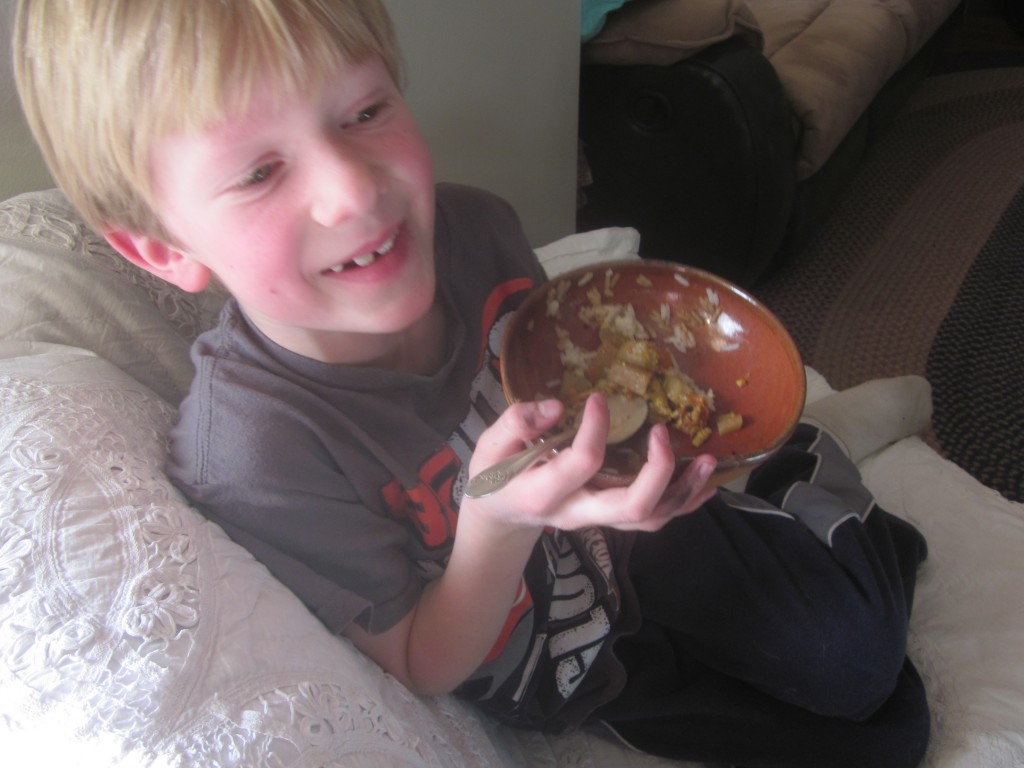 It was the best hot lunch ever, we decided. Afterwards, Amalia and I cleaned up in the dark kitchen, while little Mack heated up hot chocolate on the wood stove: with a special addition. Or, rather, three.
The day my blog went viral, we celebrated by adding three kinds of marshmallows to our hot chocolate.
After we finished the morning's schooling, I sat on the couch and thought about all the things I couldn't do without electricity: I couldn't do the laundry. I couldn't wash the dishes. I couldn't work on my blog. I couldn't bake bread. Wow. There was so much I couldn't do without electricity. I felt a curious sense of relief.
But I could practice my banjo. And . . . take a nap. I could take a long nap! No clock to watch! I could read a book. I could have a long play-date with little Mack. A day without electricity was beginning to look very attractive, indeed. We could play Monopoly by candlelight.
And then (you guessed it): the power came back on. The refrigerator started to hum, the dishwasher went back into action, several lights came back on, and the radio started playing music again. My goodness, we'd left that volume up quite loud!
Little Mack let out a wail. "Whaaaat?? NO! I don't want the electricity to come back on!" he cried from the woodstove, where he was heating up another batch of hot chocolate. "It's so much fun to have the lights out!" I looked across at him. I was disappointed, too. Now all those things that I was going to get out of, I had to do. Well, maybe not.
"We can pretend that it's still off . . . " I suggested, quietly. "We could turn off the radio and the lights and leave the candles burning. At least for the afternoon. (I was thinking, leave the laundry in the baskets and the dishes in the sink, just this once.) "We can, however, get a drink of water and flush the toilets." Little Mack grinned. "Okay," he said, brushing away his distress. "Now do you want all three types of marshmallows in your hot chocolate, Mom?" he asked, his good humor restored.
"Absolutely," I said, watching him as he proudly carried that pot of steaming hot chocolate to the kitchen. It isn't every day that your electricity goes out. It was possibly the best thing that had happened to us in quite a while, and I wasn't going to hurry us out of it. After all, my blog was going viral.
There were plenty of reasons to celebrate this day, and leaving the electricity off was a great way to make the day special. Who knew? Now we did.