Easy Herby Dip Recipe: great on everything!
Learn just how easy it is to make (truly) this easy herby dip recipe! It is savory, delicious, and even a tad nutritious! Great with chips, raw veggies, or my (sneaky) summer squash salt 'n' vinegar chips. Great on everything!
Affiliate disclosure: This post may contain affiliate links, which may result in my earning a small commission, at no cost to you. Full disclosure in link above.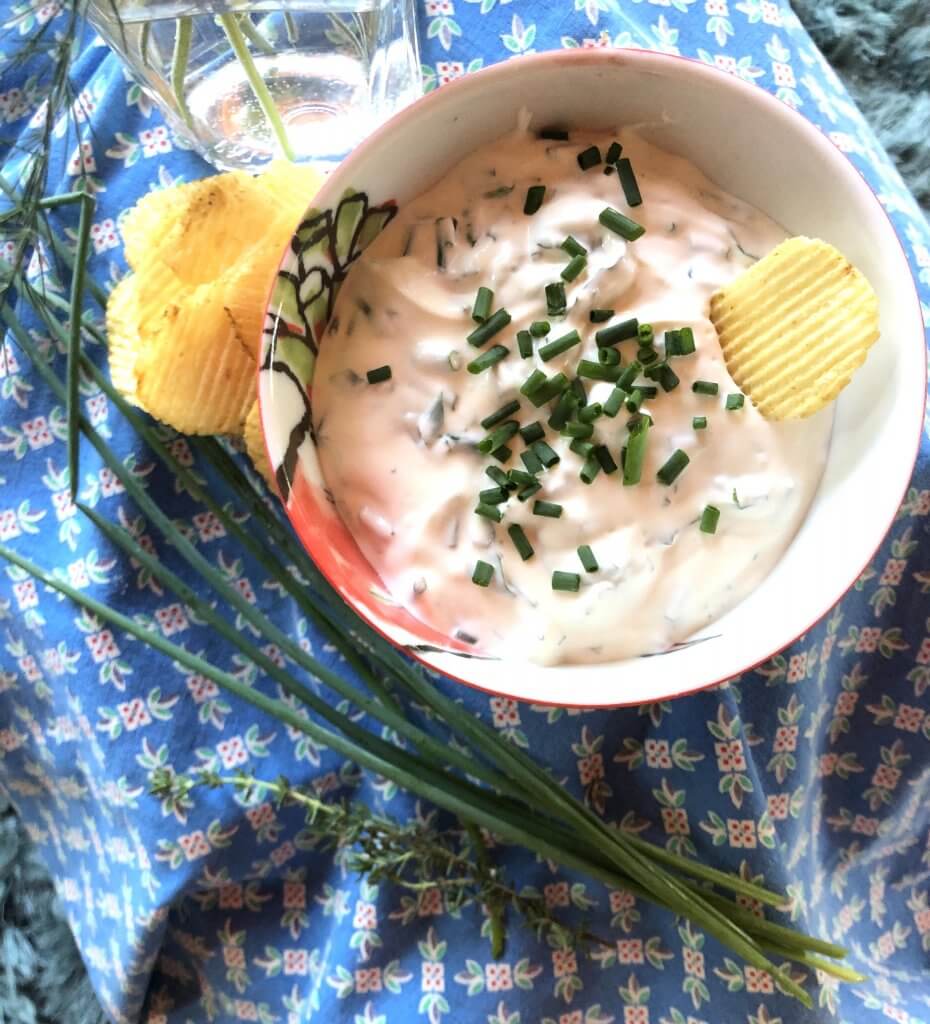 Why dip?
What an excellent question, gentle reader. The answer is simple, but takes a quick walk down memory lane.
I was a child of the 60s and 70s, and hey, chip and dip used to be such a cool thing. Groovy. Neat-o. My opinion on this matter: it actually still is.
In her pantry, my mom kept a special ceramic platter set just for chip and dip. It had a small bowl that was suspended above a larger one. The chips went into the large bowl and the dip in the small one.
It was similar to this one, only it was either harvest gold, or avocado green, since it was the 1970s. I'm not sure what color it was, but I do remember that it was cool. Something happened to that set eventually; I don't know what. Probably it got lost in a move, or broken by a kid washing the dishes. But now that I've remembered it, I'm on the hunt for one for myself. If I see one at my favorite thrift store, I'm going to snatch that baby up—-!
So, why dip? Because the more we can celebrate at the dinner table together as a family, the better!
We were such a cool family
Mom's chip 'n' dip set came out of the tiny pantry only on special occasions. Though the mashed potato bowl and the wooden salad bowl got used on a daily basis, my sibs and I knew that when the chip 'n' dip bowl set got pulled out of the pantry, it was partay time, baby.
Ruffles potato chips were a big exciting deal when I was a kid too, and that's what Mom usually bought to go on the chip 'n' dip platter. After all, they were stouter to hold lots of dip, and the ridges were perfect for digging through the dip.
Mom bought an envelope of seasoning mix from the grocery store. She stirred it into a bowl of sour cream and voila. Chips 'n' dip. Such a simple way to make the entire family giddy with excitement.
(In our defense . . . )
We lived in a very small town.
Entertainments were what we made for ourselves. Possibly we were going to watch a movie on the new television! Or maybe company was coming for supper, or possibly we were celebrating a birthday! I still get a little tingle when I think of that chip 'n' dip set. Funny, huh? It might have had something to do with how much I loved chip 'n' dip, but more than that was the excitement of something special happening at our house.
I still adore chip 'n' dip
 . . . though I feel better about eating these squash chips (they really are tasty!) with this homemade dip.
What you can serve this dip with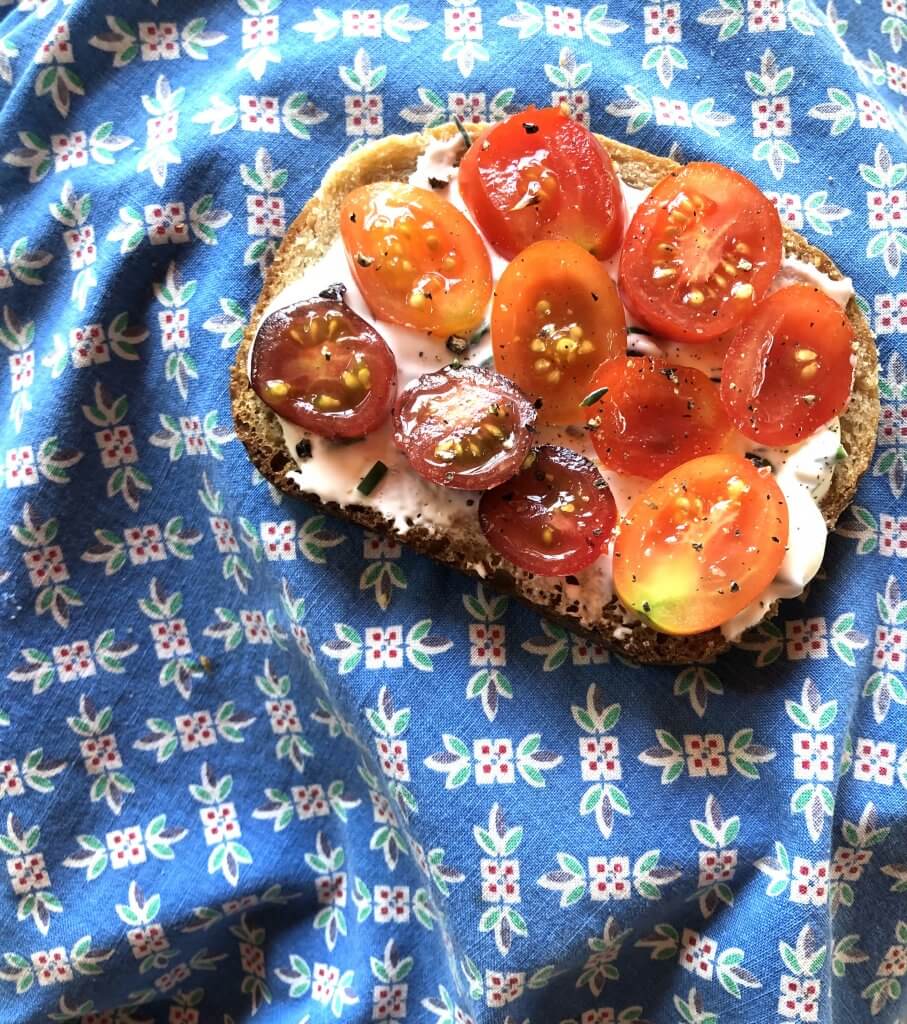 Ruffles potato chips, and other chips too
Baked potatoes
Crunchy raw veg
Pizza!
On toast, with sliced tomatoes (see above: this is what I snarfed down after this photo sesh)
With bruschetta
(I'm not kidding when I say it's good with everything!)
Grilled cheese sandwiches
Sandwiches, in general
Anything you might otherwise use sour cream or mayonnaise with
The Recipe, at last, thank goodness
Ingredients:
1 cup mayonnaise
1 cup sour cream
1 cup Green yogurt, full-fat, plain
2 tablespoons fresh chives, or dried minced onion
1 tablespoon chopped fresh parsley
1 tablespoon chopped fresh dill weed
1 tablespoon chopped fresh basil*
1/2 cup finely shredded carrot (optional)
2 teaspoons Redmond Real pink salt*
(*Note: If you don't have all these specific fresh herbs, you can use dried, or you can get really wild and use your own combination! I've used thyme, sage, winter savory, and other herbs just because that's what I have in abundance at times!)
Instructions:

1. Add all the ingredients to a small bowl. Mix well to combine.
2. Refrigerate for at least one hour before serving.
3. Serve with chips, vegetables, or both, in your chip 'n' dip set, if you have one!
And if you want to print it up: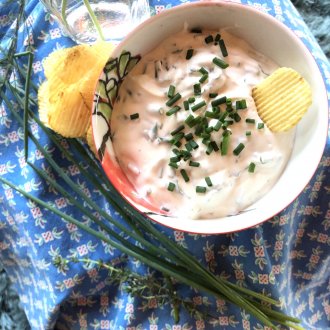 Easy Herby Dip: Great on everything!
It goes with everything: veggies, potato chips, tortilla chips, I mean everything. It's creamy, tasty, savory, and very, very cool. Stir it together in minutes and make somebody happy.
Ingredients
1

cup

mayonnaise

1

cup

sour cream

1

cup

Greek yogurt, plain, full-fat

2

Tbs

fresh chives, chopped

1

Tb

fresh parsley, chopped

1

Tb

fresh dillweed, minced

1

Tb

fresh basil, chopped

1/2

cup

carrot, finely shredded

2

tsp

kosher salt ( Redmond Real pink salt*  if you've got it)
Instructions
Mix all ingredients together in a small bowl.

Refrigerate for at least one hour before serving.

Serve with crudite, potato chips, or whatever you like!
Pin it for later:
Thanks for popping in, gentle reader. I hope you have plenty of special occasions to serve special dishes like chips 'n' dip this season!
*hugs*