It's a twofer: Chicken Enchiladas for Company + dry enchilada sauce mix!
Gentle readers: My blog crashed right before Christmas, to my dismay, stranding me with several blog posts with Christmas themes, all ready to post! But I'm not one to let decent blog postings get moldy and musty in the archives. This one is still applicable now in January, because who doesn't like fabulously easy dishes that can be made ahead when there's company coming? So, here we go . . .

Our Young family occasions are always potluck these days, which is great fun for all of us. I explained in a prior post why bringing homemade and impressive items to our dinners seems to be vitally important. (Basically we're all glory-hungry, with needy tendencies! Each one of us kids desperately and secretly wants to know: Who does Mom and Dad love best?)
This Christmas we cooked with a Mexican theme in mind–it's easy to conjure up favorite recipes in this particular category, and everybody loves these spicy, heavy, warming foods during the cold weather. Since I was looking forward to having my grandies in my house (4 of them!) for a couple of days, I wanted to eliminate lessen my kitchen-time as much as possible, by doing as much as I could beforehand.
It doesn't, after all, take more than a couple of minutes to carry a frozen casserole up from the deep freeze, and slide it into the oven. Then there's time for a couple of picture books on the couch, or possibly some toddler-watching while it bakes. 🙂 Or maybe both.
BUT. There's not a whole exuberance of time in the week preceding Christmas, is there? Not at our house.
We are not, after all, minimalists.
We have piles of gifts to wrap and stocking stuffers to label (gosh, over 30 stockings at the Young fam Christmas, and . . . er. . . 16!!! . . . at our place) and assemble. So even the recipes must be super simple, so, although the glory-seeking side of me will spend an hour poring through a recently-favored new Middle Eastern cookbook, picking out an ambitious and AMAZING menu for the weekend, eventually the practical tired mama side of me will go back to tried-and-true recipes that little Mack can help me pull off, while discussing his favorite topics.
(In other words, with just a tiny corner of my brain engaged–with the recipe, that is. Little Mack does not suffer my paying him only a tiny bit of attention. HE will huff and puff and tap his foot and roll his eyes as he waits for me to turn my eyes to him and give him my ALL. He is not a patient little prince.)
Here's a tip for you young mamas--this one is a freebie!–one that I've been using for over 30 years (yes, I've been a mama that long, wouldja believe it?). (I was a child bride.) (Shut up, Bryan.) (;) just teasing, honey. . er. .. !!)
To wit: If you want your littles to help you with your daily tasks, make it a pleasant experience. That's not rocket science, is it? Tap into what your child likes–for Mack, it's discussing things–discussing anything!–and make that happen during chore time. For example: I say "C'mon, Mack, let's bone this chicken together," (true life example, honest!) and he lets out a moan of protest (also true life, unfortunately*sigh*), and subsequently I can choose from the following tactics:
the threat: "Get in here now, ya little twerp, and help me bone this stupid chicken or I'm gonna tan your hide!" or

the honeyed promise: "C'mon sweetiepie, come help mama bone this chicken and we can talk about what you and Orion are going to do together on Monday at Grandma's house!" or
the carrot on the stick: "Hey Mack, if you'd help me quickly bone this chicken and get the meat into the freezer, we could head out for a walk with Scout afterwards…" or a stunning combination:
the truly desperate mom combo ploy: "Listen, Mack, come help me bone the chicken while we talk about topics that interest you, and then we'll take a walk with Scout afterwards and chat some more . . . " and so forth.
Don't tell my big kids this, but I employed the last strategy constantly with them. They had to help either way, and I was killing two birds with one stone, essentially. I was getting some needed work done, and was privileged to spend time investing in their hearts, too–which was, of course, the best part of the deal. (Really, how much help is a squirrelly little ten-year-old boy in the kitchen, anyway?)
I don't know about you, but I'd MUCH RATHER go with the two latter options, though the first one is tempting, if time is short and/or my back hurts from already working like an idiot all day.
Anyhoo. I think I'm lapsing into rambling incoherence, so let's not take any more time with THAT.
I've got two recipes for you today. It's a two-for-one special! First is for a homemade version of the dry enchilada mix that is called for in this recipe. It's super-easy to stir together, especially if you buy most of your spices in bulk, like I do (casual whistling).
People (like, my mother-people) laugh at me because of this, but hey–if you buy popcorn in a 25-pound bag–it's much, much cheaper per pound, and YOU NEVER EVER RUN OUT OF POPCORN. EVER!!

→ So there, Mom. 😉 ←(I've recently discovered the 'special characters' button, cool, eh?)

Now this is a small enough batch to fit into a quart jar with a lid, and big enough batch that it will last you for awhile. (I did that for you, Mom. You know I'd rather mix up enough to fill a 5-gallon bucket, but I restrained myself.) Store it someplace cool and dark (like in a dark pantry–yes, one illuminated by horrid red lights will be nice and dim–or inside a cabinet) and it will last the longest.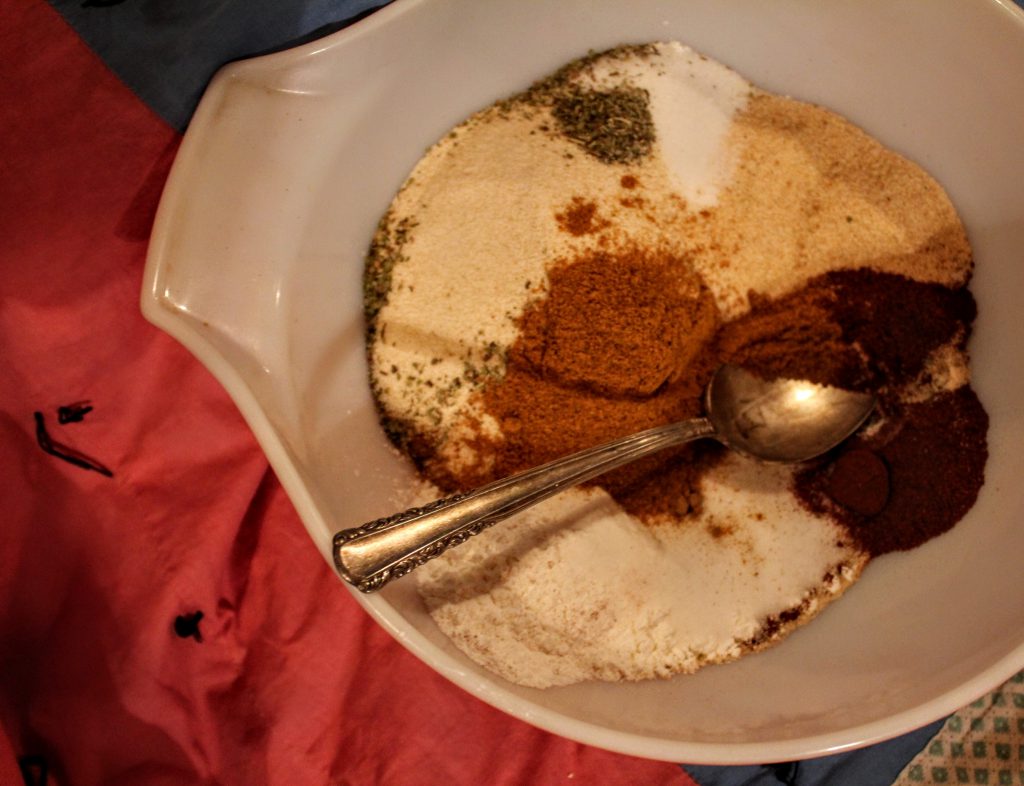 (By the way, this is TOTALLY something that I will delegate to little Mack today. I'll pull out the jumble of spices, and let him go at it. He won't hate it. It's kind of a chemistry project, and he looooves chemistry. Culinary chemistry, that's exactly what it is! We will talk all the while, about his beloved cousin Orion. Or maybe we'll review multiplication tables. Or he'll remind me of the circumstances surrounding the onstart of World War II. Or he'll rant about how it stinks that Pluto is no longer recognized as a planet. Or he'll talk about the Star Trek episode when Ryker went into a big tube and got needles stuck into his head. Oh yeah. Never a dull moment with this smart-aleck kid. 🙂 (I like it that way, too.)
Dry Enchilada Spice Mix,
(a big enough batch so you don't have to go to the store ever again!)
Take up your favorite wooden spoon. Stir together in a big bowl:
1/2 cup chili powder
1/2 cup paprika
1/2 cup cornstarch
1/3 cup salt
1/3 cup dried onion flakes
1/2 cup sugar
1/2 cup cumin
1/2 cup garlic powder
2 T oregano
2 T Italian spices blend
2 T coriander
1 T cayenne
Store in an airtight container, in someplace cool and dark. 3 Tablespoons of this mixture is equal to one 1.5 oz packet of dry Enchilada mix. Cool, eh? Of course it's much cheaper, and probably fresher, too. Win-win. And you can customize it–taste it, and add more cumin or some other spice that you are especially fond of. See how fun chemistry is? (And. You can cut it in half and have a more sane amount, if you like.)

Plus: to make the sauce for this recipe and others like it: Add 1 1/2 cups water and 8 oz tomato sauce to 3 Tablespoons spice mix. Bring to boil in small saucepan and boil 1 minute, then simmer for 5 minutes or until thickened.
Now here's the easy chicken enchilada casserole that I use this mix in.
Originally I got this from one of my favorite cookbooks, which my sister Anne gave to me. Before she gave it to me, though, she wrote notes on the recipes that she loved and used, herself. Those little penciled-in notes are still my favorite part of that cookbook. 🙂
(Thanks, Anne.)
Easy-peasy Chicken Enchiladas for Company
Author:
Prep time:
Cook time:
Total time:
When we are going to have a houseful of hungry folks, I prefer to make meals ahead, something hot and cheesy and savory that can be frozen and then socked into the oven an hour before lunch. These enchiladas totally fit this bill, and everybody loves them!
Ingredients
3 Tbs dry enchilada spice mix, OR 1 1.5-oz package enchilada sauce mix, prepared as directed
2 cups cooked, then shredded chicken (a rotisserie chicken makes this even easier)
2 4-ounce can diced green chiles
1 sweet bell pepper, seeded and diced
4 green onions, finely chopped
8 corn tortillas
1/4 cup finely grated cheddar cheese
(Note: shredded lettuce, sour cream, chopped olives, jalapeno pepper slices, and guacamole all fancy this casserole up quite a bit, if you're going for glory–and who isn't??)
Instructions
Prepare spice mix as directed* into sauce form. Heat to a simmer.
Mix 1/2 cup of the sauce with the chicken, green chiles, chopped pepper, and onions.
Dip each of the corn tortillas into remaining sauce and drain.
Place about 1/4 cup chicken filling on each.
Roll tortilla around filling and place seam side down in an 8×12″ baking dish.
Spread remaining sauce evenly over enchiladas and sprinkle cheese atop.
Cover and bake in 350 degrees oven for 15 to 20 minutes, or until hot and bubbly.
OR cover tightly with foil, and freeze. An hour before dinner, put into 350 degrees oven and cook until hot and bubbly, about 60 minutes, removing foil after 45 minutes. Dig in!
*Mix 3 Tbs spice mix with 1.5 cups of water and one 8oz can of tomato sauce, and bring to a simmer. Cook for 5 minutes or until thick, and use in recipe.
Hey, are you on Facebook and Instagram? I am! I have a ton of fun with gentle readers and like-minders from all over the world. I'd love it if you connected with me there, too! (So, click, click and be my friend!)
Hey. Thanks for popping in! *smooch* I love you guys!