Easy-peasy Mack's Own Trail Mix: here's how to make it!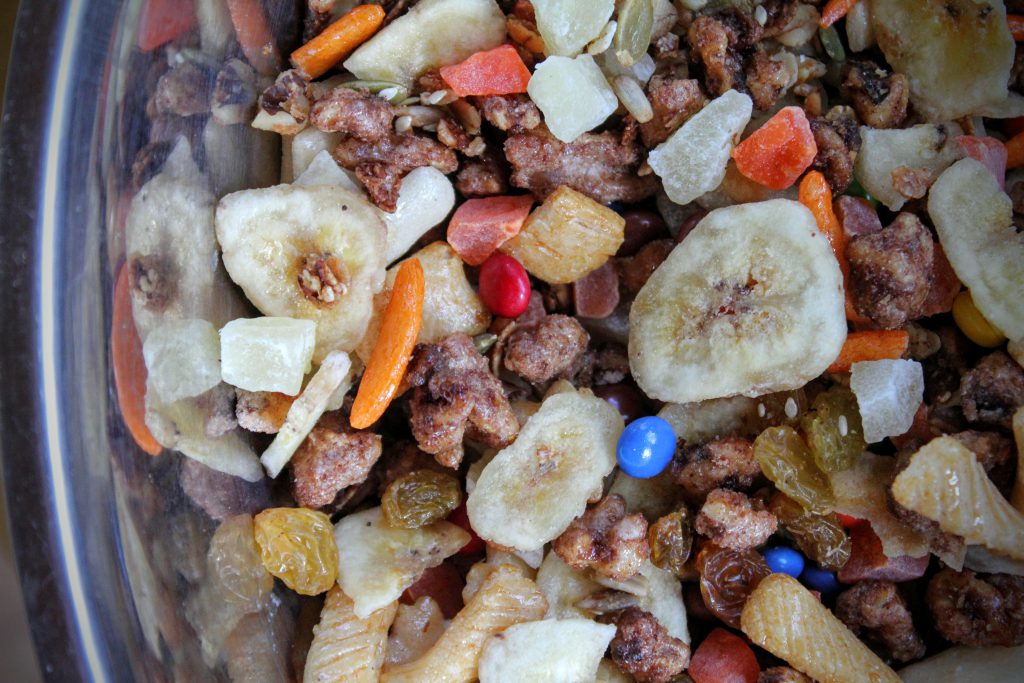 While Mack and I were cleaning up from our recent canoeing trip (we haven't put the canoe away yet because we can't lift it by ourselves without supernatural effort), we talked over a list of what we needed to bring the next time we went. Which would be as quickly as possible, we agreed.
Actually, during the trip itself, we'd yell out things to each other, randomly, across the canoe, because we are so totally in sync, and neither of us had any paper (nor writing utensil) on which to make a list. And we got wet enough that writing it on our hands or arms (I do this quite often, do you?) just wouldn't have worked.
"Fishing pole! And bait!"
"A cooler with cold water and sodas!"
"Grandma would really enjoy this!"
"A first-aid kit!"
"Water shoes! Ouch!"
Our list wasn't all that long. We are minimalists, after all. (Snort!! Just joking!)  One thing we did mention, several times, during the course of the day: next time, we'd bring better snacks. And more of them.

Lots more of them.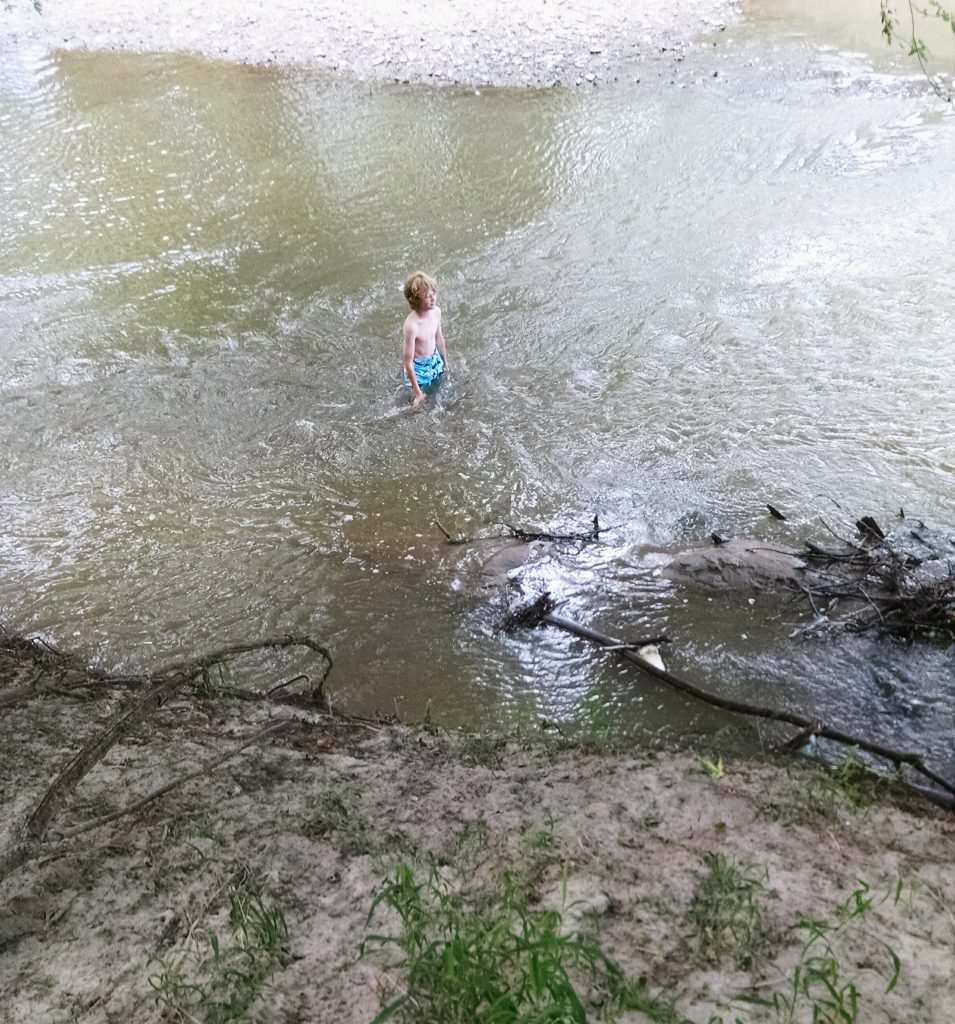 Paddling for several hours, climbing in and out of the canoe, swimming in swimming holes, dragging the canoe over sandbars and hiking along the way any time you feel the whim, rescuing your puppy from a muddy cliff: all this, after all, uses up tremendous amounts of calories and energy.
Mack and I agreed that our own custom-made trail mix would have been a perfect snack that day.
In fact, we have a couple of trips coming up at the end of this month, for which we are already planning, and so Mack and I decided to stir together a batch and squirrel it away (well . . . most of it) in preparation for those trips.
Not to sound too proud of ourselves, but Mack and I came up with a great trail mix recipe, folks. You may want to indulge in mixing up a batch of your own trail mix with your littles. Or your mediums, or even your bigs. Heck. If you feel like some time alone, it's a great thing to do all by yourself. You can toss in super-good-for-you (homemade granola clusters, nuts, dried fruit) ingredients (which you will feel smugly smart about) with the not-so-nutritious ingredients (M&Ms, chocolate chips).
Many big stores carry bulk ingredients like dried fruit, chocolate-covered doo-dads and thingabobs, and nuts of every kind and combination, and you can also buy a dizzyingly large variety of wonderful things to toss into your own trail mix online, natch'. Here's a really neat website with a huge variety of goodies you could order, too.
Did you know that there's a National Trail Mix Day, and that it's coming up on August 31? Well, if you didn't know, you learned it here. This is the perfect time of year to celebrate such an auspicious holiday. If you're like me, you're cramming as many fun summer activities as you can muster into your days before school starts and the weather turns cold. I like to put baggies of trail mix into the freezer (confession: If I leave such yumminess out where everybody has free access to it, it's gone in a day. In the freezer, in baggies, it does last a little longer. Two days. Three, possibly.)
Mack and I pondered what sort of a theme we would pursue, in our trail mix recipe. Your imagination is the only limiting factor. There are so many ways you could go with it. Ponder it.
Okay, that's enough pondering.
We decided to go with an autumnal theme, and basically make up what that meant. These were our guidelines:
We really, really, really like sweet and salty together.
Cinnamon and nutmeg are very fall-ish, we decided.
Dried fruit is a must.
Chocolate in some form(s) is a must-must.
Some homemade granola adds fiber and crunch.
Nuts, of course. Salty mixed nuts and also . . .
Some candied walnuts! (see recipe below)
Mack loves banana chips, so in they go!
I love chocolate covered espresso beans, so–hello!
Pepitas because: autumn. (Pepitas come from pumpkins; pumpkins are all about fall, right?)

Something crunchy and salty: an Asian snack mix was a good addition.
Macadamia nuts because they have such a satisfying crunch, don't you agree? And they are a favorite of both of us.
Autumn is beginning to hint at her appearance, in a few yellow leaves hitting the paths and just the merest whisper of cool air in the early mornings.
And I hinted at a recipe for candied walnuts, and so: here it is. I had some walnuts in the freezer, so I grabbed those babies but they needed some sprucing up, to make them trail mix-worthy. Here's how you can make them.

Preheat the oven to 250°, and grease a large jelly-roll pan.
Mix together one cup of sugar, 1 tsp cinnamon, some freshly-ground nutmeg, and 1 tsp salt in a bowl.
In another bowl, whisk together one egg white and 1 Tb water, until frothy.
Mix one pound of walnut pieces with the egg white mixture, and then add the sugar mixture and stir it all together until you want to gobble it all down. But don't do that, just yet.
Bake for one hour, stirring every 15 minutes, until toasty and until you really want to gobble it all down.
Word to the wise gentle reader: IF you're watching your waistline (like many older ladies *cough* do), don't even start tasting these babies. They are so delicious and crunchy and sweet, that you may eat more than you meant to and then–well, two problems, actually–no more girlish figure is number one, of course, and number two–no candied walnuts for the Trail Mix!
So, Mack's Own Trail Mix is basically a mix-up of the following, in more-or-less equal quantities:
sugared walnuts (seasoned with salt, cinnamon and nutmeg)
salty mixed nuts, including macadamia nuts
dried pineapple, papaya, and golden raisins
dried banana chips
salty Asian snack mix
homemade granola
roasted sunflower seeds
That's it! I hope the serious and informative tone of this blog post will give you the courage to stir together your own trail mix soon, so that you'll have excellent snackage that you can grab and take with you when you're having your own adventures.
And don't forget to celebrate National Trail Mix Day! 😉
We'll be out there celebrating it with you!
*hugs*
Save
Save
Save
Save
Save