Kitchen Remodel: still goin' . . . er . . . strong . . . Part 7
Forever and anon.
Gentle Readers, I'm sitting behind a pile of clean laundry that I hauled in from the lines last night after dark and dumped–really, it is heaped all around me–and here I sit in my pajamas, at first light, clinging to an hour of writing time like a raft in a vast ocean of chores, weeds, dust, paint rollers, and puppy messes. Oh, it's not that bad. These are first world problems, right, which mean that they shouldn't get me down. It's not like I have nothing for supper and somebody's trying to shoot me or something.
But this is a busy season for us, the late summer-segueing-into-fall season. Not only are we cutting and splitting wood for winter fires (at last) but we're also putting up excess produce from the garden, picking wild fruits and preparing for jelly and jam making, and trying to keep up with mowing and fall planting and piggy-feeding and occasionally stopping all the work to play poker or driveway racket ball with Mack, to remind him that life isn't only work.
How did we get here?
Our beautiful daughter Amalia is struggling, which leaves us many days without her cheerful and capable help. I miss her. If you spend time with this lovely girl, you'd probably never know that she has a headache. All the time. She can be sunny and outgoing and upbeat. She's beautiful and serene. But she always has a headache. She has had a headache for five years. On days when they are especially bad, she retreats to her room and knits and watches Netflix, or lies quietly in the dark, if it's a migraine. And yes, we've sought help from nearly every direction. For some time earlier this summer, I believe that Amalia and I had both lost hope. And that's a pretty terrible place to be. Tears would come at the drop of a proverbial hat, or if somebody asked something incendiary, like how we were doing. She and I would constantly come upon each other crying, for no apparent reason. But we both knew what the reason was. For her, it was endless pain. For me it was her endless pain, and probably also the fact that I hadn't somehow figured it out and fixed it. I'm her mama. I'm all about fixing things but I haven't figured out how to fix this yet. But then she went to a new doctor and he recommended physical therapy, and she started going to weekly chiropractic visits with another new doctor, and if the headache hasn't gone away, at least she feels a little more energetic after her appointments. She feels hopeful. Hope is a very important thing, when you are living with chronic pain or any invisible illness.
I'm selling gourmet veggies and herbs that I'm raising in my garden and hoop house to several upscale restaurants in the Lincoln area every week, (here's one of them) which I love. This, of course, means that I can't just let the garden go in the fall, as is my (unfortunate) wont.
Bryan is starting a new consulting business, which he is shoehorning in with his already-full-time counseling business. He's a good guy. But he's busy. Which means that I've learned lots of new skills this summer: how to hook up, pull and back up the trailer, how to take care of the bees, how to maintain the log splitter and the mower. I taught Mack how to mow and I fixed the grass-catcher on the mower myself with a bungee cord. 🙂 I still haven't learned how to use the chain saw, but Bryan assures me that he isn't going to teach me how to do that. He doesn't want me stumping around with only one foot.
Now to the point of this post: I never dreamed that we'd still be working on this kitchen remodel over a year after we started it. I'm just a tinge embarrassed about it. I hadn't intended to even speak of it again but enough of you dear gentle readers asked about it, so I find myself compelled to share with you the latest. I'm glad that you prompt me.
I have a friend who hired a company to do a remodel on her kitchen. She and her family moved into a nice hotel for 4 days. When they came back home, the kitchen was completely finished. Stem to stern. And clean, presumably, too, which is almost as good.
This is not the way we've done our kitchen remodel.
I have another friend who roped her big extended family into helping do her kitchen remodel. They worked on it every day, from dawn until late into the night, until it was finished. In three weeks.
Clearly. This is not the way we've done our kitchen remodel, either.
Bryan reminds me, whenever I (sweetly) bring up how long our kitchen remodel is dragging on, that we actually aren't just remodeling the kitchen, but in fact that we started with the sun porch, which took some months. Also he brings up his favorite term: "making choices," leveling his comments in my direction. My choices, as he points out, haven't been to give up, say, growing a very large market garden or putting on a big splashy musical melodrama. Or . . . raising Icelandic chickens. I could go on. I won't. *snif*
Had "we" made different choices, he reminds me, perhaps there would be things finished that aren't.
He says this as he is chewing on a piece of coffee cake that I just made, and glugging down a cup of coffee that I brewed earlier in the morning, not to mention as he is wearing clean shorts and work clothes that I washed and folded for him. Not to sound petty.
He's right, after all. (Don't tell him I said so, though. Please.) Bryan and Reubsy, our contractor, work nearly every weekend for a good long day, oftentimes two, on the project, and there are several jobs that I've said I would take care of. They aren't bad jobs. They involve paint, and wood-burning, and imagination, and fun shopping excursions at the Home Depot (they have a nice plant section, you know). Bryan and Reubsy have done all the hard jobs. I drag along on these little jobs, though, piddle, actually, mainly just ponder them, while they get theirs done. My heart convicts me. I'm a convict. I'm a kitchen remodeling slacker. But anyway. I do have some progress to report, absolutely! from the last time I wrote about this project (several months ago).
Cabinet finish
Bryan did a beautiful job staining and finishing these cabinets of ours. I am very, very happy with the wood, stain, and finish that we chose. They look gorgeous, and they feel amazing. I'm having trouble actually imagining using them. I just look at them, and smooth my hands over the lovely satiny finish. We still need to buy handles, but I have picked them out, at least.
These cabinets are too pretty to actually use, and drip pancake batter on, and schloop melted butter down, and dribble maple syrup on. Don't you agree?
Nobody gets to use them but me.
Pantry
I've been priming these beautiful shelves that Reuben built, and worrying over a paint color. Aren't they nice? Actually I bought a can of paint, but it's not quite right, so I'm going to take it back to my paint lady and ask her to fix it until it's perfect. I have complete, utter faith in her. She is a paint-mixing wizard, and an upbeat wizard who would never roll her eyes or sigh in fatigue at me. Everything, anything is possible, in her book. Everybody should have such an outstanding paint person in their corner, remodeling-wise.
Bryan and Reuben worked hard to design and build this handy plate rack, too. The peg board? Check out a picture of Julia Child's kitchen (see the reproduction in the Smithsonian) and you'll see why I had to have a peg rack. Julia had so many!!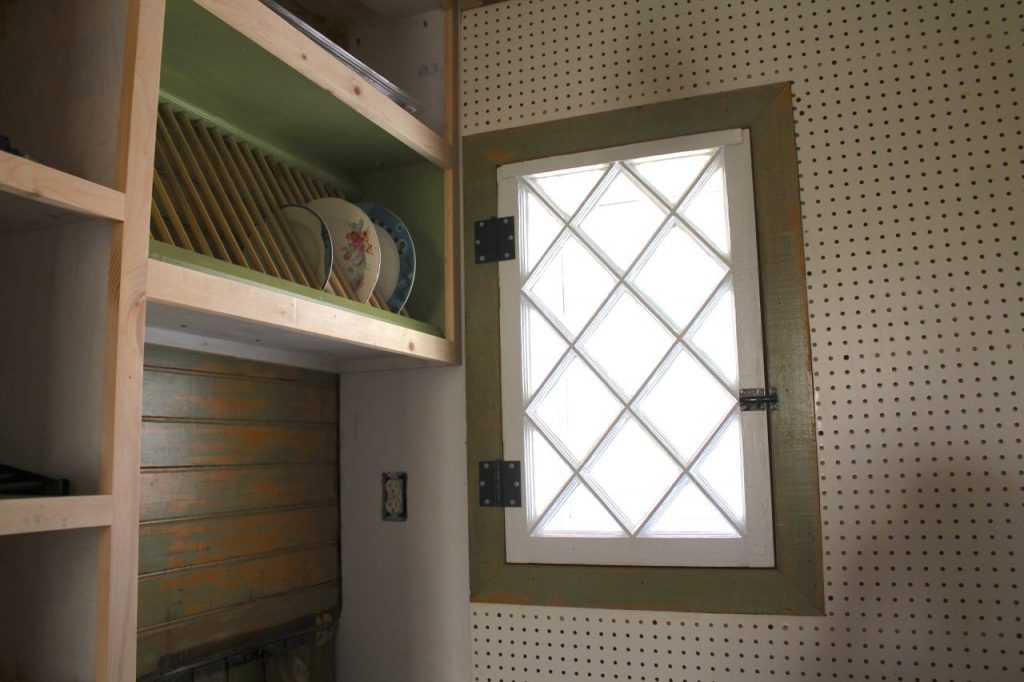 A dear friend who is also a professional house painter painted up this little antique window for me, and another one just like it that is in the sun porch. I love it. I bought it for $5.00 at a yard sale. We special-ordered the little storm window that Reuben installed behind it. I love all the light that this window lets into my pantry! It almost—almost–makes me forget the red-light-district lights I picked out.
floor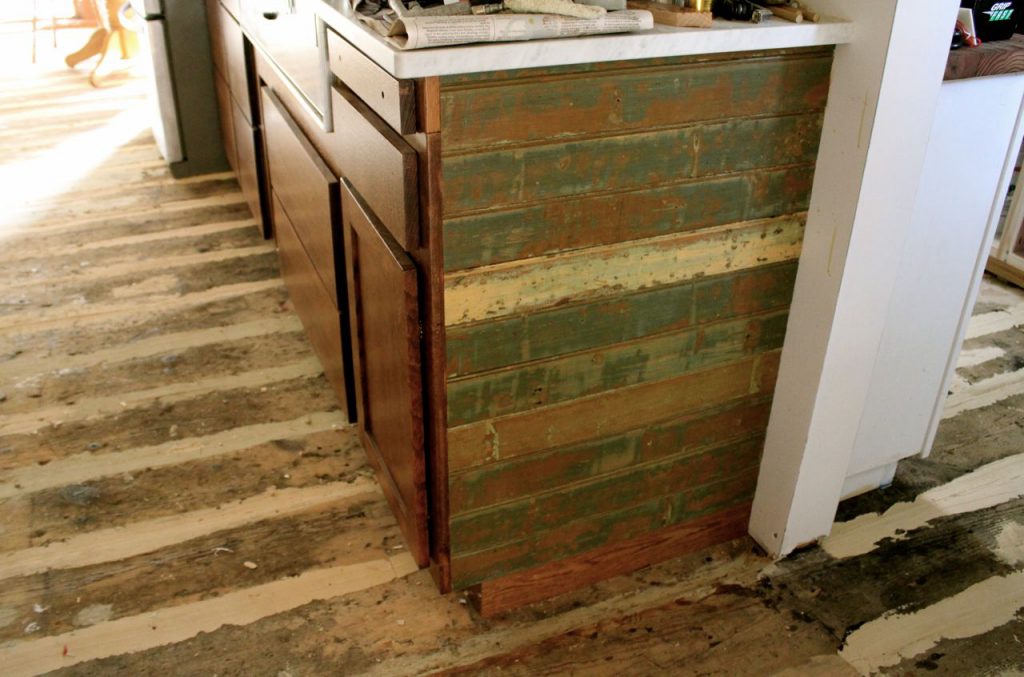 We are working on getting quotes to finish the floor. Bryan has schmeared tub after tub of wood putty between these boards, filling holes, cracks, fissures, etc. What we want to do is have a professional come in with heavy-duty equipment and sand down all the imperfections and all the extra wood putty, and put several coats of glossy finish on the entire floor–pantry, new kitchen, old kitchen, etc. We want to keep the tough old imperfect Depot wide planked floor, but we want it to be easy to clean and nice to walk on, too. I'm gonna have lots of little barefoot grandchildren tippy-toeing around on this floor. It must be beautiful and smooth.
shabby chic cabinet ends
I think I hinted at this treatment of the ends of the island and some of the cabinets in my last remodel post.
I had the idea of using some of our leftover fir flooring (original to the old depot) to finish the ends, but I wasn't sure how thrilled Bryan and Reubsy would be about this idea, so I kept it to myself for awhile. I knew it would be more work for them than, say, slapping a piece of oak plywood on the ends. Thankfully, they put up with one more of my strange ideas, and they worked very hard to make the ends of the island and cabinets the way I wanted them. Take a look at the photo above. Pretty, huh?
I love them, too. They tie in nicely with the pantry wall. And Bryan did such a beautiful job on them.
Paint
You would not believe how bad I am at choosing wall paint colors, gentle reader. Let's just say that most of the walls in this house have several layers of paint (lame choices, all) under the current layer. If, for example, some noxious insect, kind of a termite-type insect, came in and ate all the sheet rock walls and wooden joists and so forth from the walls, they would still stand because of the thick layers of paint on top of them. Layer after layer after layer! I know! It doesn't make sense, does it? I'm a fairly creative individual. I love color. I have a fine arts degree. But I really stink at choosing wall colors. Choosing wall paint: call it my nemesis. It's Doc Ock to my Spiderman. Joker to my Batman. Hairy Galinspora to my carrot bed.
I'm totally intimidated by all–those–colors. And I hate hate hate HATE beige (the Ultimate Mediocrity of Color, actually, kind of a non-color) and all forms of beige. And white? I don't hate it, but it's not very interesting, is it? White is, after all, the total lack of color.
You can see that I feel quite strongly about color.
Which is why that is was so utterly shocking that I actually chose a color that I love for the walls. It's one of many, gentle reader, that I will need to choose. I'm not happy with just one beautiful color. I will have another color for the wall around the Flair and the stove and sink. You'll have to stay posted for that one. Another color for the island, and another one for the pantry shelves. See how complicated this all gets?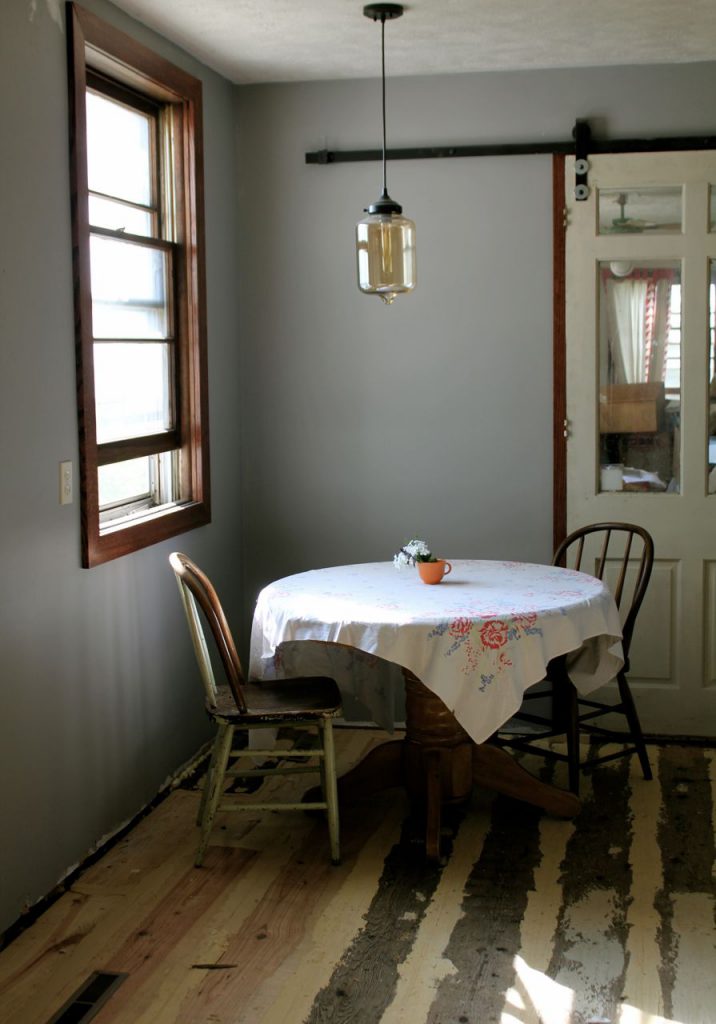 And this, gentle reader, is how I chose the color. I walked into the paint store, intending to browse the pamphlets and the paint chips and so forth, but the kids were driving me 'round the bend (sorry kids, it's true) and my tired eyes lit on a can of paint on the discounted mis-mixed shelf. It was a color of gray that I didn't hate. it was a $35.00 can of paint, on sale for $7.00. I glanced at the kids, and decided that it was Good Enough. I had mused the gray option, but there are so many colors of gray, you know?
And boom, baby. I love it.
I can see why many people just slap a coat of white paint over everything. But not beige. Never, never beige.
Cute corner
The cute little corner that we're not sure what to do with is pictured above. I've imagined it with a big overstuffed floral covered chair big enough for me and at least two grandchildren, a big basket full of picture books, and a beautiful plant. I'd probably even go to the trouble to wash that window, too, if it came to it.
For now, we've got this little round table sitting there, and I do like the light fixture I picked out to go above it.
Rough shelves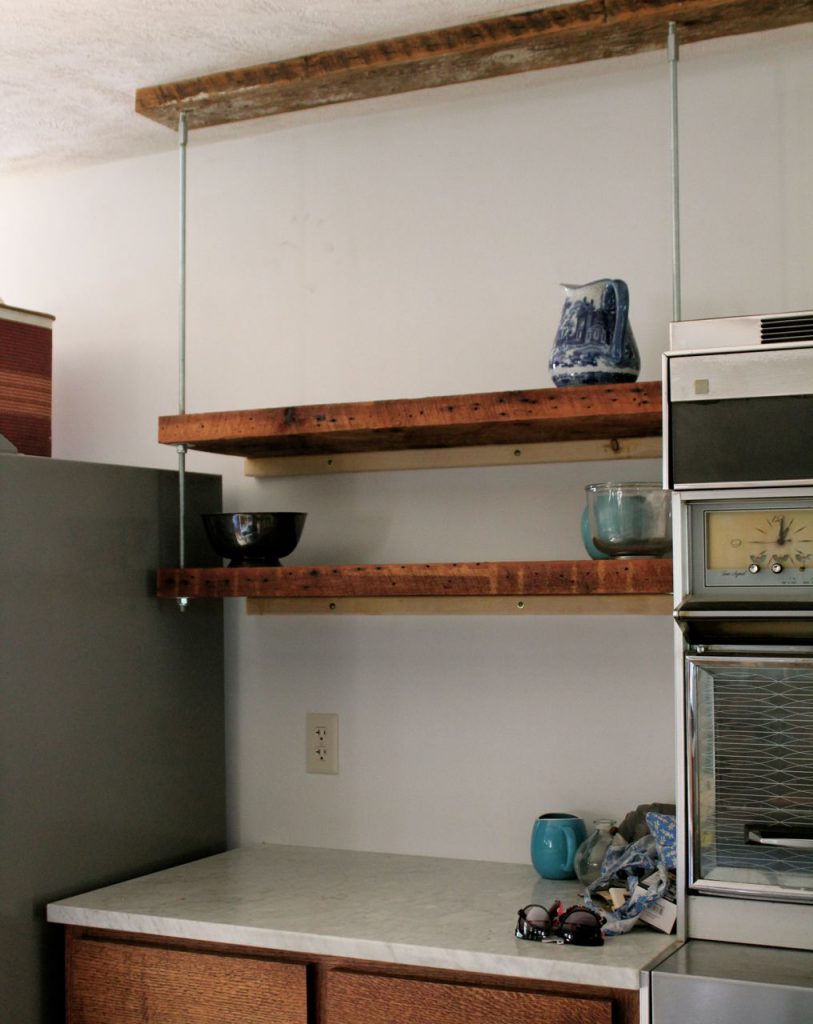 When we were choosing our wood for the trim and cabinets (quarter-sawn red oak) at a Hardwood Artisan store in a little town of Friend, Nebraska, I saw stacks after stacks of these rough floor boards. Immediately I wanted some of them. I asked the guy there about them. He said that they had salvaged them out of an old store building that was being torn down in Friend. So we bought a few of them and made them into these shelves. Bryan and Reuben installed them with the rods you see above. I think I'll paint them black, the rods, not the shelves.
NEXT time I write an update about this project, I hope that I am posting pictures of the final touches. I hope I've done my little fun jobs, and can share them with you. Pray for me, my friends.
Embracing the Imperfect
You know what I'm tired of, gentle readers? This stays between you and me, okay? The constant striving for "Perfection." Life isn't perfect. I decided long ago that this kitchen, no matter how hard we work on it, is not going to be perfect, either. We are putting together many imperfect elements to fit our imperfect space. I am going to love it, I already know that, but it's not going to be the perfect kitchen. Straining to get to perfection, to me, is a crippling exercise that only leads to disappointment.
This is my decision, to not seek to have the perfect kitchen. A beautiful, usable space that is easy (especially for a non-cleaner like me) to clean, is efficient to use, that's all I really want. And to get it done before they haul me off to the nursing home would certainly be a plus.
It takes the pressure off, it really does.
Thanks for popping in, my dear reader, and for sharing my world with me. The party is coming. When this remodeling job is finished and we can move our kitchen back into its proper space, there is gonna be a party! And how I would love to invite all of you!
*hugs*
Save