My favorite (kitchen) things: spouted vintage bottle for dishwashing soap
I have delighted myself in adhering to a new motto this year. It's timely, it's apt, it's thrifty. It helped me make decisions when we were planning Bethany's wedding, and with our kitchen remodel too, not to mention nearly every time I am out shopping for stuff. Keeping this motto in mind, you'll understand that one of my favorite kitchen things is a spouted vintage bottle that I use for my dishwashing soap.
Here's my motto this year:
Through no real doing of our own, we are living an abundant life in a land of plenty, in a fruitful time in the history of this country, and we are surrounded, always, with raw materials that are begging to be used. Moreover, Bryan and I were both raised by parents who were born during the Great Depression, and so instilled in us a willingness to make do, use up, and/or do without.
Well, not always. But it's good to know how to do this.
I am actually composing a blog post* about the Minimalism trend and why it sometimes bugs the bejeebers out of me. One thing about it: our fortunes can change so quickly, on a dime (no pun intended). In our lives together, for example, Bryan and I have had fortune reversals many times. One most stark example is when a hospital that Bryan was working in was closed down, during the night, by the state. We found out that he was jobless the next morning, via the morning newspaper, as he was getting ready for (gulp!) . . . work.
I've always had a way to make a little income from home, since my child-rearing days are neverending (cough) and we have always made it a priority for me to stay home to teach and raise our kiddos. I've created bits of income working as a speech and drama teacher, a book illustrator, a writer, a gardener, a farmer's marketer and baker, a curriculum illustrator, and now a blogger.
We've never gone hungry—not even for a day!–thanks to a generous and merciful Father, and the fact that we live close to family who are generous to a fault, but we've had some lean years, nevertheless. I could tell lots of stories about lean times and how God provided, when we didn't see how things were going to work out. I know that most of you also could tell me the same types of stories. Such is the transient nature of self-employment, employment of all sorts, and even just being human in a fallen world. Even when you feel like your life and your income and your job are secure, you're probably just fooling yourself. Things happen that we don't always see coming.
At least they've happened to us.
But that's not really what this post is about. Sorry. Yikes. I think I just broke a bunch of blogging rules by starting this post this way. Oh well. Rules are meant to be broken, right?
Another apt motto, I'm thinkin'.
I am (mostly) unapologetic about the fact that I am a tightwad in most areas of my life. I have developed a habit of looking around to see what already have, when we need something, rather than always running to the store to buy it new. This bugs my kiddos, who would generally rather go buy something new and shiny. 🙂
The shopping gets them out of the house, after all. 😉
I tend to wear my clothes until they are embarrassingly ragged (sorry, kids!). I have trouble throwing things away that are still useful (sorry, honey). I pretty much can't say no to free food (foraging!). I do struggle with clutter because of this, but this is another post entirely.* Or a couple of them.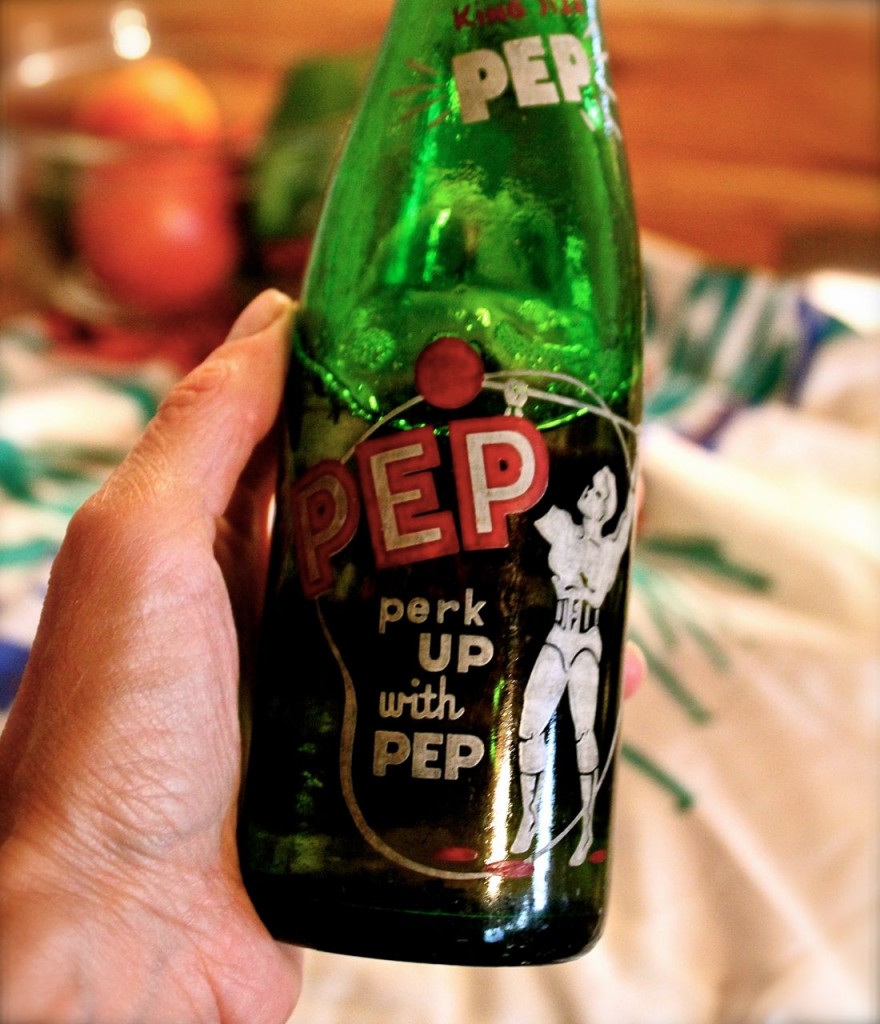 That said. I also love to collect old things. For example, I have quite a large vintage bottle collection. I pick cute old bottles up at yard sales or auctions, loathe to see them tossed in the trash. They are chunky-heavy in a day when things are getting cheaper and lighter. Old bottles are also usually lovely in their forms, and usually have pretty neat designs on them, too. Yesterday I found three in a junk shop as we were looking for a door for our kitchen remodel project (we found a really great one, too!).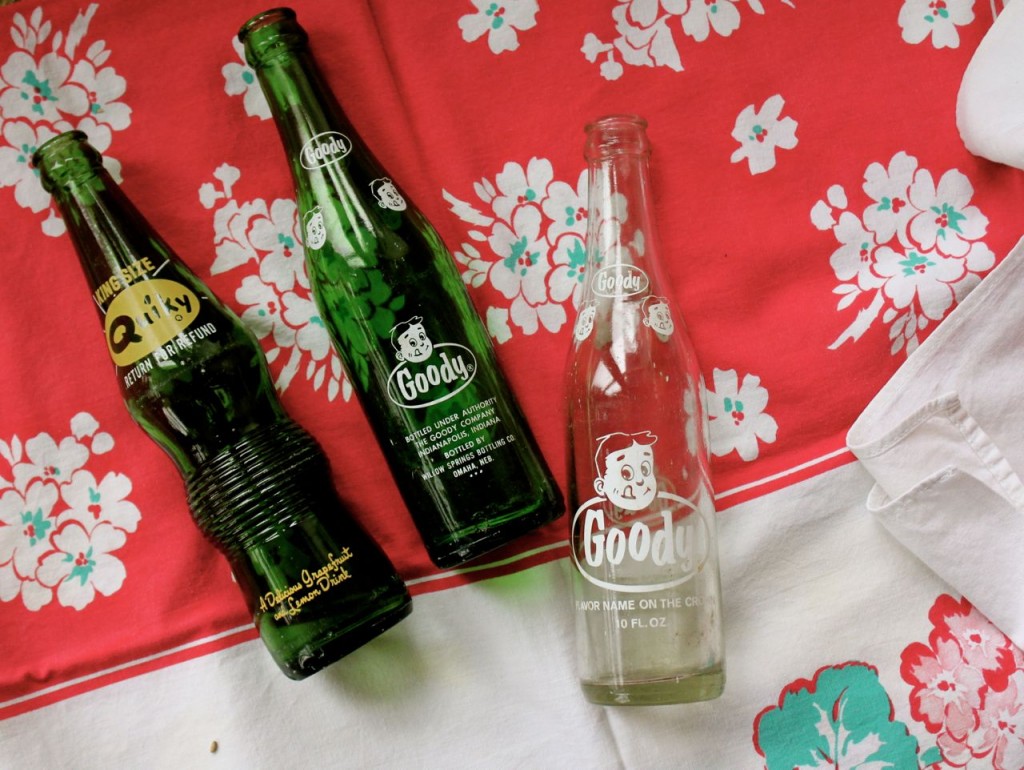 There are only so many old bottles that any person really needs, though, so I'm going to downsize a bit by putting some of these in my new Shop.
Didn't know that I am working on my own blog shop? Well, if all goes well (I've learned not to make absolute statements where technology–and especially my manipulating technology!–is concerned, alas) I'll be opening it at the end of this week. (Don't wanna miss it? Then sure to enter your email address in the box to the right, above!)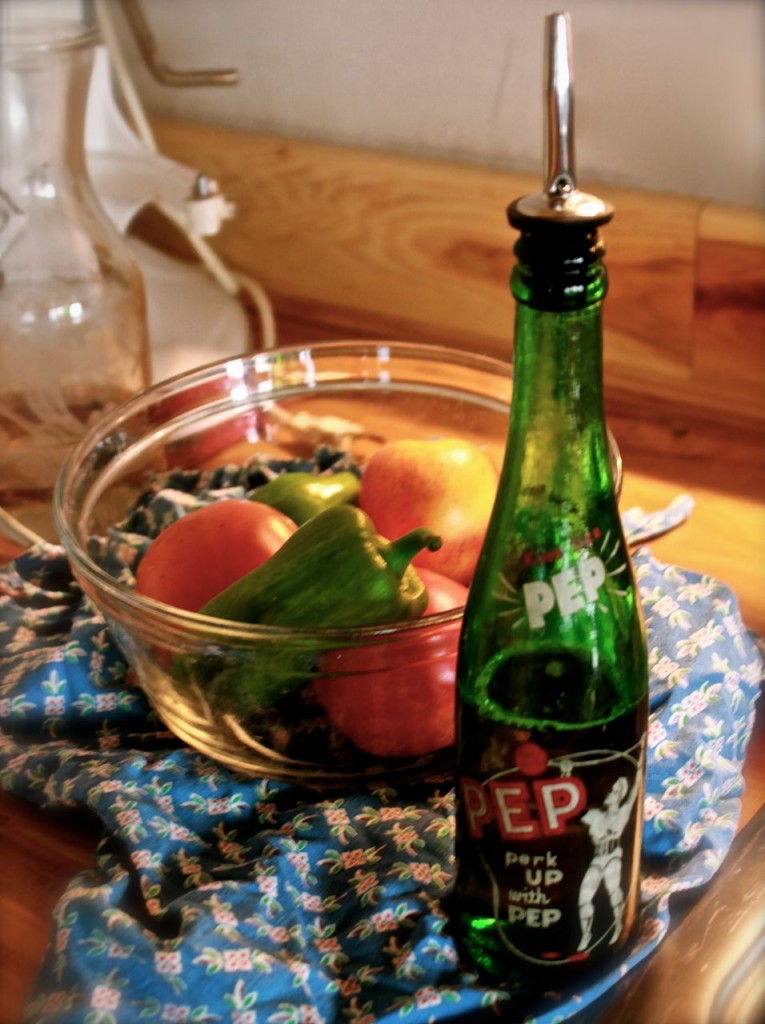 I use a cute old pop bottle to hold my dishwashing liquid at my kitchen sink. Dad helped me trim a bottle spout so it fits just right in the neck of the bottle. I grab it many times a day. Many, many times a day. Oiy. I love the way it is shaped, I love it that it is old and tough, I do love the way it feels in my hands, and I love it that I rescued it from the landfill. I don't ever plan to get rid of it. It makes me happy. 🙂 It's one of my favorite kitchen things.
I get kinda attached to old things. No apology for this. I am not, after all, a Minimalist.
I will have a limited supply of these spouted vintage bottles available in my shop at the end of this week. I'll have a few other sweeeeet items for sale, many of which could make pretty terrific Christmas gifts, if you ask me. To celebrate the opening of my shop this weekend, I'm also going to have a giveaway of one of these super-cute vintage bottles with a spout fitted in it.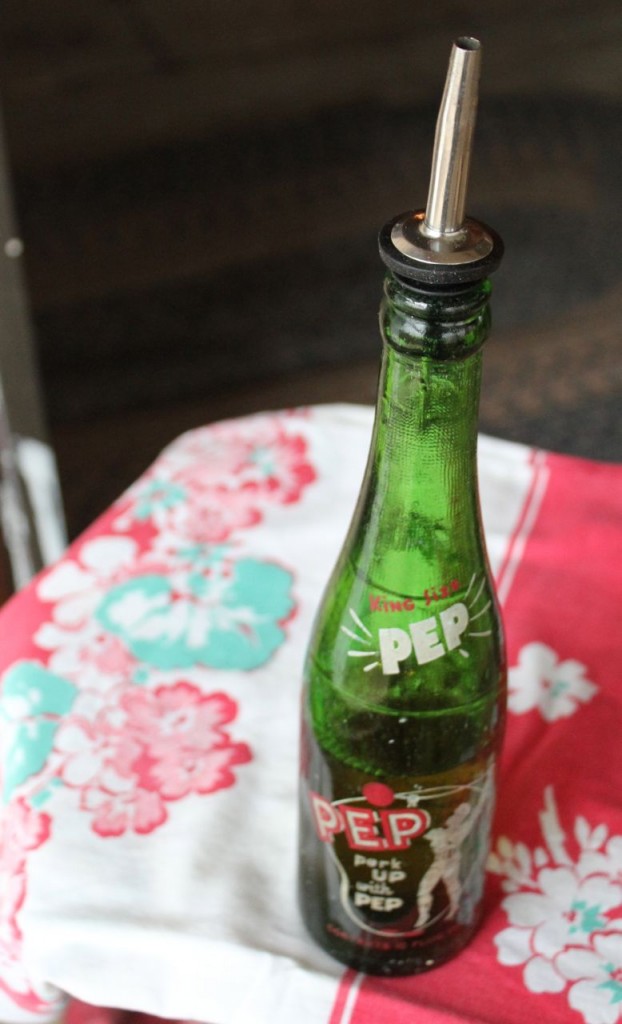 So stay tuned, chickie! Or roo, whichever the case may be.
😉
And jump in here and enter this giveaway. Fun, fun!
Thanks for stopping by, you sweet person, you!
*hugs*