Roasted End-of-Season Snerly Apple Caramel Applesauce Recipe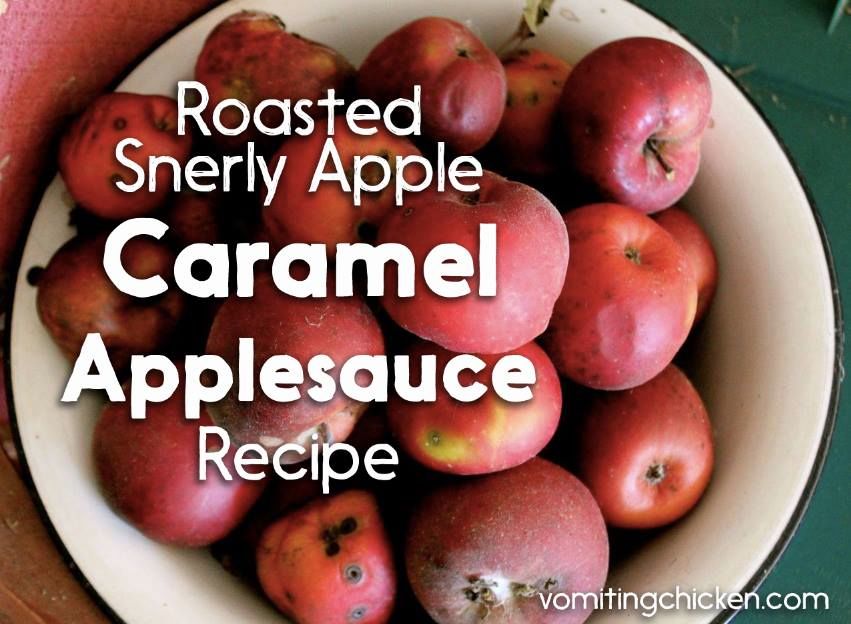 It's Snerly Apple Season here in Nebraska. We harvested the last apples from the orchard weeks ago, and have eaten the ones out-of-hand that looked appetizing. Now what we are left with is a couple of buckets of apples that are still perfectly good on the inside, but have insect damage or the beginnings of bruises or whatnot on the outside. Nobody picks them up any longer and says: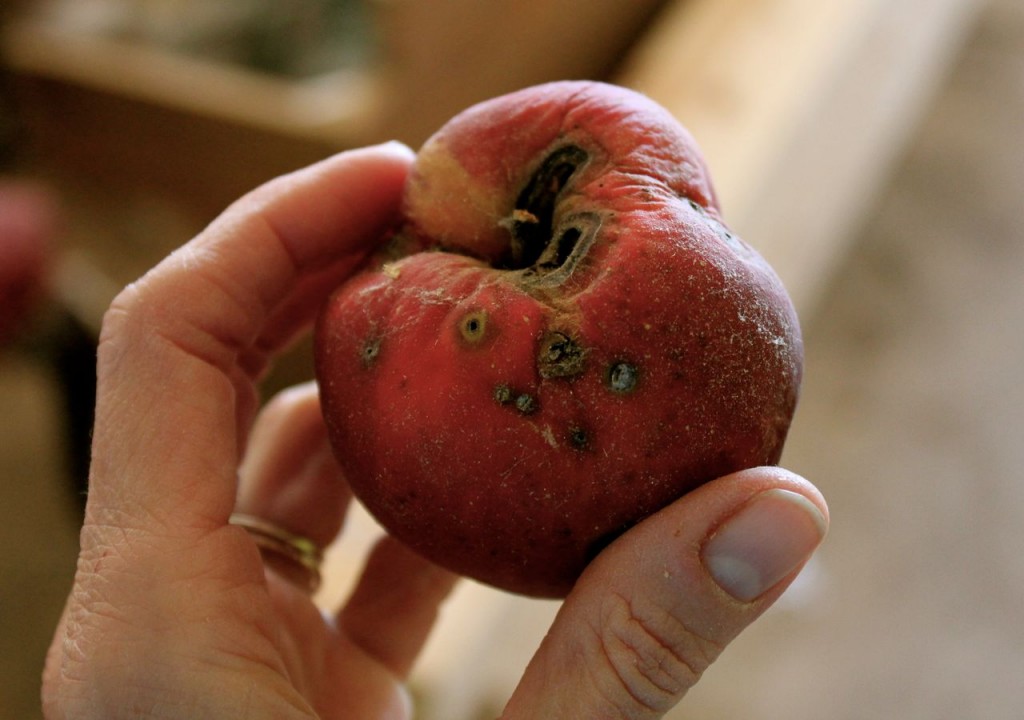 "Gosh, this apple looks so tasty and appetizing. I think I'll eat it now." Nope. It's not happening.
We also have enough snerly apples to make a couple big batches of applesauce, but not enough to make cider, so it's the applesauce for us this year.
I can barely believe it. I'm nearly finished with my garden- and foraging-related processing. After I'm finished with these apples, I'll decide what to do with several buckets of pears that I have left from a foraging expedition with a friend (they are delicious and we've been eating them fresh every day, but my hubby is gently encouraging me to clean out areas of the garage where I have these sorts of things stashed—so we can get our cars into the garage again, go figure), and I'll have a couple of buckets of peppers to freeze and a couple of flats of green tomatoes to take care of, and then I'll be done!
And coincidentally, I just received my first 2016 Seed Catalog, from Pinetree Seeds. So I'm already dreaming about next year's garden. Who's with me?
By the way, I've learned something new from a dear new friend. I'm not sure Bryan will let me chat with this new friend (after drama each week) any longer, because every time I emerge from a chat with her, my head is spinning (not literally) with new things that I need to buy. And do. Last week she revealed to me that she has planted over 100 apple trees at her place. *gasp* And I thought I was nuts at—um, I think I've planted 30, probably. 100!
100!
Remarkable woman. Don't you just love it when God brings into your life somebody who is generous and encouraging to you, and also achieving great things in her life? Somebody you can learn from and derive excuses reasons to plant more apple trees? I certainly do! 🙂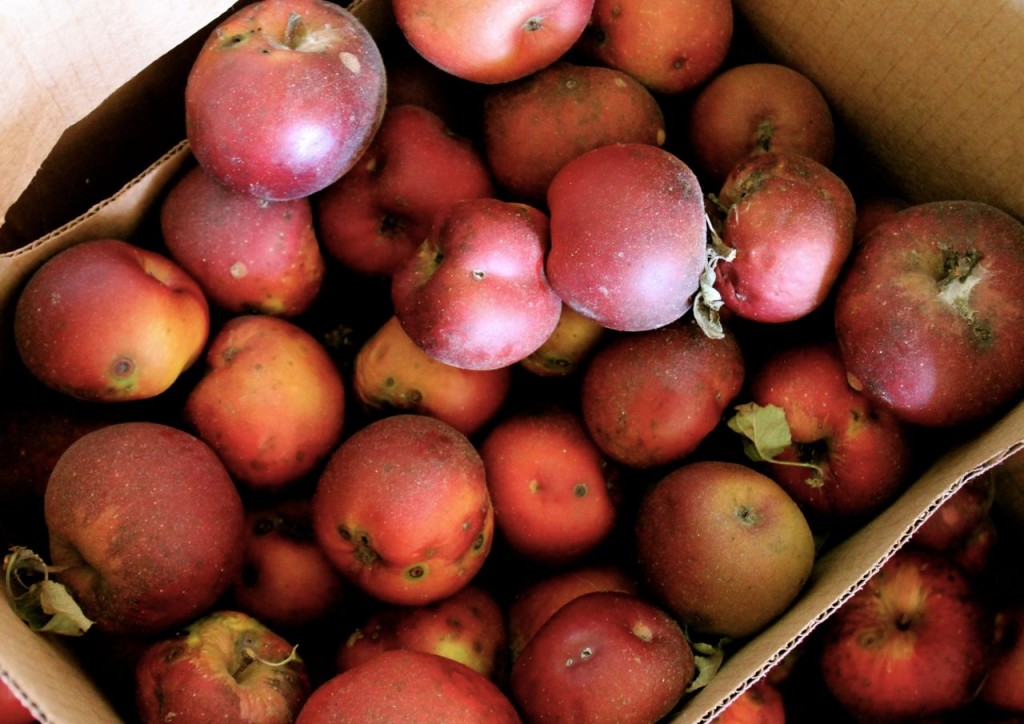 Because I love to plant apple trees. And I do think that I can expand our little orchard to the North, honey, with no ill effects . . . but, back to the applesauce recipe.
(By the way, Jo, Stark's is still taking fall orders–but only for a few more days . . .)  😉
Coincidentally I just made a new purchase for my soon-to-be-new kitchen. My new friend swears by this little contraption, to save you time and effort when you have a big box of snerly apples to make into applesauce, and you need to do it in a hurry. I can see why she is such a fan of the Victorio food mill.
Now before I bought this handy-dandy little appliance, this is how I'd make applesauce:
Gird my loins.
Bribe children to help.
Sit down with a knife and and heavy sigh, and peel and core apples, filling a stock pot.
Let them cook until soft, then mash.
Water-bath can in jars, or scoop into freezer bags and freeze.
Repeat.
Many days later, fall into an exhausted sleep, plenty of applesauce squirreled away in the freezer or pantry.
My old method of making applesauce was time-consuming and tedious. Not even possible at this post-drama-starting juncture in our lives. Once drama starts, there is no time for tedious projects. Everything must run a bit more efficiently (Sounds good, doesn't it?).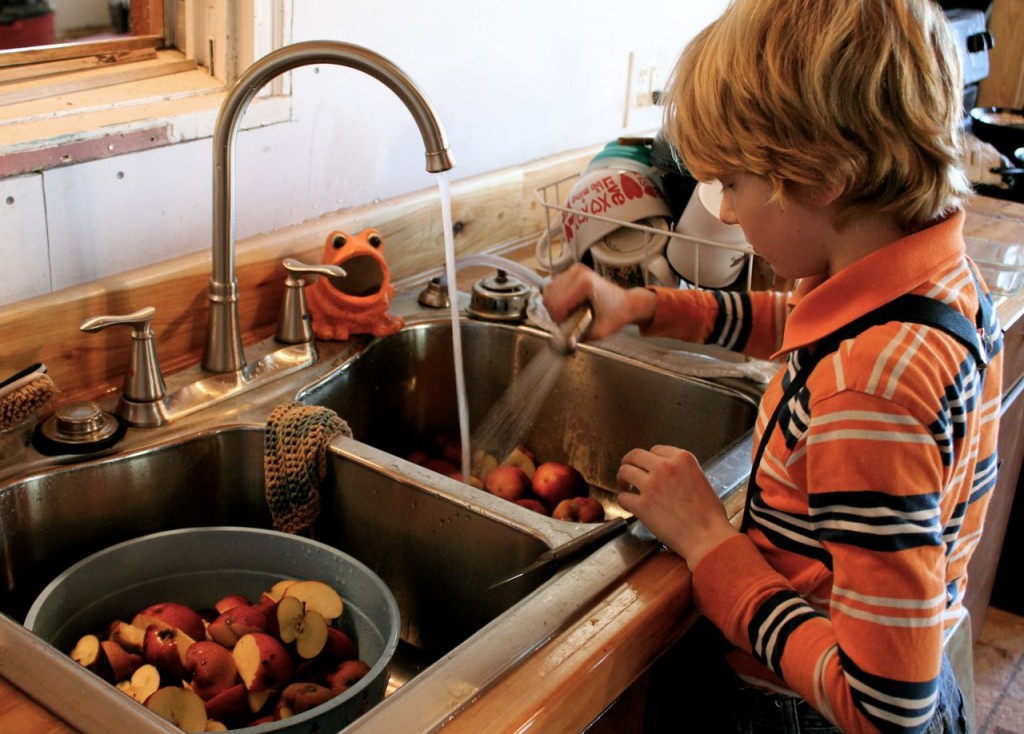 So, with my new food mill, this is how I am making my end-of-the-season snerly apple applesauce. Isn't it grand to have a new tool that cuts your work load so well? 🙂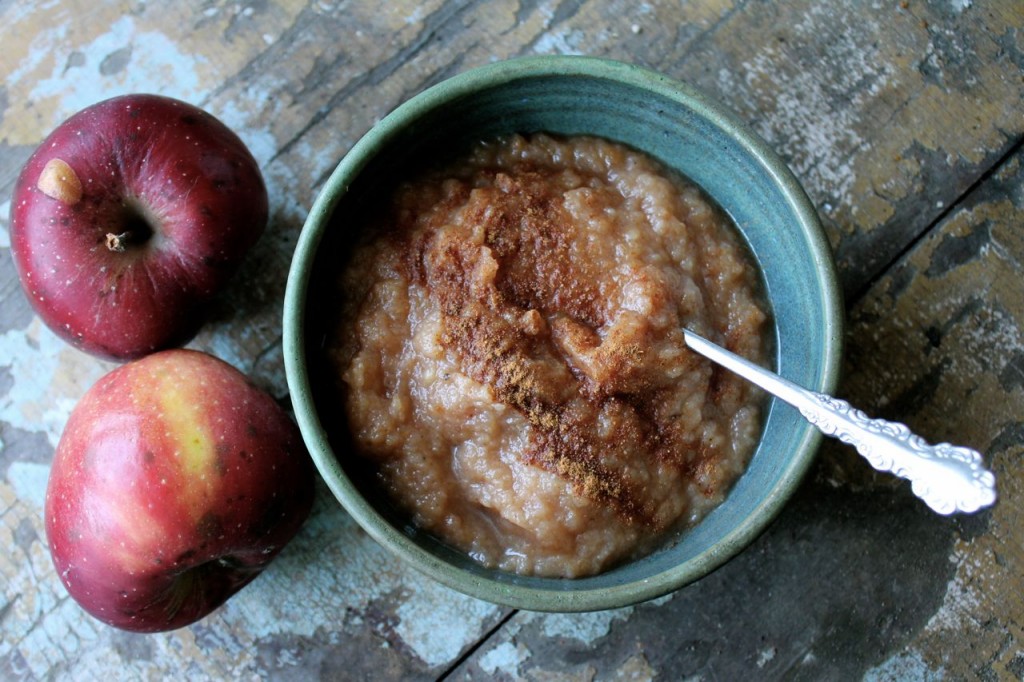 Roasted End-of-Season Snerly Apple Caramel Applesauce
Author:
Prep time:
Cook time:
Total time:
It's easy as pie to double this. Or triple it. Or quadruple. And so on.
Ingredients
1/4 cup water
6 tablespoons packed light-brown sugar or 1/4 cup honey
1 teaspoon fresh lemon juice
Pinch of coarse salt
2 tablespoons unsalted butter, cut into small pieces
3 pounds small assorted apples (snerly or not) such as Gala, McIntosh, or Fuji (about 10)
1/2 teaspoon ground cinnamon
knob of fresh ginger, peeled and chopped (as much as you like)
Pinch of freshly grated nutmeg
Pinch of ground cloves
Instructions
Preheat oven to 425 degrees. Combine water, sugar, lemon juice, and salt in a 9-by-13-inch baking dish.
Scatter butter pieces over mixture, and top with apples. Roast until apples are very soft, 30 to 40 minutes.
Working in batches, pass apple mixture through a food mill and into a bowl. Stir in spices. Serve warm, at room temperature, or chilled. Applesauce can be refrigerated in an airtight container for up to 5 days, or you can water-bath can it, or you can freeze it in freezer bags. It's delish!
Little Mack and I put up a quadruple batch of this sauce this morning. He helped me assemble my new food mill, and it worked like a charm!
Let me know if you try this recipe, and how you like it!
*hugs*