Flash-Freezing Splendid Bell Pepper Bounty: simplest way of all!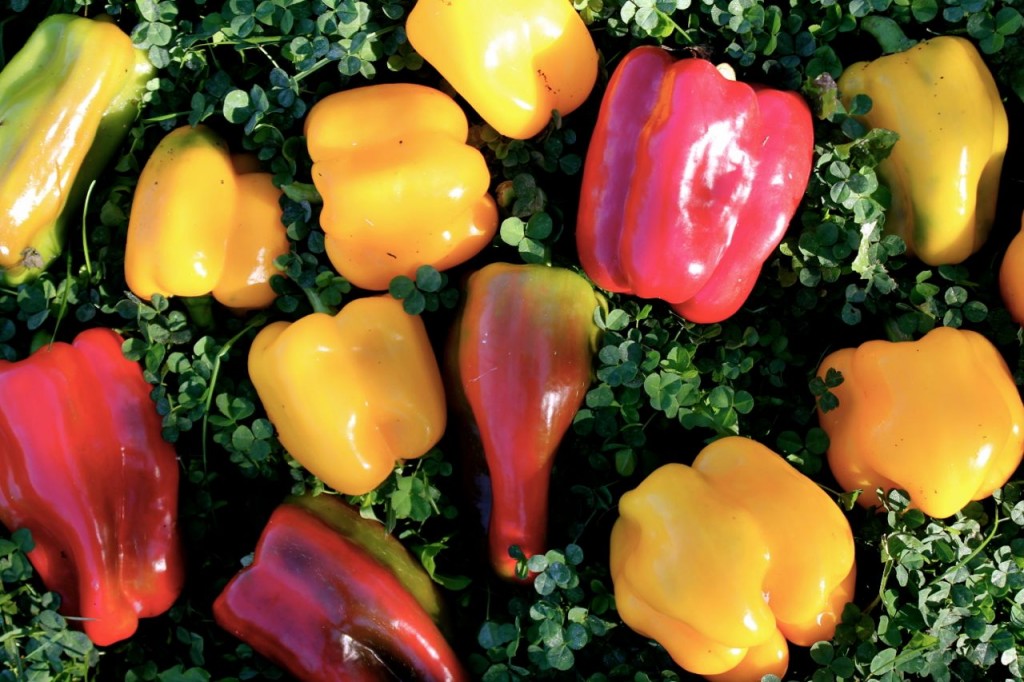 It's always feast or famine in the ol' pepper patch here at Old Depot Farm (that's our place). Either we have more peppers than we know what to do with, or we don't get enough to even make our  year's supply of salsa, boo-hoo.
Last year was a lean pepper year for us, although I don't remember why. I failed at peppers, in any case. I suspect weeds were a player. Or possibly lack of attention, or both. We ate a few peppers during the summer, and I had enough jalapenos for a couple batches of salsa, but I didn't have a single one to put into the freezer. And then my friend Anne shared with me how she flash-freezes bell peppers strips, and what an unmitigated blessing it was to have several bags of them in the freezer–she just went on and on and on about it–and then–gosh!–I really regretted not paying more attention to the pepper patch. Man.
I thought about Anne's freezer full of beautiful home-grown pepper strips every time I purchased the pricey colored peppers at the grocery store last winter. Every. Stinkin'. Time. And I didn't forget Anne's sweet boasting early this spring when I was planting my pepper plants in trays in the house, either. Also I recalled it when I planted my pepper plants (dozens of them, no kidding) in the most valuable real estate on our place (gardening-wise), my hoop house. I took a full bed (there are only four long beds) and planted it full of peppers. So there, empty-of-peppers-freezer. Take that.
I planted so many that I ran out of pepper cages. By gum. I wasn't going to run out of peppers this year, no sirreebob!
Sound familiar? That's kinda how I got started with my crazy heirloom tomato obsession.
Well, it paid off. I've had more peppers this year than I've known what to do with. My goodness, I'm even going to have enough to freeze. This makes me so happy. 🙂
I'm pinching myself.
Those beautiful red and yellow and orange peppers in the store don't come cheap, after all, during the winter months. And when they hit $2.00 apiece is precisely when we can't do without a big sloppy colorful mess of pepper steak, of course. You can't possibly make the best pepper steak with the plain ole' green (and cheaper) bell peppers. You simply must have the colored peppers for it. Don't you agree?
And we do love them–they are sweet and crunchy and my goodness, all that color is so exciting during the gray winter months, isn't it? Of course the ones you buy at your local farmer's market right now, or that you grow yourself are so much fresher and better than the supermarket peppers you buy in February, too. That goes without saying. (So I'll say it.)
But the first frost date is inching closer and closer, you know, and the pepper plants (along with my beautiful basil bed) are always among the first crops to succumb to frost. Time to get busy on this, Gentle Reader, if you have pepper plants loaded with jewels.
I didn't plant only bell peppers, oh no. I also planted a couple kinds of habaneros (a peach and a lime-colored one); the (reportedly) hottest pepper in the world–the Carolina Reaper (thanks Pete, now what do I do? I'm a little afraid of them!); some darling and colorful little salad peppers; and lots of jalapenos. In fact, after I planted three-quarters of a hoop house bed with nothing but peppers, my friend Gene offered me a few more pepper plants, and I took them, without even thinking. More peppers–sure! Why not?
By some quirk of garden fate, (and my mindful care, too, might have had something to do with it) this year every stinkin' one of these pepper plants has done amazingly well. Probably mainly due to the fact that I planted them in my hoop house. Peppers do like it hot.
So we've been picking peppers and chopping them up in our scrambled eggs, stir-fries, salads, and the like, but there are more out there than we'll be able to use before the weather turns chilly and freezes my gardens. So I'm a bit giddy this fall that I'll actually have enough to freeze for winter meals: for the first time ever! The bell peppers, that is. I have other plans for the hot ones. 🙂 Don't worry, I'll share that with you in the next week or two.
(You probably ought to take just a few seconds right now to sign up for my email list, up at the top of this page. You don't want to miss my hot pepper plans, I'm quite sure! They involve: my (locally!) famous habanero salsa recipe, how to dry hot peppers and make a hot pepper powder (yes!) and how to make your own chipotle powder, too. And processing the hottest pepper in the world, without getting burned yourself! And more. Sign up right now, I'll wait for you. . .)
Sweet bell peppers are an absolute necessity in my kitchen, and the bells in my garden (and the ones you'll find at the farmer's markets) are superior to anything in the store, of course. (Also my grandson Emmett loves bell peppers, and I can't wait to pull out a bag of strips just for him, come Christmastime, when he is home to visit.)
What a happy thing that it's so simple to freeze peppers! They don't have to be blanched, like many vegetables, to retain their color and crunchiness. And there are simple directions on the web for how to do this quickly and easily: you just wash the peppers, and then cut them into strips, lay then on pans in a single layer and freeze for an hour or two, then bag them up in freezer bags.
But hold on there. I'm assuming that the freezing-on-the-pan step is to keep the strips from freezing into one big clump in the bag.
I'm going to blow your mind here. I've discovered the easiest way ever to freeze pepper strips. And it works just as well as the "freeze in a single layer first" way. Honest.
All those trips up and down the stairs to our chest freezer and back, with the cookie sheets, is where I draw the line. My bratty knee doesn't like all the steps, and it's always kind of a pain to find the space in the chest freezer for jelly-roll pans, so I experimented with just tossing the strips in a big freezer bag, chunking them into the freezer, just to see what would happen.
Best. Experiment. Ever. The strips did freeze in a clump, but a quick shake of the bag, and they come apart like magic, and the result is the same: you've got a bag of frozen pepper strips and you can shake out just a few, or a lot, to use.
Cool, huh?
Here's how I freeze my bell pepper bounty:
First, wash the peppers well, and let them air dry, or if you're in a hurry, dry them quickly with a soft towel. Or engage your 9yo son in conversation, and have him do it. 🙂
Then cut them into strips, of course trimming off any bad spots and dumping them with the cores and seeds into your compost or chicken bucket. Happy chickens make for a happy farm, right?
Ah. Let's tweet that.
Next, load the strips loosely into freezer bags, and freeze.
When you pull the freezer bag out, give it a shake and the strips will loosen from each other.
I promise.
You can shake out as many or as few as you need, popping the bag back into the freezer. 🙂 Brilliant, eh? I think this was my friend Anne's innovation, so I'll give the credit to her. No fair throwing money at me for this idea. But isn't it cool? So put your pans away and get those peppers into the freezer! This is one preserving task that will honestly take you only minutes.
Score.
Gentle Readers. Don't you love harvest season? Isn't this a beautiful life?
*hugs*