Icelandics at our place: the little mavericks!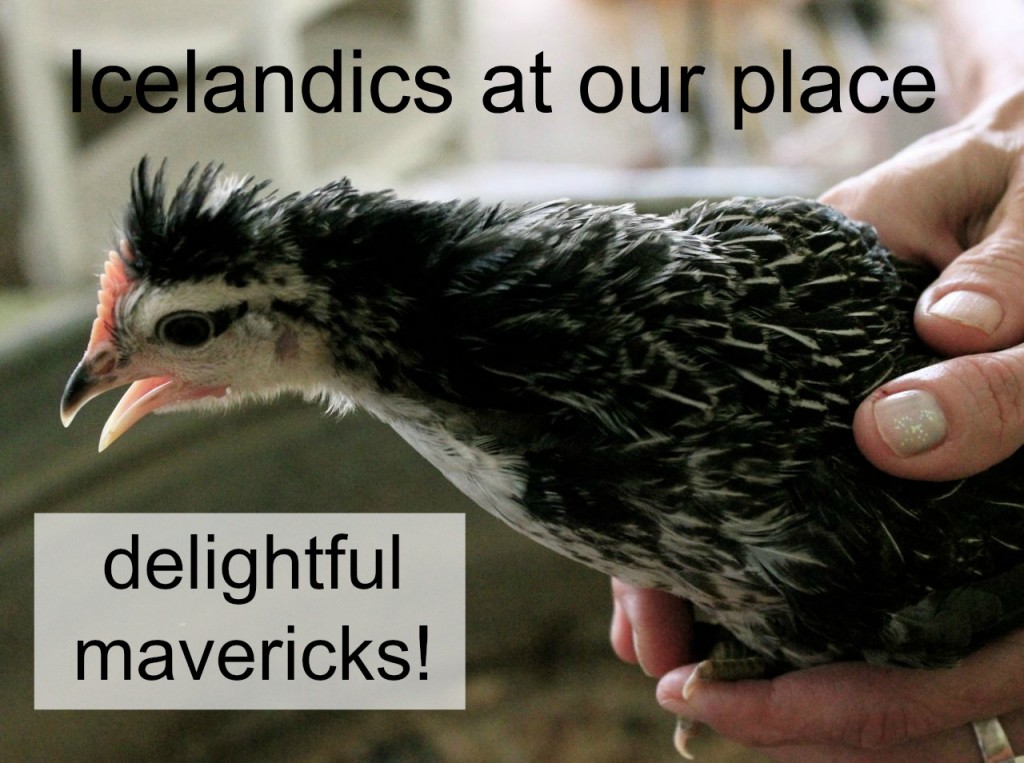 I do think it's past time for an Icelandic chicken update, don't you, my patient Gentle Reader? I have the best readers in the world, by the way. Probably a good share of you follow my blog for the chicken information (vomitingchicken, hello) and they are so much a normal part of my life (the chickens) that I don't write about them often enough. Keeping chickens is like breathing to me, and I don't very often mention my breathing practices, knowwhatImean? Meanwhile I write about garden goodies and preserving, growing things, remodeling, photography, even blogging issues while you may be wondering: what about the chickens, anyway, what's up with that?
So enough with the bait-and-switch! Here's the update on my newest chickens–my Icelandics–that I've been teasing you with.
These chickens. I love them so much. They certainly are mavericks, and as I've been accused of being a bit of a maverick myself (cough), I enjoy and identify with them entirely. If I were a chicken, I think I'd be an Icelandic, ya'all.
Icelandics are stubborn, thoughtful, lovely, active, passionate-about-being-outdoors, slightly-built little things and I never get bored with watching them or spending time with them. Let's re-wind a bit, though. A month or so ago, they looked like this (below), and we moved them from the garage brooder out to the chicken tractor, where (they shared with me) there's more scope for the imagination, but not quite enough to suit them.
They prefer as much freedom as possible.
From the chicken tractor, I let them do some free-ranging outside, with the tractor as their nighttime roosting place. And now over the past couple of weeks, I've been training them to go into the nursery (the smaller room in the chicken coop) but I'll share more about that process later. (Let's say that some nights are more successful than others.) These cuties have their own ideas about the way they want to live their lives, that's for sure, including where they will sleep at night. 🙂 Can't say that I blame them.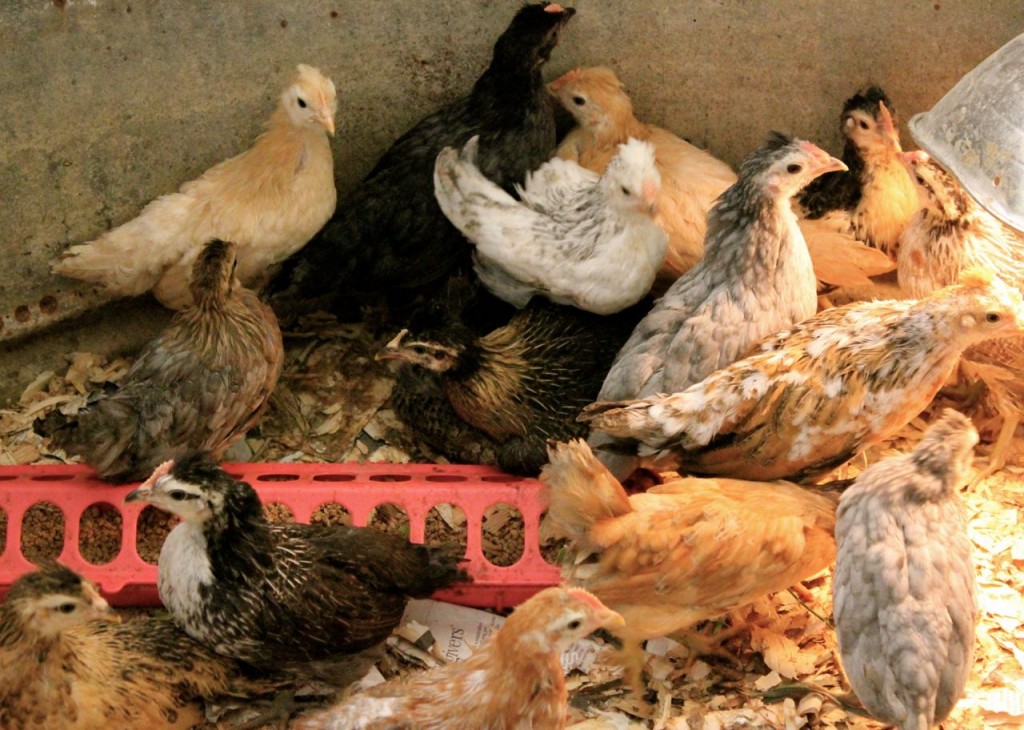 They have really come alive outside. These chickens were never made to live inside a garage, that's for sure!
I wrote about how I became interested in Icelandic chickens in this first post, if you are curious about the backstory at all.
The Icelandic chicken is one of the oldest recognized breeds of poultry in the world. Genetically, Icelandics have been found to be very different from any other breed of domestic chicken. They are also referred to as Viking Chickens, and are a landrace.
Many readers have asked me what a landrace is. Here's the description, from the Icelandic FAQ document on the Icelandic Facebook page:
A landrace is a domesticated, regional ecotype; a locally adapted, traditional variety of a

domesticated species of animal or plant that has developed over time, through adaptation to its

natural and cultural environment of agriculture and pastoralism, and due to isolation from other

populations of the species. Landraces are generally distinguished from cultivars, and from breeds

in the standardized sense.
There are an estimated 4,000 Icelandic chickens in Iceland, and about 1,000 of them now in North America, thanks to conservation efforts that began in the 1970s. These chickens were brought to Iceland by the Norse people in the 9th century AD, and were found on many farms for centuries. The now-common commercial type of chickens were introduced and became popular, and by the 1950s the Icelandic chicken was nearly extinct. It was then that some folks realized what a treasure these chickens were, and went about breeding them and growing the flocks, essentially keeping them from extinction. What a loss that would have been!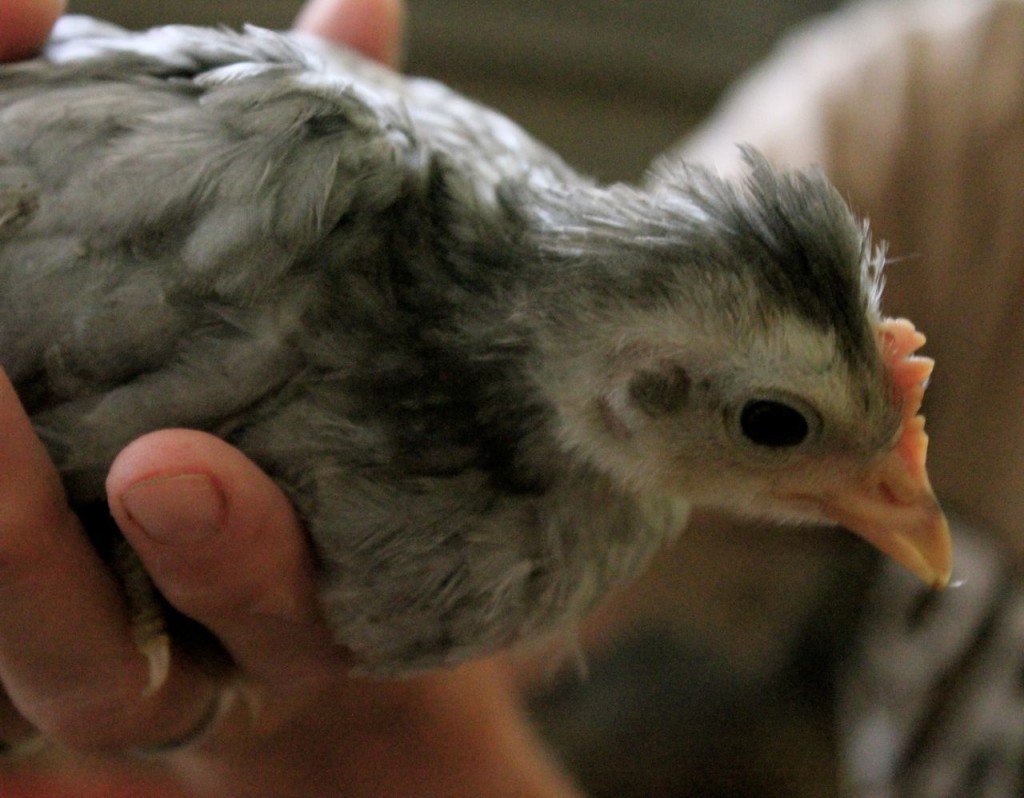 Icelandic chickens are considered a genetic treasure, with over 78% of their genetics unidentified in comparisons with modern poultry breeds. Crossing with other poultry breeds is therefore strongly discouraged.
Keeping Icelandic chickens can be very addictive. I was thinking of this the other evening as little Mack and I coaxed our Icies out of a tree, one by one, and herded them gently into the coop: "This is addictive!" Well, perhaps not really then. 😉 But it's true that each one is different in personality and looks. My little flock is like a gift box of chocolates: you're not sure what is inside each one, but you know that every one is special (except for the orange cream-filled ones–).
I kept my baby Icies in the garage for the first few weeks, under a heat lamp, in a big cow tank (borrowed for an indefinite period of time from my parents) lined with newspapers and wood chips. The last chickens to occupy this rudimentary brooder were my meat chickens. Basically my Icies are totally opposite from the meat chickens, in nearly every way. They are on the small side, are lean and grow very slowly, and they were skitterish every time we entered the garage, and ate very little. They did show extreme interest in any bugs or flies that got into the tank, a precursor, of course, to their excellent foraging abilities.
We have tried to handle them as much as we can, because there are so many advantages to having chickens that are at the tamer end of the spectrum, rather than the wilder end. Besides, they are so sweet and pretty and soft. Don't you agree?
I was so attached to them by the time we moved them out to the tractor, that I couldn't sleep nights at first, worrying that something would find them and tunnel in there, or something. But they were safe in the tractor. #myhusbandoverbuilds
I have lots more to share with you about these unique chickens, but it'll have to wait until next time. I am thrilled with them!
Next time, my patient readers, I'll write about the merry dance that my Icelandics have been forcing us to do every night, as we coax them out of the tree and into the coop at night, where they definitely do not want to be, and two simple tricks that we've employed to get them there. ALSO how they are already helping me with my gardening (hint: it has to do with their appetite for grasshoppers).
Until then—*smooch*—thanks for reading!
*hugs*