Fresh Broccoli Salad Nonesuch
I went through a brief, fanciful stint in my early teens when I read one paperback romance after another. It was very brief, much to my mother's relief. I soon became bored with broadly muscled heroes and heroines with rose petal skin and the very same plot, time after time. I moved on to more challenging reading: to J.R.R. Tolkien, C.S. Lewis, and Charles Dickens, Jane Austen and Louisa May Alcott and Bess Streeter Aldridge and Willa Cather. Oh, how I would love to read all those books again–for the first time!
Georgette Heyer's books were several notches above the average paperback romance, and I read a few of them. They weren't Jane Austen, but still . . . close enough to interest me. I loved her book The Nonesuch. The hero in the book was referred to as The Nonesuch, because he was so much more manly and heroic and full of integrity and broadly muscular (of course) and sighingly wonderful than any other man, anywhere. Or at least in the hamlet in England where the book was set.
The word Nonesuch is a good one, and I've enjoyed using it whenever I can find an excuse to do so, ever since I read that book. According to the dictionary, Nonesuch means a person or thing that is regarded as excellent or perfect. According to medieval legend, in fact, Sir Galahad is the nonesuch of the noble knight, with a pure and unselfish heart.
Don't you love that? "With a pure and unselfish heart." Something to aspire to, don't you think?
Also: I have a rooster named Sir Galahad. He does not have a pure and unselfish heart, but has a gallant personality, which sets him apart, even though he's only about 10″ high. I think I have a picture of him . . . Yes! Here it is.
You see, there's always a way to get a chicken into the conversation. 😉
So, back to broccoli. Or had I mentioned broccoli yet? I took an instant fancy to the word Nonesuch, and I still like to use it today, especially when something–like this terrific fresh broccoli salad recipe–captures my fancy.
Broccoli is one of those vegetables, you know, one of those "should eat more of" veg. I should eat more kale. I really ought to eat more leafy greens. I should eat more broccoli. Sigh. I should eat more collards. You know. One of those. But when I'm face-to-face with a head of broccoli that I know I should eat (meh), I tend to do the same thing with it: I saute a bit of garlic and then stir-fry it. Or I'll steam it and then add butter. (Yawn). Everybody likes it. Likes it.
We were having company for supper a few nights ago, and my larder was a bit pitiful. After a couple of weeks of making our show happen, I had run out of most things that are very important to my cooking. Out of garlic–anathema! No bread, homemade or otherwise. Not an onion in the place, except for one little withered red one. And one sorry head of broccoli.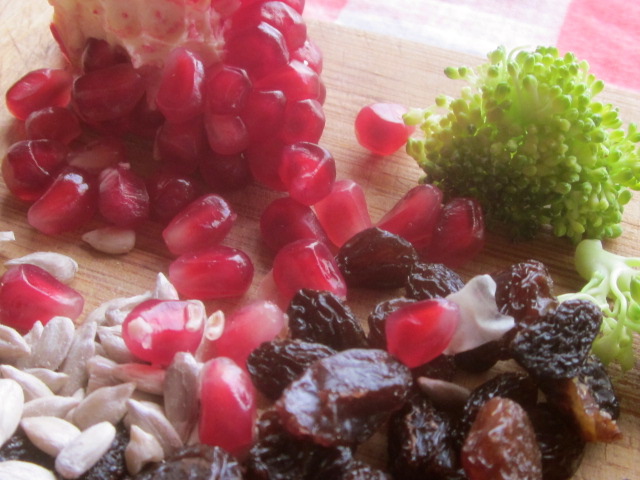 The head of broccoli that sat staring sadly back at me from inside the nearly-empty 'fridge was the only fresh green I had in the place. But I didn't feel like another dish of steamed broccoli. Meh, thought I, disconsolately. Do I have enough odds and ends to make a salad? I found a red onion. Some raisins. A pomegranate badly in need of eating. Some seeds. a bit of mayo. A fresh bottle of balsamic vinegar (I love the stuff). I decided that that might just do it.
I quickly whipped up this salad, and to my astonishment, it was quite delicious. To my further astonishment, everybody loved it. I loved it. I promptly dubbed it "The Nonesuch" because it was just so wonderfully delicious, and such a nice surprise. I threw in a lot of things that I had on hand, and it was a strange yet wonderful combination. Sometimes that works out, you know? Other times, it doesn't. 🙁
Okay, without further ado, here's my recipe. Make it today. Or make it tomorrow. Just make it!
Fresh Broccoli Salad Nonesuch
Recipe Type
:
fresh green salad
Author:
Prep time:
Total time:
The combination of sweet and tangy, crunchy and crispy, is quite addicting! And you're getting your leafy greens, too. Score!
Ingredients
2 bunches broccoli, cut into bite-sized florets (save stalk for another dish)
1 medium red onion, sliced and then chopped
1/2 cup raisins
1/2 cup sunflower seeds or chopped walnuts or chopped pistachios (you choose)
1/2 cup pomegranate seeds (and then a few more for garnishing)
Dressing: 1 cup good mayonnaise + 2 Tb balsamic vinegar + 1 tsp honey
Instructions
Mix together all of the above, and chill for an hour or two. Garnish with a fresh handful or two of pomegranate seeds, and serve. Prepare for compliments!
I'm linking up this week with The Prairie Homestead and Jill's super-fun Barn Hop. Come on over!