Secret Weapon for your seedlings: newspaper pots!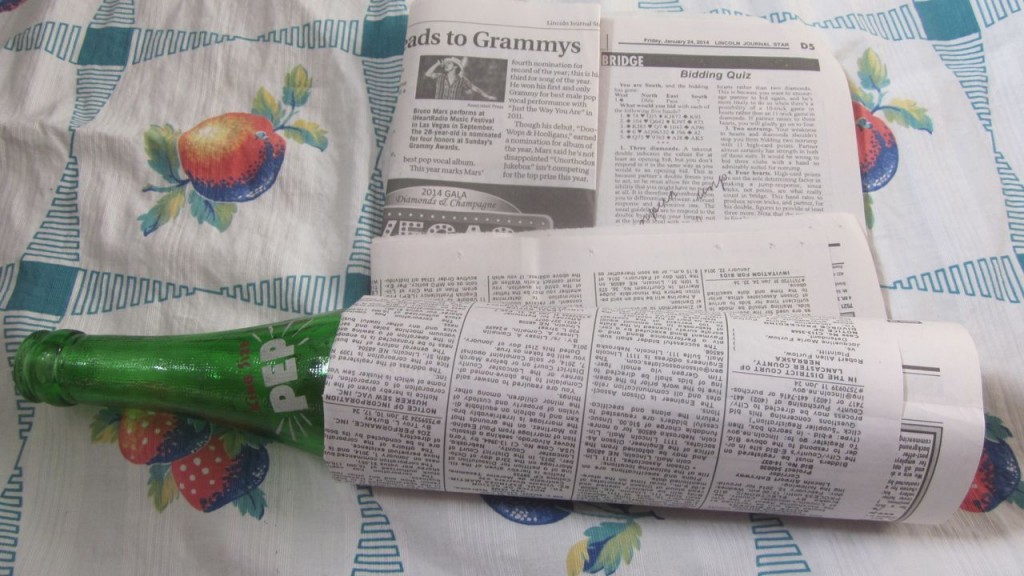 Oh, this post contains an Affiliate Link, which means if you click on it and buy something, I'll make a few pennies, which will help me support my blogging activities. That is all!
My friend Jamie, a delightful person and a bonafide market gardener and (as if that's not enough!) an extraordinary cook, was sitting at our drama practice one night, folding newspapers into pots. Her daughter is in our drama group. How clever Jamie is, thought I. She always knows just what to do.
Ever since I've known Jamie, I've wanted to be just like her. She's an amazing friend, with lots of highly-regarded skills. So–when I hear Jamie talking, I always inch very closely to her to listen and learn. I doubt if she's noticed this. I can be quiet, when pressed.
And so, on this particular occasion, I inched closer, to hear her talking with another drama mom about why she was making these nifty little pots out of newspaper. Apparently she was going to be planting sweet peas the next morning (doesn't everybody know that they don't like to be moved out of plastic pots?) and needed biodegradable pots–if I remember correctly, she needed about 40 of them–to plant the seeds in. She didn't have time to place an order for some, and she didn't want to make a run to the store for just a few pots.
Well, what do you know, thought I, as I walked back to the rehearsal that I was supposed to be directing, now distracted by the visions of seeds and delicious springtime dancing in my tired head. I had a couple of envelopes of sweet pea seeds to plant, also, so of course I decided right then and there that I would blatantly copy my friend's idea, since now I knew that sweet peas didn't like to be transplanted.
Jamie, after all, always has the BEST ideas. And I'll bet there are other seedlings that don't like the notion of having the plastic pot ripped from their delicate wittle woots and would also benefit from being planted in biodegradable pots, too.
And how very, very pleasant not to have to go out into this wretched wind and the Arctic Cold Front that's supposed to blow in this very night, to buy some little pots at the store. Not that I'm bitter about winter lasting FOREVER. Not that we could all use a little warmth out there. A little green. A little flower. A bit of hope. No.
Not. At. ALL.
I know I shouldn't complain. I know that I should get that whiny tone out of my voice . . . But . . . . but . . . c'mon! It's going to be MARCH in a few days. Ole Man Winter just needs to . . . move . . . on . . . BUT the forecast! Barely a single day with an above-freezing temperature for the next week! Even hardy old prairie women like me are apt to get discouraged by it. Snif. There. Complaining session Over. Done with. Kaput.

Back to the paper pots: Watching Jamie make the pots, I suddenly I had a very good idea of what I was going to do with my hands, the next time that Amalia or little Mack asked me to sit down and watch a movie with them that I had perhaps watched 246 times before. You know that pull, don't you, Gentle Reader . . . the "I don't feel good please watch 'Finding Nemo' with me Mama" pull, when your to-do list is longer than your arm, and yet those sweet blue-green pleading eyes are looking up at you, and you relent . . . and sit down and watch "Finding Nemo" one. more. time.
At least, it's a very entertaining movie.
But this time would be different: you'll have a stack of newspapers and a bit of masking tape and an old pop bottle (or something the appropriate size) and you can make paper pots and watch the movie and make your child happy, all three at once. You'll be happy too. He may actually even help you, occasionally, when you can't get the paper pot off the bottle, by giving it a manly tug as you hang on for dear life.
So here's what you can do: today, put your sweet pea seeds to soak (they do better if you soak them overnight first, and I learned that from reading the seed envelope) and sit down to make a few newspaper pots for them. It's easy. It's fun! It's a perfect end-of-winter project to keep your hands busy while your brain and heart dream of spring.
And you can watch a movie at the same time.
Spring. Isn't that a nice word, on this cold, windy, February day? I'll say it again: Spring. Ahhh.
Spring.
Here's all you need to make these newspaper pots:
newspapers (I favor Wall Street Journals, actually)
masking tape (just a bit for each one)
a pop bottle, or a pop can, or even a glass the right size (vintage is fun)
a high-sided tray or box to line up the pots in*
*I'm kicking myself, now, for tossing all those excellent plastic containers from Sam's Club that the organic baby lettuces and spinach come in! They would be just perfect to put the paper pots into. Oh well. Next year.
Here's what you do:
Lay your newspaper flat. I use at least two layers, but four will work too, if you have plenty of newspaper. Fold down the top few inches. Try not to get too distracted by the story on top.
Roll up the newspaper on your pop bottle, and then put a piece of tape (this is optional but makes it so much easier) on it to hold it together. Leave several inches of newspaper on the bottom of the bottle.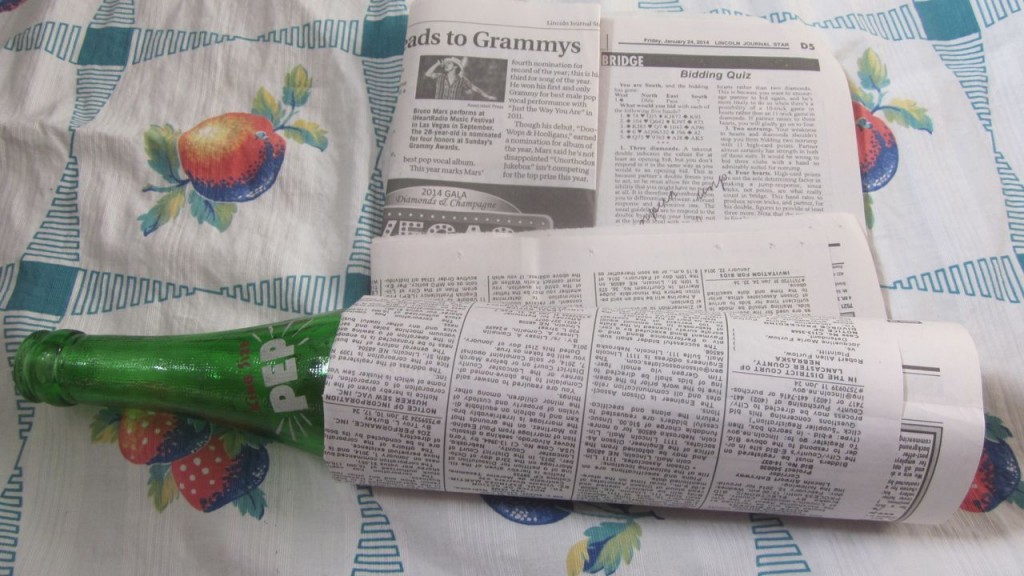 Fold the newspaper at the bottom up against the bottle, and tape again.
Pull the bottle out (a little help might be nice, if you're a tight roller, like me) and ta-daa: your very own biodegradable newspaper pot! Cost: nothing! Or, at least, almost nothing.
Line your newspaper pots in a box or a tray with high(ish) sides, fill with seed starting medium, and you're ready to plant! Hooray!
And the movie isn't even over yet!
Happy Spring, my dear gentle reader!
That it . . . Happy Spring when it finally deigns to arrive . . . ! And thank you for popping in to my little corner of the interwebs. I appreciate you. I really do!
*hugs*