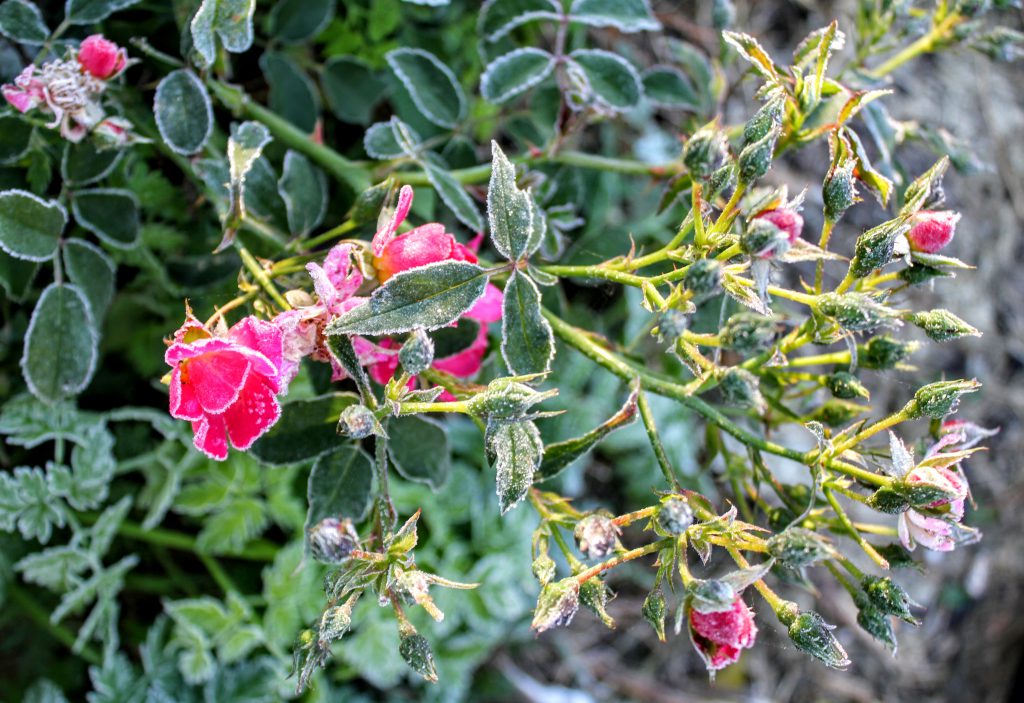 Perhaps you already know this about me, dear and gracious gentle reader: I was a summer baby, born in the first week of May and created by God (I am sure of this) to thrive in the months of growing things. I wake up, I unfold in early spring, like a new leaf or a dogwood blossom.
My spirit comes alive.
Every day I bolt out of bed very early and am outside as the sun peeks up from the horizon: planting, tending, reveling, breathing in the sweet cool air and tenderly admiring each new bud and sprout. Summer is a flurry of happy activity for me, as I keep tabs on baby chicks and baby plants and new plantings and old weeds and whatnot. Songbirds building nests. All of it. It thrills my soul. It makes me happy.
It's good to get to an age when you know yourself well, and have stopped fighting it, isn't it?
Conversely: when the days begin to get shorter, I feel an inevitable sagging of my spirit. I know this well about myself, too. It doesn't make sense, on a very practical level. I have worked very hard outside for months. I am tired. My house needs attention, quite painfully. I have a lovely knitting project going; several winsome children nearby (or in-house!) to spend time with; a good husband who will bring in big armloads of wood for the fire; jars and bags and boxes of garden edibles stashed away; a big stack of tantalizing books that I've been ignoring all summer. Board games: remember board games, kids? They're fun. We have lots of them that we haven't touched for months.
So what's the big deal? Why do I wake up in the early inky darkness, desiring sunlight and feeling dark and draggy, myself? I've had my fun out in the sun. I've made the most of the long summer days. I badly need to attend to other matters now. It's time. Doggone it.
Well. Problems that have dogged me all summer have not gone away. Challenges that–in early May–I was sure would be tackled and overcome–with the energy and optimism of summer, baby!–are still with me. What is the big deal.
I don't want summer to end. I want so badly to fix some things that I haven't fixed. And I selfishly don't want everything that is summer to me–the long bike rides with Mack, the trips to the pool, hot dog roasts at our firepit, biking to town for ice cream cones at the DQ, lighthearted shopping trips with Amalia, evening walks with the kiddos out on the road, bringing in armloads of tomatoes and bouquets of flowers for the kitchen, dinking around in my garden until I get my fill every day*–to end.
*That's a li'l joke. I really never get my fill of my garden.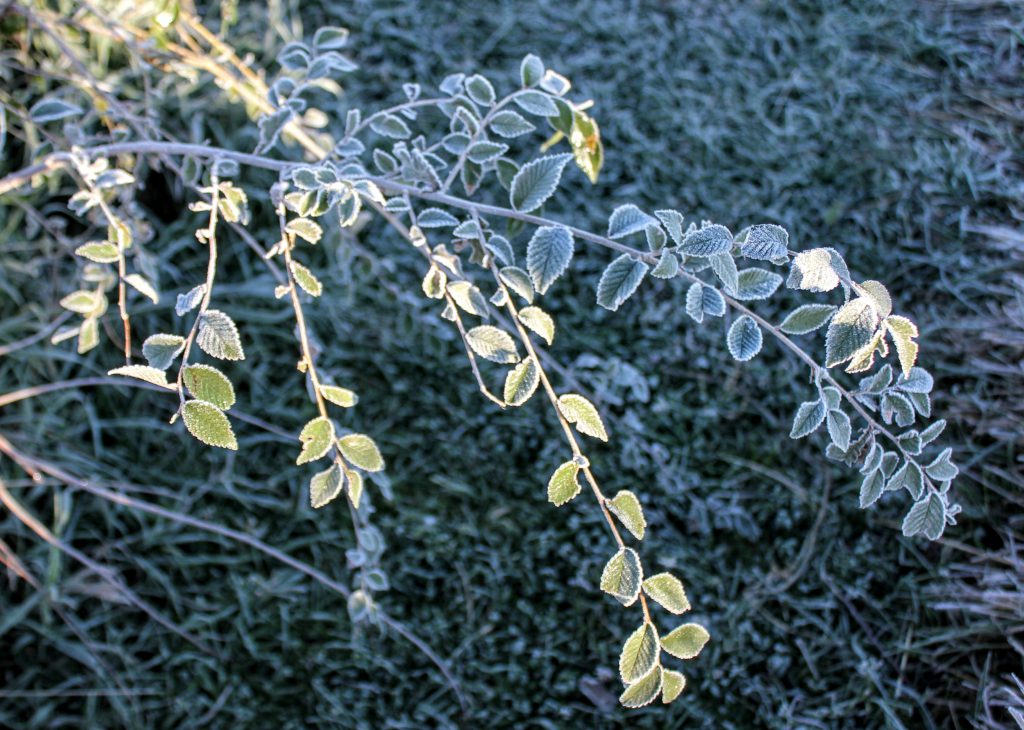 And then. It happens. A sudden hard overnight freeze surprises us, although we've been bracing ourselves and preparing for our frost date–October 10th in this part of the world–for weeks. The kids and I have been hauling in houseplants and clipping and drying herbs, and digging up tender plants that I don't want nipped back, hauling and splitting firewood, fortifying mulch around beds in the garden that are still producing. Happy work! Spending as much time out in the sun as we can possibly can, while we can. Working ever-harder to solve a few summertime problems, too.
I'm wearing my summer pajamas still, on the morning after the temperature dips down to 28° at our place. A decided hard freeze. No wishy-washyness about that one. I am tired and sad. I reluctantly pull on my old chore coat (part of denying the coming of winter, you know, is wearing summer clothes way past the time it's proper to do so) and a pair of boots to go do my chores. I step out into a green world that has been covered with frost during the night.
I catch my breath. Unexpected joy floods me to the core. It's so exquisitely beautiful outside. How could I have forgotten this? Frost outlines each leaf, each blade of grass, and makes the world new to me again. I am struck by the simple beauty of frost on leaf. By my own frosty breath.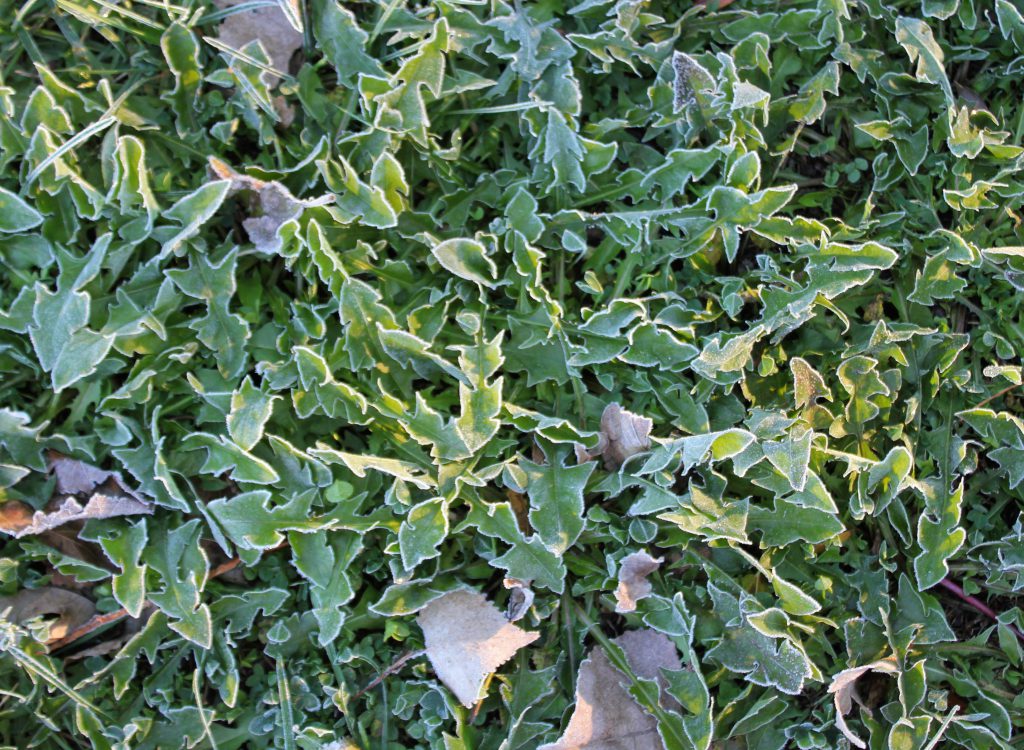 And, just like that: I'm ready to face fall and winter. Non-summer months are okay with me now. The beauty of the frost covering everything sucks me in and reminds me that winter certainly possesses its share of charms, too. Frost is an alchemist, changing my summer heart to something that–while not fully embracing winter, at least will find joy there, too.
It is something, and I am grateful.

Yes, I am grateful.
"God is our refuge and strength, an ever-present help in trouble.
Therefore we will not fear, though the earth give way
    and the mountains fall into the heart of the sea,
though its waters roar and foam and the mountains quake with their surging . . .

He says, 'Be still, and know that I am God; I will be exalted among the nations,
    I will be exalted in the earth.'
The Lord Almighty is with us; the God of Jacob is our fortress."
–from Ps 46
*hugs*
Save
Save
Save
Save
Save