Good things at our place, happening in threes
Sometimes you go through a dry stretch, with more hard things happening in your life than you really care for. The desert. You know that God is hearing your prayers, and that other folks are praying, too, but you begin to wonder about what God's will is, after all. You spend more time on your knees, and when you wake up in the night, you pray then also. And you wake up every night, sometimes with the tears already on your cheeks.
You feel everything more poignantly during these difficult stretches–at least I do. Mack complains of a headache: I cry a little for his pain, and rail out against headaches in general. WHY HEADACHES, God? Why?? Dad calls and says that he is a little lonesome one evening. I feel a monstrous sense of sadness for this tidbit of news. Loneliness! When so many folks are all around, it's just so wrong! Amalia leaves me a note that she has a bad cold, and I feel a dark cloud hanging over me all the rest of the day. Colds shouldn't happen to pretty, busy college students! What is the world coming to? When will it end? ONE THING AFTER ANOTHER!?

But you get through it. God gives you patience and helps you build up enough strength that you can get up each morning and do what needs to be done–your chores, your work–loneliness, colds, and headaches, notwithstanding. You learn new skills in the process, too, which is helpful for the next time. You smile. Though you don't feel it.
Then, on the other hand, there are times when the good things happen in multiples, and your heart grows with gratitude and relief. You take deep breaths again, and you are surprised to hear yourself laugh one day. You sleep an entire night through, then a second and a third. Life doesn't seem quite so grim, after all, and you feel hope again.
We are taking it one day at a time at our place right now. Our family has been through some tough months, but God bolsters us up and give us many many reasons to hope. Because that is who He is.
I love to share the good things that happen around here with you, gentle reader. I'll keep it at three for this time.
1. Another surprise hatching
It is very nice that this keeps happening to us, since my egg incubation attempts have not been very successful this summer, alas (more on that later).
Nelly has been doggedly sitting on a nest in our little shabby coop all summer. I tried moving her (and the nestful of eggs) into the nursery (usually the only place a successful hatching is accomplished at our place) but she wouldn't have it! She moved herself, angrily, shrieking, back into the corner laying box and wouldn't budge from it again. BOY. My chickens are about as stubborn and headstrong as my children are.
I usually just pick up all the eggs from underneath broody hens who won't be moved into the nursery, but something stopped me from doing this with Nelly. (Laziness or carelessness, probably. Seriously.) Instead I went to the daily trouble of checking to make sure that she was simply sitting on the correct nest, every day (*sigh*), for three weeks. A few times I found her nest empty (when she was probably out grabbing a quick breakfast). A couple other times, I found her on the wrong nest (oh Nelly, Nelly!) and scooped her up and put her back in the corner box.
Against her fiery will, at that.
I also kinda gave up on the idea of baby chicks at that point, figuring that the eggs had probably chilled one too many times for a successful hatch. Bother.
But a few days ago, I was in the chicken yard filling up the feeder and I glanced in the tiny back door of the coop, and I saw movement around Nelly in her corner box. She was gazing down with puzzlement at some tiny chicks that were bopping around in front of her. Oh, mercy.
She did it!
So we have another little family to watch over. They are exceedingly sweet–the chicks, that is–though Mama Nelly has a violent protective streak. She pecked my big toe hard enough to break the skin last night when I tried to help her get her babies into the coop for the night. Whoa, Nelly, I'm on your side!
2. A tale of two lady geese and unrequited nesting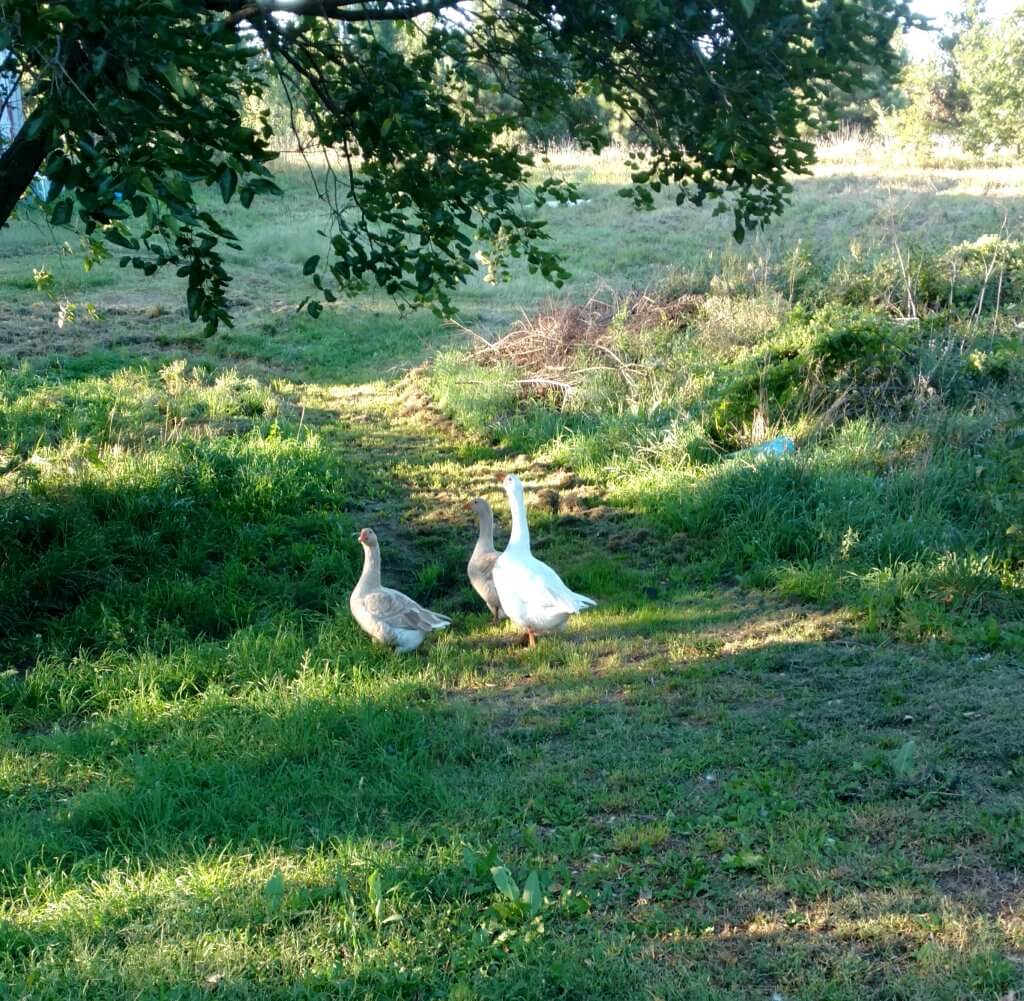 My birthday is in May (that's every year, folks *hint*), and my friend, farming colleague and mentor Gene gave me two pairs of fowl for my birthday: a pair of ducks and a pair of geese. His idea, I'm sure–and it was a good one!–was that it would be fun to watch these pairs raise little ones. He knows how cray-cray I am about little baby critters. (And I was, at the time, woefully low on waterfowl.) Marguerite and Sir Percy, after a summertime of flirting with the idea of parenthood, happily, recently, accomplished this. 
The pair of geese, on the other hand, did not accomplish a thing, bless 'em.
Funny thing about that pair of geese–they looked perfectly identical in size and shape and everything else. Like they were twins. Or clones. The thing is, usually the gander in a breed will exhibit some different features from the lady goose–he is usually thicker and heavier and bigger. Noisier. Bossier, certainly (cough). I mused on this, as I watched them. But the nice lady who sold us the pair had insisted that they were male and female. Who was I to question such a nice lady and her judgment?
Petunia started laying eggs, after a time. Mack and I were excited at the prospect of goslings! Charles hovered nearby. After laying her nest full of huge creamy white eggs, Petunia settled down for the long haul (goose eggs must be incubated for as long as 35 days!). I made a note on the calendar. Then one day when I entered the coop during morning chores, I stopped in my tracks. Waitaminnute . . . Charles was sitting on a nest, too! What was going on—? I poked around to find that there was a second nest full of huge creamy white goose eggs . . . underneath . . . . "Charles."
Well, I may be a sunburnt, cloddish farm woman, but it didn't take me long to put two and two together, and to realize that we had two lady geese, not a goose and a gander.
Charles was instantly renamed Hyacinth. I had the unhappy office of cleaning out two goose nests and scooting two unhappy geese out to the yard.
That didn't sit well with my friend Gene, and he spent not a little time searching for a gander: a docile, virile gander. 🙂 Finally he found one and he surprised me with it a couple of weeks ago, though it was not my birthday at all! Our new gander Charles is a welcome addition to our farmyard. He's handsome as the dickens. He dotes on the ladies. He provides another layer of protection for the flock, since he is quite vocal. We love him. And I think both lady geese love him, too.
It will be interesting to see what happens next spring, when both geese start laying eggs again.
And third, and most importantly, too:
3. Sonia's cancer treatment is going very well.
Lastly. Many of you lovely folks have been following this cancer journey, even joining us in prayer and encouraging our kids via Fb comments. Thank you so much for this.
In short, our ordinary lives were turned upside down one day in early summer when I received this text from Andrew: "Mom, Sonia's GP says she needs to see an oncologist." This dear girl battled Hodgkin's Lymphoma nearly ten years ago, but passed the "all's clear" mark years ago, and so it was a huge shock to discover that her lymphoma had come back. I sat in the car for a full fifteen minutes, my eyes full of tears, staring at that text. No. It had to be a mistake. There was nothing at all wrong with Sonia. I had talked with her just a couple days before! She was fine! The GP–obviously–was jumping the gun, possibly with some erroneous test results. All was well. Surely.
Still there was a dark cloud over the days until test results came back, and we found out that her lymphoma was back, after all, and even moving from the lymph nodes. That revelation spurred rapid changes, with the girlies being moved to our house with a couple of hastily-packed bags–dollies and diapers and a couple fresh changes of clothes–as Andrew and Sonia rushed to the cancer hospital to get started on the first round of chemotherapy.
Every life contains its share of ordinary troubles, I know this is the case. But cancer in a precious loved one is an outright terrifying trouble that makes ordinary troubles suddenly seem trite and even to be longed for. Let it be a mistake, I prayed. Please make it go away, Lord.
But it wasn't a mistake and it appeared that Sonia and Andrew were going to have a long battle on their hands.
It's a little bewildering to realize now that Sonia and Andrew have already been facing this big challenge one day at a time now for nearly four months. Sonia went through several rounds of chemotherapy this summer–with rest weeks, in-between. Then the girlies were moved in to our place (with alternate weeks at Sonia's parents' place) long-term, and Sonia was admitted into the cancer hospital for a week-long intense chemotherapy, followed by a stem cell transplant (with her own preserved stem cells).
That is where she is now, in isolation for now as her body responds to the treatment and her stem cells multiply. She will continue to live there in the hospital–and Andrew with her–while their two little girls live at one of the two grandparents' houses.
Sonia sat down at her kitchen table one evening in early June and told me what was to come, calmly, with no tears or self-pity. It seemed impossible that she was able to talk about it that way, as if it wasn't going to be her own body going through the ghoulish-sounding treatment. She is so brave. My own heart at the moment was recoiling at what she was telling me. I didn't want to hear it. I wanted badly to leave and go home and cry. To feel sorry for her and Andrew and the girlies. For myself, because though she's my daughter-in-law, I love her like she's my daughter. For her family and friends, too. The treatment sounded so difficult, so fraught with peril, so risky. So scary.
But–praise God from whom all blessings flow–Sonia's body has responded well to every step of the treatment. All the scary side effects or risks have not happened. She has had an outpouring of love, affection, support, prayers, gifts, and offers of help. This has been truly inspiring and heartening to all of us. Her village–and she has quite a large one!–has stepped up and surrounded her and Andrew with everything they need for now. All she has to do is to continue to rest and heal and wait for her body to do the work.
Sonia still has many long months ahead of her, but I think the hardest part is over. I pray that the hardest part is over.
Praise God! Praise God. Praise God.

So. That is a lot of good things happening all at once for one common farm woman, don't you agree? Don't I have so many reasons to be grateful?
What about you, gentle reader? I'd love to hear about what good things are happening in your life right now, in the comments below. I looove to hear from you. And if there's any reason that you might think somebody else in your village would enjoy this post, would you share it? Thank you!
*hugs*