Irresistible Chopped Caprese(ish) Salad, made with heirloom tomatoes
As you know, my fair and gentle reader, I live to grow heirloom and artisan tomatoes.
Whoops! . . . I mean I love to grow them (hehee). They are gorgeous, delicious, colorful and . . .  yet . . . so . . . so prone to splitting after the night that you get a soaking 3.5″ of rain, all at once. (Kersploosh! is the sound of that sudden rainfall, that wakes one from a sound sleep to wonder at the state of the basement: dry or puddly?)
Doggonit. On the splitting of the tomato skins, that is.

Here in Nebraska, after all, we are accustomed to arid conditions much of the time. (Drought is the Nebraska's middle name.) Arid-ish, that is. But things are different this year. Most years, for example, 3.5″ of rain is a Big Event, worthy of much discussion and hand-wringing at the coffee shop the morning after. Actually, it's so unusual that folks remember a rain like that and talk about it for a long time afterwards.
We buy umbrellas at last. We castigate ourselves for not owning a decent raincoat.
But this year, we've had several such soggy events. It changes the way you think, to have adequate moisture. You ponder (at least) buying a decent raincoat (even if you then decide against it–how long, after all, can rainy conditions last in Nebraska?). Your daily plans (as a gentleman/lady farmer) do not revolve around which plantings you want to keep alive this day with your watering regimen. No. You muse over matters like . . . hmm . . . which plantings you want to keep alive by bailing out puddles.
Our oldest son Matthew has been on my mind a lot lately, as he has started a new job, is daddy to a new baby girl with his wife Rachel, and has moved to a new place–all three events within weeks of one another–and who also has a birthday this week. He has a lot on his plate. He lives in an area in Missouri that regularly receives a lot more rain than we do here. He recently pointed out to me the fact that–while we do have our share of meddlesome insects here–since Nebraska is part of the High Plains, we don't usually have wet enough conditions to be bothered overmuch by mosquitoes.
I hadn't really thought about this, but it is (happily) true, most years. Not this year. We had some biggish rains in the late summer–which is why it's still lush and green here, and why we are still mowing our lawns every week, though it's October. Amazing!
Also, apparently this is why the mosquitoes are as big as hummingbirds, and as mean and creepy and persistent as . . . as. . . daleks.
(Let me know in the comments if you get that reference–you'll know what show little Mack is enamoured with right now!)
And (by the way) you oughta hear us HOWL about it. The everpresent mosquitoes, that is, not the daleks. (Although I would pitch a fit if I heard a dalek in my vicinity. They can stay . . . wherever they are right now, which is–happily–not on the High Plains. As far as I know.)
Our reaction to mosquitoes: Must we--why the!–what th--heeeelllppp! The MOSQUITOES are driving us NUTS…!!! *fading screaming as victim runs to shelter, hungry clouds of mosquitoes in clear pursuit*
I contend that we High Plains folks have a point here (bless our hearts). After all. We have to put up with so much already:
tornadoes, summer storms that destroy roofs with hail and wind (although the fact that so many of us have new roofs paid for by our insurance companies, given the prevalence of damage in summer storms–it is a consolation, to be sure),
winter blizzards that are capable of knocking out our electricity for days at a time (not to mention freezing our tenderest extremities off), and
punishing humidity and heat during the summer. And did I mention the wind? The daily, constant wind?
Surely all that is quite enough to build up within us a lion's share of Mettle. Must we also be forced to put up with blood sucking insects in huge meddlesome clouds that follow us around, siphoning our lifeblood and potentially making us sick?!
Apparently, yes. This summer we do. Er. This fall, actually.
But anyway . . . where was I going with this . . . ? Oh yes . . . when we do get a Big Rain, many varieties of heirloom tomatoes have a tendency to crack and split. And once they do this bit of traitorous activity, they must be picked, consumed, and/or cooked into a sauce fairly quickly or they will further insult one by becoming rotten, full of little black bugs, and/or moldy. Practically overnight! Then all the hard work of growing these lovely orbs of juicy delight will be for naught.
So what do you do when you have a peck, a bushel, or a wheelbarrow load of cracked tomatoes on hand? I make this first off, and of course I try to sock away as many jars of this as possible but I always nab a few first to make this: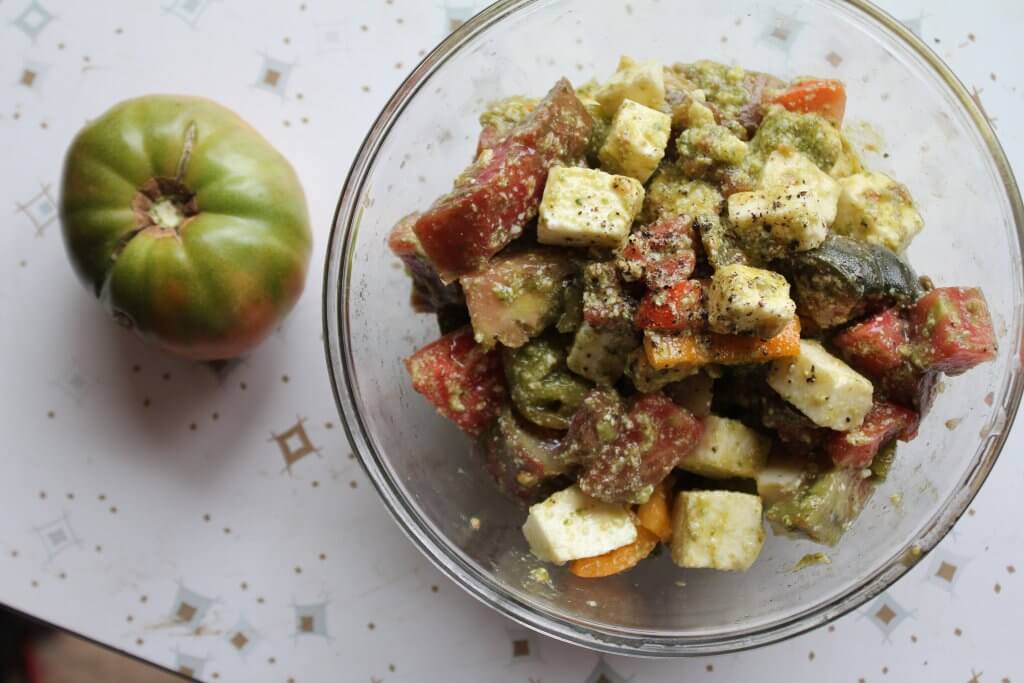 My version of the Caprese salad is chopped, not sliced, in a bowl, not on a platter, and it has a few additions that delight my senses. My mosquito-bitten, wind-chapped, sun-burnt senses. Yours, too, I'll warrant, no matter where you may be privileged to live.
I've always felt awestruck by traditional Caprese salads when I gaze at them at potlucks or in a nice cooking magazine. They are soooo lovely. Picturesque. Kinda fancy, too. But on the matter of eating one: how exactly is that accomplished, anyway? Those big slabs of tomatoes must be sliced up with a fork . . and if there is tomato skin involved, perhaps a knife . . . and I'm sorry, but when I fork a huge slab of mozzarella onto my plate, am I the only one who is thinking how many calories are in this much cheese?? 
(More on this in a later post–calories, that is.)
I adore all the flavors in a traditional Caprese salad, but I think the actual eating of it is . . . awkward. And it's not something that you can have a big ole' bowlful in the 'fridge at the ready, which is really what I need. I run in a fast crowd. That is to say, everybody living with me right now (this week, our grandies Anya and Ellie are here!) wants food fast. Every day they hope to have three meals. Every Stinkin' Day.
So. Enter the chopped and augmented Caprese salad, center stage: Same basic ingredients, but all chopped up (though gently, these are very ripe tomatoes we're using here!) and stirred together, and furthermore . . . instead of big pieces of basil everywhere (another dining dilemma . . . do you eat the basil leaves whole? Do you fold them neatly with your fork, or just stuff them into your gaping mouth?) I made up some pesto.
'Tis the season: I have armloads of basil that will freeze soon, under the auspices of chilly autumn nights, and I'm making pesto for the freezer anyway, and I love it so.
So here's my version of the Caprese salad . . it's a chopped salad, and a Caprese salad, all in one. I was entirely inspired by this one, by the way, in the giving-credit-where-credit-is-due department. It's always a confidence-builder to discover that Deb was thinking the same thing, generally, as I was.
Hopefully it doesn't hurt her reputation too much. *wincing*
And here are the particulars in how to make it:
Irresistible Chopped Caprese(ish) Salad made with heirloom tomatoes
Recipe Type
:
tomato salad
Author:
Prep time:
Total time:
Summertime, the only time when tomatoes are truly decent for eating, is the time for easy-peasy recipes like this one. Toss together these few fresh ingredients, slice up a loaf of fresh hearty bread, and dinner is ready. A tomato note: Choose tomatoes that are ripe, but not oozy-goozy overripe, or your salad will be, in actuality, a cold soup.
Ingredients
1 pound fresh mozzarella cheese, diced into 1/2-inch cubes
2 pounds peak-season tomatoes, heirloom if possible, carefully chopped (a combination of varieties is nice)
1/3 cup pesto (or a handful of finely-chopped basil plus 1/4 cup extra-virgin olive oil)
1/4 tablespoons good red wine vinegar
freshly-ground salt and pepper to taste
(Optional add-ins, but very nice: an avocado or two, sliced and diced, a couple Tbs of capers, one cup of roasted, chopped chicken is great if you want more protein, a can of white beans, drained)
Instructions
Slice and dice cheese and tomatoes.
Mix together pesto, vinegar, salt and pepper.
Gently toss all ingredients together.
Taste, and adjust seasonings to please YOU.
Add optional add-ins if you wanna. Leave 'em out if you'd prefer.
Eat for dinner or lunch, or a much-deserved snack, with some hearty bread, toasted and dipped in (of course!) a good extra-virgin olive oil.
Yum, yum. This bowlful pictured above will last me a couple of days. (Not as long if I decide to share it.)
Thanks for reading, commenting, and sharing!
*hugs*
Thanks for popping in! I have bunches of other recipes involving Summer/Fall Tomato Largesse, which I hope you also are blessed with.