"Better-than-Campbell's" Homemade Tomato Soup
This post contains affiliate links, which, if you click on them and purchase something, will benefit me and my blogging prowess. (Thank you kindly, by the way!) Now on to your regularly-scheduled post . . .
Let's talk about tomato soup today. Good tomato soup. But first . . . a little tippy-toe down memory lane . . . let's climb into our time machine, okay?
Ziiiip! We are in the small village of Nelson, Nebraska, a few (cough) decades ago. It's a quiet town, with neat little houses, a garden in every backyard. It's noon. The kids are all in school, eating their sack lunches. Except for one little girl, long blond hair pulled up into a messy ponytail, running home from school. She has a little more than a half an hour to run home, eat her lunch, and run back up the hill to the big limestone block building where she spends the rest of the day.
While most of her friends stay at school to eat lunch, cold lunches that they brought from home, this little girl prefers to go home. She lives just a few blocks away, after all, and a hot lunch is always preferable to a cold one, in her book. She is a girl with Preferences. 😉
The thing is, she doesn't know what she'll find when she gets home. Her mother is a wonderful cook, but she does have younger children to care for at home, and she has a number of creative projects going, too. She might be out in the garden with the younger sibs, or she might be engrossed in a sewing project. Or she might be hanging wallpaper in the dining room of the old house where they live, a monstrous old fixer-upper with plenty of rooms to work on. Or she might even be frying donuts for the drugstore that her husband owns. She could be doing nearly anything, which is partly why the little girl runs home every day. Just to see what Mom is up to.
There's always plenty of food in this house: the little girl is old enough to make a peanut butter and jelly sandwich, or to pull leftovers out of the 'fridge for herself, but it makes her feel so loved to have her mother prepare her lunch for her. And her mom's lunches are always better, of course. Just last week, in fact, she tore some ads out of a magazine, and presented them to her mother: ads showing what a proper lunch should look like: chicken pot pie with a serving of peas. A turkey sandwich with pickles and carrot sticks. Fish sticks served with tater tots! Or her favorite . . . a grilled cheese sandwich with a bowl of Campbell's Tomato Soup. She hopes that her mother took the hint, and was even now preparing her one of those fabulous-looking lunches. And would every day, from now on.
Or at least on most days. Aren't mothers set on earth, after all, to serve their children? 😉
The little girl races up the back steps, and flings open the door. What will she find today, she wonders . . . and . . . happy day! Her mom is in the kitchen today, standing over the stove, stirring soup. She turns and smiles at her. The little girl feels a rush of happiness. Her younger siblings are already at the table, eating their lunches. They have grilled cheese sandwiches with their soup, too! And carrot sticks, too! The little girl beams at her mother, and settles down for her lunch. Life is good.
Yup. Life is good. From your time machine, you wish mightily that you could be in the same cozy little kitchen, eating a hot lunch that this mother made for you. You search the controls, but there are no buttons which will turn back the clock so you can be a 10 year old kid again.
Oh well.
The next best thing? Making your own homemade tomato soup that is even better than the canned stuff that we ate as kids. I don't know what was in Campbell's Tomato Soup when I was a kid, but I'm quite sure that it was better than the canned soup that is made today. Here are the ingredients of Campbell's Tomato Soup:
Ingredients: Tomato Puree (Water, Tomato Paste), Water, High Fructose Corn Syrup, Wheat Flour, Salt, Potassium Chloride, Flavoring, Citric Acid, Lower Sodium Natural Sea Salt, Ascorbic Acid (Vitamin C), Monopotassium Phosphate.
Just so you know. Hmm. Here are the top three ingredients of canned tomato soup: tomato puree, water, and sugar. And not just any sugar, but high fructose corn syrup. Why on earth would you put so much sugar in your soup? Care for some sugar soup, darling? I don't know about you, but I go a long ways to avoid high fructose corn syrup. I read labels. I make my own stuff, which doesn't include high fructose corn syrup. From an excellent blog post on high fructose corn syrup by Dr. Mark Hyman:
"The average American increased their consumption of HFCS (mostly from sugar sweetened drinks and processed food) from zero to over 60 pounds per person per year.

During that time period, obesity rates have more than tripled and diabetes incidence has increased more than seven fold. Not perhaps the only cause, but a fact that cannot be ignored."
*gasp* Diabetes has increased during that time period more than seven fold?? Yikes! So what do you do? You and yours love that creamy tomato soup, and yet you realize that the canned option is no longer a good one. And, at $1.35 for a little can, it's a little pricey for your tastes, anyway.
Well, well. I'm here to help. It's tomato season here in the Midwest. Gardeners are wringing their hands about what to do with all the tomatoes in their lives. There they are, hanging in ripe clusters in all the gardens. The neighbors are showing up with bags of them. It has been an amazing tomato year. Also there are heaps of them at the farmer's markets, and the prices have even gone down because there are just so many of them, and nobody wants them to go to waste.
Here's what you do: you make your own, and can enough for the winter. This is my friend Jamie's recipe that I've been making at summer's end for years. By this time every summer, I've canned enough tomatoes for the winter, and I'm making salsa as fast as I can (the kids keep eating it up, or else I'd have enough by now!) and I've switched over to making tomato soup for the pantry. If you're crazybusy (and we all are, at this time of year!) with other harvesting and preserving matters, this recipe is a Godsend. It is so quick and easy, and also tastes so gooood.
Yesterday morning, for example, the kids and I were doing school, and I sent them to do math lessons, while I hauled 20 pounds of tomatoes into the kitchen. It took me less than a half an hour to clean, core, chunk, and dump them all in my trusty stock pot. By the time the kids came back for me to check their math, the tomatoes were bubbling away happily on the stove, on their way to becoming awesomely-tasty soup, and I had 20 less pounds of tomatoes drawing fruit flies on the back porch. Oiy.
I'm going to do the same thing today, as soon as I get off the 'pooter . . .
By the way. . . if you make this soup, or any other tomato-based products, you really need a heavy-bottomed stock pot like this one:
I hate to think of how many batches of soup and salsa that I scorched and ruined, before my thoughtful and generous dad came walking in the door with one of these stock pots for me. I use it every day, and I don't think I've ever scorched anything in it. And I don't have to stand over it and stir constantly, too. It's a must-have for your kitchen! Or, here's another must-have, as long as we're talking about such things. You'll need this immersible blender, too, if you want to make this soup. And you do, you know. Want to make this soup, that is. This blender is handy for lots of other things, too. It's great to use for sauces and soups, although it always freaks me out a bit to plug it in and then stick it down into the vat of hot soup . . . but I've never gotten zapped, so I'll just keep using it . . . 😉
But back to the soup . . . here's how you make it:

Clean, core and chunk up 20 pounds of ripe tomatoes, and put into your big stock pot. (No need to skin them!)*
Add 4 cups of chopped onions and 6 teaspoons of salt to the tomatoes, and bring to a boil.
Boil gently for 3 to 4 hours, covered, stirring occasionally.
Using your handy-dandy immersible blender, blend until very smooth. This is the fun part. Wheeee!
Put 1/2 tsp citric acid* into hot, sterilized quart jars, and add hot soup, leaving 1/4 inch headspace.
Process in boiling water bath for 25 minutes.
Remove and let cool.
Refrigerate and use within a couple days any jars that fail to seal.
When serving, melt 2 Tbs of butter into each batch, and add a dash of cream, if you like. 🙂
*Note: if you or yours has issues with odd textures in food, or textures in general, you may want to scald and skin the tomatoes. I and mine don't care a whit that there are tiny little bits of tomato skin in the soup, but there may be some that care. If you don't skin them, this soup is very quick to make!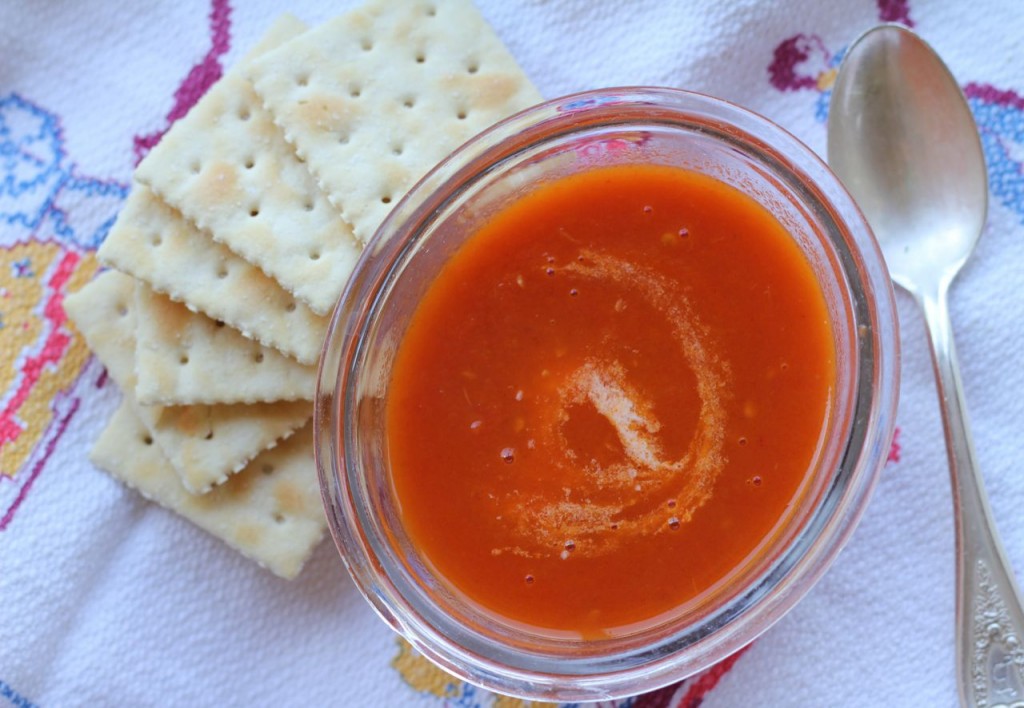 And so delicious! One more thing: if you want to dress this soup up a bit, add tortellini and just cook a little longer, until the pasta is done. This is the way Jamie's family prefers it, and it's the way we like it best, too. Although it's also superb with just a splash of milk and a grind of pepper, and some crisp crackers.
Thanks for coming by today, Gentle Reader, and learning about my tomato soup recipe. If you enjoyed this post and think that maybe your friends would too, would you do me the favor of sharing it? There are buttons just below that you can use. You can tweet, or like, or share, or whatever you like to do, and I'll love you forever.
And you'll make me smile. 🙂 <—see?
*The citric acid is a recent recommendation to maintain acidity for safe canning. You can use 2 Tablespoons of prepared lemon juice (not fresh) per quart, instead, if you like.
Save