This is the time of year that a would-be homesteader-cum-ruggedly-independent-DIYer/gentlewoman-farmer-with-a-bad-knee might begin to feel discouragement. Even despair.
Might even begin to hear voices.
It's perilously easy to feel in over ones' head in the fall, when you have a small farm: for example, the Summer's Big Effort, the garden, is producing more food than one person (even with a couple of ornery helpers) can take care of. The tomatoes occasionally fall to the ground, and as you walk past them (you have an appointment in the city in an hour: you are sprinting–as well as you can sprint, with that dumb hurt knee–out to the garden to turn off the sprinkler, and have no time today to pick) you hear their voices, strangely: Tomato-waster. Slacker. Ne'er-do-well.

You avoid looking at the rest of your garden. You study your shoes as you pass it by. It was such a glory in the spring, so tidy and fruitful and beautiful. Now . . . there's so much in there that you could be putting to good use, but do you have the time? Only if you give up sleep. Or eating. Or writing. Or "Leverage" at 9:00. That's not gonna happen. The weeds are screaming at you, the weeds that you were so good to clean out of the beds until the last few weeks–the weeds have shrill, irritating voices–and they laugh quite a bit, too–and it's not a nice laugh, either–Hehehehee! We've won! Heheeee! You tried, pitifully, but we have assimilated your basil and your celery and your lovely herbs from Gene and all the rest because you are an Incompetent! Slouch! Malingerer! There's a rotten watermelon in here, Amy!! And . . . you look really crummy in those shorts! 
(Those weeds can get mean.)
Then. You sigh as you limp past that big pile of fire wood–still uncut and unsplit–that you prayed for, mind–and it talks to you, too: It's getting late in the year for working on us logs. You're gonna be cold this winter, Sister (my woodpile is a little too familiar in its manner) if you don't get to work! Loafer. Shirker. Scalawag.

"Scalawag?" Where'd that come from? Is my woodpile made up of sailor logs? That sounds like a sailor term to me. Avast, ya Scalawag!
It has been raining, too–uncharacteristically, I might add, for Nebraska in the late summer–and so the grass is still growing. The grass is still green, in September! Such a blessing and yet unheard of! It is lovely and lush, and badly wants cutting. And there is so much of it, besides. The grass, too, speaks rather uncharitably to you: Why can't you do a better job of taking care of your things? A shaggy, unkempt yard is a sign that you don't care about your place . . . what about time management, for Pete's sake? Can't you manage your time better, you . . . you . . . Lazybones! Ingrate!

You stoop down to pull a handful of dandelion leaves for your canary's breakfast, as you do every day. You feel very tired, though it is early morning. The thought flits through your mind that when your mother picks dandelions for her canaries, she has to cross the street to the neighbor's yard to find dandelions! 🙁 Not you. The dandelions speak, in tiny voices, it's true, but you can hear them: Look, Amy, your yard has more weeds than anybody else's yard in the whole entire world! Soon it will be your yard that the entire world comes to, to pick dandelion leaves for their canaries. There–are–so–many! Slouch! 
You have too much to do, and everything on your place is screaming at you. What do you do?
I'll tell you what I do: I count my blessings. Literally, I start saying them, one by one, out loud. Louder, you know, than the voices.
"Bryan." The voices pause.

"Matthew. Andrew. Bethie. Timothy. Saia." They are momentarily stunned. Silent.

I remind myself that God gave me everything that I have, and though I am feeling overwhelmed, it is sure to be a temporary situation. "Rachel. Sonia. Anya. Emmett. Amalia. Little Mack." I take a deep breath. I smile. Something besides anxiety washes over me now. It's . . . joy! Joy is back. The voices of despair don't have a chance now.

We'll catch up on the mowing when it stops raining, after all. And think about how much mulch that will result in. To smother the weeds. 🙂 "Mom and Dad. Mollie. Anne. Matt. Mark. My siblings' families. Good coffee, served with cinnamon and ice cream, and a daughter who loves to make it for me. ;)"
The weeds don't really matter now, since it's going to freeze in a couple of weeks, anyway. "The log splitter. The shed, where we can keep the wood dry. Our country, where we can pursue our dreams and live in peace and freedom. Apples. Peaches. Sunflowers. Chickens. My Apple laptop." I feel better. God has given me so much, because He loves me. He delights in me, of all people. How cool is that?
"The Lord your God is with you, the Mighty Warrior who saves. He will take great delight in you; in his love he will no longer rebuke you, but will rejoice over you with singing." –Zeph. 3:17

"Serving a God who rejoices over ME with singing. My new dishwasher which actually washes the dishes for me while I'm outside. Watermelon. Our place. Our church family. My garden. My blogging friends. My blog! My Gentle Readers, who actually seem to like me, what the heck?

As I walk across the yard, smiling and muttering to myself, little Mack catches sight of me. He has been looking all over for me, I guess. He has a box of matches, a couple of eggs that he collected from the chicken coop, and a cast iron skillet. "THERE you are!" he yells across the yard at me. "Please, Mom," he pants as he runs toward me. "Please, can we make a little fire and cook our supper outside?"
Okay. My heart melts. How can I feel blue about any complaints, with this blessing of all blessings asking such a sweet thing of me?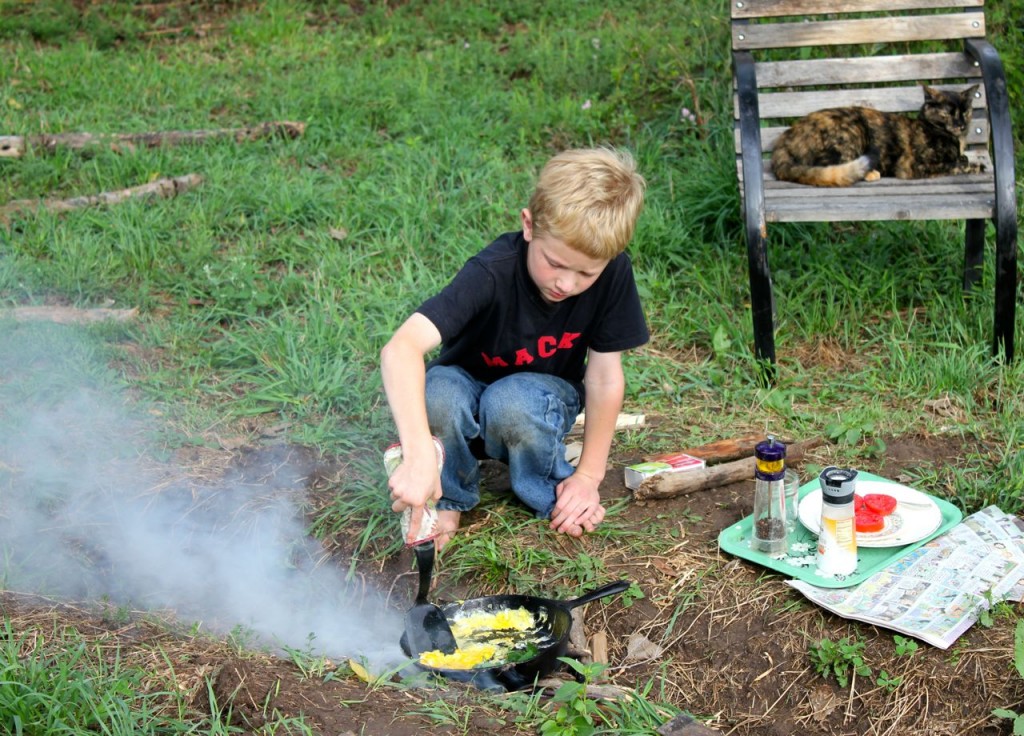 Of course I say yes. It's just Mack and me tonight, and I gather up a few extra things that we'll need, while he makes the fire. He is so happy that I'm letting him do such a big-boy thing. All by himself. I go to my weedy garden and pick a tomato to add to our supper, and some lambsquarters. How handy that they grow everywhere, the lambsquarters. And I'm so lucky to have dandelion greens–right here next to me!–for an impromptu salad.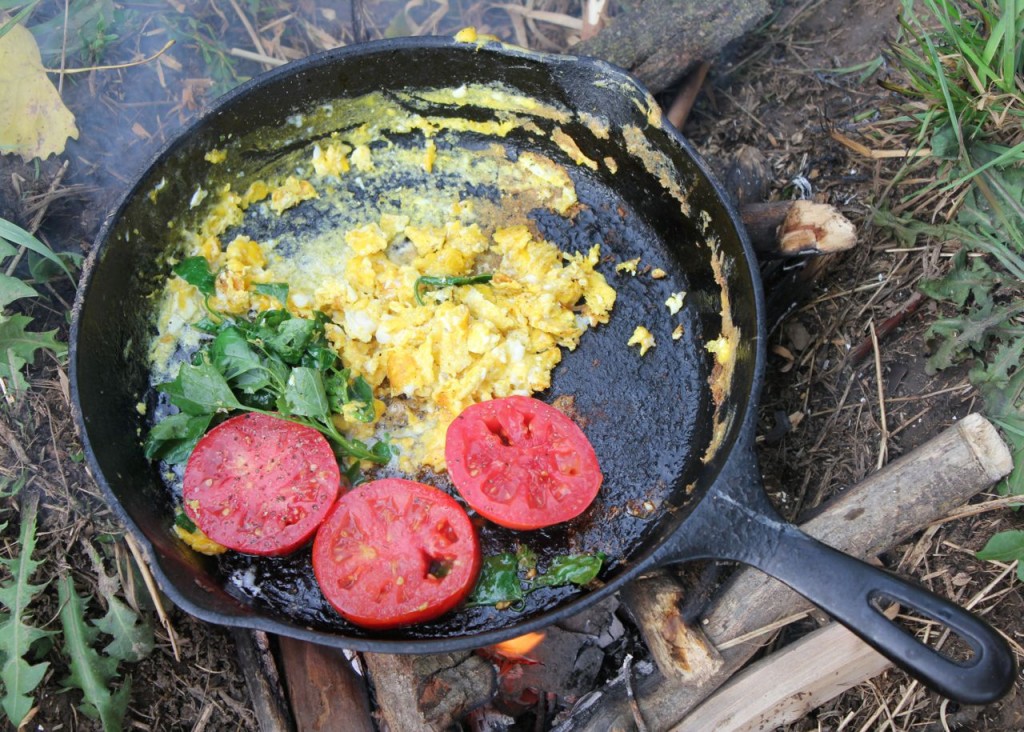 Little Mack has a pretty nice little fire ready for cooking by the time I get back. It takes so little to thrill my little boy. A cat. An ornery dog. A scrambled egg supper, cooked outside over a campfire. His own hatchet to cut the wood, and a little pocketknife to whittle with.
Time with me.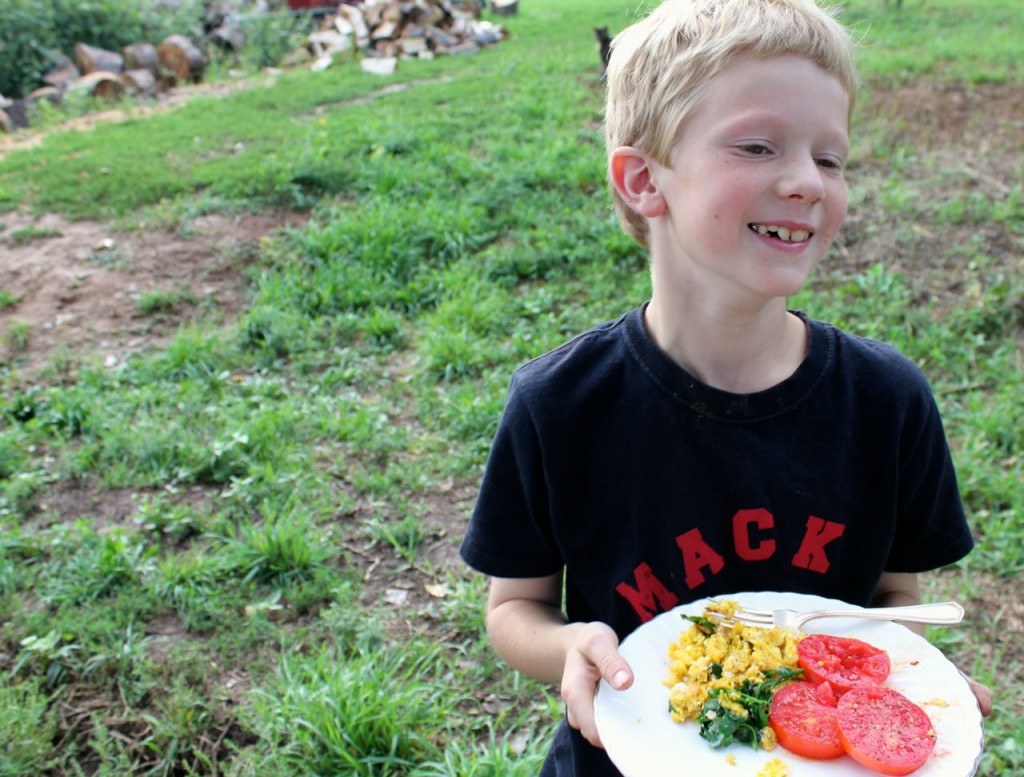 We eat our little dinner, laughing together as we watch the amusing behavior of our kitten, Sammy. Then I glance at my watch (it's in my pocket, because the strap broke, which I kind of prefer, as it's out of sight most of the time) and realize that it's time to run to town for Mack's Taekwondo class. Mack runs to the house, to find his uniform.
I don't have to recite blessings any longer. My cup is full, and I'm okay with that. 🙂
By the way! I'm sharing this post with the great folks over at The Prairie Homestead Barn Hop. C'mon on over!