Raise your Buttermilk Bar, Baby: Make your own Cultured Buttermilk!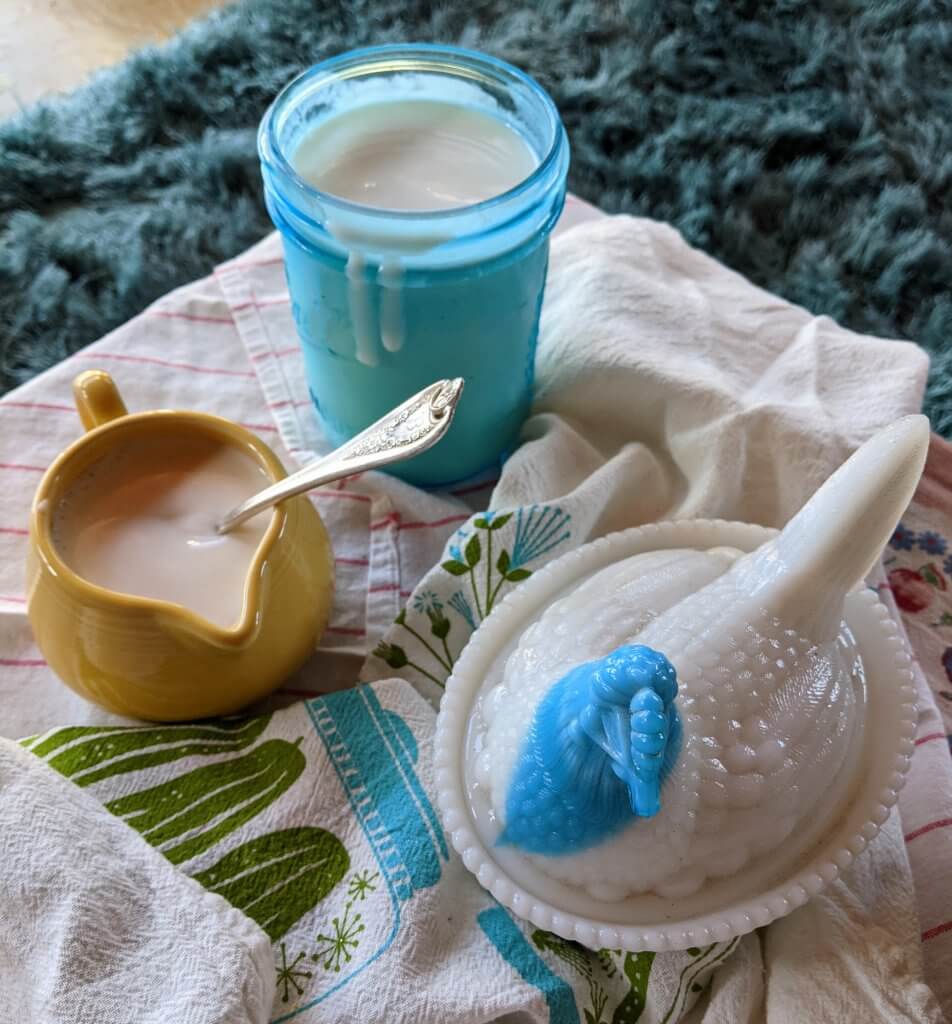 This post may contain affiliate links, which may contribute a few pennies to the running of this blog. Thank you for clicking on them, and for being such a swell gentle reader.
If you knew that starting your own cultured buttermilk was just as easy as falling off a log, and that once you started it you'd have a lifetime supply of yummy buttermilk, with very little time and/or effort on your behalf, what would you say?
While you're thinking . . . a note: this is not the buttermilk substitute that I've made for years with milk + lemon juice. This is the real actual deal and using it in baked goods, pancakes and the like results in fluffiness that will cause you to say (see below*) . . .
I'll tell you what I said, when our son Timothy handed me a small jar with a buttermilk starter in it, and shared how easy it was to take it home and make my own cultured buttermilk (and I quote):
"*WOW."
. . . And once you had your own homemade cultured buttermilk in hand, what would you say when you found out that using it to make your favorite buttermilk recipes (pancakes, dip, biscuits, dressings, and whatnot) made the recipes taste 1000% better . . . ?
I'll tell you what I said, when I found this out for myself:
"Homemade cultured buttermilk, where have you been* all my life??

"
(*And I pronounced BEEN as BEAN, to sound more cultured, myself.) (Cultured is as cultured does.)
I'm beginning to realize that the crowd I run with is the best bunch of folks I could ask for to slog through the End Times.
(I asked a friend at a weekly coffee meet-up: "Tell me, do you think we're in the End Times?" "Oh Amy," he said, shaking his head at my naiveté: "We've been in the End Times for a long time now.")
And if we really are in the End Times, you want to hang out with folks who can do things. Who know how to make things, fix junk, and grow stuff.
For example: A couple of weeks ago, Timothy shared a buttermilk starter with me. After I swallowed (no pun intended) the WOWness of how easy it was to make my own cultured buttermilk, I turned around and shared the selfsame buttermilk starter with my Mom (who dotes on buttermilk) and my adopted sister Anne; the same week our daughter Amalia shared her kombucha starter with me and I shared my sourdough starter with Anne. Which I got originally from my son Timothy.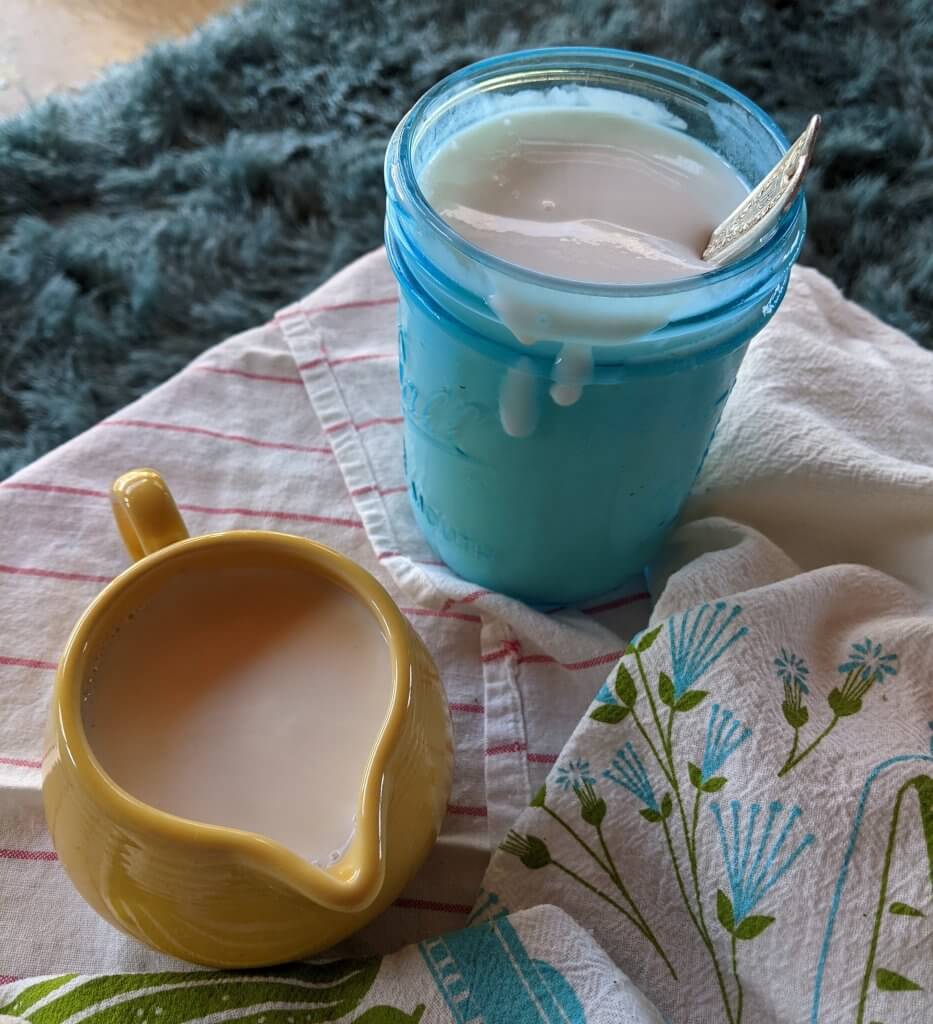 It's the Circle of Life. Of sustenance. And Goodness. It's every End Times dream circle of folks, I reckon. It won't be long before we're passing garden comestibles, too. Dad will share his wildly-productive squashes with me ("Mom and I won't eat them all,"); I'll hand over excess slicing tomatoes to him. My biz partner and farmer friend Gene will share extry kale and mizuna plugs with me. I'll share eggs and bread with him. My farmer friend Emely will trade me her scrumptious lardo and honey for starter plants. And on and on. It's a happifying, blessed thing to have a circle like this.
We don't all have to make and do and grow everything. As long as the folks we hang out with have different specialties than ours, and are willing to trade, teach, mentor, and share, we'll make it through the End Times. It's a pretty cool set-up, don't you agree?
But let's not wander too far afield from the cultured buttermilk, lest I lose the point entirely (it has been known to happen).
How to make your own cultured buttermilk
Boom, baby. We're back on topic. Just like that.
Simply put: Cultured buttermilk can be made by fermenting milk with a buttermilk culture. Cultured buttermilk is a sweet and probiotic drink. It is also a delicious substitute for yogurt, or you can use it in baking to provide a tangy lift to pancakes, biscuits, coffeecake, breads, etc. And–all those cultures are loaded with probiotics and therefore good for your gut.
And your gut probably needs this goodness, no offense. We live in a fallen world, nutritionally speaking. Our guts–collectively–are not in the best of shape.
So what are we waiting for? Here's how to make your first batch of cultured buttermilk.
Ingredients
1/2 cup of cultured buttermilk from a friend or your store (if you can't find a start, you can also order this to use, and if you do, follow the instructions on the package)
2 cups milk (You can use whole or skim, but whole milk makes a creamier buttermilk.) (Personally, I opted for the creamier option.)
Directions
Mix the culture with the milk in a clean glass jar, and cover with a clean towel.
Let sit on the counter for 8 to 12 hours. (Buttermilk cultures best in 72F temperature.) Note: if you have other ferments or cultures sitting out, keep your buttermilk culture at least 6′ away.
Taste your buttermilk, and when it's tangy enough for you, refrigerate. The longer it sits out, the more sour it will get, and the more it will thicken, fyi.
Your jar of buttermilk will last at least two weeks in the 'fridge, but I'll bet you'll find lots of reasons to use it before then! When you are ready to use it, be sure to start another jar. (I also froze a small amount, to be sure that I don't accidentally run out of starter.)
But Wait . . there's more!
This cultured buttermilk-making is a new thing for me! (Thanks, Timmy.) I've so far made the best biscuits I've ever tasted, and the nicest, fluffiest pancakes, too. But I'm learning as I go, and as I learn more, I'll share it . . . right here.
So please drop your email address into the dandy little box under my face, above. I'll make sure you get every single update. No charge.
Take care, my lovely gentle reader. Stay in touch by saying HEY in the comments below.
I love ya, I mean it!
Amy