How to prune basil for the longest, most abundant harvest: truly a game changer!
Sometimes I think about my life before abundant basil (or BAB) . . . Truly it was a sad, colorless time for me.
Just a few years ago, for example, I still tried to plant basil in my garden by sowing seeds in the garden in May. *blank stare of incomprehension* If I was lucky–very lucky, gentle reader–three or four plants might germinate, despite my haphazard methods. But I wasn't even aware of my basil-growing ineptitude at that point. I figured it was difficult for everybody to grow more than just a plant or two at a time.
I would pinch the leaves of the rare few plants that I managed to grow, breathing in the sweet scent of this gorgeous herb, and do a happy basil dance. Little did I know that I was the victim of basil-growing ignorance and also had low (very low) expectations. After all . . . I love basil! It smells so wonderful. It's great on pizza, in sauces and, of course, is essential to pesto-making, which (of course) is essential to summertime joy. And fall satisfaction. And wintertime coziness. And so forth.
Pesto on pasta. Pesto in soups. Pesto on homemade bread, or crackers when the bread is all gone. Pesto for the freezer for winter pesto-noshing. Yes to pesto. All the time. Yes, yes, yes.
(And, actually–now that I think of it–you can make pesto with all types of green leaves–I've made it with nettles and kale, for example, but I doubt I'm the only person on the earth who believes that pesto made with basil is the best-o.)
But back to the garden story I was telling. 🙂 . . . Everything would be just hunky dory, in my basil-fueled happiness, until one day when I'd be strolling past the (admittedly teensy) basil patch, and I'd stop in my tracks. Horrified. My basil had sent up flowers! Yikes! I had read that basil didn't taste good after it had gone to seed, and so you should keep it from flowering if at all possible, by cutting back the plant before it flowered. (How to anticipate that magic day of flowering was never explained to me, alas.) Lost! All was lost. Apparently.
Extremely disappointed in my slacker self in the basil-growing department, I'd trudge back to the house, knowing that I had blown it again. Because, according to what I'd read, the basil was no longer worth eating. Drat! No more lovely basil-laced meals. NO MORE PESTO. My basil plants, it was clear, were toast. Why could I not grow basil properly?? Why was it so difficult for me?
Fast forward a few years, to the current season. Since those unenlightened years, I've learned a lot (through doing, doing some more, reading some good gardening books, and hanging out with my mentor Gene).  Today I have easily a hundred beautiful basil plants growing in my garden. Probably more. 🙂 My primary garden (where I planted basil last year, and the year before) even had volunteer basil plants of several varieties pop up: testament to my shoddy fall garden clean-up, or simple good fortune to my basil-loving nature? (You decide.) I grow several varieties every year now. This year I have lemon, anise, Blue Spice, Genovese Red Freddy, Thai, and lime. I harvest a lot of basil for my chef customers in the city, but I also harvest quite a lot for my own use.
Happy basil dances all the day long, gentle reader. And sometimes into the night.
There are a couple of simple tips I've learned that spell out the difference between basil-growing success and ignominious basil-growing failure. Actually, three.
The first is very simple: I sow the basil seeds during the wintertime (I think this year I started in January) in flats like these (they come in lots of sizes) in the house, under fluorescent lights, in an embarrassingly tacky corner of our basement. This works so much better than scattering them willy-nilly in a garden row come May. By planting-out time (mid-May here, usually) I have hundreds of sturdy little basil plants, which stand a much better chance of surviving the vagaries of our eccentric Nebraska spring weather than vulnerable germinating (or not-germinating) seeds.
The second is: I don't refrigerate my basil after it is harvested. Basil doesn't like cold. Many refrigerators are simply too cold for basil and the leaves will turn black, or at least get black around the edges. I harvest my basil straight into a plastic bag (clipping off any leaves with bug damage and the bigger stems) and then give it a spritz of fresh water. It stays on my counter top, and will stay fresh this way, at room temperature, for a week or two. Incredible, but it's true!
The third tip is the real game changer, if you grow basil and want to have as much of it as possible through the growing season. It's so simple, though few people seem to know this: you have to harvest and prune it correctly. I didn't have a clue myself that I was harvesting my basil incorrectly until my mentor Gene took the time to demonstrate the correct way to do it. He's kind of an smart-alecky herb guy, so I followed him blindly in this matter, of course. 🙂
I've been pruning and harvesting my basil this way every since, and my basil patch is lush, beautiful, and ridiculously abundant. Embarrassingly beautiful, if I do say so myself. 🙂 I do have a lot of plants, but even if I had just a few, I'd have a bountiful supply because the more you prune a basil plant, the bigger and bushier it gets! It's supply and demand, baby.
Here's how. Once your basil plant gets to be 6″ tall or taller, take your nippers (these are my favorite) and cut the middle stem that comes up between two sets of leaves. It's quite satisfying, trust me. I cut out a nice big piece of one of my basil plants to demonstrate this. Below is the segment before being pruned. Just pretend that this plant is still in the ground. Are you with me?
You see that there are three main stems coming up from the main trunk of the plant? I'm going to cut the middle stem out. The two side stems will continue to grow, and will make the plant bushier and more beautiful. Trust me on this.
The plant that is left behind has two major stems now. The stem that I cut out I will continue to harvest for my own use.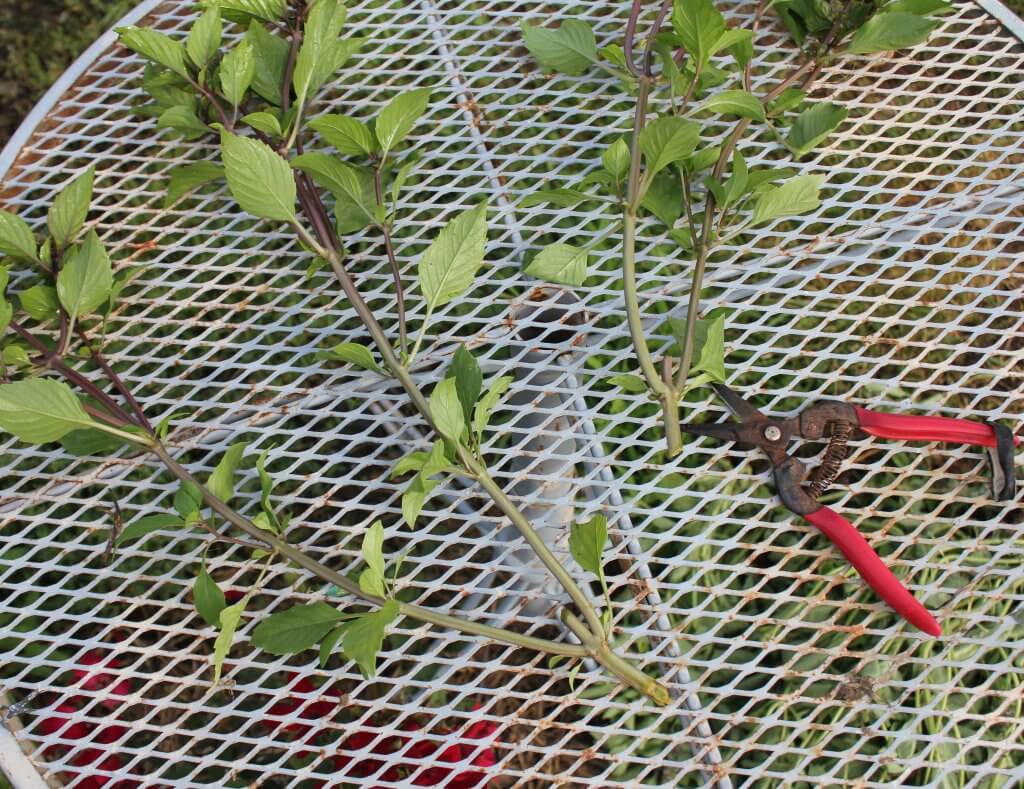 The two stems left will grow up nice and bushy, and then you can prune them back the same way. . . and so on, and on, and on . . . the more you harvest and prune, the bigger and bushier your plants will become. And basil plants grow very quickly, so you'll never be without basil again.
Well . . .until the first frost. Basil is usually about the first thing to succumb to frost in the fall. As I mentioned earlier, basil doesn't like cold.
I do clip off the flower spikes as the plants send them up. It stands to reason that if the plant is flowering, it will decide that its job is done, and we want to keep it believing that there is still good reason to live, right? And live abundantly!
Lazy pro tip: If I find myself with a squajillion basil plants covered with flower spikes and only 5 minutes, say, before my soap opera begins (harhar), I take my hedge shears  and do a quick haircut. Or, hmm, herbcut. It takes me about 2 minutes to do, instead of 200 (which is how long it would take me to cut each one individually, even if I'm doing it with my favorite pair of nippers).
So that's it! Three quick, simple tips on how to better care for your basil patch so you never, ever run out of basil again. At least until the weather turns cold, and by that time hopefully you've squirreled away enough pesto for the winter.
Here, by the way, is my go-to pesto recipe. I don't usually use pine nuts (being a tightwad) but I like it with walnuts or cashews, very lightly toasted. And I feel cute if I freeze it in the tiniest little jam jars (like these) though you, of course, might be of a more practical bent and freeze it in zippered freezer bags or in ice cube trays (then popped into freezer bags).
Ingredients:
2 cups fresh basil leaves, packed (can sub half the basil leaves with baby spinach)
1/2 cup freshly grated Romano or Parmesan-Reggiano cheese (about 2 ounces)
1/2 cup extra virgin olive oil.
1/3 cup pine nuts (can sub chopped walnuts)
3 garlic cloves, minced (about 3 teaspoons)
And how you make it: Roughly chop basil leaves and nuts. Chop together in blender or food processor basil, cheese, nuts and garlic. Slowly pour in the olive oil and blend until it's the consistency you deem perfect.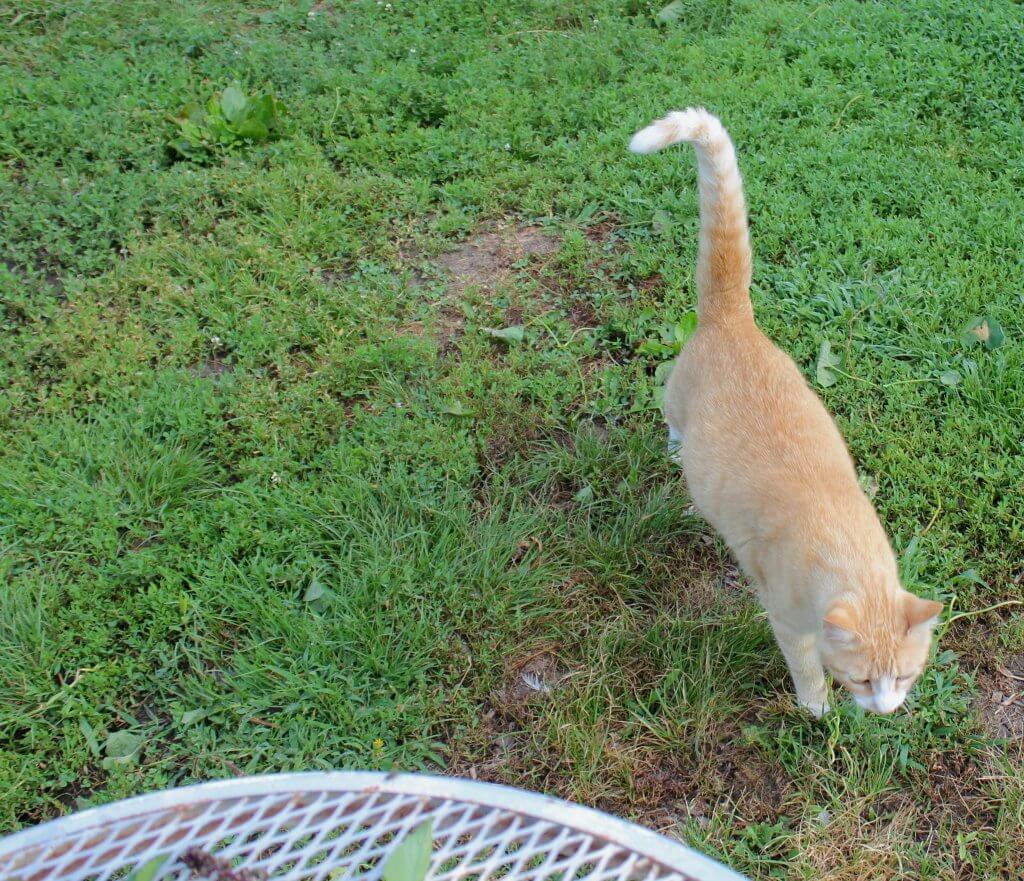 There ya go, gentle reader. If you learned something new and/or helpful today in this post, could I ask you a favor? Make a comment below, or share with your friends, or even better, do both. Or! Send me some cash! I like that idea very much. I might actually buy a second pair of nippers. I seem to have misplaced my favorite pair . . .
*hugs*