The Best Way to Preserve Ginger Root, & Celebrations!
This is a good week to have a conversation about ginger root, isn't it?

After an intensely-satisfying week on my part (I spent the better part of Thanksgiving week surrounded by ALL my children and grandchildren, eating glorious meals, nuzzling the backs of my grandies' necks, drawing with my artsy granddaughter, drinking way too much fine coffee*–anybody who has drunk a really delicious Barcelona made by our son Timothy knows this bliss–) I was welcomed home by a nice coating of ice and snow and some rascally Icelandic roosters who've decided that our safe, secure and nicely-insulted chicken coop is not their type of scene, thankyouverymuch) and armed with an intense desire to clean up my home and our diet, not to mention contemplating the best way to preserve ginger root!
That's a tall order, really! Speaking of tall orders, check out this picture I took of my darlings this last week:
Amalia's headaches haven't gone away, and we're taking a radical step, diet-wise, this week, to address them, hopefully. (I'll share more about this later, if/when! we have any success at all.) Ginger root is a key player here!

With a clean-up diet in the works, I'm more happy than usual that I've got such a wealth of homegrown goodies to eat through the winter, including some really nice ginger I grew in my hoop house this summer. Basically, I trust what I've grown. I know that it hasn't been sprayed by something questionable, or had something not good added to it in its production. I don't have to squint at the label, you know, deciphering this and that. I know it's good stuff.
Having your own garden and growing your own food, and seeking out others who will sell or trade their excess with you, is worth the trouble, ya'all.
That said. I'm still not sure if it's worth my time to grow my own ginger–this year my ginger crop took up a valuable corner of my hoop house, for a good long time. The tropical leaves grew so slowly and–though it's true that every time I glanced over at that corner, it gave me pleasure–I wondered if it was a good use of that high-value space. (Truth is, when I found out how quick and easy it is to sock it away in the freezer, I kind of wished I would have grown a bit more!)
Check it out, yours truly trying to think like a businesswoman instead of a besotted artist and fond eater-of-ginger. 🙂 Strange, eh? I don't recognize myself! Somebody help me. (Well, truth is, when I found out how quick and easy it is to sock it away in the freezer, I kind of wished I would have grown a bit more!)
So the jury is out on that one. But I know this much: I love ginger root so much. Here are instructions on how I grow it, and I really like to candy it like this, although (frankly) I can nearly make myself sick eating it because I love it so much. Where candied ginger is concerned, I have zero self-control.
Candied ginger is wonderful eaten out of hand, but also is pretty terrific chopped up in ginger cream scones (would you like my recipe for that?) and ginger bread (natch) and ginger cookies (see how fun this is?) and other gingery things. Muffins! Oh! I almost forgot this: Zucchini bread with ginger! Ginger soda is also very, very nice to make from the syrup that results from the candied ginger. Oh, and ginger kombucha is . . . is . . . well, in my humble opinion, The World's Finest Beverage.
Maybe I should write about making kombucha someday. What do you think?
We chop up fresh ginger root in our veggie stir-fries, and add it to many recipes. It is so nutritious. I even chop it up in the jar of drinking water that I carry around with me all day long. So the fact that it is so easy to preserve that an infant could do it, is good news, to be sure!
As lovely as it is to have a nice quantity of fresh ginger root, I have to note that it is an extremely slow-growing crop. I start it around Christmas time, as a matter of fact, in a bin full of damp peat moss which I place next to the wood stove. It doesn't show a sign of sprouting for several weeks, and then the tiniest bump on a root or two gives me hope. I keep it just damp, and warm, and fuss over it like a mother hen. (True fact: there are days, when we will be gone from the house all day, and I start a fire in the wood stove solely for the comfort of the ginger root and the canary).
Shoot. It's the dead of winter in Nebraska. There's nothing else to do (kidding).
By early spring, there are a few bonafide spears poking up out of my ginger bin, and then by the time I can plant it out, the roots are growing crazy with life–that is, slow, persistent, easy, non-risk-taking, growth.
Is it strange that I feel a kinship with this cautious, slow-growing root?
Okay, maybe it is worth it to grow my own ginger root, since I've established that we are, after all, kin. I dug my crop a few weeks ago and hadn't done anything with it yet, because I actually have more than I can use up right away. Happily so! In a humorous comedy-of-communicatory-errors e-mail conversation with a gardening friend, I found out the best and easiest way to preserve it. The email conversation went like this:
me: "Say, how do you preserve your extra garlic (meaning ginger)? Do you freeze it?"
my friend Jamie: "We keep it in mesh bags in the basement where it's a bit cooler then the house. Don't refrigerate. If you've got way more then you think you can use, you can freeze it. I rarely get around to it as it's pretty tedious work. We just try to use up any hard neck varieties first and keep the soft necks for later as they seem to store longer."
me: (puzzled) Hard neck varieties? Soft necks? "Oh, did I say garlic? I'm sorry, I really meant fresh GINGER . . . not garlic." *slapping forehead* (literally)


my friend Jamie:
"
Well that's another story! Yes, freeze."
me:
"

O

ne more thing: Do you just wash it and freeze it? Or do you slice it and/or peel it so it's ready to use?"
my friend Jamie:
"
You don't really have to peel fresh garlic. Just wash well and cut or scrub off any loose little pieces. I guess it depends on how you will use it but I usually freeze mine whole and when I want to use it I just take a piece out, grate off what I want and put it back in the freezer."
me: "You mean ginger, right?"
my friend Jamie:
"
Gaaaaah!"
*slapping forehead* 😉
So we came full circle on the garlic-ginger-garlic conversation. I think both of us probably needed a cup of coffee at that point. Or, more probably, a good long nap-of-the-dead (you know, when you wake up with your face smashed into the pillow and you can't move for several minutes, you've been so deeply out). Anyway. After a fashion, I found out what to do with my surplus garlic–er, GINGER–and I thought I really oughta pass along this new-found knowledge to you, my dearest Gentle Reader.
After all, for all I know you also grew a bit of ginger root this year, yourself! So . . . did you?
Here are some simple pointers to preserving your extra fresh ginger root:
Fresh ginger root will last at least 3 weeks in the 'fridge, so if you aren't going to use it before that time elapses, you should probably freeze it.
If you've just dug your ginger root, give it a good scrub, trim off any little suspicious bits, put it out to dry, wrap securely in plastic wrap and put into a freezer bag.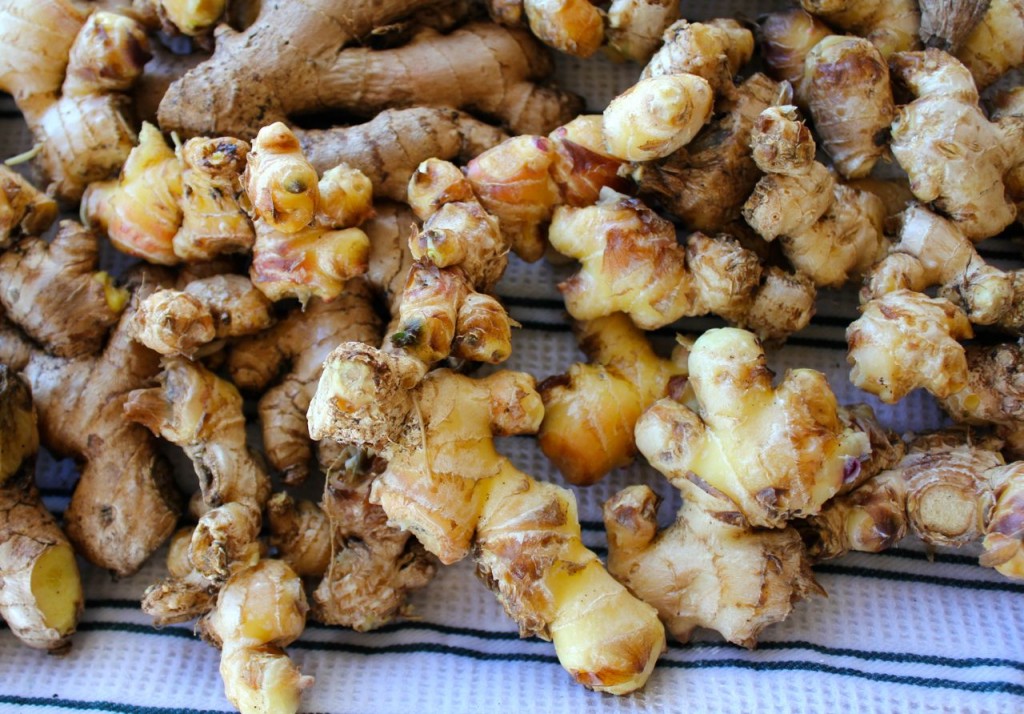 There are other ways you can preserve your ginger, too, but I find all of them rawther tedious (yawn) and I have other things to do with my time, darling, especially this week, like packing for a trip to go see my adorable grandies . . . I've got just enough time to scrub, let dry, and sock these babies into the freezer before the to-do list asserts itself quite loudly!
(I'm not a big fan of tedious activities like peeling fresh garlic–I mean, ginger!!!—and slicing it into medallions, for an example, which is what one website recommended.)
Welp! I've gotta go! Have a great week, you, as you recover from Thanksgiving excess (well. That's what is happening at our house!) and as you turn your energies toward your Christmas season.
My hopes for you include peace and loveliness, and as much family time as you can stand, hopefully where you can stare your loved ones in the face and not be thwarted by anything that would keep you from telling stories, connecting with the generations, playing games, making some music, eating good food, drinking great fortifying mugs of tea or coffee, and perhaps preparing and eating something gingery?
It's good to be back. I missed you guys.
*hugs*