Lent: 38 days left of de-cluttering challenge, and wrestling
This weekend we're going to the NAIA National Wrestling Championship in Topeka, Kansas. Little Mack is so excited about going to Kansas. He's been reading the Atlas, and he drops little hints about our exciting excursion every chance he gets.
At his Taekwondo class today: "It's good that I know how to stretch so well, because it'll come in handy when we're in Kansas . . . " During school today: "It's going to be interesting to see all that wheat, because Kansas is the leading wheat grower in the nation . . . " I reminded him that it is wintertime, and that the wheat fields would be bare. "Well, it's going to be interesting to see those wheat fields in Kansas," he reminded me. Accurately.
It's a pretty cool thing: Bethany's boyfriend Saia is wrestling for the national title in the heavyweight division of college wrestling. I hope that I'm saying that correctly, because (as you might suspect) I'm not much of a sports type. I'm very excited about it, not only because we haven't been on a road trip for quite a while (not even to Kansas), but also because it's fun to watch Saia wrestle, and spending time with my good husband and winsome kids on the road is nearly always (nearly always) (cough) a good time.
But I did my 20-minute challenge today, Gentle Reader, just the same, and Amalia joined in, too. She tore into her closet (please Mom do I have to do Math? I'm really gaining momentum here on my closet . . . !) and see what she weeded out in only 20 minutes:
These hand-me-downs will go straight to our church's Clothing Closet, where they will be given to people who need them more than we do. Well, all except for a couple of things I pulled out (cough). Amalia was proud of me for leaving most of the purged items alone.
Now I'm making this quick, because I've got to get to packing for our overnight stay in Topeka–yes, that's right–we're going (ahem) to Kansas! But here's my challenge to you for tomorrow: clean out the medicine chest (or something) in your bathroom. If you don't have a medicine chest, no sweat, there's probably something with expired medicines and other outdated stuff that you can do a 20-minute purge of, isn't there? A basket–a shelf–a drawer? Got it?
This is the first thing I see every morning (I have a prescription that I keep in here, that I'm supposed to take on a morning empty stomach) and I think (to be frank) that it's a shame that this is the first thing I look at. Don't you? It's not pretty.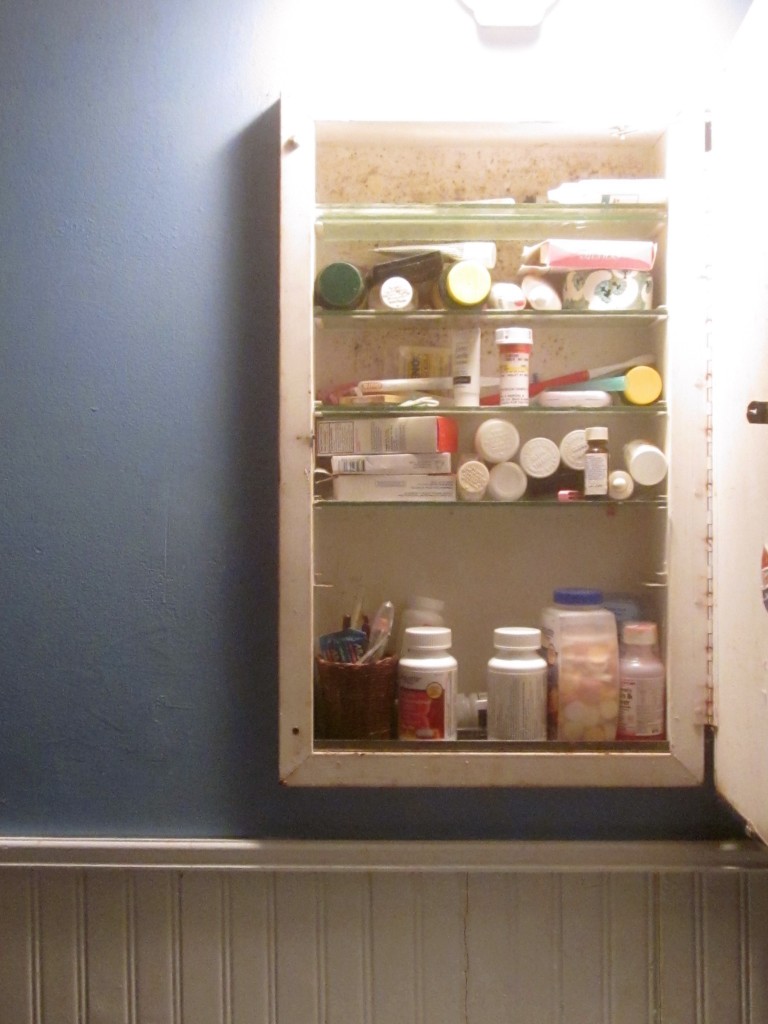 Expired medicines, mildew (gak), half-empty bottles and all . . . I am going to take 20 minutes today and make it something that I actually look forward to opening every morning. I might actually add a bit of art or a flower, or something that will make me smile in the early morning gloom.
Oh! I almost forgot. Here's the desk I said I'd clean off, yesterday:
Here it is after 20 minutes of clearing and tossing:
Behold: the power of 20 minutes. Sigh.
Onward. Upward! Here we go . . . !
And hey, if you wanna, join me over at the linking-up party at The Prairie Homestead. It's fun! It's encouraging! It's here!