You may wonder about the point of this post–as I am at this point, a little–but hang on, we'll get there. I'm wending my way. Slowly but surely.
My friend Sherri is forever posting pictures (she's quite a traveler, and an excellent photographer, besides) of lighthouses. I wish she just lived down the road, and after her globe-trotting travels (France, the Philippines, Connecticut, Kansas) she and I could meet on the road and we'd walk together (sheesh, I'm thinking I haven't been on enough walks lately?) she could pull out her photos and I could ooh and aah over them) she posts these stunning photos. Many of them are of lighthouses. She knows I'm sea-entranced, and full of lighthouse-wistfulness, so I would accuse her of doing it just to goad me, but for the fact that she sent me a chicken purse, and little Mack a coin purse made out of a toad. Who would do such things, except for a true friend?? And a true friend certainly wouldn't goad . . . right? Of course right.
Lighthouses are so picturesque, and Sherri's lighthouse pictures cause me always to catch my breath, and then feel quite wistful at my lighthouse-deficient life. I can't take pictures like Sherri's, because I live in Nebraska. Such is my lot, and it's a sad one that I am so fond of lighthouses and can only admire them in other peoples' photos. Don't you agree?
That is, I haven't taken lighthouse pictures . . . until . . . now.
We had the privilege of gazing at, and photographing, three stunning lighthouses during our trip. Three. When I expected none. What a windfall! Would you like to see the pictures? Oh well, o–kaaay. I'll share them with you. 🙂 Since you insist.
Here's the first lighthouse, one we stumbled onto when we made a quick stop (on our way back from Niagara Falls) to see Lake Erie. It was cold and windy and the sun was setting fast. Amalia and Sonia walked out on the long pier to take photos, and I tagged along, like the third wheel that I often am (sigh).  It was a delight to be there with them, gasping with delight, at the moment when the sun dropped beneath the clouds and turned everything pink.
Here's a quick photography lesson for you, from me, a rank amateur photog, to show you how all-important the light is in photos. The next sequence of photos were all taken within a few minutes of each other, but look how difference they are from each other:
Photo One: the lighthouse before the sun dipped beneath the clouds. Lovely, eh, but a bit in the shadow. But the pink in the clouds is a hint of what's coming.
Here's the same lighthouse a few minutes later, after the sun dropped just a bit: now it's bathed in a rosy light. What do you think?
As we stood there admiring it, along came this little tugboat, which tried hard to upstage the lighthouse. More interest in the picture! *snap* Gosh, I'm glad we didn't run out of film. 😉 And–bonus!–it caught some of that gorgeous light, too.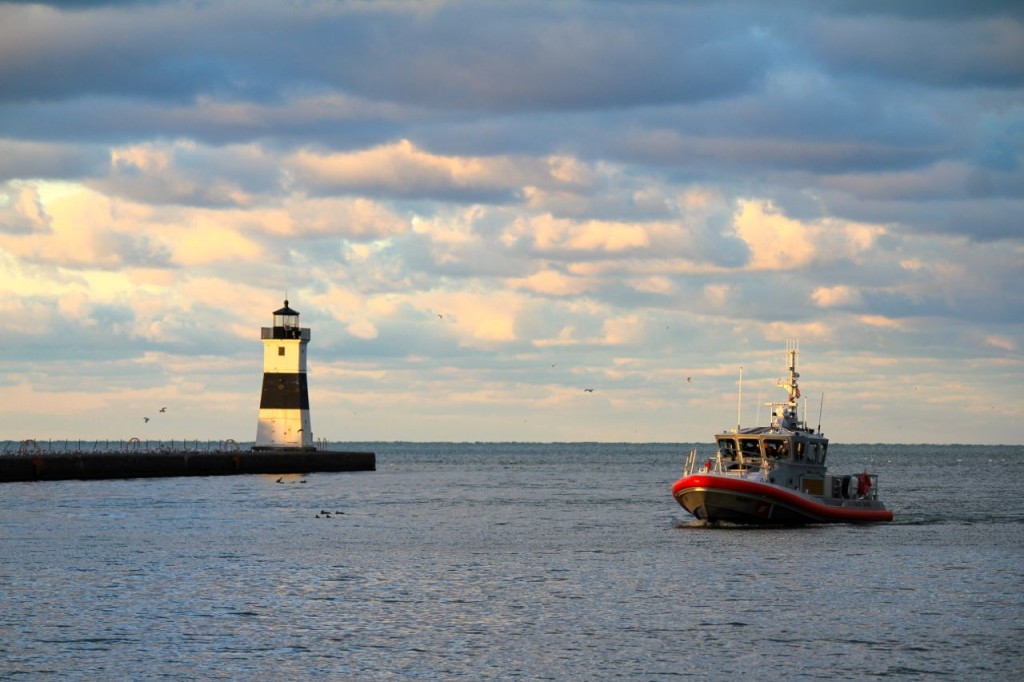 And then–a reward for our patience–the scores of seagulls that were hanging out on the pier with us decided to go check out what was going on out there at that boat . . .
Sonia, Amalia and I (like the Nebraskans that we are) were snapping photos like crazy, when all of a sudden, Amalia's battery ran out of juice. So then she and I shared one battery, between our two cameras (don't ask). So I lost track of who took which picture, but since Amalia is already a better photographer than I am, she probably took the better pictures shown here. 🙂