Island-dwellers for just one day: Road Trip Part 3
I blame the fact that I've always wanted to live on an island on discovering the excellent books by Robert McClosky when I was a little girl. These sweetly-illustrated books about a family that lives on an island–taking boat rides to get ice cream, digging for clams, and picking wild blueberries–are so delightful that I've dreamed about living on an island ever since I was a little girl.
And who says that the books you choose to read as a child (or that you read books at all!) isn't important?
Of course I could also blame this inexplicable desire on the fact that I've lived most of my life in Nebraska, my beloved land-locked state. I am entranced by water, and delighted by the ocean, and would love someday to live near more water than our little muddy farm pond.
So spending a day on an island in Lake Erie sounded like an awesome idea to me. Since it was my idea. 🙂 Lake Erie has many of the charms of the ocean–sea gulls, endless expanses of beautiful water, sandy (and rocky, and stoney, and cliff-lined) beaches, sail boats and tug boats and so forth, to watch and admire and photograph–and none of the hazards. At least I didn't notice any sharks, jellyfish, stingrays or electric eels, to name just a few.
Lake Erie is the twelfth-largest fresh water lake in the world, and the most shallow one. It is also absolutely beautiful. I'm quite jealous now of the folks who live in that area and who can look at it as much as they want to. I spent quite a bit of time gazing out across it, and I forgot at times that it wasn't the ocean, because (but for jumping dolphins and huge ocean liners in the distance) it really does look like the ocean to this landlubber.
We chose the little island of South Bass to visit, since it was so close to the mainland, and has lots of traffic to and fro. We took a ferry to the island, and rented a golf cart for tooling around for the day. There were plenty of what my dad would call "tourist traps," available to explore (which we doggedly avoided), although most of them were closed for the season. The island is very small, though, and we were able to see most of it, from coast to coast, in the day that we were there.
Here are a few of the highlights: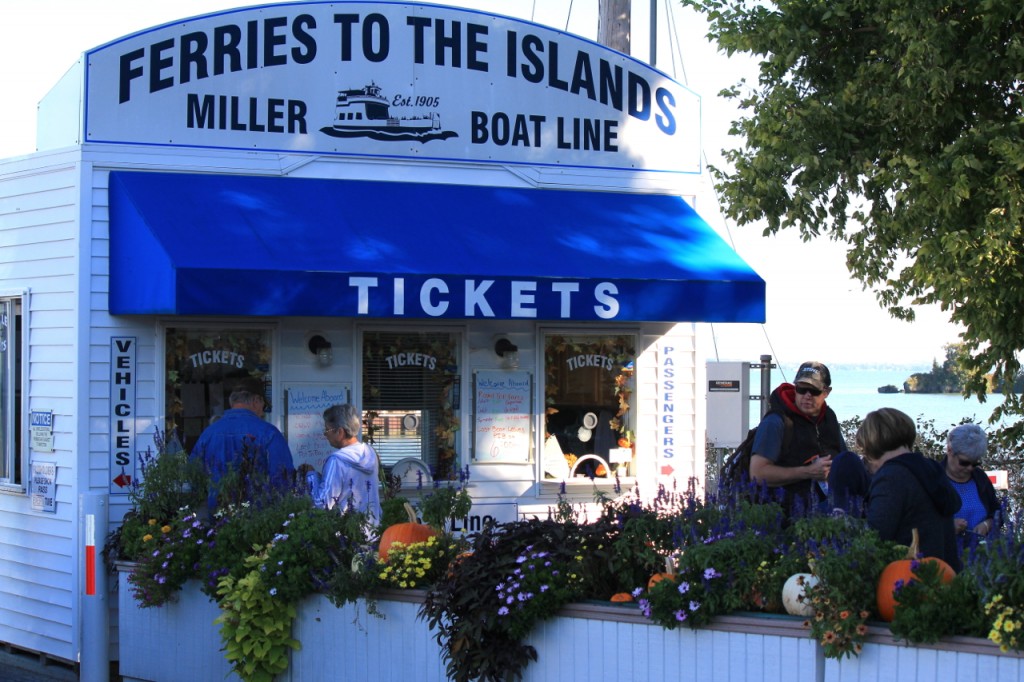 The ferry was operated by Miller Boat Line 🙂 and it was about a 20 minute trip to the island. The seagulls were fun to watch, as they followed us across. They are opportunists, and as anybody who has ever spent any time at all on the coast will tell you, and if you throw out one bread crumb you'll have an instant following of dozens of seagulls. They seem to be the beggars of the sea bird world. They are also not opposed to having their pictures taken, and we took quite a few. Pictures, that is. Not seagulls.
Both Amalia and little Mack were bummed indeed that the stern instructions clearly stated on our little golf cart included this one: "No drivers under 21."
Zipping around in our little golf cart on the neatly-manicured little roads, admiring the picturesque homes that we passed, including some that were quite grand indeed, in a dizzy fit of island-living longing, I exclaimed "I want to live here!" Amalia agreed, quite enthusiastically, and we started planning how we were going to make this so. By the time we stopped at the Perry monument (more on this later)–which was our first planned stop–we had it all planned out. We would buy a home there on the island and spend summers there, inviting all the grown-up kids (and grandkids!) to visit whenever they liked, and for however long they liked, every summer. We'd have a garden, natch', but not one big enough to take all of our time to maintain it. We'd own our own golf cart, and of course have plenty of bicycles, with baskets on the front.
Baskets on our bicycles would carry baguettes and bottles of wine from the village. And bouquets of flowers.
We'd wear big floppy hats with satiny ribbons on the back, which would flow in the breeze as we peddled along. We wouldn't wear watches at all. We'd weave flowers in our hair. We wouldn't own an alarm clock. We'd keep our screen time to a minimum. Who would want to stare at a screen, with such winsome island sights to take in?? We'd spend most of every day outside, hiking, basking, singing, gathering wild flowers, catching fish for our supper, and sketching the seagulls in their proud and amusing poses.
All of our Midwestern friends and relations would come visit, and applaud our island choices.
"I could live someplace where the primary mode of transportation is a golf cart," Bryan noted, matter-of-factly. I (wisely) took that as being his tacit permission to start looking for property on an island, immediately (if not sooner). But maybe it'd be best not to mention it to him yet. 🙂 Best to keep it a surprise. 😉 Agreed?
Little Mack became incensed, which I even jokingly mentioned looking for a place to buy. He is very loyal to his home state, even going so far as to insist–during a trip to New Zealand a few years ago–that Nebraska's beaches are superior to those of New Zealand. Ya gotta admire that kind of blind loyalty. 🙂
Our day went by too fast . . . I wasn't ready to leave at the end of the day, but the ferry was. So I gave in. It's an awful long ways to swim.
Next time, we'll stay longer. 🙂