Make a rustic memory board for your graduate!
Updated in May, 2015, just for you! 🙂
It was just a week before our church's "Senior Sunday," and only two weeks before the graduation party that we were throwing for our Timothy, who is our senior this year in our home school.  I chose the name "Excelsior! Academy" years ago, for our home school.
Excelsior is a Latin word meaning "Ever higher" and our son Timothy has grown ever higher, in every respect–in smarts, in sweetness, in height. That doesn't mean, however, that I'm ready for him to go.
I had my hands full of gardening chores, and to make matters even more complicated, we were planning a birthday camping trip with our little Mack, who was turning 7 in the middle of the month.  I had no ideas whatsoever for what to do for Timothy's graduation table display. He had had some nice senior pictures taken (he's handsome material to photograph) but that was as far as I had gotten. Oh. And Timothy was leaving for nearly a week on his senior trip–a tent-camping adventure with two best buddies.
No ideas. No time. No Timothy. I was at the graduation party of the son of a friend of mine, and I looked at her lovely buffet, her display of photos and mementoes, her beautifully clean house, with envy.  She had pulled together an awesome party to honor her son's accomplishments. She stood in front of me, beaming happily.
She can afford to beam, I thought darkly. The hard part is behind her now.
Why was I dragging my feet on this, I wondered, as I looked at the display of photos, spread out under glass. There were photos of my friend's son in diapers. Holding a tiny fishing pole, as a little boy. Wrestling with his little brother. He had been an adorable little child, and now was a handsome young man. It all had happened so fast.
Ouch. My heart was hurting. 🙁
I had a friend once, a sweet older man, who would admire my children whenever we met, and would comment on how fast they were growing.  "Better put a brick on their heads," he'd say, every time.  "Keep them from growing so fast!" Then he'd snap his fingers. "They'll be gone–just like that!"
I had forgotten to put that brick on Timothy's head.  Now he was grown up, and I couldn't do a thing about it.
That was it, I realized, in a sudden flash of insight. I didn't want to lose him. I didn't want to watch him drive down the driveway, with his face turned toward the rest of his life, and away–I had to be honest–away from me.  And I didn't want to face those photos. There were bins and boxes of pictures from years and years past, up in the attic. They were waiting for the "someday" when I'd have time to put them into albums. Every time one of my kids reached their graduation, I'd haul out those photos and pore through every one, reliving the years, feeling that ache in my chest, usually ending up in a puddle of tears. It was so painful.
How did the years fly by so quickly? Had I made the most of every moment? Had his dad and I, bumbling fools that we can be, taught this sweet young man well enough for him to thrive out in a mean and tough and challenging world? How would I ever function without him here?  Ouch. I really, really didn't want to think about this now.
"So what are you going to do for Timothy's party?" my friend asked, pulling me out of my melancholy reverie.
My shoulders sagged.  "I've been so busy, I honestly don't know," I mumbled.  "I don't have any ideas at all!" And you don't want to pull out all those photos, my heart accused.  My heart was right.
My friend laughed.  "Oh, don't give me that," she said. "You're creative and you always come up with something wonderful."
"I don't know about this year," I said, dejectedly. "I'm just been so busy . . ." I had already thrown successful graduation parties for Matthew, Andrew, and Bethany, in their turns, making nice displays of fun memorabilia for each, but maybe my graduation party well was dry?  I had nothing. I didn't want to do exactly the same thing as I'd done for them, either.  That would be boring.
She laughed again.  "You'll figure something out," she said, with a reassuring arm squeeze, and then she excused herself to go cut some picture-perfect sheet cakes.
I felt a just the hint of renewal of my spirits at that. The gauntlet was cast. If my friend thought I could do it, well, surely, surely I could. In any case, dragging my feet on organizing this graduation party wasn't going to stop time.
It was raining the next morning, and Amalia (thankfully not emotional at all about the photos) was happy to haul the boxes of photos down and pore through them with me. She kept my spirits up, laughing and enjoying the morning with me, choosing a few piles of the best photos of Timothy: my boy in his diaper, toddling around the open dishwasher. Timothy in a clown costume, being hugged by his sister in her princess costume. Timothy participating in an archery contest. Timothy on the top of a pole.  Timothy in the top of a tree. Timothy at the top of a very high fence. Geez, what was it about climbing that captivated this boy?
I went online and found a few ideas for memory boards (on Pinterest, where else?) and then I went out into our shed (full of mostly junk, but great raw materials for projects) and searched.  I found exactly what I was looking for: an old weathered board, just the right size and shape.
And I did it. I faced the memories, and I made this board for my graduate son. Sometimes, after all, you just have to get it done.

So here's how I did it:
Bryan built a handy hinged stand in the back, which (unfortunately) I forgot to take a photo of.  But it holds the board up nicely.
Amalia helped me remove some superfluous nails and other rubbish from the board.  Mostly, she giggled. And that was nice, too.
I chose a favorite verse–Psalms 115:1. "Not to us, not to us, but to your name be the glory, because of your love and faithfulness." Then I drew it on the top of the board in pencil, and burned it in with my awesome wood-burner.  It didn't take very long–an hour or two, honestly. If you don't have a wood burner handy, you could paint your verse, or saying, or whatnot, on the board, or even use a good Sharpie.
Just in case you're wondering: I use a wood-burner similar to this one: It's so much better than the little cheap-o ones that come with a kit, and I love mine like a brother.
Then I took some twine and strung it across the board, just below my lettering. I started pinning our favorite pictures onto the twine, with cute little dinky clothespins (I bought them at Hobby Lobby).  I was making progress–the photos were no longer making me cry–and I was really enjoying myself now. What an adorable boy Timothy was.  I know he's going to be successful in whatever he does.  And he is so cute, to boot. We are blessed.
I added two more rows of photos, tweaked the tightness of the twine, adjusted the angle of some of the photos, and I was done.
Total time to make the board:  approximately 2 1/2 hours
Total cost: $6.00 (for the tiny clothespins) since we already had the twine and the board on hand.
Oh wait–adding this singing bird, I think, was the final touch.  Personally, I think adding a cheerful bird on any piece of art or craft is a good addition, don't you?
Now if you have a graduate to honor this year, and you've not made a plan yet, you might want to make a memory board like this, too–the only hard part about it is facing those baby pictures . . .
Now I just have to get the party thrown together–which, by the way, is today!
Yikes! I'd better get busy . . .
A few details for you if you are, like me, totally desperate for them: we're decorating with quart jars filled with flowers and tied with burlap–Amalia is making a burlap banner–and we're serving barbecued chicken sliders, salads, homemade pickles and okra, and lots of yummy desserts.  My sisters are pitching in and making a lot of this food. They know how overwhelmed I am, just getting my house presentable! 🙁 I'll post about the party some time next week.
Now I really had better get busy!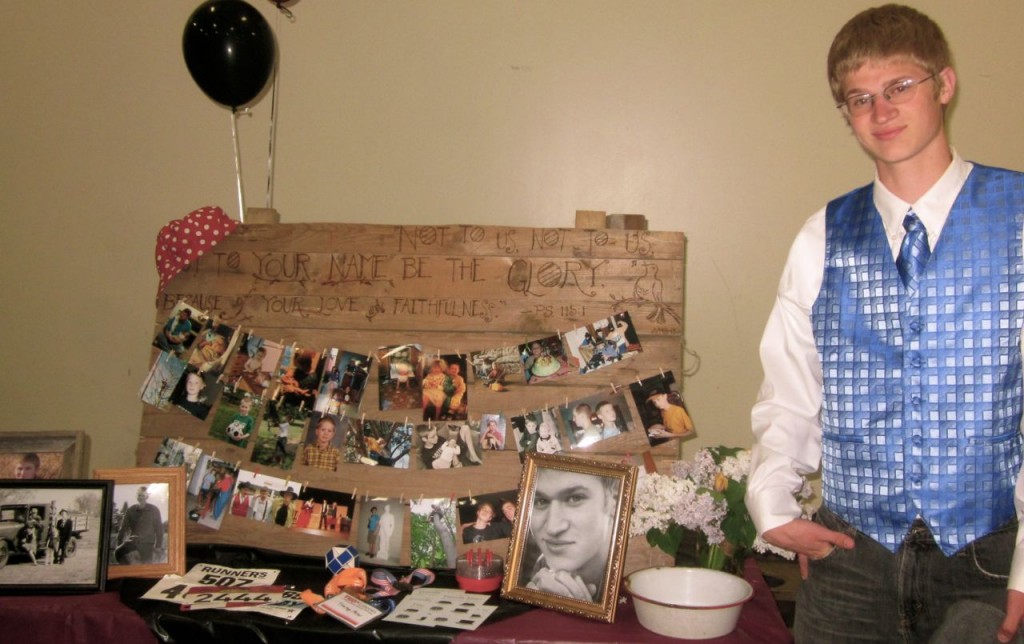 Here are some more posts that you might find helpful:
* We made these amazing cookies for Timothy's party, and served them in large clear glass jars.
*Here's the link to the gorgeous buns that I made for the party, as well as a few more photos.
Hey, if you found this helpful, please share it with your friends with the buttons below, and thank you! 🙂