Melodrama, February, horses in the house, and whatnot
Oh, my Gentle Reader. As I mentioned in an earlier post, it's Crunch Time here at our place. The musical melodrama that we produce every year is now a mere two weeks' time away, whether we're ready or not, which means that even as I sit here at the 'pooter, I'm casting guilty glances to my right, where there is a pile of set pieces and flats that are waiting to be painted, on our unheated sunporch.
The tricky part of doing this show every year, to me, is to keep up the house and the chores and the onerous domestic responsibilities that seem to be my lot. Even at the most minimal level, I mean. The people I live with do get spoiled for three meals a day, for pity's sake. And there are still piles of laundry to do, wood to haul, bills to pay, and the lot. These things still weigh on one, whether the sunporch is full of sets to paint and design, or not. The pets must not be neglected, either: they have their needs, as well, not to mention the chooks and our goose!
Do I sound like I'm complaining? I'm sorry if it sounds that way. I'm trying to keep the complaining note out of my voice. I learn new strategies every year for how to cope with this conundrum. I'm learning how to ask for help and to delegate. A bit.
I used to have a large, willing crew of enthusiastic kids at home to help with all these things, but now little Mack and Amalia are it. Bless them. So besides school and music practice and Taekwondo and homework, for the next couple of weeks, they must also pitch in and help a little extra. Or a lot extra. Amalia is quite good at this (she benefits from the drama group, after all) but little Mack gets tired of it and will actually make himself scarce (literally), hiding in some out-of-the-way place until, I'm convinced, his question well completely fills up, and he has to come find me, chore list or no, and continue his endless question-asking. He must run the risk that I'll give him a list of jobs.
Honestly. This boy. He asks more questions than all the rest of my kids combined, I'm convinced. This may surprise you, but I get tired of talking. Of answering questions. One after the other. Rapid-fire questions wear me out. I have always believed that when I get up in the morning, I am programmed to have exactly so many words that I can form and spit out. When I get to the end of my store of words, I can no longer talk. It's physically impossible. I start saying things like "The refrigeratortechnobobble whatsit?" and the kids avert their eyes and wonder, silently, about what early onset dementia looks like. I answer the questions until I can't, then I say with a bit of guilt "That's all that I can answer for now, Bud. Go ask Amalia."
This is after hours and hours of back-to-back questions, Gentle Reader. No kidding.
Mom, tell me about birds. Why do you suppose they have wings? How do they fly, exactly? And is that bluebird that you are painting really realistic? Do you know the Latin word for "bird"? Are the wings really shaped that way? How do you know? Where do the bluebirds spend the winter? And why don't we have wings? Can I look inside the piano? Why not? Who made the first piano, anyway? What's Latin for "piano"?

Sometimes I have to interrupt the rapid flow of questions to even begin to answer them. And I hate interrupting. One thing I've done recently is to point little Mack towards the set of encyclopedias that we have in the library. He'll curl up with one and read for a long time, and then come back with even more questions. He's a little sponge.
Anyway.
So much of my day, lately, has been spent like this: I get my chores down, hopefully by mid-morning, and then I go to the sunporch (where Amalia has made a fire in the wood stove) and hope that it's warm enough to begin painting. We have two turn-of-the-century fire engine cut-outs, made of plywood, that I've been toiling over. I keep telling myself to just finish them, already, and stop being such a ninny about the colors, but I don't listen, and so I am taking forever with them. And: I don't have forever. It goes like this: I paint and I paint and I hate them and I think they're ugly, and I spit on them and I feel blue, and then I change a color (for instance, I changed the color of the ladder from brown to blue) and I begin to like them, and then my enthusiasm grows, and suddenly I like what I'm painting and am happy, and I finish.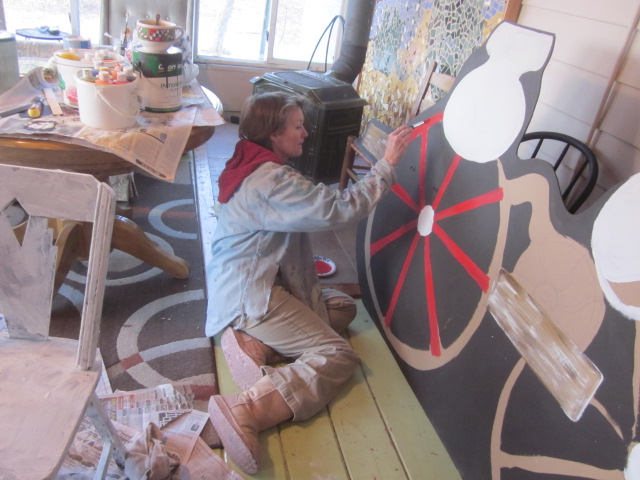 It has been so cold, that yesterday morning (gasp!) all my paint was frozen. Frozen! Oh, this awful polar vortex, it ruined my paints! It took hours for them to thaw, and thankfully they weren't ruined, after all. But it was an annoying delay, and now (to be on the safe side) I haul all the paint into the house, at the end of the day. Blimey. I don't have that kind of time, either. Oops. I think I'm complaining now, and you know how annoying it is when people complain. I'm sorry. Anybody else tired of the polar vortex?
The Polar Vortex:

A bitter pain

When will it be

Springtime again?

My face is chapped

My lips are blue

My toes are numb

But how are you?
You know I don't like to complain, but this extra-bitter cold is beginning to chafe. This morning, Gentle Reader, it's 8 below zero and the high today is only supposed to reach 9. Bother.
So what do we do to amuse ourselves when it's bitterly cold outside? We construct horses that look more like cows (or even grossly large pigs) on our sunporch out of chicken wire and paper mache, and then we paint them (see the picture above). Also, we write very bad poetry. (How about you?)
I spent some extra time yesterday, trying to help my chooks be more comfortable. I have one plug-in the coop, so I found a surge protector and another heat lamp, and plugged them both in. So the heater bucket for water gets one plug-in, and the two heat lamps each get one, too. I hauled a bit of extra hay into the coop, too, to increase the coze factor. Even with all this, I felt like apologizing to the hens. They looked so uncomfortable. I think I've done everything I can to make my hens comfortable this winter,  but the best thing at this point for them, would be for spring to come. Although my flock has been laying eggs in great abundance, I noticed that the other morning (the coop temperature was 10°) that their egg output was cut in half. It was just too doggone cold to work that hard, and I didn't blame them a bit.
Well, my ruminating about all the work that needs to be done, won't get all the work done . . . so I'll stop for now and put my shoulder to the plow, such as it is. It's all going to be worth it, I know it is.
It's a dizzyingly-busy time, but everybody who has been involved in theatre productions that I know, would agree with me, that when that curtain goes up on the show, it'll all be worth it.
I'll just keep reminding myself of that! 😉
I'm sharing this post with the kind and lovely folks over at The Prairie Homestead, where the best Blog Hop on the internet happens every Monday! Join me!