So much to be thankful for, plus hoop house goodies
This week, Old Crabby Man Winter gave us a preview of what's in store for us for the next few months to come. Oiy. Sigh. Ack. Harrumph. After a delicious and simply beautiful fall, it was a bit hard to have a few days of very cold temps, bitterly cold winds and gray skies. But this isn't Hawaii, after all. Or southern Mexico. Or even southern California. Or New Zealand. Snif. This is Nebraska, where the summers are hot and dry, and the winters are punishingly cold at times.
But there is still much to be thankful for, isn't there? Here in Nebraska, even.
I'm thankful, for example, that we don't live in a soddy on these windy plains. Especially in the winter.
There wasn't much in the way of building supplies on the plains when settlers started moving in here. No stone and very little wood, so the early settlers used what was available to make their houses. The thick-rooted prairie grass was abundant, and by cutting the sod into strips, they found that they could build homes out of it.
Whenever I look at these pictures, I think of snakes. I'm not a squeamish person, but the thought of a snake working its way through the sod and dropping on me in the night does give me pause. Of course the soddy probably was a step above the dugout.
I'd like to think that summers wouldn't have been too bad in these early structures. The walls would have been thick and they would have been dark and cool(ish) inside. I would hope that I would have been one of those women with the canary warbling away at the window; a big vegetable garden in the back, a small but vibrant flower bed in the front; loaves of warm homemade bread cooling on the windowsills for when the neighborhood Indians came to call . . .
Oh yes, the Indians. But that would have been during the warmer months. The colder months would have been a daily fight against the elements, working to keep warm and keep the kids fed and safe. I'd like to think that I would greet the trials of winter with bravery and daring and yes, aplomb. But actually I'd probably have been huddled under the quilts on the bed, clutching a child or two to keep warm, crying over the snake that I found in my soup that day.
When there's abundant sunshine and gentle summer breezes and flowers and a vegetable garden to tend, it's so much easier to be optimistic and hopeful. But in the winter time, with the frozen bare ground, the icy winds, the short days, it's a bit more trouble to find reasons to be happy. But we have so much to be thankful for, just the same.
Living in a soddy or a dugout would still be several strides ahead of being out on the Plains in a covered wagon, for months at a time, throwing out possessions one at a time, as the oxen (or horses) got weaker, fighting despair when the children got sick and the canary flew away.
I never have seen one of these old photos where the woman in the picture is smiling. Just a random observation.
We've got a good store of firewood for this winter, our freezers and pantry are full, and we've got each other to keep our days from getting too dull. Life is good. I still have enough kiddos at home to cuddle to me when I need to keep warm.
Even with winter coming on (sigh), life is good.
I've been wondering how cold it has to get, before the crops in my unheated hoop house will succumb. (We built a hoop house this summer, as many of you know, and you can read about the entire process if ya wanna.) The low this week, I think, was 11° (F). A few weeks ago when the temperature dipped down into the low 20s, my warm-weather crops in the hoop house all were done in: the peppers, tomatoes, eggplants, and cockscomb all froze. Also, the melons and squash. I knew that would happen, and I was just grateful for the few extra weeks of growth from them that the protective hoop house provided.
But lots of crops are still going strong, even after a dip down to 11°, I am happy to report. I am actually ecstatic to report! I can continue to go out and pick and dig these things up when I want to. I would expect when we have a forecast for our first blizzard–with below-zero temps and raging winds–that I'll want to have them all harvested by then. But for now, I've got what amounts to some free cold storage out there.
Do you grow parsnips? I haven't eaten any since I was a kid, and I remember not being fond of them at all. Happily, though the little girl me didn't like them, the adult me loves them. And they are sailing right through this cold weather, no problem!
I have a bed full of leeks which are just perfect now. I'm so glad that I babied those hair-like leek starts, which I had growing in flats outside the garage during the hoop house building project. I remember contemplating letting them just perish at one point, because I did have to water those babies every day, sometimes twice a day. But now they are all grown up and are just lovely. Leeks have a velvety texture which is just wonderful in many soups. But they do take a long growing season, if you start them from seed.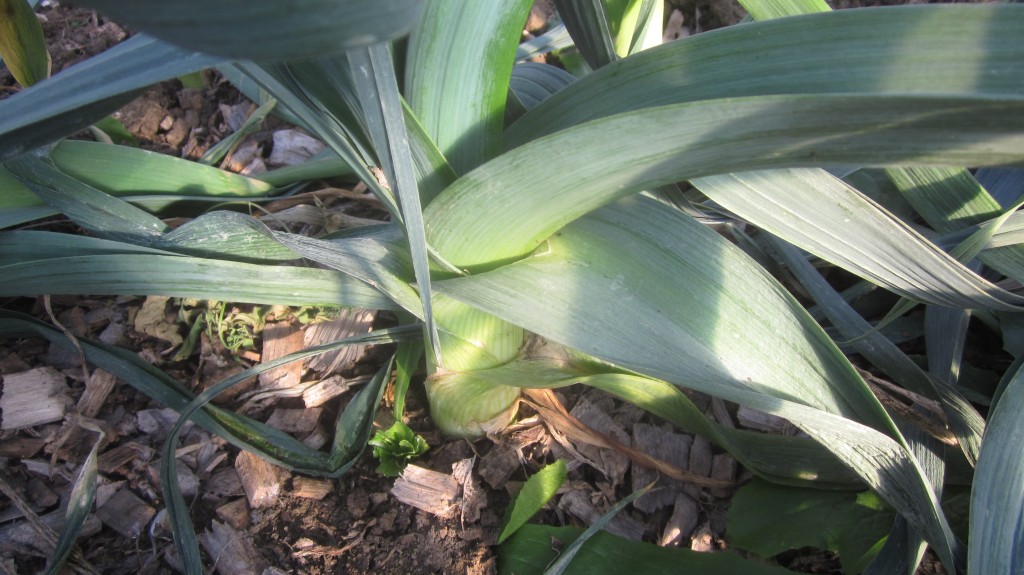 I planted a couple of small beds of lettuce, and have a few small heads left. They are very brave and have endured just a bit of damage from the cold.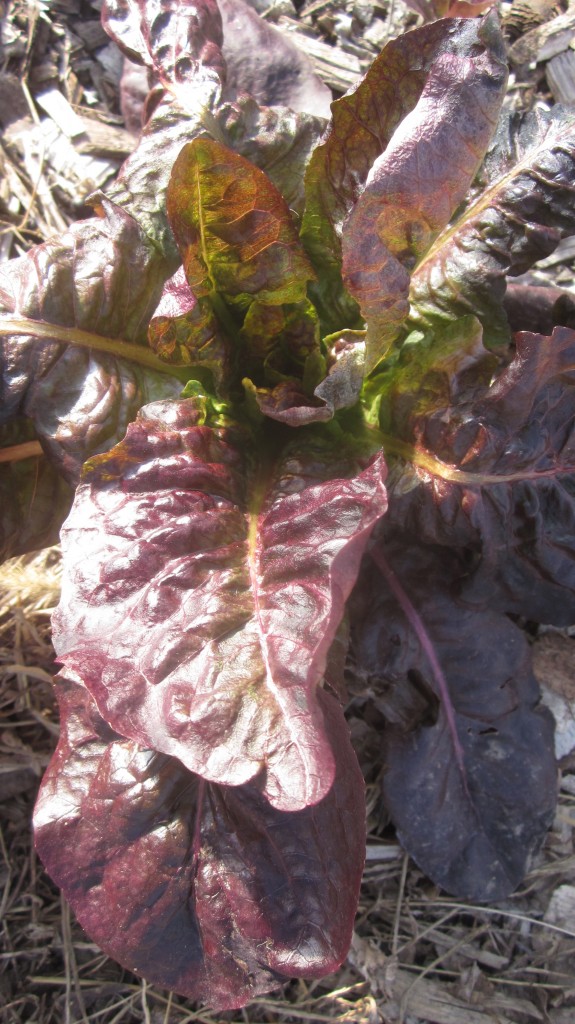 These are my new favorite types of lettuce, I think. The one above is a red romaine, and the one below is Tom Thumb, from Baker Creek Heirloom Seeds.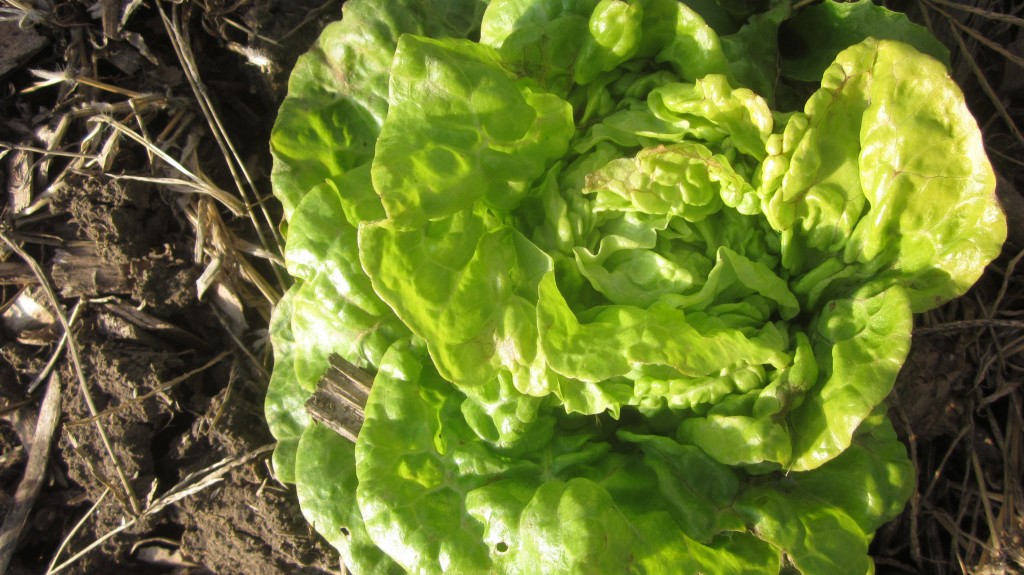 Oh! Speaking of Baker Creek Seeds, you really need to request one of these new, fabulous seed catalogs! We got one in the mail the other day and it has been my constant companion ever since. It is so thick, so heavy, so beautiful, so full of promise!! You can request your own copy right here.
A few of the snapdragons are still going strong, as far as cut flowers go, and my Mom gave me this daisy-type chrysanthemum, which is very resistant to the cold, and it is just putting out buds. (Thanks, Mom!)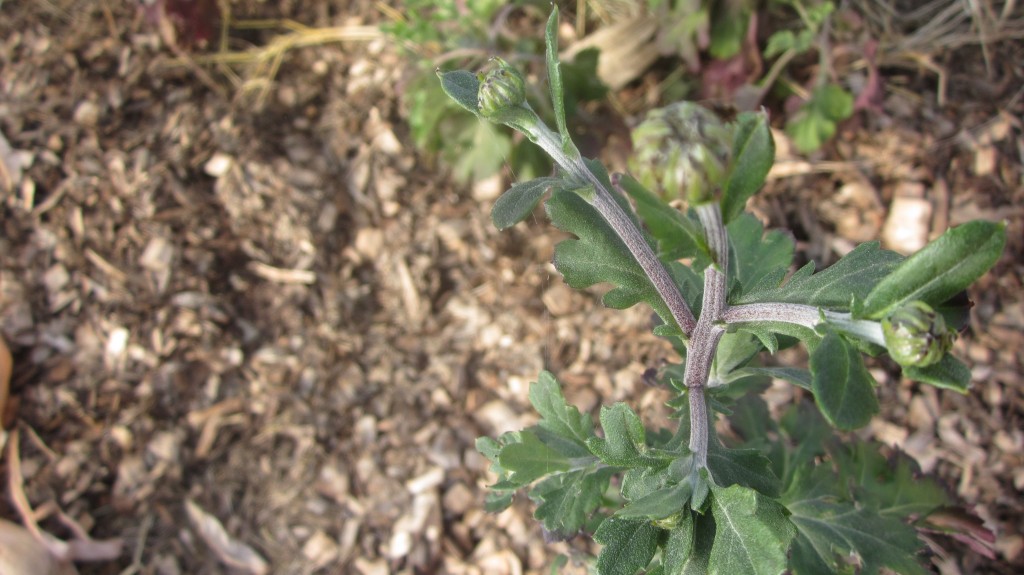 So. We have much to be thankful for. So I'll put on another sweater and remember this fact. And when I sometimes forget it, I'll head out to the hoop house. It just takes a few moments in there, with the earthy woodchippy smell, and the gorgeous green, still growing away, to dispell any gloomy thoughts from my head. Even if it is windblown, pale, and chapped.
So. I'll stop sighing and harrumphing and acking and snorting and fussing, and will start counting my blessings. Promise.
After all . . .
"Thou that has given so much to me,
Give one thing more–a grateful heart;
Not thankful when it pleaseth me,
As if thy blessings had spare days;
But such a heart, whose pulse may be
Thy praise."
– George Herbert
Hey guys, I'm sharing this post with the nice folks over at The Prairie Homestead Blog Hop. Join me to learn something new today!