I've started something new, and after only a few days I'm totally addicted.  It only takes half and hour a day.  A diet book I've been reading suggested it and so I started it a few days ago, and I love it.  I'm so addicted that I've been waking up at 5:30 every morning, just so I can get it in.
Without setting an alarm. 
You've heard that you have to do a new activity for 21 days in order to make it a habit, right?  Or is it 31 days?  15 days?  I don't know. Well, this took me 3 days to decide that I'm doing it for the rest of my life, God willing.
Do you want to know what it is?
Here it is:  I've started taking a walk first thing–before breakfast–before coffee–before anything. I crawl out of bed, pull on some day-clothes and a jacket, lace up my shoes, and out the door I go.
I used to run most days, first thing in the morning, but I injured my ankle awhile back and I've been a bit sad about that and haven't done anything. But I decided that it's better to take a walk then to just sit at home and feel sorry for myself–right? And my ankle is at least healed enough so I can walk without pain, and that's a wondrous thing.  Perhaps by the end of the summer, I'll be running again.
That would make me so, so happy.  *Sigh*
I want to recommend an early morning walk to you, Gentle Reader, if there's any way that you can swing it, at all.  So many reasons why it's good for you.
Reason #1:  You can see sights like this: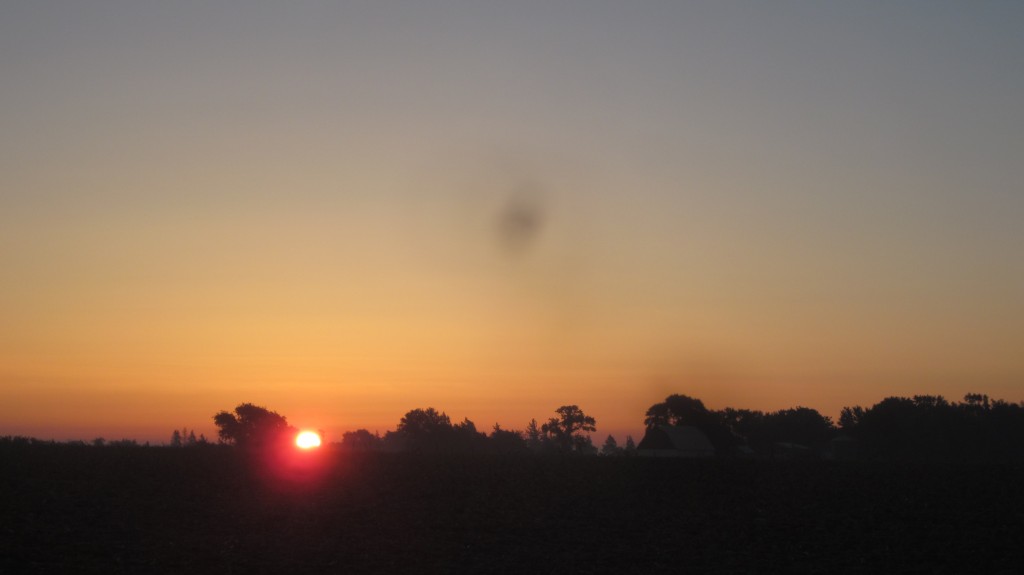 Reason #2:  And then you'll see this: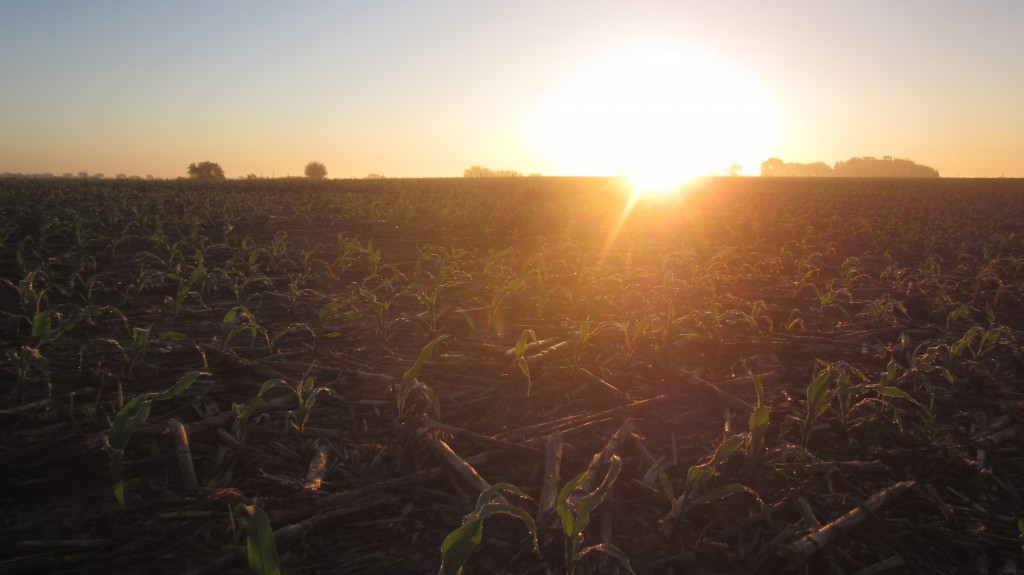 Reason #3:  You can talk to God, out loud, and you will not be interrupted.
And Reason #4:  Even if you are clearly not in favor of the GM corn that is growing around your place, you can still admire the way the sun lights it up, illuminating the dew, can't you?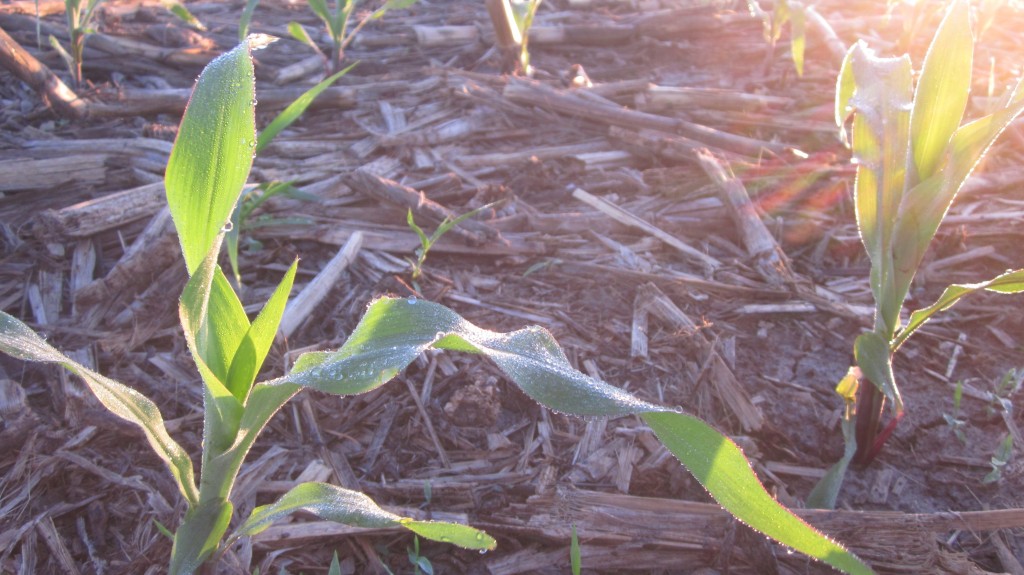 Reason #4 Since the light is unlike the light at any other time of the day, you can take pictures like this: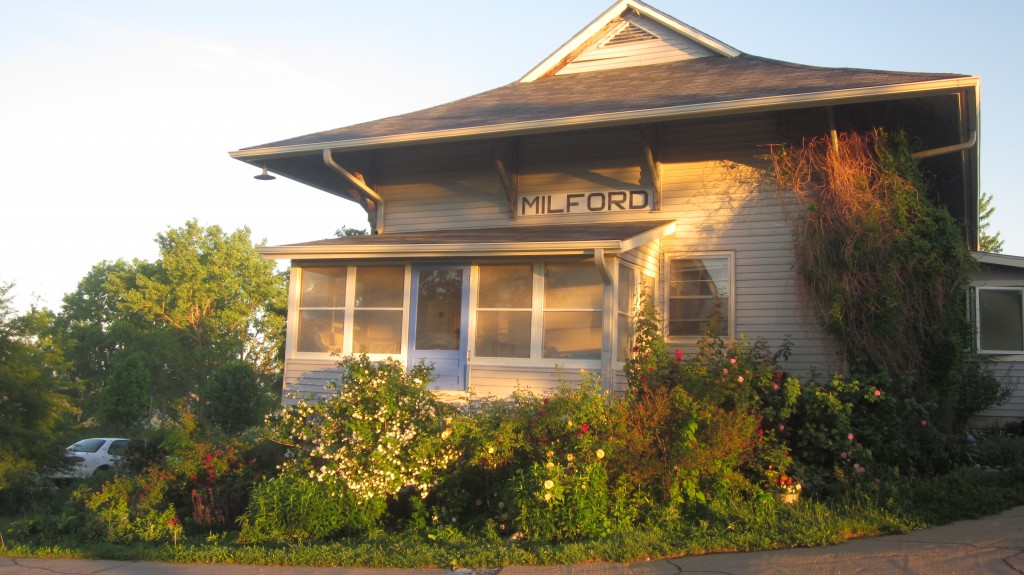 See? Doesn't that warm, inviting, early-morning rosy light make you feel optimistic about the entire day?
Reason #5: The mock orange bush looks like this at 6:15 a.m. and you don't want to miss it: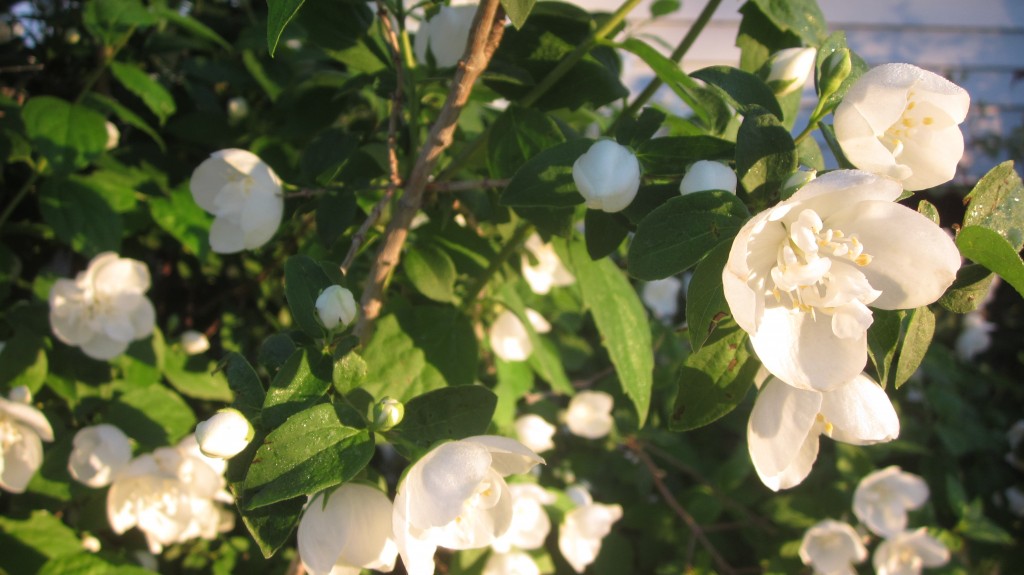 Reason #6:  The David Austin rose looks like this, as if God is lighting it up from inside, and you realize, with a start, that he's doing it just for you.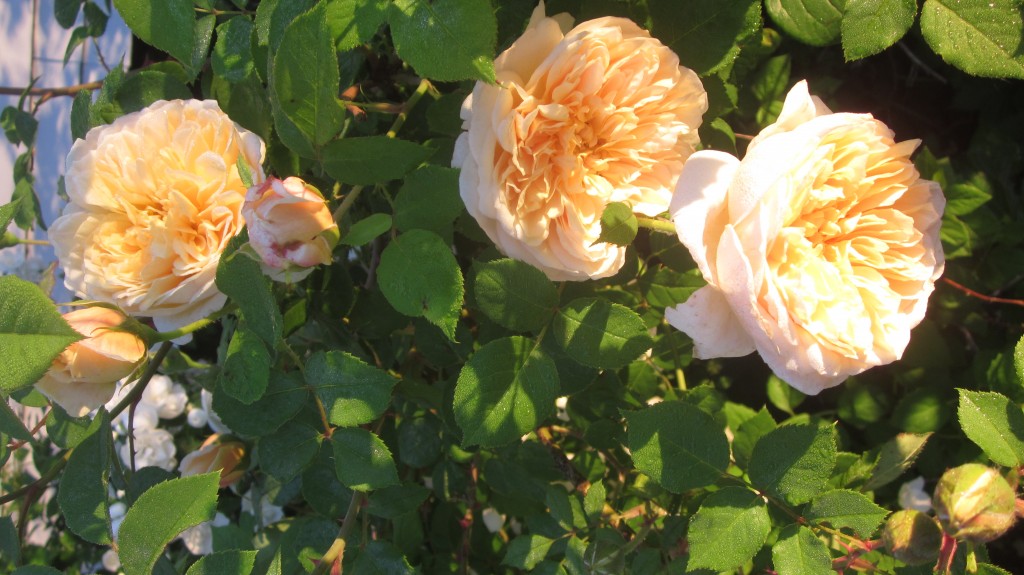 It's a shame that nobody else is around to admire it. But you are, and you do.
And you see that here's a visual reminder that He really does "take great delight in you, he will quiet you with his love, he will rejoice over you with singing." (Zeph 3:17) else why would He do all this, just for you?
Reason #7: There are brown thrashers out and about very early, singing like mad to each other, all that silly inventive, imitative repertoire of other birds' songs.  I can hear a rooster crowing, and a cat meowing, sometimes, in their songs. Also the cheerful wrens are not busy feeding their babies yet, and can sing wholeheartedly for a little while.  It's a lovely thing.
Now you see why I'm addicted, Gentle Reader, as of just a few days ago, to an early morning walk.  It's totally worth getting up at 5:30, don't you think? Or maybe a bit later, if that's what suits you.
And then, when you return to the house–and to The List That Never Ends–you can face it, because you've had a pleasant few moments to yourself, out where the light is perfect and God is listening, and everything is sweet and quiet and dewy and the songbirds are singing like there's no tomorrow.
It doesn't matter that your shoes are squishy with dewy water from the grass and your toes are cold.
The coffee tastes especially good, and the kitten is mewing for company and looking like this:
And you don't mind the fact that she will attack your ankles as you're doing your writing this morning because you've had a blissful half an hour to yourself.
Do it.  You'll thank me.
You will.