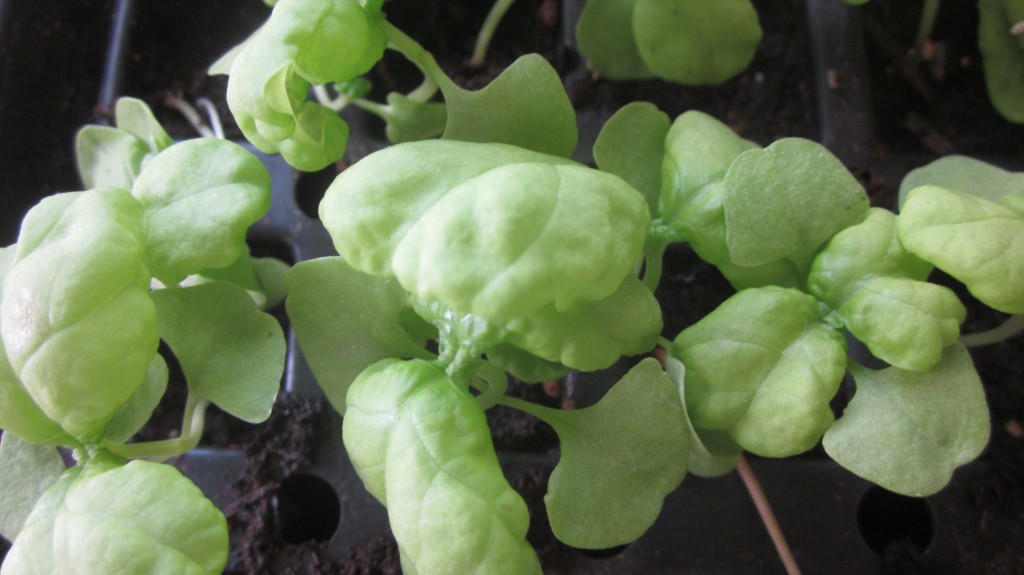 These lettuce-leaf basil seedlings are waiting patiently for the hoophouse to be finished, though I'm tempted to just plant them in another area, as they're getting a bit raggedy looking.

I woke up yesterday morning thinking about how many babies I'm responsible for this time of year.  This year in particular, there are babies all over the place that need daily tending.
I'm still working to get my seedling babies into the garden, and I'm planting new seeds every day in flats.  The seedlings still in flats need daily watering and watching, and transplanting into bigger pots (if only I could just find those instructions on how to clone myself!).  I've still got squash, melons, and some other goodies that need planting in flats. The building of our hoophouse has slowed down the planting of these seedings in the garden proper.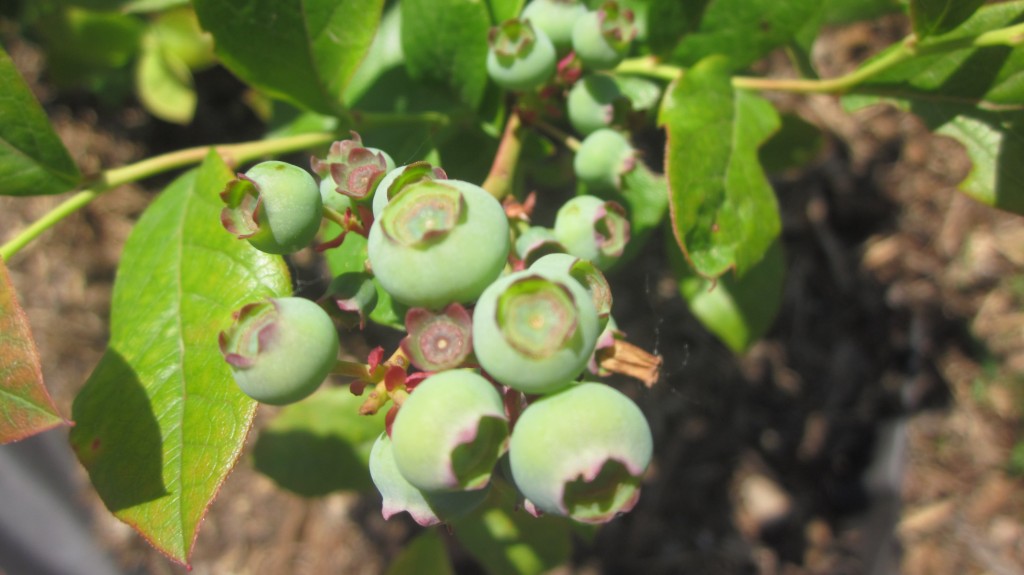 I am inordinately pleased by the blueberries that are setting on this year. Can't wait 'till these babies start turning blue . . . hope I can keep my hands off them until they are truly ripe!

It seems a miracle that there's so much fruit setting on this year, after last year's disastrous drought.  Perhaps all the fruit-bearers are making up for last year's hot, dry and fruitless year? The rain we've had so far has perked up all the plants so nicely.  And us people, too.
For berries this year, we should have plenty of blueberries, mulberries, dewberries, and perhaps a few raspberries.  I can't wait!
In all the busy-ness and fruitfulness of the burgeoning summer,  I've got to remember the darling human babies that I'm blessed with, too.  Little Mack is 7 now, losing his teeth, losing his Swiss army knife (yes–woe is us!) and losing his baby fat.  And picking me raggedy, torn-stem bouquets from the flowers that are blooming in my flower beds.  And making a hide-out in a super-secret place, for the next time his cousin Orion comes to visit.
He showed it to me, but I promised I wouldn't tell anybody where it was.
And then there are those achingly-precious grandbabies of mine (I've got two now, did you hear?):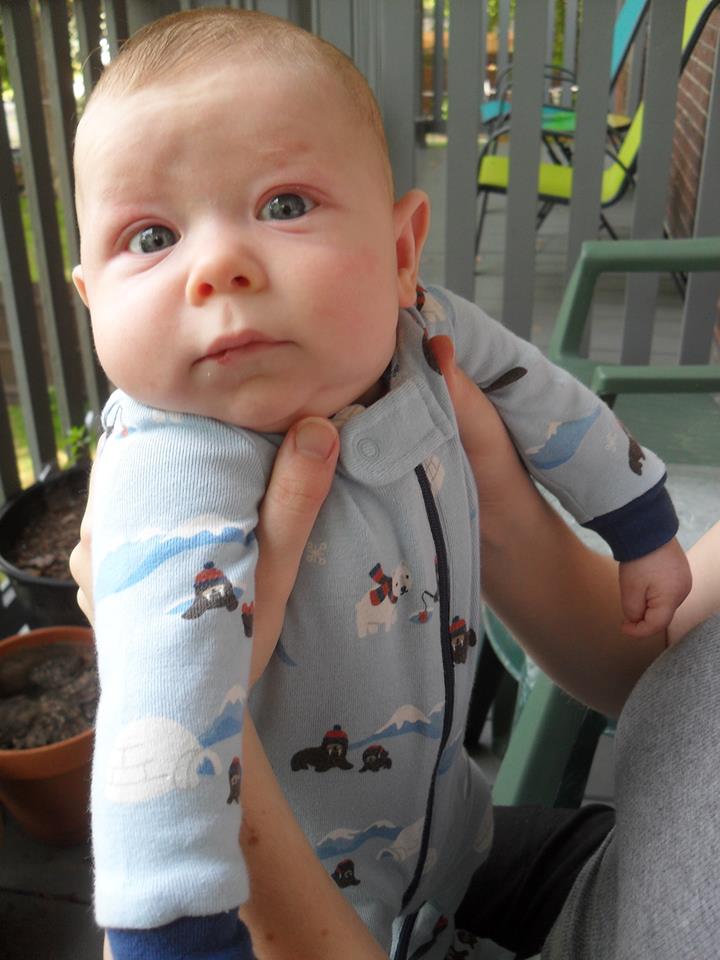 Here's my darling little grandson, Emmett Adorableness Miller.(Image from Rachel Miller.)  Doesn't this picture just melt your heart?  He looks so serious. He's been asking his beautiful mama if she would please take him to Amma's house, very very soon.

Emmett's mama and papa have promised to bring him to visit Amma (that's me) in the next couple of weeks.  I can't wait to show him around the place.  He's probably never seen a chicken before. I can't wait to nuzzle the back of his neck.
My granddaughter Anya is nearly 18 months old! She loves blackberries. Where did that year and half go, I wonder? *Sigh.*  It went by much too quickly, that much I know!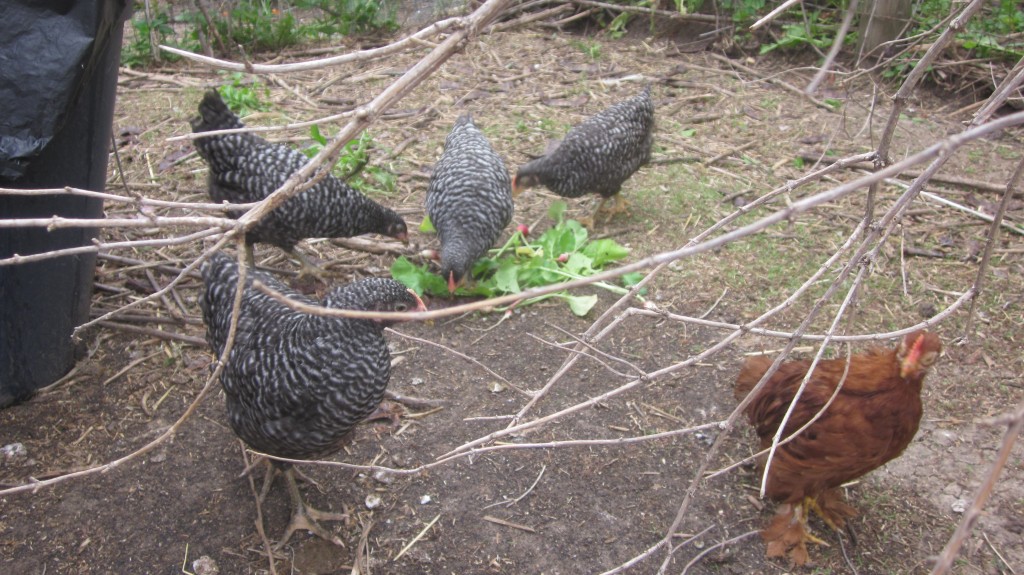 These are the "tweens" chickens that are now old enough to hesitantly check around outside, but will scurry away quickly if any of the bigger chickens show up.  They are fairly tame around me, however. They know who butters their bread, as it were.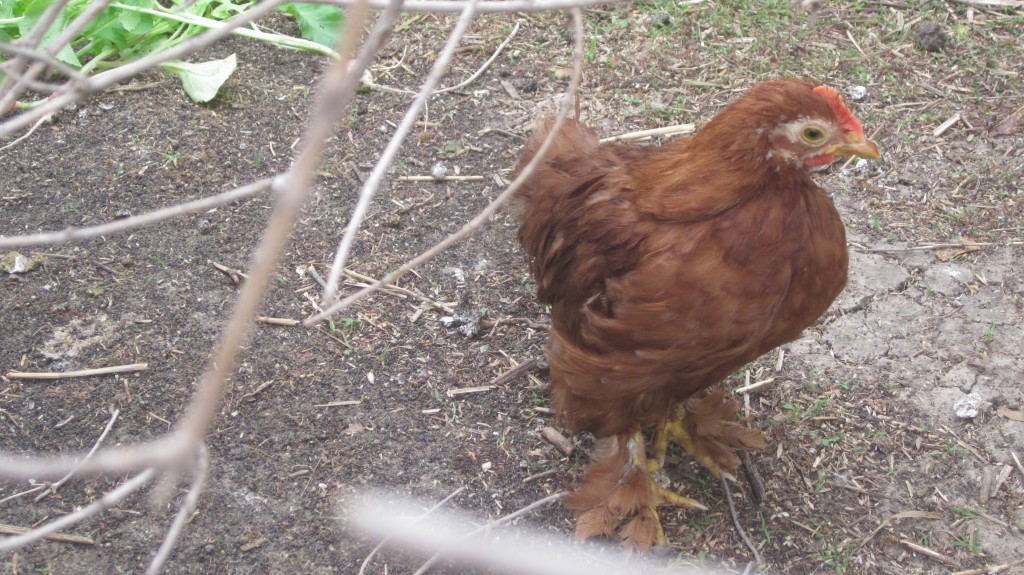 This one is Malachi's special pet, and her name is "Puffy."  Isn't she cute?  So tiny. I just love her.
Here's another new baby in the house . . . meet Samwise Gamgee, our new kitten.
Andrew and I were walking together in town early one morning, and we heard this pitiful mewing from under a car, right on main street.  Andrew has a heart for cats and he got down on his belly to pull the kitten–scrawny, eyes matted, pitiful–out from underneath the car.  Andrew's wife Sonia is allergic to cats, so the little mite came home with me.  She is so much fun. She's fierce and sweet and is learning how to play with us with her claws sheathed. I hope.
Of course the garden is just full of babies that require daily watering, until they are big enough to take care of themselves a bit.
(I am starting to realize that this "baby" post could go on a good long time . . .)
Today I was moving some mulch in my garden and found this little baby garter snake! I'm glad I had my gloves on, because I scooped it up really quick and called Malachi to come see.  He came running.  I guess I must have interrupted the little thing as he was just settling down for an after-luncheon nap, because he (get this!) writhed a bit, and then vomited!  Several earthworms landed on the ground at my feet! Can you believe it?  Have you ever seen a snake vomit?  It's pretty interesting.
Springtime is the season for babies around here, it seems.  They do add some hurry and busyness to the season, and a few extra steps taken, and undoubtedly much sweetness.