"The Fireman's Flame": rehearsal snapshots
If you hang around our family for any length of time, you may pick up on the fact that we enjoy live theatre more than the typical Joe. The typical Joe probably doesn't quote lines from plays constantly to his family members, or snuffle and snort milk out of his nose over memories of humorous events from past performances. The typical Joe probably doesn't spell the word "theatre" the British way. (Doesn't that just clinch it?) The typical Joe, perhaps, is more welcome in all social situations, not being a theatre nerd. Oh well. (snort.)
That's not all. We hide our embarrassingly vast array of strange props and racks and racks full of costumes in our cluttered attic. Nobody is allowed up there. I'm serious. If a crazed loon rushed into our house with a gun (God forbid) and demanded that I show him the attic, or else, I'd fold my arms across my chest, and proudly refuse. And then prepare for the end. Definitely. I have my pride, after all.
We snatch up old hats and old clothing and other artifacts from the past, at yard sales and thrift shops just because they may come in handy in a future production. Tobacco tins. Civil War-era hats. Silver trays and tea sets. Old mismatched chairs and barstools. We have shelves full of props that Bryan and my dad have made–an old camera, a peg leg, an old radio from the 20s, telephones from the turn of the century, hatchets made out of wood that are painted to look real. And moustaches. Lots of moustaches.
We hang cast photos on our walls, and gaze lovingly at them, from time to time. We love to go to live theatre productions, and will tear them apart bit by bit, late into the night, afterwards. We produce and direct a musical melodrama every year here in our hometown, so of course we're experts. 😉 How we started this craziness is a rather long story, and I wrote a bit of down in this post.
Incidentally . . . my husband Bryan and I started jotting down what we've learned from the past 13 years of producing these plays, and we've got a book nearly ready to be published. The book should be a great help to you, if you're thinking about starting a drama group from the ground up, as we did, or if you're just crazy enough to consider doing such a rash and wonderful thing. Or, if you'd just like to learn a thing or two about how we do what we do, without going start-raving, certifiably loony-tunes mad, that is. Buying our book will mean that you won't have to re-invent the wheel of putting on a play, you might say. We share with you how we started this love-fueled project so many years ago, and why we continue to do it today. We share what we've learned, resources that we've found, as well as (hello!) mistakes that we've made, that you can (theoretically) avoid! We're not proud. (Well, except for Exhibit A: the attic.)
A drama student asked me just this week: "Mrs. Miller, can you tell me why you do this? What's the point, anyway, of this drama group?" This was after a long, exhausting day, and a very intense three-hours-plus rehearsal, and I could almost hear the blood vessels popping in my eyes, I was so tired, as I gazed out through them. A little twitch in my lip started up. I felt my shoulders sagging. A little voice said "Yes, why, oh why, Mrs. Miller, do you wear yourself out like this, for this? Why?"
I stared at this sweet girl, and my heart was so full I could barely speak. Or maybe I was just struck momentarily mute because I was just too tired to say a single word. I do it for you, I wanted to say, to provide for you this opportunity to perform, to learn, to collaborate with others, to experience the thrill of live theatre and all the wonder of that process! I want you to realize that you can glorify God with all of yourself, through dance, through theatre, through performing, through everything! She has not been onstage yet, so I'm hoping that after next week's performance, she won't wonder why I do this. She perhaps is still wondering why she is doing this, after all.
There is nothing like it! I have been amazed, in the past few months, how many people I've run across who have never been to a live theatre performance. It's so easy these days, to be find entertainment, literally, at your fingertips. You can pull up old television shows, new movies, documentaries, nature shows, news programs, really, anything you feel like, at the touch of your finger on a button.
But live theatre is not just entertainment. It's magic. It's a delightful collaboration between a hard-working bunch of performers, and an audience who is willing to leave their homes and pay a few dollars to enjoy and participate in the performance. It's difficult to describe, yet everybody who has ever been onstage knows what I'm talking about. It's a very unique experience. It's exhilarating!
It's . . . (gulp!) . . . it's next week.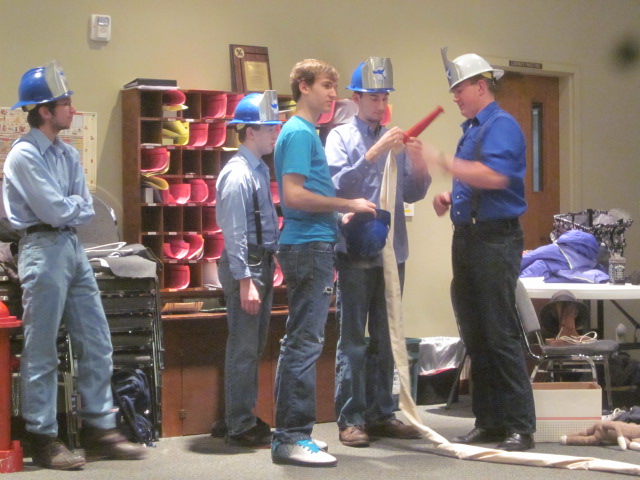 We've been spending two evenings a week since November, rehearsing the play "The Fireman's Flame," which is an old-fashioned melodrama. It features two rivaling fire departments, a wistful heroine and a sneaky villain, also a large group of singing and dancing Fire Belles. I can feel that the performers are just at that point of really being ready to put the rehearsals away, and getting on the big stage to see what they can do in front of a live audience. A third of our actors have never been on that big stage before, and then a few more of them have been in a dozen or more shows, so we have a delightful combination of raw talent and high expectations, and experienced and relaxed stage veterans.
In other words . . . anything could happen! Here are a few snapshots of a recent rehearsal. You may be able to sense a bit of excitement in them.
So . . . why do we do this every year? We do it because God has led us to use our love for theatre to teach and direct and glorify Him! We can glorify God through theatre, through music, through caring for our chickens, through making bread and through learning Latin. That's what I want my kids to learn.
"If anyone serves, they should do so with the strength God provides, so that in all things God may be praised through Jesus Christ. To HIM be the glory and the power for ever and ever. Amen." –I Peter 4
"Now to the KING eternal, immortal, invisible, the only God, be honor and glory for ever and ever. Amen." –1 Tim. 1:17
Amen!!
I'm linking up with The Prairie Homestead's Barn Hop this week. Come on over!