Make Starving Student Chicken: the meal my kids beg me to make
I asked my daughter Amalia what she'd like for her birthday dinner. We'd be spending her birthday evening at home, and I wanted to make sure that it was special. We wouldn't have a family party until the weekend, when Bryan wasn't working and everybody could come.
She mused just a moment. "What's that dish you used to make, with the chicken and the spaghetti and the garlic . . . and hot pepper flakes . . . and . . . parsley?"
Ouch.
She got me with the "used to make." Gosh. It had been a while since I'd made Starving Student Chicken, and I knew that that was what she was talking about. She waxed on with a dreamy look in her eyes " . . . and sometimes you put shrimp in it, instead of chicken . . . it seems like you marinate it first . . ." I fished around in my cabinet full of cookbooks, but I couldn't find the cookbook with that recipe.
Bother.
I felt a stab of guilt, that my now-fifteen-year-old daughter couldn't remember the name of one of our family's favorite dinners. I have been doing so much writing and painting (on our melodrama set) that Amalia had been doing much of the cooking. Gulp. The guilt was quickly pushed away, though, as my mind ticked off the ingredients that went into this delicious meal, mentally locating each one.
I didn't need the cookbook, after all. The recipe was already in my head. There was fresh parsley and half a bottle of leftover white wine in the 'fridge, chicken breasts downstairs in the freezer, and there was a pound of spaghetti in the cabinet. And I nearly always have garlic, soy sauce, and parmesan cheese on hand. And the all-important hot pepper flakes.
I wouldn't even have to run to the grocery store for anything. You probably have all the ingredients for this meal in your pantry and freezer, too. It's pretty amazing to me that you can make something this special and delicious with just a handful of ingredients, but I'm happy about that, too!
But before I get to the recipe, I'll have to tell you the story.
And then, I'll have to kill you.
Not really. I just felt like writing that. 😉 One of my favorite cookbooks is the "Chicken Soup for the Soul Cookbook," and I've had my copy for lo, these many years. I'll tell you, something about that cookbook–reading the stories behind the recipes, and then reading the recipes themselves–it's just addicting to me. I think I've made most of the recipes from the cookbook, because it's such a great combination: to read a captivating story about a certain food, and then to be presented with the recipe! And such it is with "Starving Student Chicken."
First, here's the cookbook:
Aaaaand here's the story:
A starving student in Japan lived in a humble garret room that happened to be just above a very fancy restaurant. He only had one meal a day–a meager bowl of rice–which he ate in the evening, before doing his studies.
One day the student paused in front of the restaurant to talk with a friend. He confided in him that he loved living above the restaurant. "You see," he told him, "Each night when I eat my little bowl of rice, I can smell the delicious smells of the food this restaurant serves, and I imagine myself eating those dishes. There is one chicken dish that I especially love, and the garlic and pepper smells creep up into my room through the floor boards, and flavor my humble bowl of rice."
Unfortunately, the restaurant owner was a greedy man, and he happened to hear the student's words. He marched out onto the street, grabbed the student and demanded payment. The student, horrified, protested that he had no money, so the owner marched him to the nearest police officer and filed a complaint.
Court happened to be in session at that time, and the case could be heard immediately. The Judge there that day had a reputation of being fair and wise. The restaurant owner laid out his case with great eloquence. The student was pitiful; he pleaded that he had no money and could not pay a thing.
The Judge thought for just a moment, and then made his decision. "Clearly," he said, addressing the student, "you must pay for the value you have received. Do you have any money with you?"
The student found a couple of pennies at the bottom of his little purse and took them out to show to the Judge. "Rattle them together," said the judge. Bewildered, the student did so. "Good!" said the Judge.
"The sound of money," he continued wisely, "is sufficient payment for the smell of food. Case closed."
Here's the dish that was so favored by the student, and one might hope that eventually he was able to eat the real thing, rather than just enjoy the smells from the restaurant!
This is such a popular meal at our house that I make it fairly often. And (secret's out now) it's easy, easy, easy to make. Your family will think that you toiled for hours to make it, and possibly will even offer to do the dishes while you put your feet up after supper! (Doesn't hurt to dream?)
Starving Student Chicken
Author:
Prep time:
Cook time:
Total time:
This dish goes together very quickly, so be sure to have everything ready before you start cooking! As easy as it is, it is one of my family's favorite meals!
Ingredients
1 pound boned, skinned chicken breasts (shrimp is good, too)
1/2 cup white wine
1 pound spaghetti or linguini
1 T butter
1/2 cup olive oil
10 minced garlic cloves
1 tsp crushed dried red chili flakes (or less, depending on how much heat you want!)
1 tsp (or more) soy sauce
1/2 cup minced parsley
grated Parmesan cheese
Instructions
Cut chicken into small pieces, about the size of the first joint of your ring finger, sprinkle with wine and marinate for 2 to 4 hours.
Cook the spaghetti according to package directions, rinse, toss with butter, and set aside.
In large frying pan, heat olive oil, garlic and chili flakes to taste depending on how much heat you like (it will become stronger as it stands).
Turn heat to high and add chicken, reserving the marinade. Cook until chicken is no longer pink in the middle, stirring often.
Add cooked pasta to frying pan and season to taste with salt and pepper. Stir in marinade, soy sauce, and parsley. Serve immediately, with Parmesan cheese, and prepare yourself for compliments!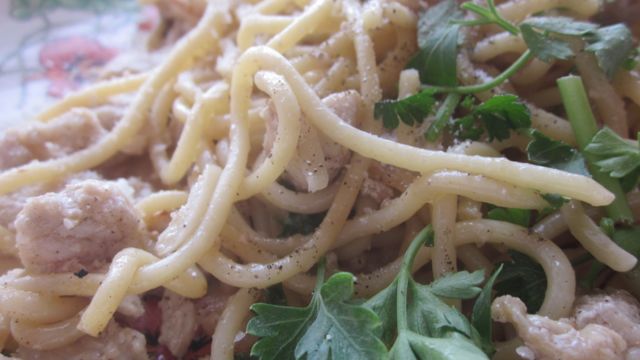 Yum, yum, yum!
*hugs*