What's the deal with honey these days? Plus: sweetest of giveaways!
Sticky, fragrant honey has got to be nature's most interesting sweetener. Did you realize that the scent, taste, and color of honey reflects the flora from which the bees collect their nectar? Isn't that intriguing? Isn't that amazing? Doesn't that fact just make you want to go out and gather up a selection of bottles of honey, grab a spoon, and just taste the different flavors? Well, before you do that, keep reading: If you took the time to do this, you'd notice that honey from pine forests and alfalfa fields tends to be more amber in color, with a stronger, richer flavor–that is, if you could find some to taste. Honey from orange blossoms or clover is lighter in taste and color. Lavender honey captures that herb's distinctive perfume, and manuka has a toffee-like quality. We're honey geeks in our family, and we prize our local linden honey (made from pollen from linden, or basswood trees) for its flowery perfume and taste. It's our absolute favorite, and we grin like fools when the linden trees around us are in full bloom, and buzzing with bees. We're thinking about linden honey.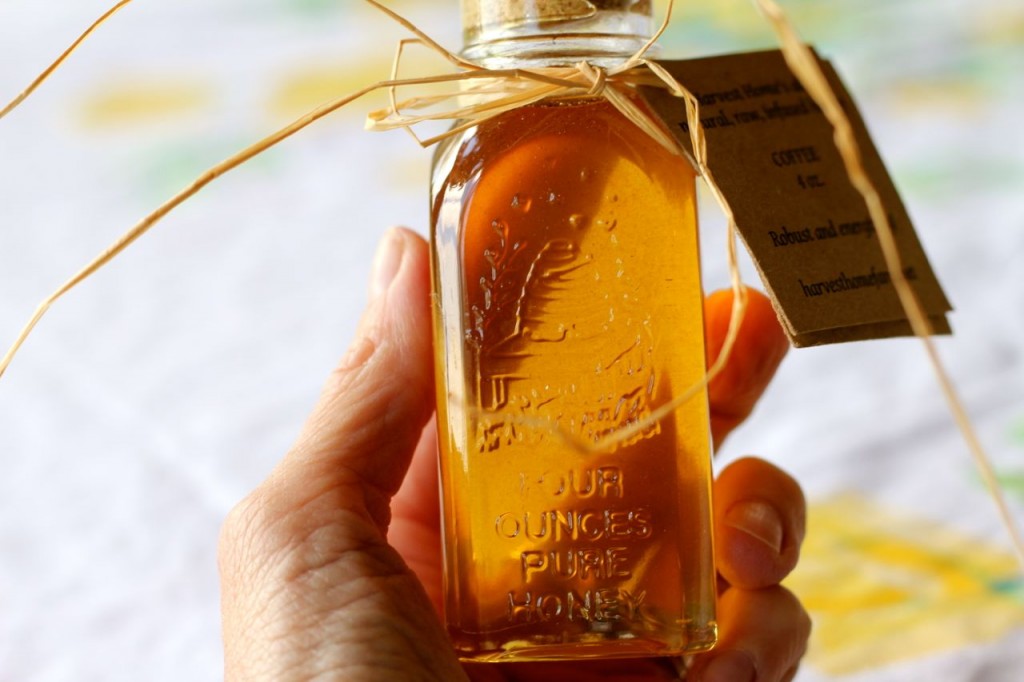 Honey is more than just a gooey sweetener. Here's a cool thing that you may not be aware of: raw honey (thus, it hasn't been heat-treated) contains a plethora of enzymes and antioxidants, and has antibacterial properties, to boot! Manuka honey (produced in New Zealand and made by the bees that pollinate the native manuka bush) is the only honey so far that is widely acknowledged to have proven medicinal effects, but earlier this year a study at the University of Glasgow's School of Veterinary Medicine found that heather honey also killed MRSA microbes and three other strains of pathogenic bacteria.
But that's not all: raw honey is being used to treat hard-to-heal wounds. Several studies support the traditional use of honey as a cough soother. Studies also have been done that show that honey is faster in treating small, non-serious burns than certain antibiotic ointments. Pretty cool, eh?
For such a sweet and delicious and nutrient-packed and miraculous substance, honey in America has become quite a puzzlement. Recent studies question whether the honey available in most stores can even be called honey or not. The problem seems to lie within the following conundrum: In the U.S., the Food and Drug Administration says that any product that's been ultra-filtered (thus, no longer containing pollen) can no longer be referred to as "honey."
However. Having set that standard, the FDA doesn't check honey sold here to see if it contains pollen. Doesn't make much sense, does it?

If honey is put through the ultra-filtering process, it will not have pollen in it.  The thing is . . . beekeepers insist that the traditional filtering process will filter out errant bee parts, bits of debris from hives, and wax (which you don't want floating in your honey, it's true) but will leave the pollen intact, and that there's absolutely no reason to submit it to ultra-filtering. Ultra-filtering is a high-tech procedure, adapted from the Chinese, where honey is heated, sometimes watered down and then forced at high pressure through extremely small filters to remove pollen, which is the only foolproof sign identifying the source of the honey.

Mark Jensen, president of the American Honey Producers Association, told Food Safety News that there was no reason to remove all the pollen from honey. This is what he said: "I don't know of any U.S. producer that would want to do that. Elimination of all pollen can only be achieved by ultra-filtering and this filtration process does nothing but cost money and diminish the quality of the honey," Jensen said. "It is pretty safe to assume that any ultra-filtered honey on store shelves is Chinese honey and it's even safer to assume that it entered the country uninspected and in violation of federal law."
Other problems in the honey supply: The Chinese have reportedly dumped tons of their honey-–some containing illegal antibiotics–on the U.S. market for years. But that's not all. Indian honey banned in Europe as unsafe because of contamination with antibiotics, heavy metal and a complete lack of pollen has been found on U.S. grocery shelves, as well. You can read about all this and more in the report by Food Safety News.
Such a puzzlement, eh? So what is a consumer to do, when faced with the myriad choices of "honey" (can it even be called that?) available on the grocer's shelf? Give up on the honey? Turn to . . . what . . . strawberry jam? Personally, it makes me a bit grumpy that such a wonderfully natural and completely delicious and beneficial-in-so-many-ways food has been messed with, and messed up like this. I hope it makes you grumpy, too, my Gentle (yet principled) Reader.
Here's the thing: raw honey is a perfect substance, straight from the hives. It doesn't need messing with. It doesn't require ultra-filtering or any additions or subtractions. It needs nothing. The only risk involved with eating raw honey would be for babies, and it's not recommended that children under the age of one year eat it. We slather it generously on our bread, we stir it into our tea, we eat it by the spoonful, and we use it in yummy recipes like this one.
We keep bees at our place, three hives full, and the raw honey that we take from our bees every summer is absolutely perfect. It doesn't need pasteurizing; it doesn't really even need straining; it is absolutely perfect the way it is. Do you know how much processing is necessary with raw honey? This much: We remove the frames full of honey from the hives (leaving some behind to feed the bees through the winter, natch'). We carry them to the house (licking up the drips all the way). We scrape the honeycomb (full of raw honey) into a great big tub extractor, fitted with a bit of cheesecloth, to take out any bits of wax or debris. We leave it there for days. The honey drips and dribbles into a big vat beneath, and when it is finished, we put it into clean jars. That's it. It's that simple.
And that's all that is necessary. Raw honey does not need to be tampered with. But. Hmph. So . . . what is an informed consumer, determined to get good real honey, to do?
Keep reading, all is not lost:
Food Safety News purchased over 60 tubs, bottles, and jars of honey from 10 states and tested them for pollen. Remember that removing pollen is not necessary, and just shows that the honey has gone through the ultra-filtration process. They found mixed results. Big surprise.
Here's the bad news: 76 to 100 percent of the honey samples from stores like Wal-greens, Costco, Sam's Club, Target, Safeway and Kroger's, had absolutely no pollen, indicating that it was ultra-filtered and therefore no longer could be called honey, therefore having hidden (or at least not disclosed) origins. To this, I say: Hmmmph! 🙁
But there's some good news, too, never fear: they found that 100% of the samples from "natural" grocery stores like Trader Joe's, Whole Foods, and local farmer's markets had the full amount of pollen in them. I like that percentage much better, don't you? So what's the takeaway from all this? Delicious news: you have choices in the matter.
Keep buying honey, but choose your honey carefully. I have not purchased honey for years, because my husband and my dad both keep bees, so we have a steady supply of perfect raw honey. Buy your honey at "natural" grocery stores or farmer's markets, where you can trust that what you are buying is, indeed, honey.
OR . . . here's an idea. Do your homework and preparations now, and plan to add a hive of bees to your place next spring. I wrote a guest post for Jill over at The Prairie Homestead all about this. She will be publishing it tomorrow, on May 14th. I've outlined eight simple steps to get you started with having your own hive of bees. Be sure to click over to her website tomorrow to check it out! Keeping your own bees is an adventure and a really fascinating thing to do, with sweet, sweet rewards.
And by the way . . . speaking of giveaways . . . I have a new giveaway for you to enter! My friend Jamie over at Harvest Home Farm has given me three darling bottles of infused honeys to give away. Click on the Harvest Home Farm link if you have no idea what infused honeys are. You are in for a treat! I am adding a jar of our own raw clover honey, too, to the package. And . . . my dad has included a bitty jar of his coveted linden honey, too, just because he's a great guy that way. This is one sweet giveaway, Gentle Readers! I hope you enter. It will take you only a minute or two, and it is set up so you can continue to enter every day, increasing your chances to win. Here's what you could win:
By the way . . . the winner of the quart of Tropical Traditions Virgin Coconut Oil is Alexandra L, from North Carolina, and her coconut oil is winging its way to her this very moment. Way to go, Alexandra, and thank you so much, all of you who entered that giveaway, and tweeted about it, and shared it, and got excited about it with me.
You're the best! *smooch*
I'm gonna share this post with Jill and her friends over at The Prairie Homestead. Join me!